With vast reaches of land, wildlife galore, towering mountain ranges, and old-growth evergreen groves that run down rocky cliffs to pristine beaches, Western Canada's national parks are destinations worthy of a bucket-list trip—or many repeat visits. Several are located in Alberta and British Columbia provinces with easy access through Washington, Montana, or Idaho. Whether it's a Canadian road trip through the lush coastal rainforest or a ski outing on powdery peaks, you'll find adventure all year-round.
Canadian Rockies
Though more than 4 million people visit stunning Banff National Park each year, most don't make it to the three other national parks (Jasper, Yoho, and Kootenay) that together comprise the renowned UNESCO Heritage Site that's spread across nearly 9,000 square miles in the Canadian Rockies.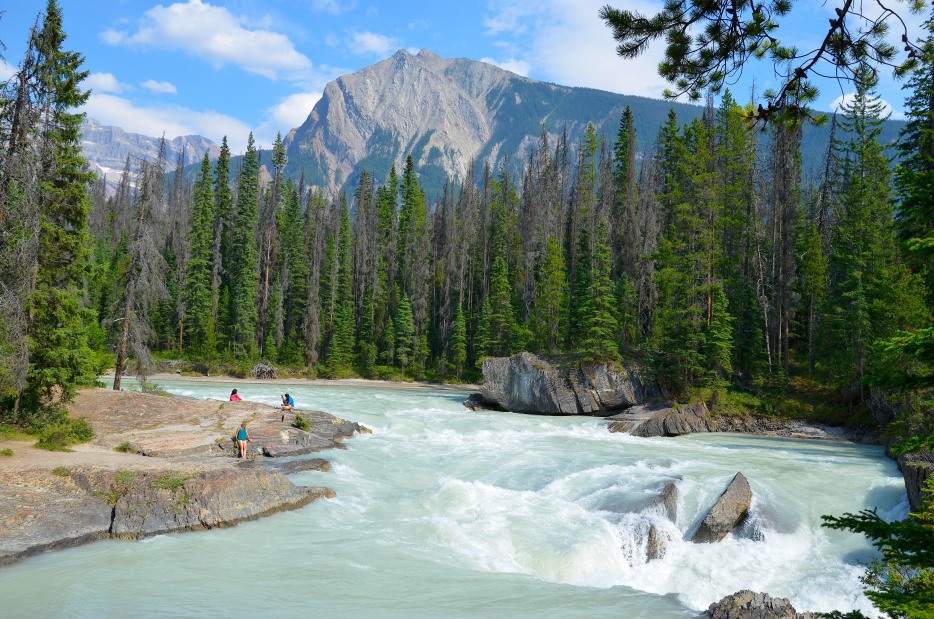 Surrounded by glaciated, jagged peaks, deep valleys, and roaring rivers, the parks lie in some of the best mountaineering country in North America. Jasper National Park sits immediately to the north of Banff, Kootenay National Park—a small but mighty park with a spectacular range of scenery from alpine tundra to cacti and glorious fall colors—and Yoho National Park with dramatic waterfalls and fossil bed hikes are to the west. A fifth, Waterton Lakes National Park, abuts Glacier National Park in Montana at the U.S. border. 
If you only have time to explore one, head to Jasper National Park for a wide sample of Canada's outdoors offerings. The park is home to more than 4,335 square miles of alpine peaks and valleys primed for every imaginable winter and summer outdoor activity from cross-country skiing to fat biking. Year-round camping and steamy dips in hot tubs provide rest and respite after skiing in the winter months, and when the snow melts you can explore Maligne Canyon's unusual geology and enjoy the mist off Athabasca Falls, formed by glacier-fed waters from the Columbia Icefield. Spring brings glimpses of bears emerging from hibernation and elk, deer, and other wildlife babies in addition to lower elevation hikes filled with wildflowers. 
Smart Tip: If you can extend your stay, take the scenic, 143-mile Icefields Parkway from the town of Jasper to the brilliantly turquoise (and immensely popular) Lake Louise in Banff. If you visit in the winter, Banff is an icy wonderland with snowy mountains, glaciers, and frozen lakes (including a frozen over Lake Louise). Plan to have snow tires on your vehicle from early November to early April, and check for road closures before departing. If you'd rather not drive, shuttles also operate between Jasper and Banff, and you can get around the parks and the surrounding area with the Roam Transit buses.
Alberta
A great day trip just a 40-minute drive from Edmonton in the province of Alberta, the Elk Island National Park is the only fully fenced national park in Canada. The park's success as a bison conservation area for over a hundred years has supported the animal's return across the West: Many bison currently in Canada and the U.S. have ancestors in these herds. 
To see them for yourself, visit the park in late July through August when they are most active. While you can safely watch from your car in many spots throughout the park or at the overlooks at the Bison Loop just past visitor services center or the Mud Lake area across the way, you can also hike along the Hayburger Trail to see plains bison or take the more challenging Wood Bison Trail to see wood bison, a larger and more rare subspecies. 
Stay overnight at one of several campgrounds with a range of accommodations from rustic sites to tent-cabins for amazing views of starry skies (the park is part of the Beaver Hills Dark Sky Preserve). From October through April, winter camping is available at Astotin Lake where you can also ice skate and play hockey on the frozen water.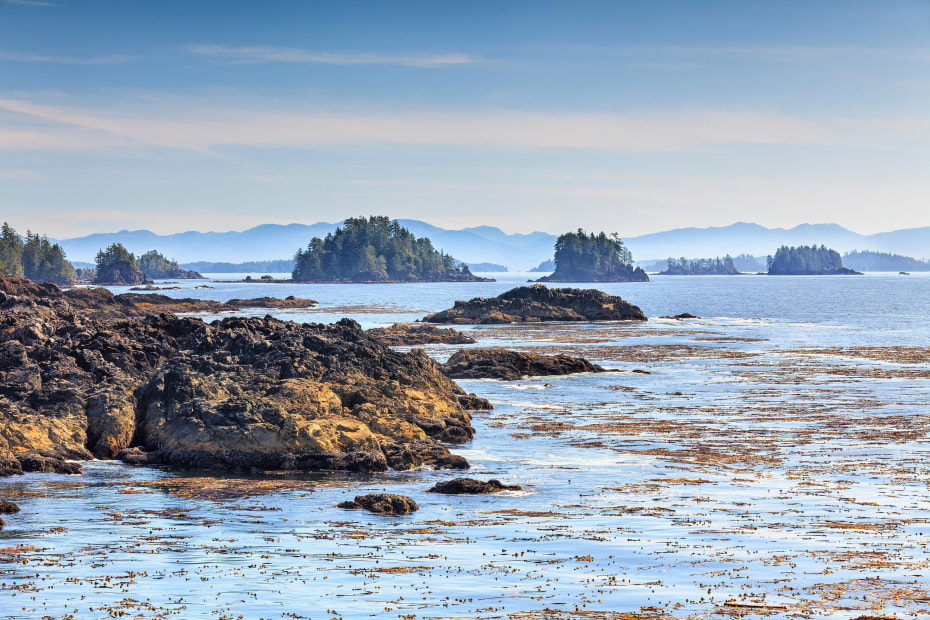 Coastal British Columbia 
Three stunning national park reserves, each with its own character and charms, can be found in the coastal communities of British Columbia. The reserves are co-managed with Parks Canada and First Nations leadership from the unceded Indigenous territories in which they are located. Here you can expect many opportunities to observe humpback and gray whales, sea lions, and marine birds, from tiny puffball plovers to regal bald eagles. If you're lucky you may even spot a bear, cougar, or wolf.
On Vancouver Island's western edge, the Pacific Rim National Park Reserve sits on traditional territories of the Nuu-chah-nulth First Nations near the towns of Tofino and Ucluelet. Its peaceful coastline and rocky coves teeming with sea stars and anemones, lush temperate rainforests, and trails and multi-use paths make exploring the area easy on bike or by foot. The alluring stretch of Long Beach, which provides miles of flat sand and sea stacks to explore south of Tofino, is a very popular destination in the summer and attracts surfers all year long. For experienced hikers, the 47-mile West Coast Trail between Port Renfrew and Bamfield offers a multi-day, rugged coastal backcountry trip of a lifetime along the rocky headlands (you must reserve a slot from May through September). Opt for a day-long or multi-day kayak trip around the Broken Group Islands in the warmer months. As you paddle through 100 small islands, guides provide excellent wildlife viewing opportunities and tales about archaeologically significant First Nations sites. 
To experience one of Canada's most revered sites, book a trip with a Haida guide to learn about the enchanted homeland and culture of the Haida people on Haida Gwaii, a remote archipelago north of Vancouver Island. The Gwaii Haanas National Park Reserve, National Marine Conservation Area Reserve, and Haida Heritage Site features the remains of five historic villages, now stewarded by Haida Gwaii Watchmen residents, and incredible marine ecology. 
Haida Gwaii is reachable only by boat or plane, with commercial flights from Vancouver and Prince Rupert and a 7-hour ferry from Prince Rupert. Self-guided travelers should understand the permits needed well ahead of a visit. Peak season is June and through September, and the number of visitors is limited. Once there, hike ancient groves of cedar and spruce and walk pristine beaches where eagles soar overhead, or sail or kayak through unspoiled waters to see some of the 20 species of whales and dolphins that frequent the area.