It doesn't take long for Alaska's extra-long summer days to throw off your sense of time. A morning trying to catch a king salmon in Ship Creek in Anchorage tumbles into a late afternoon hike in the Chugach Mountains, and before you know it, it's 9 p.m. and you haven't even thought about dinner yet. That's OK. You're living like a local. 
On summer solstice, June 21, Anchorage clocks 22 hours of daylight: Make good use of all that light on a road trip that starts in the state's biggest city, Anchorage, and heads down the Kenai Peninsula to coastal towns Seward and Homer. Along the way, check off all of the must-sees on your Alaska list—glaciers, moose, and whales—and plenty more that you weren't expecting. 
Anchorage 
Founded in 1914 as a railroad town, Alaska's largest city (population 288,121) is surrounded by the Chugach Mountains and Cook Inlet. Outdoor opportunities abound in the city, so pick up your rental car early for your in-town time—the mountain views can wait a few hours. A morning spent at the Alaska Native Heritage Center grounds visitors with an understanding of the Indigenous cultures that have lived here for thousands of years. Stand in front of the silver façade of the Anchorage Museum and there's no doubting whose land you're on. Giant letters proclaim "This is Dena'ina ełnena" (Dena'ina land). Inside, the Art of the North galleries showcase the many ways the land here has inspired visual artists from around the world.
The municipality of Anchorage extends north to Eagle River, and a visit makes a perfect afternoon trip for a first hike. Stop for tacos at El Pastor before continuing on to the Eagle River Nature Center. Inside the log cabin, get the lowdown on safety around Alaska's wildlife: From moose to bears to porcupines and beyond, they're all here (though, when it comes to wild animals, there are no guarantees that you'll see the animal of your dreams). Back in town, celebrate the midnight sun with a wine flight and small plates—the crispy polenta never fails—at Crush.
Though an Alaskan winter offers plenty of benefits, sunlight is most certainly not one of them. Summer solstice celebrations go big (even though the next day starts to tip back toward winter). On June 17, the Downtown Summer Solstice Festival loads the streets with artists, musicians, and a tasty dose of the city's ever-growing food vendor scene. You can celebrate like a local by joining in the Slam'n Salm'n Derby on Ship Creek (June 9–17). Catch the biggest king salmon and you'll go home with fish and serious dough.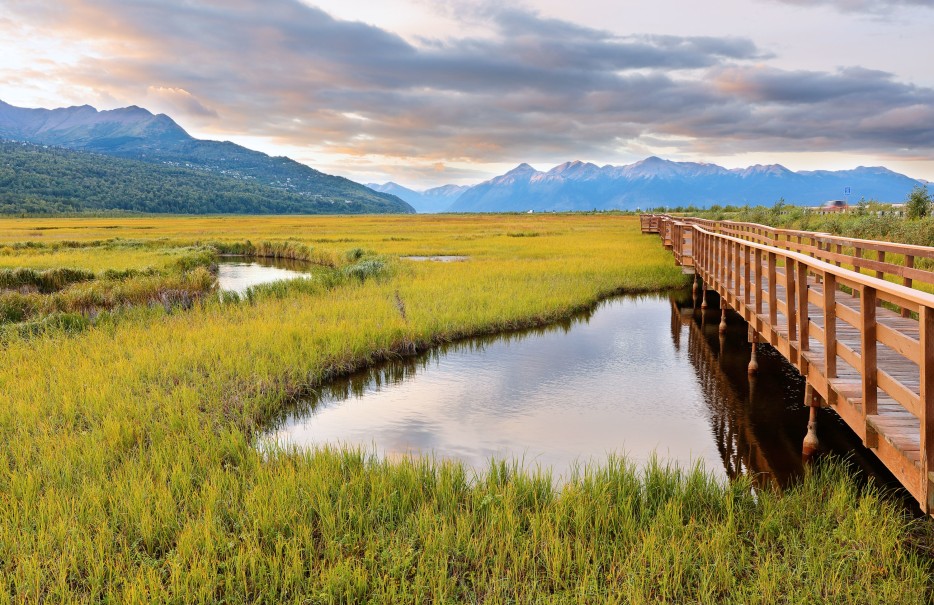 Anchorage to Girdwood (39 miles)
You're in good company for the first stretch of the drive, as Turnagain Arm is always in view. Whether at full tide—and possibly with surfers taking on the bore tide—or low tide, when eagles hang out on the mudflats to scan for a meal, the Arm is one long photo opp. The first must-stop for nature buffs—especially birders—and photogs alike comes just after leaving Anchorage. Potter Marsh is the summer home of more than 100 kinds of migratory birds. The swans are always the first to arrive in the spring (when the water is still partially frozen) but soon after, ducks aplenty, grebes, and red-winged blackbirds will join them. Stroll the boardwalk for the best viewing spots.
After Potter Marsh, most of the pull-offs on the highway are easier to access during the drive south, so stop as much as you would like. No need to rush. You have hours to go before the ever-so-brief twilight hours even think about sifting in. Watch the water for beluga whales getting their fill of salmon.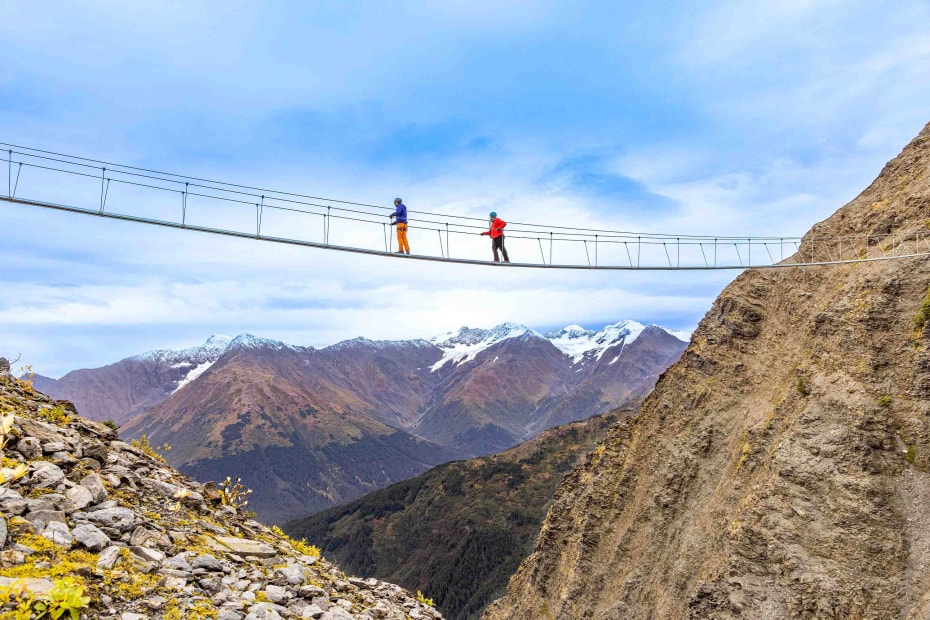 Girdwood
The ski town of Girdwood doesn't require snow to offer up plenty of to-dos for visitors. For a town of around 2,500 full-time residents, Girdwood offers serious variety on both the recreation and the dining fronts. If heights are your thing, consider the brand-new Veilbreaker Skybridges tour that lets you go for a walk 2,500 feet above the valley floor. Or keep your feet on the ground on one of Girdwood's many hiking trails. If you're feeling like a self-care experience that day, head to Alyeska Resort and go nature bathing in style at the hotel's Nordic Spa, with its hot and cold outdoor soaking tubs. 
Midnight hikes and a dance party at Alyeska Resort are the town's go-to solstice events, but the biggest celebration of summer takes place a few weeks later. The Girdwood Forest Fair, now in its 48th year, runs July 7–9. Plenty of art, music, and food—including the famed Talkeetna Spinach Bread truck—await.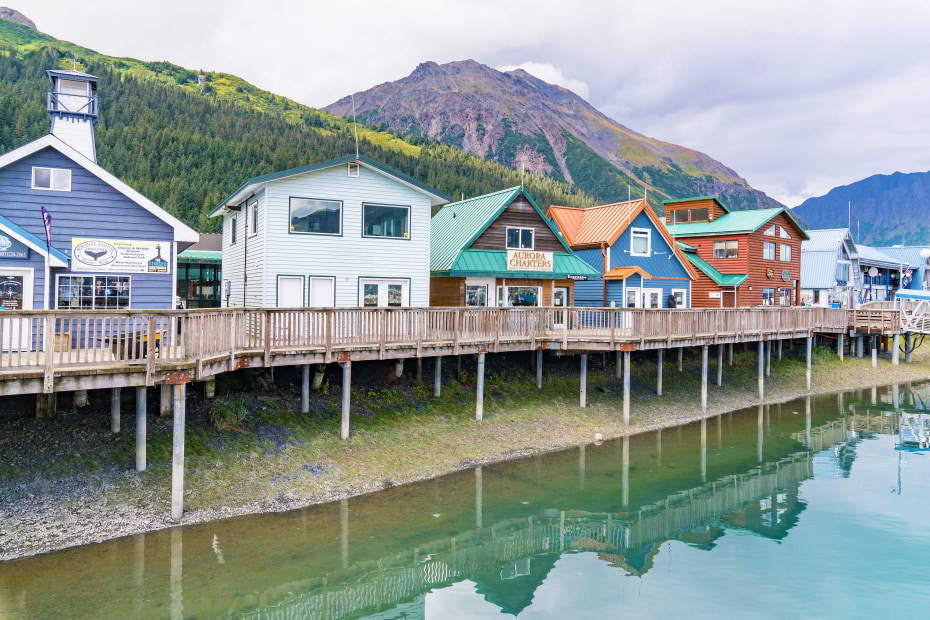 Girdwood to Seward (89.6 miles)
Continuing on, it's time for a (relatively) up-close look at a glacier. Twelve miles after leaving Girdwood, make a left on Portage Glacier Road. Scan for moose at the aptly named Moose Flats Wetland. (They like to cool off there on warmer summer days.) Park at the Begich Boggs Visitor Center to get the lowdown on the 10-story-tall Portage Glacier before boarding the MV Ptarmigan for a one-hour tour of Portage Lake and the glacier. Reservations are recommended.
From the visitor center, head back to the Seward Highway. This is where you leave the water behind for a while, as the highway cuts through Turnagain Pass. Prepare to gawk: There will be mountains all around as well as some of Alaska's brilliant wildflowers. Watch for the bright pink fireweed blooms or pale lavender flowers that climb stalks of lupine. At Tern Lake, keep left and continue onto State Highway 9 until you reach Seward.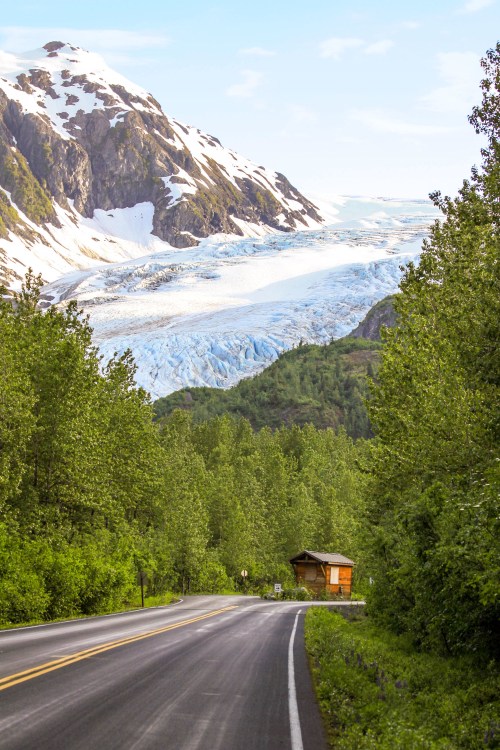 Seward
Located on Resurrection Bay and close to both the land and water sections of Kenai Fjords National Park, Seward (population 2,600) is another tiny town with an oversize to-do list for visitors. Book two nights at a local hotel, cabin, or campground to give yourself enough time for local adventures. No matter where you stay, start your mornings at Resurrect Art, a combo coffee-house and art gallery.
Whether you venture by sea or by land, it's worth calling ahead to book day trips out of Seward, as they fill up. From the small boat harbor, consider a daylong cruise into Kenai Fjords that will have your head spinning over (fingers crossed) sightings of seals, whales, and puffins. Or paddle the waters of Aialik Bay with a Liquid Adventures guide, who will help you navigate around two of the area's glaciers. Listen for the cracking of the glaciers as they calve. If you're more of a landlubber, drive 12 miles out of town to Exit Glacier, the only part of the national park accessible by road. Hardier hikers will want to take on the Harding Icefield trail, though there's still plenty to see on the much friendlier Exit Glacier trail, which starts at the nature center. For a deep dive into the area's water-loving wildlife (a must if you're traveling with kids), visit the Alaska Sealife Center.
Over the last few years, Seward has gained serious restaurant cred, and the town offers lots of options to refuel. Don't miss the newly renovated Cookery—always start with the local fresh oysters—or the Flamingo Lounge, a modern, swanky take on a popular spot from the 1950s. 
Seward's biggest weekend of the year is July 4. People pack in to watch or, if they're truly bold, compete in the 3.1-mile race up and down Mount Marathon. Competitors don't always manage to stay on their feet on the way down. Tumbles happen—big tumbles. But it's always a good time.
Seward to Homer (169 miles)
Double back on Highway 9 for 36 miles until you reach Tern Lake. Then follow signs for the Sterling Highway (also, somewhat confusingly, called Highway 1) to Homer. For the next 130 miles, you'll get to see how important fishing and the outdoors are to Alaska. Outfitters along the way advertise salmon or halibut fishing trips, and hiking trailheads pepper the peninsula. Like whitewater rafting? You can do that too. You'll also experience the wide range of towns Kenai Peninsula residents call home. Cooper Landing has fewer than 500 year-round residents, but come summer, it looks far busier than that. The highway drops to two lanes along the super curvy section that passes right through the town. Along the way, pull over for photos of brilliantly blue Kenai Lake. Just south of town, stop for an easy hike on the Russian River Falls trail. The 4.8-mile trail is pretty flat, and the turnaround is at the falls, where you can watch salmon jumping as they make their way up the river. 
Just shy of 50 miles later, turn onto the Kenai Spur Highway where you'll drive another 11 miles to Old Town Kenai. Set against a bluebird sky and the water, Old Town's historic cabins and the Russian Orthodox church with its robin's-egg blue accents are stunning. Once you're on the road again, make Soldotna your next stop. Get lunch at Kenai River Brewing, where you can balance out the poutine—hand-cut fries dressed up in beer gravy and cheese curds—with the spinach salad. 
Once you reach Kasilof, the view to your right is (mostly) water once again. Drive along Cook Inlet for the last 62 miles. At Anchor Point, the road starts to curl to the left, and soon after, the elevation drops. Watch for the "Halibut Fishing Capital of the World" sign. You've arrived at Homer (population 5,700).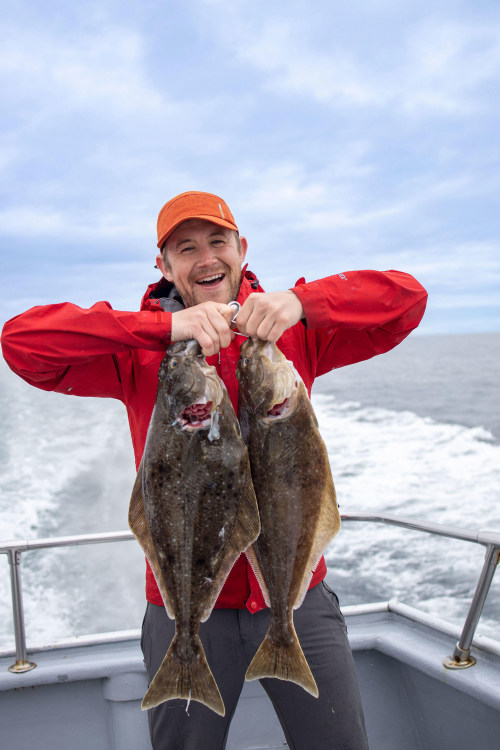 Homer
Driving into Homer, well known for fishing, food, and art, it's easy to see why artists are so inspired by its location. Four volcanoes show their faces across the Cook Inlet. The easiest to recognize is Mount Augustine, a cone-shaped peak that sits 70 miles from town. Augustine's neighboring volcanoes include Iliamna and Redoubt. Stare out across the water on a visit to Bishop's Beach (maybe with a cookie or two from Two Sisters Bakery in hand). The rock and sand beach changes constantly with the tides and weather, giving visitors good reason to return again and again. (It's also a favorite spot for locals to walk their dogs, so pup lovers will find an extra bit of enjoyment there.) 
But don't forget about that "halibut fishing capital" title. Book a day trip with North Country Halibut Charters and try to hook a halibut or three, and salmon too. If you do score a catch, your guide can filet the fish for you. But fishing isn't the only on-water activity out of Homer. Get more kayaking miles on your arms with a guided trip through True North Kayak. Keep your eyes peeled while out on the water for curious otters and seals. 
Back in town, leave plenty of time to explore the art galleries that showcase work by Alaska's huge talent pool of artists. If you have time for just one, make it the Bunnell Street Arts Center, which also hosts music events and lectures. 
Homer's Solstice Festival kicks off on June 21 with live music, a skills competition to test boat deckhands, and plenty of food trucks to choose from.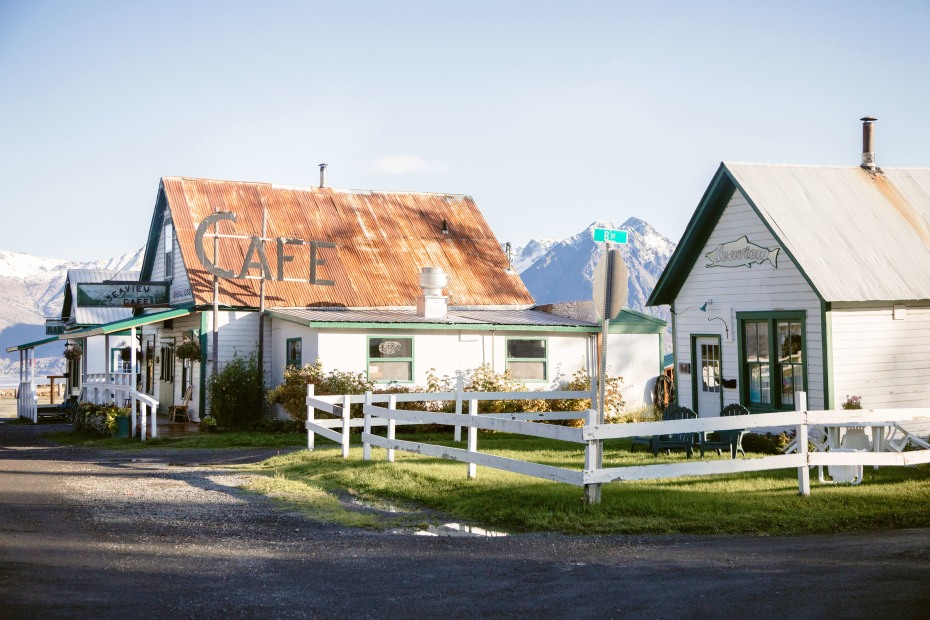 Homer to Anchorage (230 miles)
Nobody would blame you if you were on Alaska overload by this point. If that's where you've landed (or you have a plane to catch), head north. You will, of course, need to eat along the way. Stop at the Burger Bus in Kenai for fried halibut and chips. (Look for the bus that is clearly not going anywhere.) If you prefer a sit-down meal, stop at Two Brother's (sic) Roadhouse in Cooper Landing for some seriously sturdy BBQ sandwiches.
If you have the time and attention span to take in one more stellar tiny town after lunch, continue north and make a left onto Hope Highway. Seventeen winding miles later, follow the signs to the Seaview Cafe & Bar. The town of Hope, with a year-round population that hovers around 200 people, sits on Turnagain Arm. Park near the Seaview, put on your rubber boots (it can be pretty muddy), and walk out to the water. On a bluebird day, it's one of the best views of the Chugach Mountains across the water. On a cloudy day, it all looks moodier but just as beautiful. Hope being the quirky little place it is, there's a chance you'll even see somebody walk by with their pet goat.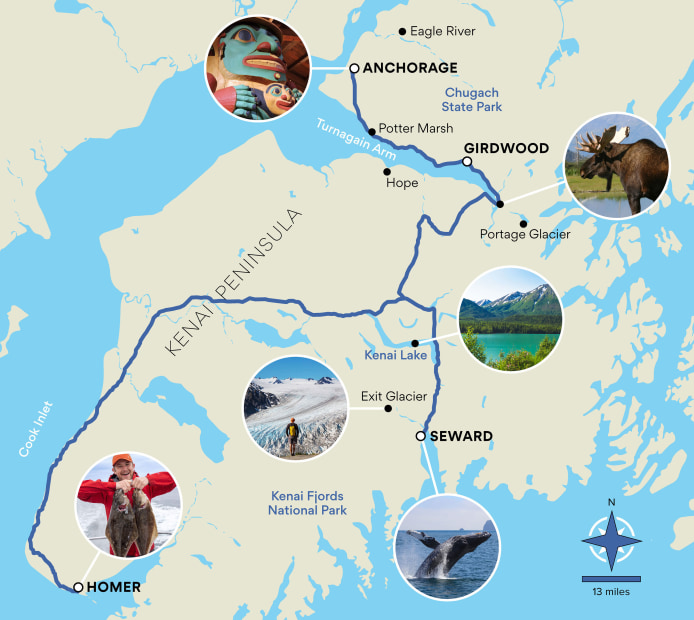 Keep in Mind
Southcentral Alaska doesn't offer up any alternate routes when it comes to the drive between Anchorage and Homer. Delays are inevitable. It helps to have a sense of humor, some flexibility in planning, and, yes, extra snacks and water for the drive. Maybe download some podcasts, too. Summer isn't just the high season for tourism in Alaska, it's also the only time the state's road crews can get to work. The main road for your Southcentral adventure—the Seward Highway (aka AK-1), just two lanes in some stretches—loads up with summer travelers in rented RVs, motorcyclists, commuters, trucks hauling boats, and more. For up-to-date information about Alaska's roads, check 511.alaska.gov.