Don't stow away your camping gear just yet. As temperatures gradually drop and most vacationers head home, autumn is the perfect time to watch the foliage change and sleep under the stars in Arizona. These 9 public campgrounds are ideal spots to stretch out and enjoy the best of the season.
Gilbert Ray Campground, Tucson Mountain Park
Sleep in the middle of towering cacti at this quaint campground not far from Tucson and Saguaro National Park. You're guaranteed to snag one of the 150 sites before the busy season picks up in November, according to the camp host. Fees are $10 for tents and $20 for RVs and trailers, and there's a 7-day limit. Campers can expect modern bathroom facilities, but no showers. It's open year-round.
Fool Hollow Lake Recreation Area Campground, Petrified Forest National Park
The forests in Eastern Arizona are generally more secluded and therefore less crowded than many in the West. But Fool Hollow's campground doesn't offer any less: It's within driving distance of Petrified Forest National Park and Apache-Sitgreaves National Forest. The recreation area and campground are open year round for tent and vehicle campers ($25 per night) to spread out across 123 sites. Bring your hiking boots, fishing rods, and human-powered boats.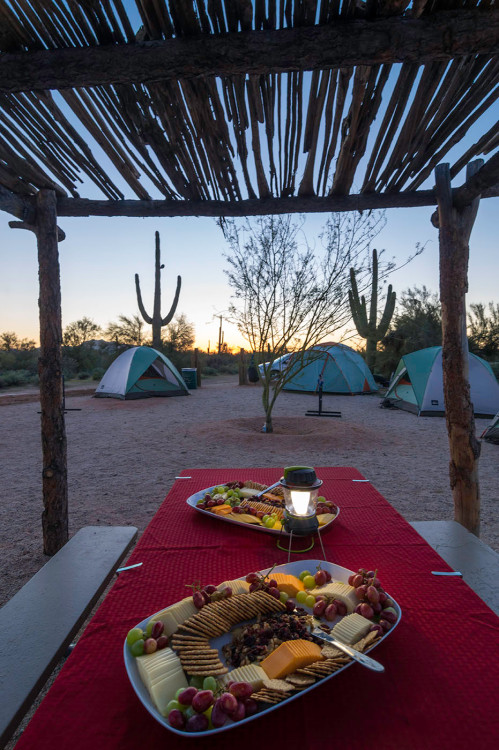 McDowell Mountain Regional Park Campgrounds, Maricopa County
Stretching over 21,000 acres with striking views of the surrounding mountain ranges, campers can access 67 miles of hiking, mountain biking, and horseback riding trails during their stay. The northern Phoenix park has 74 sites including some with water and electrical hook-ups, and a separate area designated for tent campers seeking a more remote experience. Sites can be reserved and cost $22 to $40 per night. Restrooms have flush toilets and showers, and the park has a dump station.
Lake Pleasant Regional Park Campgrounds, Maricopa County
By far the most diverse year-round camping area around Phoenix, Lake Pleasant welcomes RVs and tents in 148 sites, with the added offer to camp on your boat. Recreational water is a treat in the middle of Valley of the Sun, and this reservoir has up to 10,000 acres at its fullest, perfect for swimming, fishing, and boating. Sites can be reserved, and day-of availability is on a first-come, first-served basis.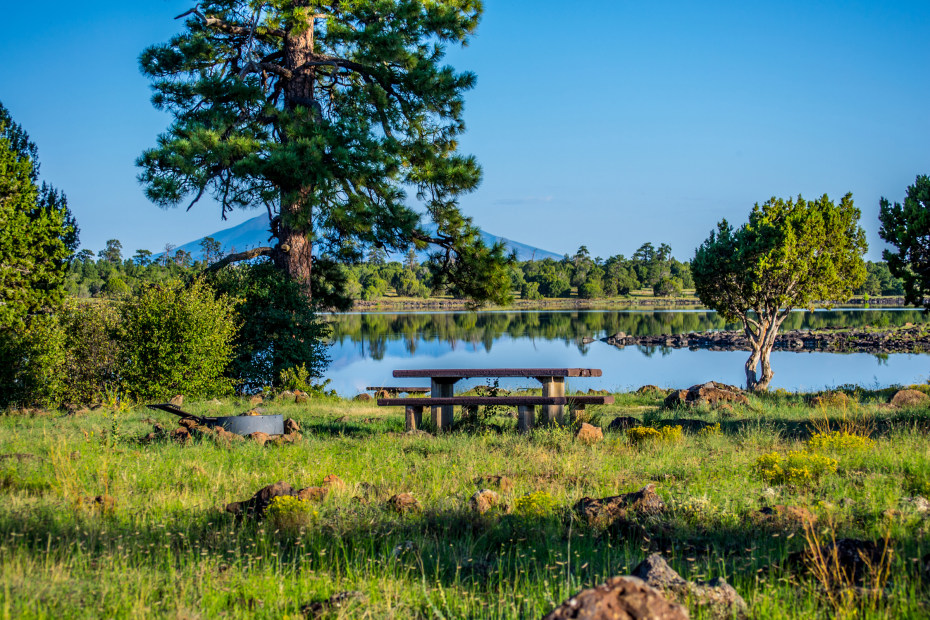 Ashurst Lake and Forked Pine Campgrounds, Flagstaff
It's always nice to be near water, even when it's not blisteringly hot outside. Between these two lakeside campgrounds, choose from 50 sites ($20 per night) that are the perfect setting for fishing, board sailing, bird and wildlife watching, hiking, and lounging beneath the San Francisco Peaks. The area's restrooms and drinking water spigots close on Oct. 11, but both campgrounds are free to enter and availability is first come, first served in the off season, as long as the gravel roads are accessible.
Lynx Campground, Prescott National Forest
Nestle into the Prescott Basin for a weekend or more along the shores of Lynx Lake, a glittering natural resource commonly used by bald eagles, ospreys, and great blue herons. Several trails connect around the 35-site campground, with established tent pads, steel fire rings, and picnic tables. This area is better suited for tent campers since there aren't RV hookups or a dump station. Sites ($26 per night) are available through October 31.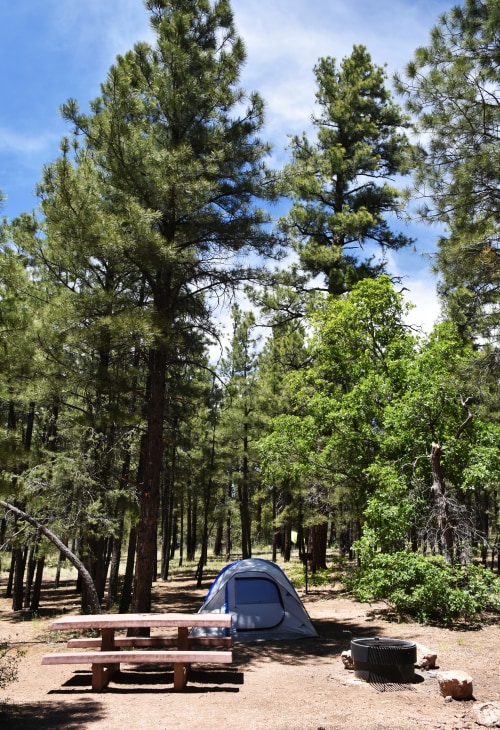 Ten-X Campground, Grand Canyon National Park
One of the best times to visit the Grand Canyon is September through November, when the weather is cooler and the crowds thin out. Just four miles south of the South Rim entrance, this 70-site campground tends to be more peaceful than other camping areas in and around the park. A short nature trail meanders through the pine forest, and campsites come with fire rings and picnic tables. Nine sites are first come, first served, while the rest can be booked in advance ($28 per night).
Cave Springs Campground, Sedona
Any campground around Sedona is a hot bed for tourists, but Cave Springs is a little more off the beaten path. Visitation slows down in the fall, and there's plenty of room to spread out among the 84 sites. Deciduous trees offer dense shade, red rock cliffs provide stunning scenery, and Oak Creek flows nearby in case you want to take a dip. Sites can be booked in advance for $22 per night. This campground closes on November 1, ahead of the snowy season.
Lake Havasu State Park Campground, Lake Havasu
Compared to the spring break mania, fall is noticeably quieter on this massive blue reservoir situated between Arizona and California. The campground is in the heart of the fun, with year-round access to all kinds of watersports and outdoor activities. Snag a prime beachfront site for $40, just $5 more than a regular site. Take note of the minimum stay requirements—two nights for weekend camping through Sept. 30 and three nights during Labor Day and Indigenous Peoples Day weekends.