California is known for its agricultural bounty, and many of the state's roughly 78,000 farms and ranches are small, family-owned operations that sell seasonal, heirloom, organic, grass-fed, and cage-free wares at local farmers' markets.
These California farmers' markets in particular offer copious samples, competitive prices, and community spirit. They're also great places to people-watch and get the lay of the land. Grab your reusable grocery and produce bags, and taste some of the best fruits of the West.
Northern California
Santa Rosa Community Farmers Market
Farmers Lane Plaza, 1501 Farmers Ln., Santa Rosa
Wednesdays, 9 a.m.–1 p.m. and Saturdays, 8:30 a.m.–1 p.m. (year-round)
This sprawling market offers an epic array of seasonal produce from the agricultural heaven of Sonoma County. Carb it up with bakery treats from Red Bird, dive into Santa Rosa Seafood, sample the zippy "fireball" from Crazy Honey, and stock up on roasted beans from Bella Rosa Coffee Company. Keep an eye out for Traeger Grills' smokey barbecue sauces and spice blends from Southpaw Seasonings, as well as clothing, pottery, jewelry, and woodwork by local artisans. On-site food trucks make everything from fish tacos to crispy samosas, and along with colorful flowers and fresh herbs, you can always get a free hug from the folks at Coyote Family Farm.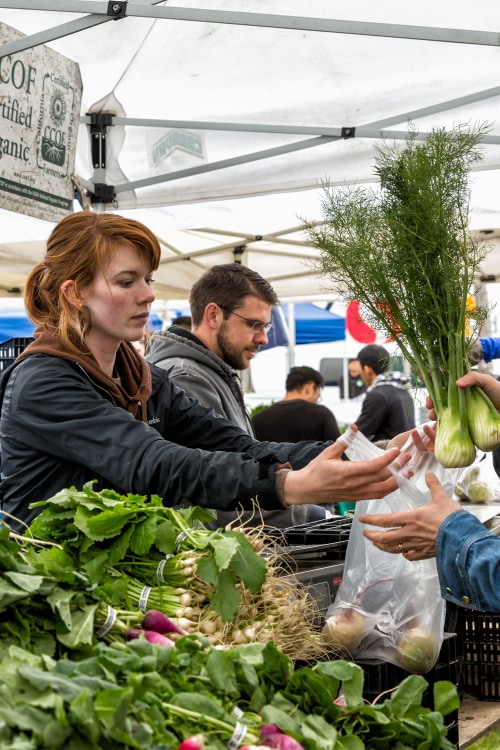 Bay Area
Grand Lake-Oakland Farmers Market
Splash Pad Park, Lake Park Ave., Oakland
Saturdays, 9 a.m.–2 p.m. (year-round)
Set in palm-rimmed Splash Pad Park—so named for its elaborate fountain playground—and crowned by the art deco sign for Oakland's Grand Lake Theatre, this lively market is the East Bay's favorite Saturday ritual. The busy stalls here feature more than 40 local farmers, a handful of local artisans, and 30 specialty food purveyors. Look for medium-roast beans from Bicycle Coffee, homemade almond milk, and a veggie-stuffed Afghani flatbread called bolani. On sunny days (the market is open rain or shine), area musicians provide the soundtrack as locals stretch out on the park's manicured lawns, picnicking on food-truck bites such as rotisserie chicken with roasted potatoes or fresh-made Belgian waffles.
Heart of the City Farmers' Market
United Nations Plaza, San Francisco
Wednesdays, 7 a.m.–5:30 p.m., and Sundays, 7 a.m.–5 p.m. (year-round)
Held along Market Street (between 7th and 8th Streets) since 1981, this bustling San Francisco market offers a wider selection of produce and more elbow room than the triweekly, heavily touristed version at the Ferry Plaza. Stroll amidst the calmer vibe as you shop for olives, orchids, and hummus, as well as aguas frescas, kettle corn, and Pakistani curries. June through September, look for Laotian-American farmer Lao Xiang's array of unusual heirloom tomatoes. Throughout the year, a rotating selection of the 103 different types of jam and jelly made by Hooverville Orchards appear in sync with the harvest of the dozens of varieties of stone fruit, apples, citrus, and berries that grow on its 72-acre, family-owned farm.
Sacramento
Downtown Sunday Farmers' Market
W and 8th Streets (under the I-80 freeway), Sacramento
Sundays, 8 a.m.–12 p.m. (year-round)
Cleverly shaded by a freeway overpass, this market becomes increasingly crowded with devoted shoppers throughout the morning, so aim to arrive within its first hour and pause for breakfast in the dedicated pastry and coffee area before jumping into the fray. The commercial focus here is on farm-fresh grocery staples—rather than hot, made-to-order foods—sourced from around the Sacramento Valley, so bring along sturdy bags and some cash. (Few vendors accept credit cards.) Stock up on a pantry's worth of veggies, fruits, breads and grains, honey, poultry, and eggs. Parking is generally easy to find in the adjacent lot.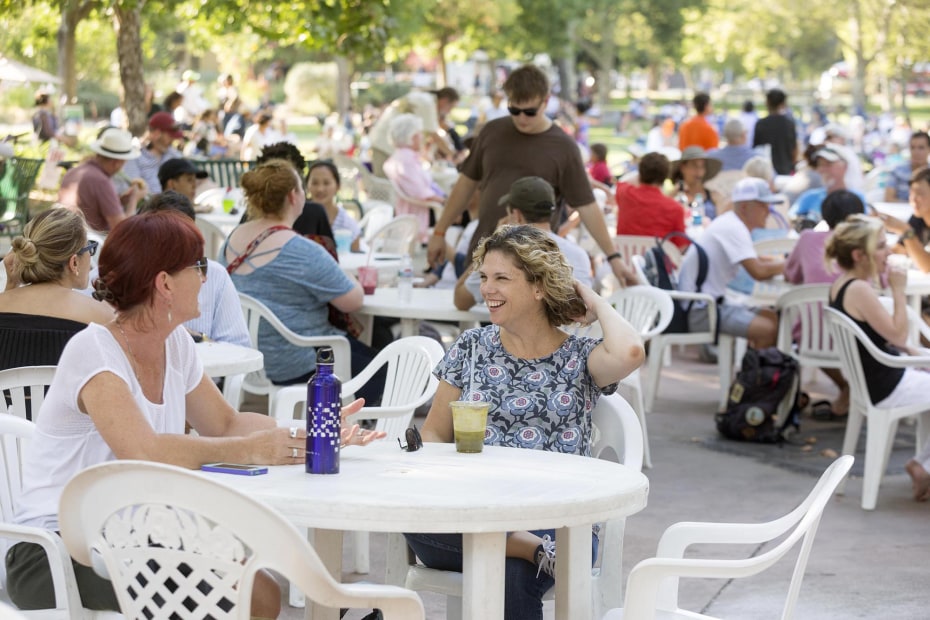 Central Valley
Davis Farmers Market
Central Park, 301 C St., Davis
Wednesdays, 4–8 p.m. (mid-May to mid-September) and 3–6 p.m. (mid-September to mid-May), and Saturdays, 8 a.m.–1 p.m. (year-round)
The University of California at Davis is well known for its College of Agricultural and Environmental Sciences, so it's not surprising that the city's largest farmers' market attracts stellar produce—much of it certified organic. Among the 50 farm and food stands piled with a valley's worth of seasonal fruits, vegetables, and cut flowers, look for pistachio butter from Fiddyment Farms, goat cheese from Jollity Farm, and Montoya's 10 kinds of tamales. About 30 artisans also sell their crafts here, including fiber arts and woodworking. Spring through fall, the Wednesday evening market is called "Picnic in the Park," and features live music (ranging from bluegrass to klezmer), an international food fair, and a beer and wine garden, as well as kid-friendly enticements like face-painting, bounce houses, and pony rides.
San Joaquin Certified Farmers Market
Weberstown Mall, at March Lane and Pacific Avenue, Stockton
Thursdays, 8 a.m.–1 p.m. (May through November) and Sundays, 8 a.m.–1 p.m. (year-round)
The San Joaquin Valley is one of the world's most productive agricultural regions, and many of its 250 different crops are sold at this huge farmers' market, held in the parking lot of Stockton's Weberstown Mall. In addition to seasonal staples like walnuts, tomatoes, garlic, asparagus, and table grapes, you'll find fresh-baked croissants, Filipino teriyaki chicken, artichoke hummus, buttery pecan brittle, rosemary olive oil, a rainbow's worth of eggplants, Southeast Asian herbs, and seemingly endless varieties of mushrooms. Not sure what to do with that veggie or fruit you've never seen before? Ask vendors for recipes, and you shall receive.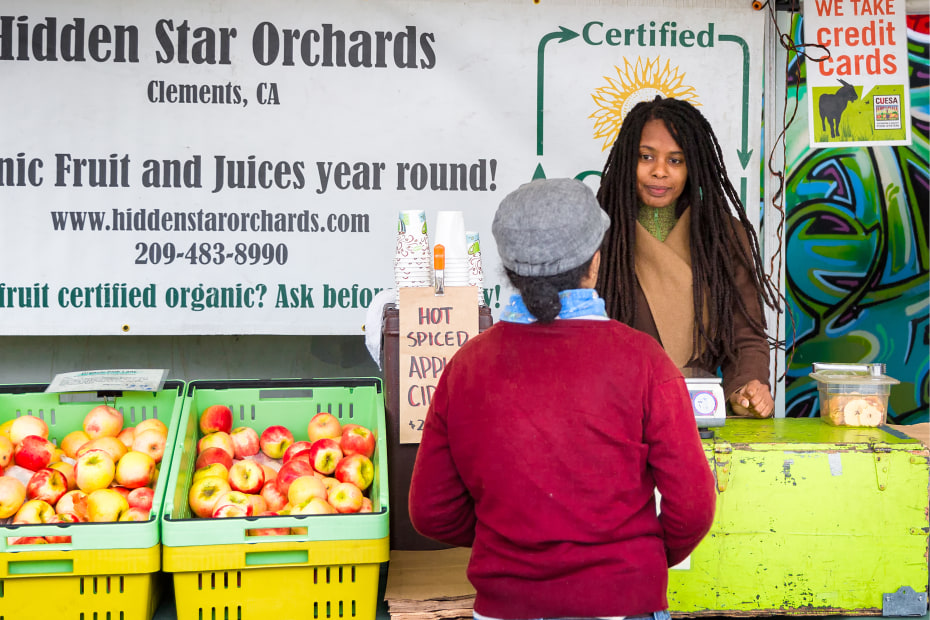 Central Coast
Downtown SLO Farmers Market
Higuera Street (between Nipomo and Osos Streets), San Luis Obispo

Thursdays, 6–9 p.m. (year-round, excluding inclement weather and major holidays)
Unfurling over several blocks downtown San Luis Obispo, this market of more than 200 vendors has been a weekly community event since 1983. Shop for produce and pantry staples from small family farmers, or hit the food stands for sushi, roasted corn, German-style bratwurst, baby back ribs, small-batch ice creams, and more. Slake your thirst with a locally brewed beer or a cold-pressed juice, but be sure to bring along a reusable, refillable beverage container; single-use cups and bottles have been banned here since March 2018. Entertainment can include everything from local musicians and jugglers to a mobile escape room, or simply sitting on a bench to enjoy a slow evening.
Greater Los Angeles
Santa Monica Farmers Market—Downtown
Arizona Avenue between 4th and 2nd Streets, Santa Monica

Wednesdays and Saturdays, 8 a.m.–1 p.m. (year-round)
In operation since 1981, this twice-weekly, three-block market is a favorite source for Los Angeles–area chefs, thanks to the produce of 75 farmers and the cool breezes of the Pacific Ocean. You won't find prepared food stands here, but between the dazzling, abundant array of heirloom veggies and fruits (not to mention the gorgeous cut flowers) and the epic variety of cheeses, fresh-baked breads (keep an eye out for Bezian Bakery and Frogs Bakery), roasted nuts, herbed olives, and desserts (look for Valerie Confections), you can put together the mother of all picnics—then enjoy it on the beach. Two nearby public parking lots (on 2nd and 4th Streets) offer 90 free minutes, and the market is a block from the Metro rail's E Line, which runs between Downtown L.A.'s Union Station and the Santa Monica Pier.
Southern California
San Diego Little Italy Mercato
West Date Street, starting at Kettner Boulevard, San Diego
Wednesdays, 9:30 a.m.–1:30 p.m. and Saturdays, 8 a.m.–2 p.m. (year-round)
Every Wednesday and Saturday, rain or shine, several blocks of San Diego's Little Italy neighborhood are lined with up to 175 vendors selling produce (both organic and conventional) and prepared foods, so you might want to arrive hungry. Dig into Korean BBQ and savory crepes, or shop for unusual items such as sweet jalapeño relish, cashew croutons, Argentinian chimichurri sauce, avocado oil, fruit-flavored ginger beers, apple blossom honey, or a growler of mead. Or simply peruse fresh fruit, veggies, meats, poultry, and fish from purveyors based within 30 miles of the city. This is also the ideal place to score gifts like candles, soaps, knitted baby clothes, glass ornaments, and gemstone jewelry, all made by local artisans.
If You Go
Before you hit your farmers' market of choice, be sure to check the U.S. Department of Agriculture's Seasonal Produce Guide to see what's at its peak. Except for certified service animals, dogs and other pets are not allowed inside any California farmers' markets due to health code restrictions, so please leave your furry or feathered friend at home.