Over the past two years, many of us have been burnishing our travel wish lists—dreaming of all the big trips we can't wait to take. The good news is, sticking close to home (for now) doesn't mean we can't snag some pretty epic experiences. Want to see a glacier, hike along the spines of a star-shaped sand dune, or watch the aurora borealis light up the sky? You can check that item off your list right here in the West. Ready for the experience of a lifetime? Let's go.
Glacier Gaze at Olympic National Park, Washington
Picture, for a moment, a glacier. A massive, moving river of ice sculpted over centuries, its surface dazzlingly white and, in places, the subtlest shade of blue. Imagine, now, where you must be. Antarctica, perhaps? Or Nepal, Chile, Greenland? Maybe. Or you could be in Olympic National Park. That's right: While the Pacific Northwest preserve is renowned for rainforests, Olympic stretches over nearly one million acres and contains multitudes. As park scientist Bill Baccus puts it, "This is the place you get it all, in one place—the wild coast, the rainforest, and the glaciers." While glaciers are receding here (as they are worldwide), according to the last tally in 2015, Olympic was home to 148 of them. Spilling from the top of Mount Olympus, the park's largest ice sheet, Blue Glacier, is 5 square kilometers (or about 950 football fields) in size. To see it, drive up Hurricane Ridge Road, open from May to October. The 18-mile route begins near the seaside, in Port Angeles, then winds its way to the Hurricane Ridge Visitor Center, at 5,292 feet. From here, you can admire the Blue Glacier, and looking south, peer right into the core of the Olympic Mountains, to Carrie Glacier and other glaciers in the Bailey Range.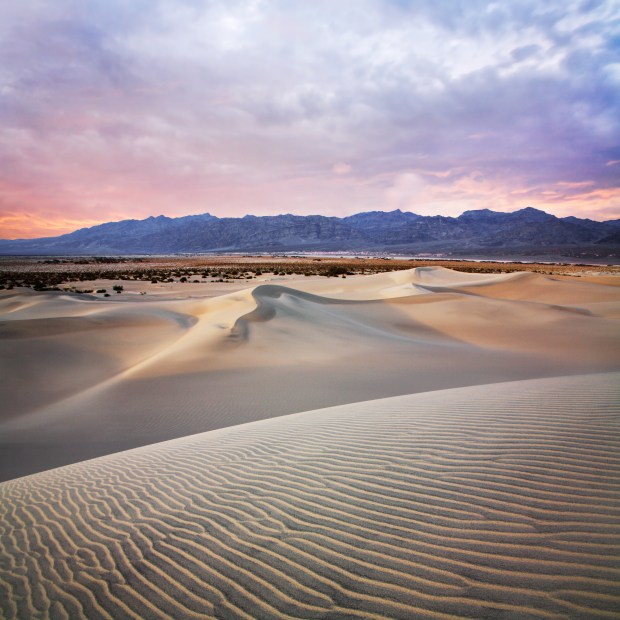 Stick Your Toes in the Sand (Dunes) in Death Valley National Park, California
The scene is like something off of a National Geographic cover or Dune poster: tiny figures walking along the spine of a tall, smooth dune, distant folds rising on the horizon. It's a scene you'll find in Namibia's Sossusvlei, where the tallest rust-red dune, Big Daddy, rises 1,066 feet above the desert floor, enticing ambitious climbers. You'll see a similar panorama in Death Valley National Park, where the Mesquite Flat Sand Dunes spread themselves across a dried lakebed in a soft, endless sea, before distant russet peaks. It's so undeniably cinematic, George Lucas cast the area as Tatooine's Dune Sea, where R2D2 and C-3PO crash land in Star Wars: Episode IV—A New Hope.
Do the droids proud by hiking to the tallest dune, about one mile from the parking lot. En route, you'll cross soft mounds with linear, crescent, and star-shaped crests. Mesquite Flats is especially photogenic during the first or last two hours of daylight. Time your visit accordingly, and you'll catch low-angle sunlight, which casts dramatic shadows on the dunes, making their ripples and contours stand out. Plan to spend some time after dark, too, because the dunes provide an unobstructed view of the sky. If the moon isn't out, you'll see the Milky Way glimmering above. And if it's not? The sand dunes will still look absolutely magical.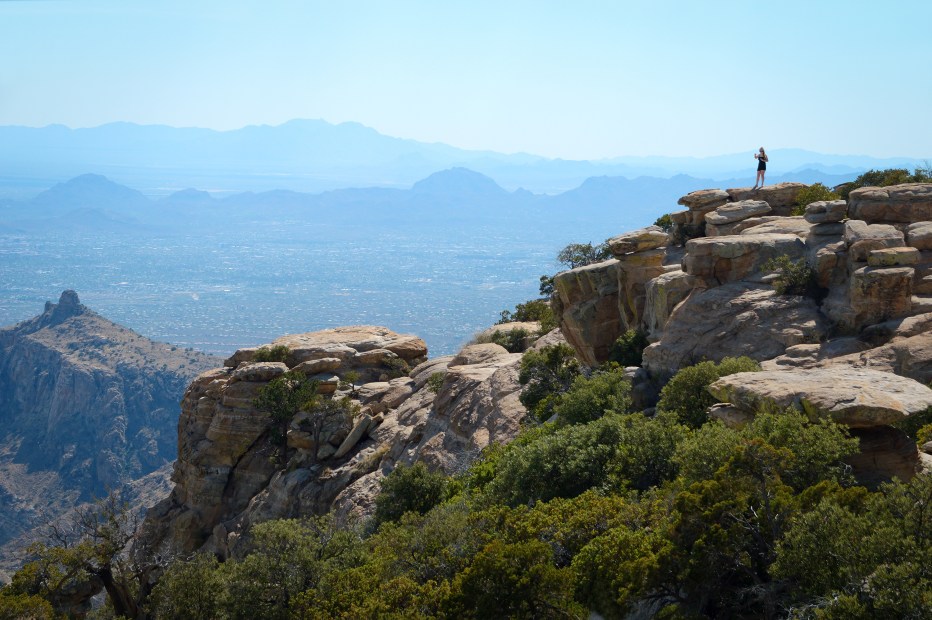 Watch for Wildlife in the Sky Islands, Arizona
Where might you see jaguars and bromeliads, thick-billed parrots and trees draped with Spanish moss? Believe it or not, in Arizona. Here, in the middle of the desert, the Sky Islands, which run from Arizona's southeast corner to western New Mexico and down into Mexico, jut up thousands of feet above the surrounding desert "sea." Given the peaks' position—at the crossroads of the Rockies, the Sierra Madre, the Sonoran Desert, and the Chihuahuan Desert—and their relative isolation from their lower-elevation surroundings, these pistes nurture flora and fauna that couldn't exist here otherwise. (Remind you of any place?) Indeed, like the Galápagos Islands, the Sky Islands feature stunning levels of biodiversity, with just one area, a 143-mile stretch of the San Pedro River, containing more native vertebrate species than all of Yellowstone National Park. The Pinaleño Mountains, meanwhile, shelter the minuscule Mount Graham red squirrel, an endemic species so rare, it was thought to have gone extinct in the 1950s, until it was "rediscovered" decades later.
Not sure where to begin exploring? Sky Island Alliance Program Director Emily Burns suggests visiting the Patagonia Mountains, east of Nogales. She says, "You can gaze into Mexico from the Coronado National Forest, surrounded by gorgeous oak woodlands, and know you're in the path of the jaguar, a corridor used by iconic cats for generations." For a dramatic drive, head south from Safford, and take the 35-mile Swift Trail. By following this road, you can experience what the forest service calls "the ecological equivalent of driving from Mexico to Canada, all in one leisurely afternoon." The route snakes through the mountains, leading from cactus-studded Gila River Valley to high-elevation forests of pine and fir. Save time for a detour to Hospital Flat, a mountain meadow carpeted with wildflowers in late summer.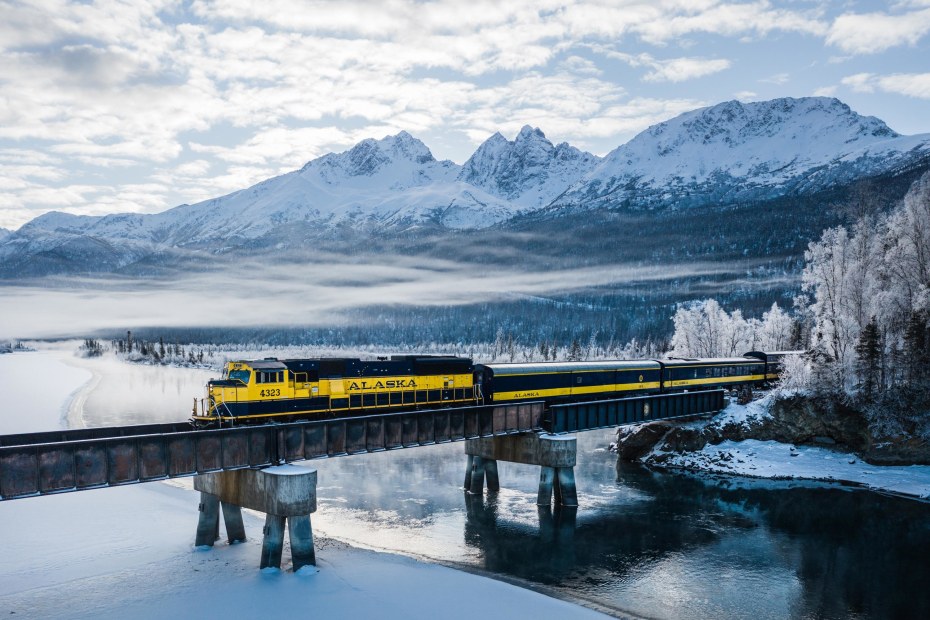 Chase the Aurora in Fairbanks, Alaska
Swirling across the night sky in shades of lime-green, aquamarine, and ruby-red, the northern lights look like they're not of this world. In fact, they aren't: The surreal displays occur when stray electrons and protons, escaped from the sun's atmosphere, collide with particles in ours, painting the heavens with vivid hues. Since the lights, also known as the aurora borealis, appear most at far northern latitudes, many assume they'll need to head to Norway, Sweden, or Iceland to spot them. But actually, one of the best places to experience the phenomenon is Fairbanks, Alaska. The city sits directly under the "Aurora Oval," a northerly region with the highest concentration of lights, and Fairbanks' inland location and dry climate make for exceptionally clear skies. Add to that minimal light pollution, and you've got a recipe for excellent aurora-watching. To wit: on dark, clear nights during aurora season (August 21–April 21), the lights are visible here an average of four nights out of five.
Up your odds of catching the show by checking the aurora forecast or requesting an aurora wake-up call from your hotel. Once the conditions are promising, bundle up, and head for high ground—such as Cleary Summit, Haystack Mountain, or Murphy Dome—to get a solid view of the horizon. Prefer something… warmer? Opt for Chena Hot Springs Resort, some 60 miles northeast of Fairbanks, where you can soak in the 106-degree water while the lights dance high above. You might even combine bucket-list items by riding the Aurora Winter Train from Anchorage into Fairbanks, gazing out your picture window, and drinking in wide-open panoramas of the snowy Alaskan wilderness (and, with luck, the glittering aurora) along the way.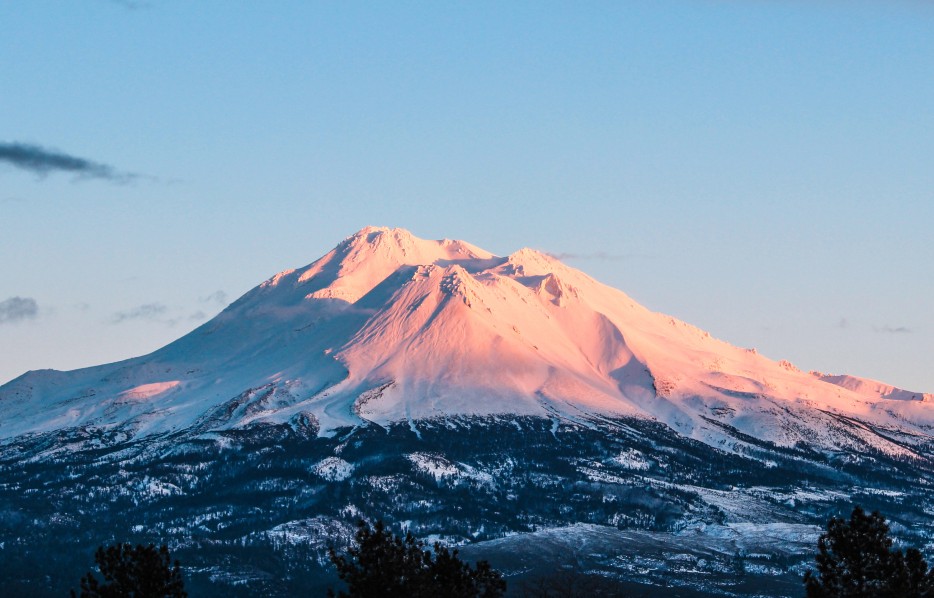 Get Inspired by Mount Shasta, California
Few natural landmarks are as iconic as the Matterhorn. Towering, craggy, nearly symmetrical, the 14,692-foot Swiss peak has inspired artists and writers for centuries. It has graced promotional posters and commemorative coins; its miniature likenesses have cropped up as far away as Anaheim, Oxfordshire, and Shenzhen. But piste to piste, Northern California's Mount Shasta brings some serious competition. Like its counterpart, Shasta rises up suddenly and dramatically, a hulking, snow-capped stratovolcano towering 14,179 feet above the meadows below, dominating the view in all directions. It's so striking, the peak inspired John Muir to write, "when I first caught sight of it ... all my blood turned to wine, and I have not been weary since." When author William Least Heat-Moon spotted the peak during his travels down Blue Highways, about a century later, he observed, "Mount Shasta, isolated by its hugeness, haloed in clouds, looks like a Hokusai woodcut of Mount Fuji."
The peak is a sacred place for the local Shasta, Wintu, Achomawi, Atsugewi, and Modoc tribes and, over the years, it has attracted countless others, too. Actor Hal Holbrook attempted to summit Shasta and monologued about it; Dracula author Bram Stoker set a novel here. An Austrian naturalist, Edward Stuhl, settled nearby, and spent 50 years painting and cataloging the mountain's wildflowers. Get inspired yourself by visiting in winter to ski—Mt. Shasta Ski Park is open from mid-December to mid-April—or in summer to look for blooms. Lavender lupines and fuchsia pasque flowers grow along 4.4-mile South Gate Trail. Follow that path, then continue onto the 1.1-mile Panther Meadows Trail, where you'll be rewarded with constant views of Shasta, and occasional glimpses of the distant Trinity Alps.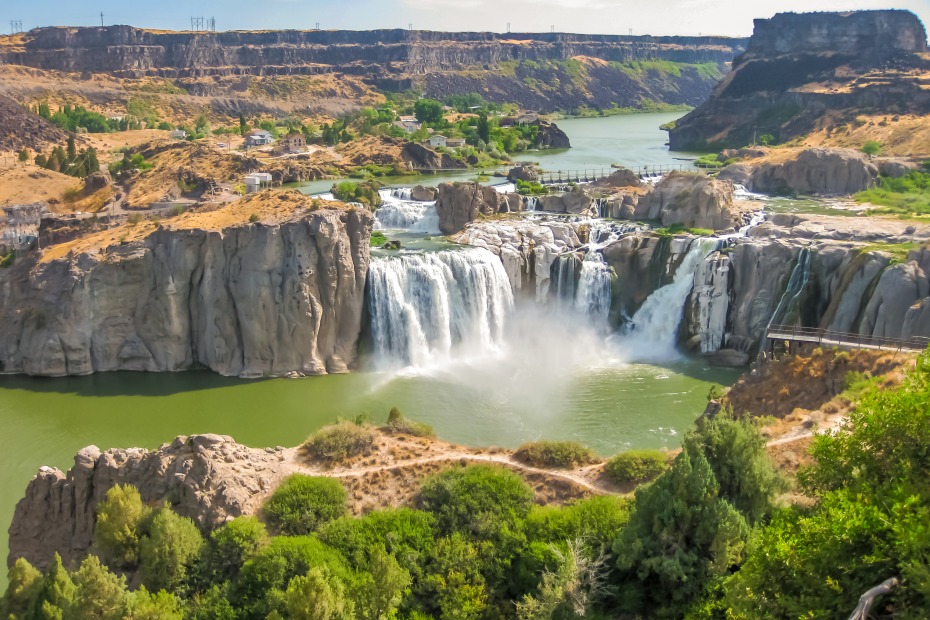 Wonder at Waterfalls in Idaho
Maybe it's the consuming roar of the water cascading down rock, then into a pool below. Or, perhaps, it's the mesmerizing sight of the never-ending white sheet, tumbling and tumbling and tumbling. Maybe it's the faint mist, rising from the top. Whatever it is, there's something about waterfalls we cannot get enough of. And while numerous far-flung specimens have our attention (we're looking at you, Victoria and Iguazú), right now, we're focused firmly on Idaho's Shoshone Falls. This Snake River cascade dates way back: It was created during the Bonneville flood, 17,400 years ago; the rock beneath it is lava turned rhyolite.
At 212 feet high, Shoshone is actually taller than Niagara Falls (by 45 feet); its typical flow in springs consists of 10,000 to 12,000 cubic feet per second (cfs). (To put that in perspective, 1 cfs would be the equivalent of four basketballs tumbling over the clifftop every second.) Shoshone is at its roaring best in spring, when it's swollen with snowmelt. For a unique perspective on the cataract, consider renting a boat at Centennial Waterfront Park, in the town of Twin Falls, and kayaking to the base of Shoshone. The four-mile paddle can take more than 6 hours, but time won't mean a thing as you skim across the water at the bottom of the massive, millennium-old gorge, marveling at the towering cliffs and infinite sky. When you do arrive at Shoshone, look up at the water caterwauling off the cliff above. Alternatively, you can watch the cascade from the cliff-top viewing platform in Shoshone Falls Park, feel the faint spray on your face, and search for rainbows in the mist.