Back in 1917, just months after the death of Buffalo Bill, a group of luminaries gathered on the porch of the Irma Hotel in Cody, Wyoming, and dedicated themselves to preserving his memory. Thanks to some big-money connections, that meeting eventually gave rise to the Buffalo Bill Center of the West, a standout art hub with 320,000 square feet of exhibit space, more than any other Western-themed museum in the country. An affiliate of the Smithsonian Institution, the center features five wings, each of which could be a major destination on its own.
In 2017, as part of its centennial celebration, the center displayed a range of stunning but rarely seen items throughout its five submuseums. The treasures included one of Bill's beaded buckskin jackets and the very telegram that first reported the "great disaster" that befell Custer and his men.
Each of the center's five parts has a distinct focus. The Draper Museum of Natural History immerses visitors in Yellowstone-area habitats, complete with stuffed grizzlies, recorded birdcalls, and even the scent of forest fire smoke. Visitors start at high-altitude scenes and spiral down to lower elevations, a journey that captivates ecology buffs as well as button-pushing kids.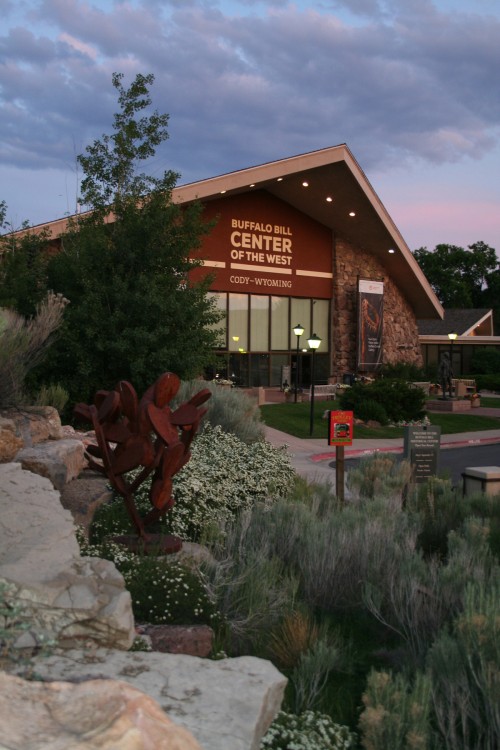 The Plains Indian Museum displays around 1,200 artifacts of American Indian culture, such as grizzly-claw necklaces and feathered warbonnets. A Nez Perce buffalo-hide tepee from the mid-1800s evokes the culture's nomadic life.
The works of Western masters past and present fill the Whitney Western Art Museum. The 1899 black-and-white painting Buffalo Bill in the Limelight by Frederic Remington captures the immense talents of both the painter and his showman subject. Crow Winter Camp, a 20th-century painting by Kevin Red Star, portrays glowing white tepees against an icy blue landscape.
Gun aficionados risk sensory overload at the Cody Firearms Museum. Its display of more than 7,000 guns includes a 15th-century Chinese hand cannon and enough Winchesters and Colts to equip an Old West army. Bruce Eldredge, the center's executive director and CEO, says his favorite item is an 1888 Gatling gun, a large, rapid-fire weapon on wheels. "It really speaks to me about the ingenuity of America," he says.
Those visionaries who brainstormed on Irma's porch would appreciate above all the Buffalo Bill wing, where posters of the Wild West show bring to life the pageantry that spread Cody's fame throughout the world. Eldredge says he especially enjoys the exhibit featuring film of actual performances—spectacles that left audiences with an impression of wild adventure that survives today. "The show changed the image of the West," Eldredge says.