With more than 250 wineries within 20 miles, McMinnville has attracted oenophiles since the 1970s. But today it isn't just the pinot noir that's calling: Travelers flock here for the thriving food scene, welcoming galleries, and beautiful trails.
Sights and Events Near McMinnville, Oregon
When the weather is nice, head northwest of town to Miller Woods Conservation Area, a 130-acre park. Its main path, the 4.5-mile Outer Loop, winds through grassy hayfields and a fir forest. Sharp-eyed hikers might spot deer and great horned owls

The history of American ingenuity takes flight in a vast hall at Evergreen Aviation & Space Museum where visitors can step into a B-17 Flying Fortress bomber, explore a Titan II rocket, and tour Howard Hughes's massive air boat, the Spruce Goose.

Take in a Carnegie library with a stained glass lunette, the Queen Anne flourishes of the brick Wright Building, and other architectural delights on a self-guided stroll along 14 tree-lined blocks. 
More than 6,000 epicures gather at the annual Sip! McMinnville Wine & Food Classic festival (usually in early March), held at the Evergreen museum, for winetasting workshops, cooking demos, and regional delicacies such as smoked bison.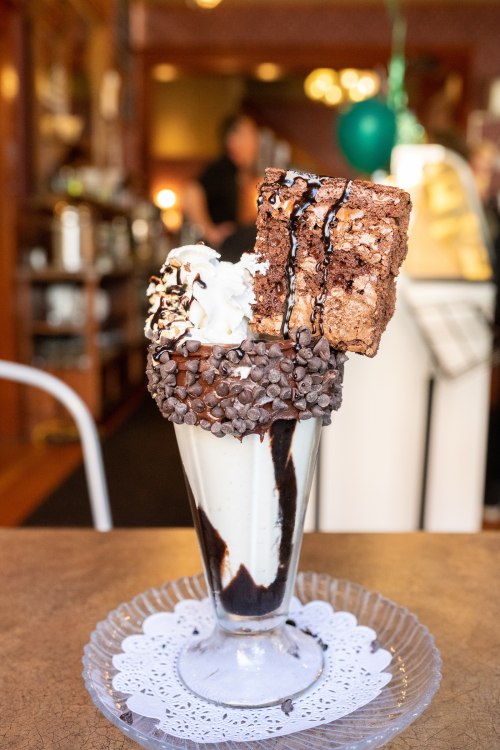 Where to Eat in McMinnville
Even in winter Serendipity Ice Cream deserves a visit for its sweet treats and sweeter mission. Founded by a nonprofit in 2000, the old-fashioned scoop shop—featuring Victorian furnishings and vintage photos on the walls—employs adults with developmental disabilities. Enjoy a homemade waffle cone piled with coffee or mint chocolate chip as a player piano tinkles in the corner.
Peirano & Daughters, a cheerful deli, offers small bites, house-made pasta, and Italian imports.
Try an arepa (hand-pressed corn cake) with fried pork belly and pickled red onion or the crispy-meets-creamy fried avocado at the artsy Pura Vida Cocina.
Diners from across the country come to the tiny Thistle for nostalgic cocktails and locally sourced fare including dishes like the rabbit rillettes with pickles and mustards.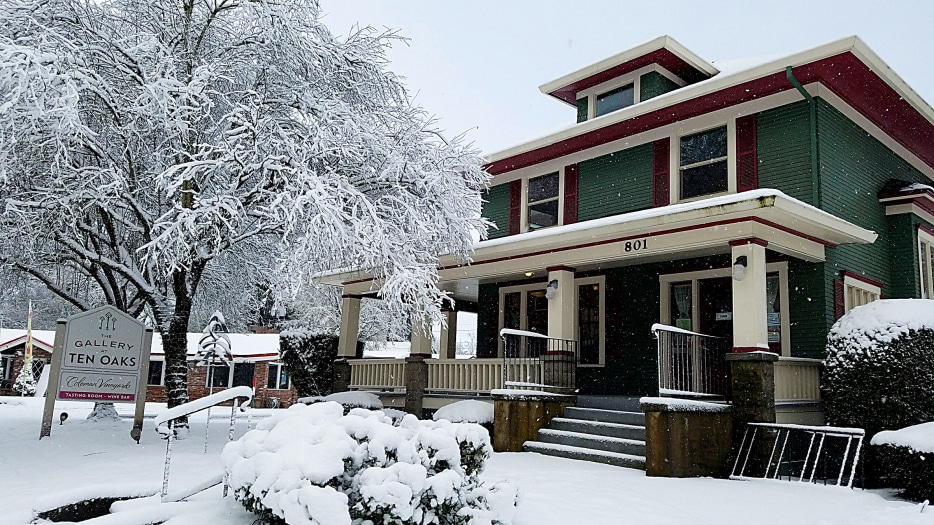 McMinnville Shops
From the street, the craftsman-style house on SW Baker Street near Linfield College blends into the residential neighborhood. But in fact, the property is now home to the Gallery at Ten Oaks. The friendly spot combines two local specialties—wine and art—under one roof. Sip a rosé from the McMinnville AVA or a pinot noir from the Eola–Amity Hills AVA while browsing diverse works by Oregon artists, which can include fractal prints, fanciful ceramics, delicate necklaces, and hand-turned wooden bowls.
Pick up Oregon-made pottery, handknit scarves, jewelry, and household goods at La Bella Casa, an all-in-one crafts emporium.
Admire works in various mediums by Oregonians at the artist-owned Currents Gallery.
Home cooks can sample 21 types of olive oil and 26 different vinegars at Third Street Oil and Vinegar.
Wine Tasting Around McMinnville
Pinot noir is king in McMinnville thanks to Eyrie cofounders David and Diana Lett, who planted the first pinot vines in the valley. Their son, winemaker Jason Lett, continues the legacy at Eyrie Vineyards with intense reds plus lighter options such as Chasselas Doré, made from a Swiss grape and best served chilled.
Inside a renovated barn, the family-friendly Grain Station Brew Works serves up live music and craft beers such as crisp Haystack Gold (an American blonde ale) and creamy Grain Station Stout.
Pair a glass of floral pinot or sparkling blanc de blancs with a cheese plate in R. Stuart & Co. Wine Bar's inviting tasting room and wine shop.
Overlooking rolling rows of organic vineyards, this family Youngberg Hill winery and inn produces wines—the robust, ruby-red 2019 Natasha Block Pinot Noir, say—that epitomize the McMinnville viticultural area's earthy, dark fruit flavors.