New Orleans's legendary French Quarter is framed by Canal Street, on which no canal was ever dug; Rampart Street, upon which no rampart was ever built; and Esplanade Avenue, along which no waterway has ever run. (Its fourth and final edge, the Mississippi River, is exactly as billed.) The fanciful misnomers befit the Crescent City, a place so hopeful, vivacious, and resilient that it sometimes feels as much a work of fiction as of fact. The streets are filled with stories, if you're willing to wander and listen.
Now is an auspicious time to visit, as New Orleans marks its 300th anniversary in 2018. The city is celebrating by doing what it does best: hosting a party. When is the party? If you've been here before, you know the better question is, When isn't the party? The fanfare unfolds all year long with art exhibits, concerts, and other special events. One of the splashiest spectacles promises to be April's riverfront gathering of tall ships, during which landlubbers can board the majestic sailing vessels.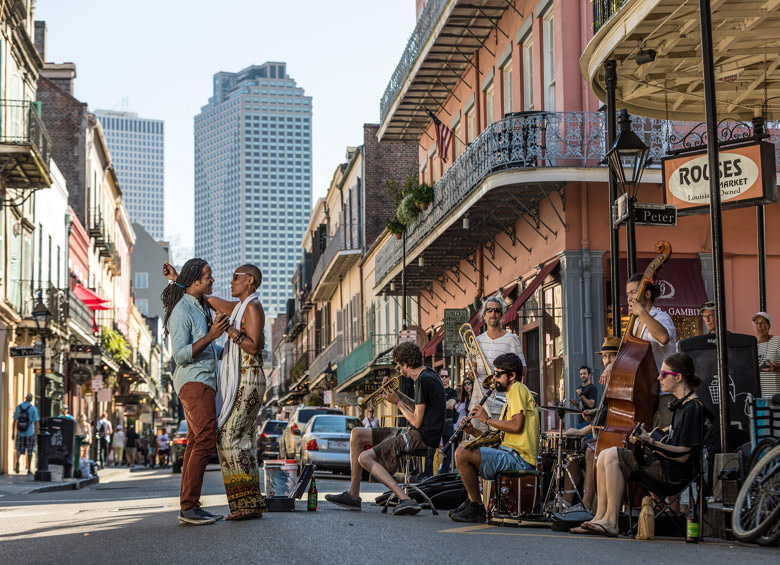 But a successful trip here needn't coincide with a particular occasion. You may get the most out of New Orleans by embracing its joie de vivre and creating a personal mosaic of experiences. Happenstance can be an excellent guide. Meandering the streets leads to small yet memorable pleasures: an amazing bowl of gumbo at a hole-in-the-wall; a soulful jam session in a club so compact you're seated knee to knee with the trumpeter; or a conversation with a stranger touching on pralines, lizards, and nine-inch rainfalls.
That doesn't mean you should skip such icons as the monumental St. Louis Cathedral overlooking Jackson Square (or beignets at nearby Café du Monde), raucous Bourbon Street in the French Quarter, or the deeply moving National WWII Museum in the revitalized Warehouse District. But you'll be better off starting your tour by slipping away from these areas: You may temporarily escape the crowds and gain a helpful perspective for when you return later.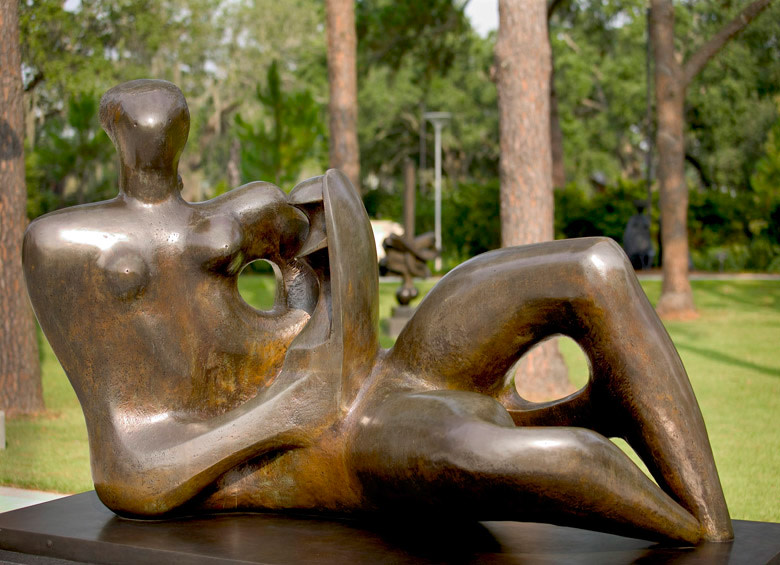 You could rent a set of wheels from Blue Bikes, the city's recently christened bike-sharing service, on Esplanade Avenue and mosey up the leafy, mansion-lined thoroughfare toward Lake Pontchartrain. Pull over at the New Orleans Museum of Art to explore its sculpture garden, then wend your way back downtown using Moss Street and the car-free Lafitte Greenway. For sustenance, the 107-year-old Parkway Bakery & Tavern, on Hagan Avenue at Toulouse Street, serves a rewardingly sloppy, gravy-soaked roast beef po'boy. Or you could catch one of the moss-green streetcars—dating to the 1920s, all brass and leather and mahogany inside—and head uptown. A day pass allowing unlimited travel is a bargain at $3. The route rolls past opulent postbellum homes on St. Charles Avenue, called the "jewel of America's grand avenues."
Hop off at Oak Street to stroll the commercial main drag of the Carrollton neighborhood, an old streetcar suburb. Simone's Market fortifies customers with its take on the Scotch egg: a soft-boiled egg wrapped in pork-sage sausage and panko, then deep fried. Down the block, Coutelier Nola carries handforged Japanese kitchen knives so finely crafted they could be displayed as decoration.
On the return trip, you could disembark at idyllic Audubon Nature Institute, resplendent with oak trees and Spanish moss, to take in the scenery. Or step off at the Napoleon Avenue stop and walk a few blocks south to Magazine Street. The stretch through the Uptown neighborhood delivers dining and shopping opportunities from classic (oyster loaf at Casamento's Restaurant and handcrafted steel washboards at Peaches Records) to contemporary (ramen at Nomiya).
Continuing toward downtown, the Garden District sits between Magazine Street and St. Charles Avenue. Traders and commodity brokers flaunted their wealth here in the mid-19th century by erecting grand mansions on parklike lots. Today, it's worth a detour, in part to view Lafayette Cemetery No. 1, one of the city's seven aboveground cemeteries. Its village of tall, weathered tombs sprouting wayward greenery accommodates more than 7,000 souls, including a few notable politicians and musicians (and the vampire Lestat of Anne Rice's novels).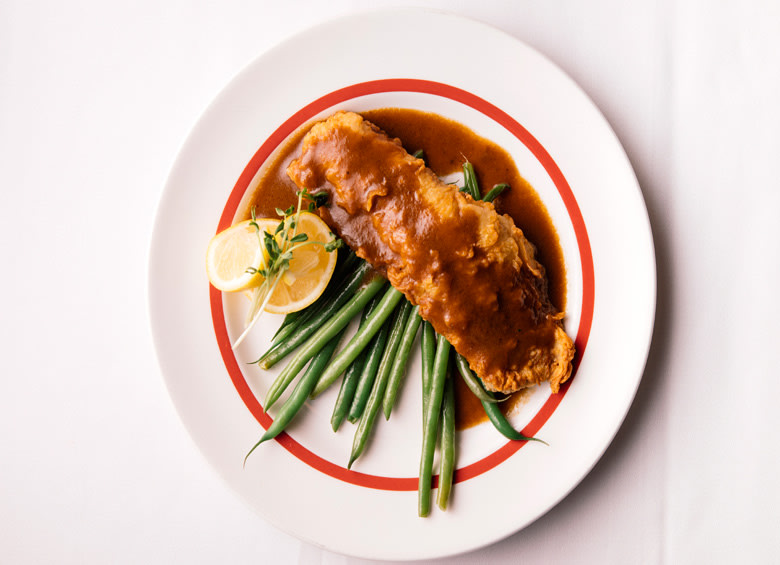 Back in the French Quarter, twilight can be a truly magical time, when the sinking subtropical sun reflects off towering clouds and paints the ancient stucco facades pastel hues, accompanied by a sound track of mule carts clopping past storefronts and brass bands jamming on distant streets. The Quarter is best when you immerse yourself in the time-honored classics. Begin an evening at Arnaud's French 75 Bar—winner of a 2017 James Beard Award—with a Sazerac or a Roffignac cocktail, then settle into one of the grand dining rooms in the restaurant for a plate of speckled-trout meunière. The creole dish of yore stars a skinless fillet dredged in buttermilk and flour, fried until golden, and topped with a rich, buttery, veal stock–based sauce. The restaurant fetes its own big anniversary this year: It opened in 1918.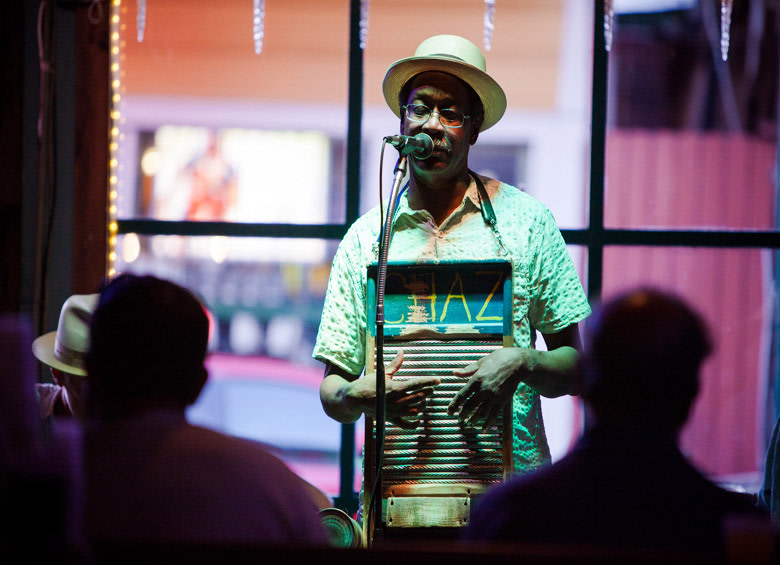 Music pervades the city's byways. Preservation Hall, based in a worn townhouse on teeming St. Peter Street, remains the enduring anchor of tradition in New Orleans, the birthplace of jazz. It's always worth queuing up for a bench seat, and free-range grazing of live music is equally rewarding. Frenchmen Street, just downriver of the French Quarter, is lined with clubs that book top-notch local acts. Light riffs and heavy bass lines spill into the street like a flickering light, and you can dip in and sample here and there. For toe-tapping traditional tunes, stop by the Spotted Cat Music Club, D.b.a., or the Blue Nile. Snug Harbor is the best bet for modern stylings.
By the way, Frenchmen Street is named after actual Frenchmen, a half dozen of whom were executed in the 18th century for fomenting insurrection against the Spanish at the outset of their reign. It's the sort of thing you can learn by chatting with the local next to you at the bar, adding one more tile to your personal mosaic.