On June 30, 1923, cars rumbled down a dusty road through the apricot orchards that filled the Santa Clara Valley, five miles west of downtown San Jose, California They were headed to the much-anticipated grand opening of Winchester Park—today known as the Winchester Mystery House—which had more than 10,000 visitors that first weekend. While some were drawn to the grand dance pavilion, live music, and vaudeville performances, most wanted to be among the first to get close to a never-before-seen attraction: the sprawling 160-room mansion built by orchardist, architect, and philanthropist Sarah Winchester. 
One hundred years later, the Winchester Mystery House still draws crowds of tourists from around the world who come to experience this legendary—and possibly haunted—house for themselves. "Some are looking for history, some are looking for architecture, some are looking for ghosts," says staff historian Janan Boehme. "And some are looking for a combination of all of those things. I think we have something for everyone."
A new public exhibit on display at the Mercantile, the mansion's gift shop, shares the story of this attraction that has drawn well over 13 million visitors in the last hundred years, and inspired pop culture including Disney's Haunted Mansion ride, ghost-hunting television shows, and the 2018 supernatural thriller Winchester, starring Oscar winner Helen Mirren.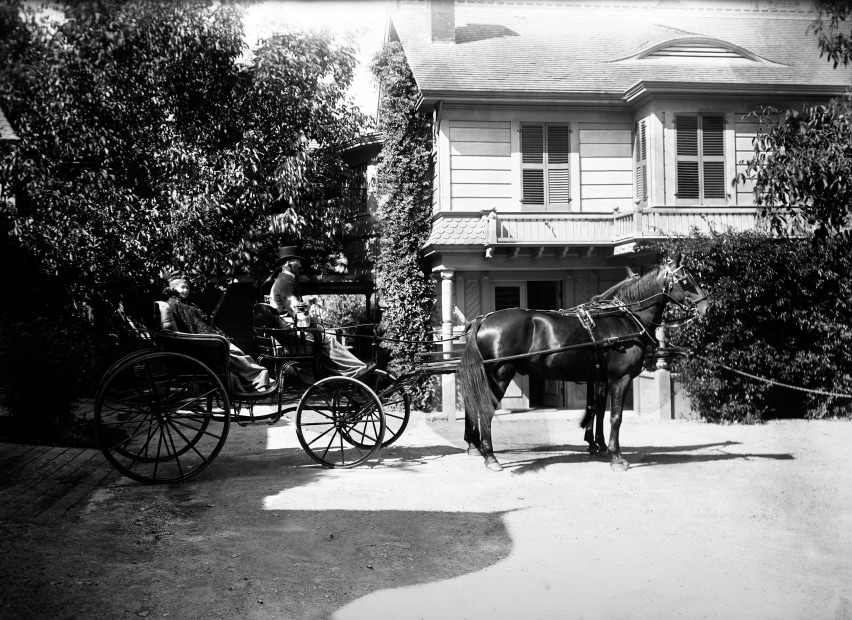 How the Winchester House Got Its Start
In 1886, the recently widowed Sarah Winchester, heir to the Winchester Repeating Arms rifle manufacturing fortune, was seeking a change from her life in New Haven, Connecticut, when she came across a farmhouse on a large plot of land near San Jose.
"Sarah's story was the California dream," says Michelle Bevis, a Winchester Mystery House board member. "She moved here for a new start and built her life here."
Sarah had fond memories of a visit to San Francisco with her husband, William, a few years before; she had family living nearby, and she thought the temperate climate of the Santa Clara Valley would be good for her worsening rheumatoid arthritis. Winchester bought the house, plus 45 acres of land she could plant with fruit orchards, for $12,570. 
Over the next 36 years, Winchester transformed the eight-room farmhouse into a 24,000-square-foot, 160-room mansion. 
Winchester was a private person and didn't share publicly why she had undertaken this enormous project, so stories started to circulate among her neighbors and in local media at the time. One said that she was grieving the loss of her husband and infant child, so she met with a psychic who told her to move west and build a house nonstop to calm the spirits haunting her—ghosts of people killed by the Winchester rifle. Adding to this were odd architectural elements that were said to have been built to confuse the spirits, including doors opening to walls, and staircases going directly into the ceiling.
The story of the house came very close to ending when Sarah Winchester passed away in September 1922. At the time of her death, the structure was in poor condition, having suffered extensive damage in the 1906 earthquake. Large sections were boarded up and had never been repaired. The home was appraised as being nearly worthless. But one buyer was interested.
John Brown was a roller coaster designer from Pennsylvania who had traveled around the country building a ride he called the Backety Back. He and his wife, Mayme, fell in love with the Winchester property and decided they wanted to build an amusement park there. After investors for his grand plan failed to follow through, they realized the house itself was a curiosity, so they opened it up to visitors, and Winchester Park was born. 
Over the next few decades, the Browns lived in the house and kept the attraction open, even through the Great Depression. After John and Mayme passed away in the 1950s, their two daughters, Edna and Mildred, took over. They introduced a wax museum exhibit and placed billboards up and down California and Nevada highways to attract road-trippers.
In 1973, a new general manager, Keith Kittle, who had worked at both Disneyland and San Jose's Frontier Village, brought professional Operations and Guest Management experience to the house. He worked to get it recognized as a California Registered Historic Landmark and have it added to the National Register of Historic Places.
Over the following decades, the house introduced new tour options and holiday events such as a Halloween haunted house and Victorian holiday experience. In 2022, the house launched the newest tour, Walk with Spirits, which focuses on spiritualism as it was practiced during Sarah's Winchester's lifetime.
More recently, hands-on activities such as a shooting gallery, an arcade, and an axe-throwing contest have been added, offering boundless entertainment opportunities. 
What will the next 100 years bring?
"I think our story will continue to resonate and we look forward to continuing to find new ways to tell it," says Walter Magnuson, executive director of the house.
They are exploring new experiences for guests, including guided paranormal investigations and—someday—overnight visits. The house is also expanding the brand beyond the guest experience with merchandise, including a coveted apparel line (at launch, the handbag sold out within 20 minutes) and seasonal items such as pumpkin-carving kits. 
As Silicon Valley continues to grow and change, unique places like this become even more important. "With each passing year, especially here on the West Coast, so many historic homes and places are no more," said Magnuson. "There are fewer opportunities to set foot in a place that has an incredible story and history."