What Makes a House a Grand House?
Hearst Castle, with more than 90,000 square feet of priceless antiques and art, unquestionably qualifies. But so does Gamble House, an 8,100-square-foot arts and crafts gem in Pasadena, California, whose woodwork radiates elemental beauty. When Via looked for grand houses in the West, we limited our search to those that are open to the public. All the homes profiled here carry compelling backstories of wealthy, sometimes obsessive owners. Kooky rifle heiress Sarah Winchester couldn't possibly have used 47 fireplaces, and you have to wonder if Alfred McCune needed to ship that wall-size mirror in a custom railcar. These houses, many built with fortunes made in Western ventures such as railroads or mining, have endured earthquakes and neglect. Will the Xanadu of some modern day Silicon Valley titan eventually qualify as a grand house of the West? Time will tell.
Hearst Castle, San Simeon, California
Newspaper and movie magnate William Randolph Hearst had had enough. "Miss Morgan," he wrote in 1919 to architect Julia Morgan, "we are tired of camping out in the open at the ranch in San Simeon and I would like to build a little something."
Twenty-eight years and $6.5 million later (equivalent to more than $63 million today), that "little something" on California's Central Coast topped out at 165 rooms (including 61 bathrooms) spread among a main residence called Casa Grande and three guesthouses. Packed with 25,000 pieces from Hearst's art collection—everything from ancient Greek pottery to an entire 16th-century Spanish ceiling—the estate also includes 127 acres of gardens, terraces, and pools.
Though he frowned on heavy drinking, Hearst nonetheless often hosted his tippling mistress, actress Marion Davies, and her cocktail-loving Hollywood crowd. "The wine would flow like glue during the meal," the actor David Niven once quipped.
In 1957, six years after Hearst died, his corporation gave the Mediterranean revival buildings of steel-reinforced concrete, along with their grounds and furnishings, to the State of California. Now one of the largest house museums in the United States, the estate employs about 200 on-site guides, curators, restorers, gardeners, and other workers.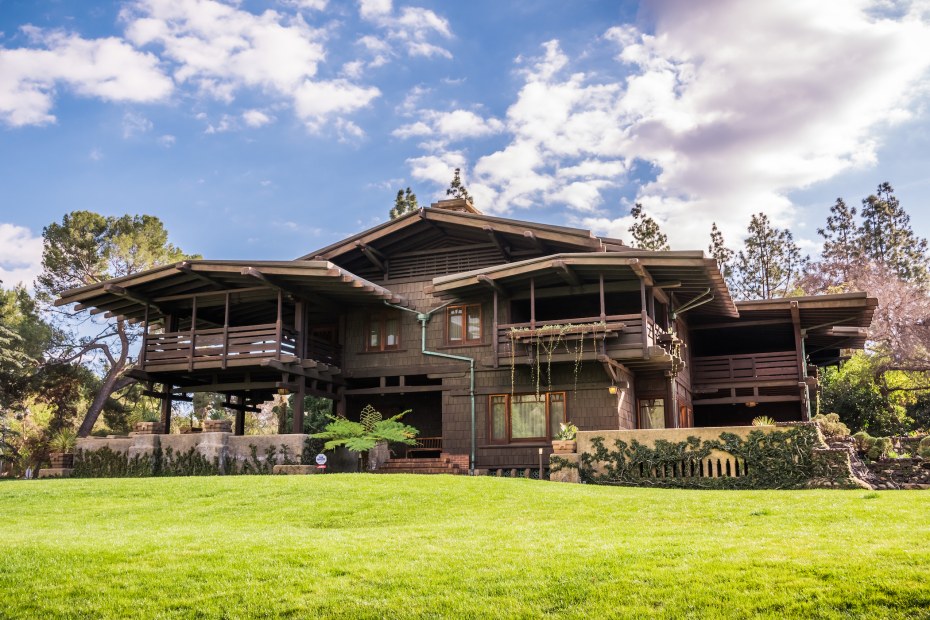 Gamble House, Pasadena, California
Pasadena's 1908 Gamble House may rank as the most spectacular arts and crafts residence ever built. Designed by brothers Charles and Henry Greene, the structure combines pared-down, handcrafted refinement with Asian influences. It features 17 varieties of wood, many hand-rubbed to bring out their grain and color. Wide terraces and sleeping porches fostered a California style of indoor-outdoor living.
The home embodies artful elegance, but for some it was a place to play. "My sister used the stairs like a jungle gym," says Dyke Messler, referring to the stairway of teak and mahogany joinery that spills like a waterfall into the entry hall.
The house was built for Messler's greatgrandfather, Procter & Gamble heir David Gamble. Eventually it passed to Messler's grandparents, Cecil and Louise Gamble, who put it on the market when they got older. "But after my grandmother overheard a prospective buyer say the dark interior wood needed a coat of white paint," Messler says, "she told my grandfather, 'Cecil, we're not selling.' " In 1966 the Gambles deeded their home to the City of Pasadena.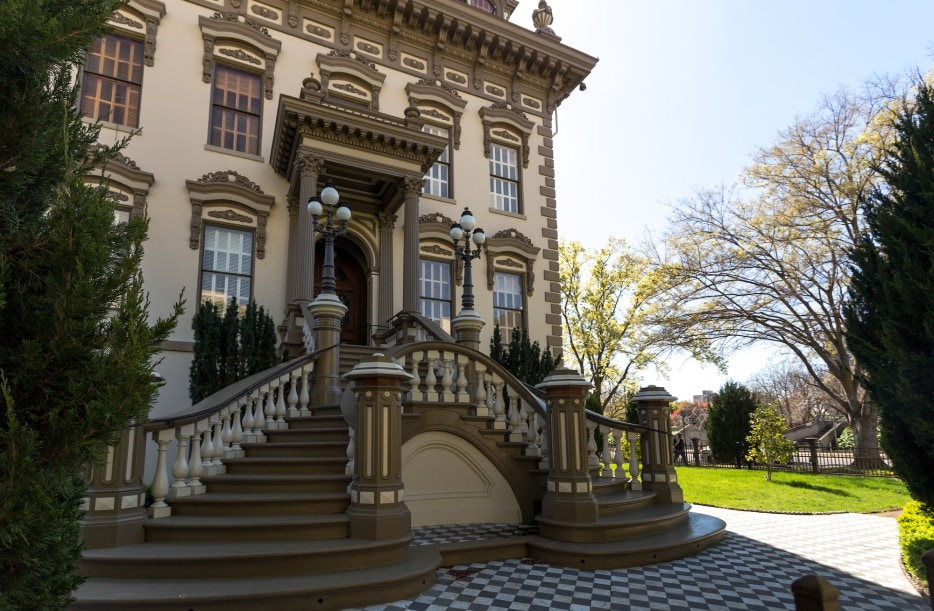 Leland Stanford Mansion, Sacramento
The meticulous restoration of Sacramento's Stanford Mansion has drawn kudos from luminaries that include the prime minister of Sweden and the president of Mexico. Outfitted with massive Victorian chandeliers and railroad-themed touches such as locomotives etched into two sconces in the dining room, the 19,000-square-foot landmark is California's most prestigious venue for receiving dignitaries.
The brick home was built in 1856 and bought five years later for $8,000 by soon-to-be-governor Leland Stanford. A successful Gold Rush–era merchant, Stanford had cofounded the Central Pacific Railroad, controlled the Southern Pacific Railroad, and amassed one of the biggest fortunes in the state.
By 1872 he and his wife, Jane, had converted the house into a palazzo inspired by the Italianate and French Second Empire styles, adding new first and fourth floors and crowning it with an ornate mansard roof.
Stanford died in 1893, and from 1900 until 1986 the mansion served as an orphanage and a home for girls. In 1991, a public-private partnership embarked on a $22 million redo that transformed it into today's reception palace. The group preserved historical accuracy and even furnished some rooms with their original pieces, including the toys of the Stanfords' son, Stanford University namesake Leland Jr.
"As you can see," said then-governor Arnold Schwarzenegger at the home's 2005 unveiling, "in California even a mansion can get a face-lift."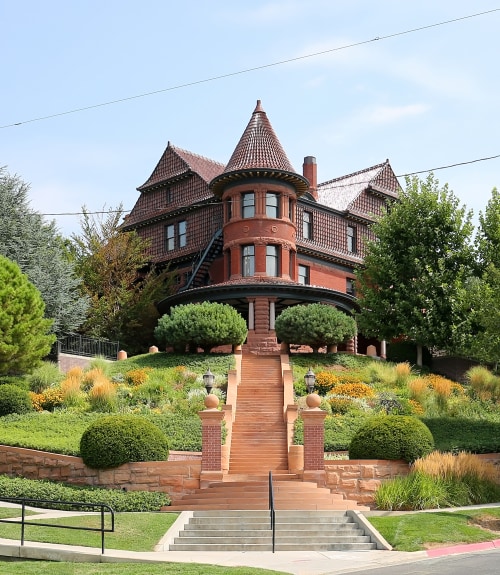 McCune Mansion, Salt Lake City
Looming atop Salt Lake City's Capitol Hill, the 1901 McCune Mansion is hard to miss, its walls of red brick and Utah sandstone clearly visible from Temple Square.
"It was built in an era of exploding, poststatehood development in Salt Lake City, and Mr. McCune wanted people to know he was one of the wealthiest men in town," says Kirk Huffaker, executive director of Preservation Utah.
Born in India to Mormon parents, Alfred McCune emigrated to Utah. He became a successful railroad builder and a partner in Peruvian mines with the likes of J.P. Morgan. His wife, Elizabeth, chose the site and the architect for the 21-room, 27,000-square-foot shingle-style house and personally oversaw its construction, which took more than three years and some $1 million (the equivalent of about $31 million today).
A German artisan spent eight months creating the faux marble finishes in the ballroom. The wood of a 300-year-old English oak was used for the main stairs, ceramic roof tiles (including a duplicate set to cover breakage in transit) came from the Netherlands, Nubian marble graces the fireplaces, and a wall-size German mirror arrived in a custom railcar.
Winchester Mystery House, San Jose
Triskaidekaphobes beware: At Winchester Mystery House, you'll encounter 13-paned windows, a sink with 13 drain holes, and a host of other features that may give pause to those who fear the proverbially unlucky number. Guided tours lead through 110 of the mansion's 160 rooms and explore baving oddities, such as stairs that end at a ceiling, and doors and windows that open onto walls. It's no mystery why Friday the 13th is among the most popular visiting days at this privately owned Victorian in San Jose.
A wooden jumble of gables and cupolas, the house was under construction 24 hours a day for 38 years until its owner, rifle heiress Sarah Winchester, died in 1922. Legend would have it that Mrs. Winchester, devastated by the early deaths of her husband and daughter, believed vengeful spirits of Winchester gun victims had cursed her family and could be appeased only by nonstop building.
Some visitors aren't looking for a museum experience. "We've had a number of guys order roses for a room," says former general manager Shozo Kagoshima, "and then pop the question to their girlfriends."
Flavel House, Astoria, Oregon
Captain George Flavel may have built a fine house, but in a 19th-century editorial, he was termed the "bloodsucker at the mouth of the river. " A Columbia River bar pilot whose cartel charged fees to guide ships through the treacherous waters, Flavel poured money into his mansion.
The 1886 beauty, these days a house museum, is a leading Northwestern example of Queen Anne architecture, sporting a typical witch's-cap tower. The Clatsop County Historical Society now owns the home and maintains it in Victorian style.
Original wrought iron railings outline the roof and verandas, and fireplaces of exotic wood and imported tile grace rooms beneath 14-foot ceilings decorated with ornate medallions. The interior woodwork includes doors and window trim of Douglas fir painted with faux graining to resemble mahogany and rosewood burl.
Among the period furnishings are family pieces, such as two 1884 paintings of ships at the mouth of the Columbia River and Mrs. Flavel's 1851 piano, which comes to life during Christmastime events. The upstairs bedrooms look out over Astoria, the Columbia, and the maritime traffic that, ship by ship, financed the building of this house.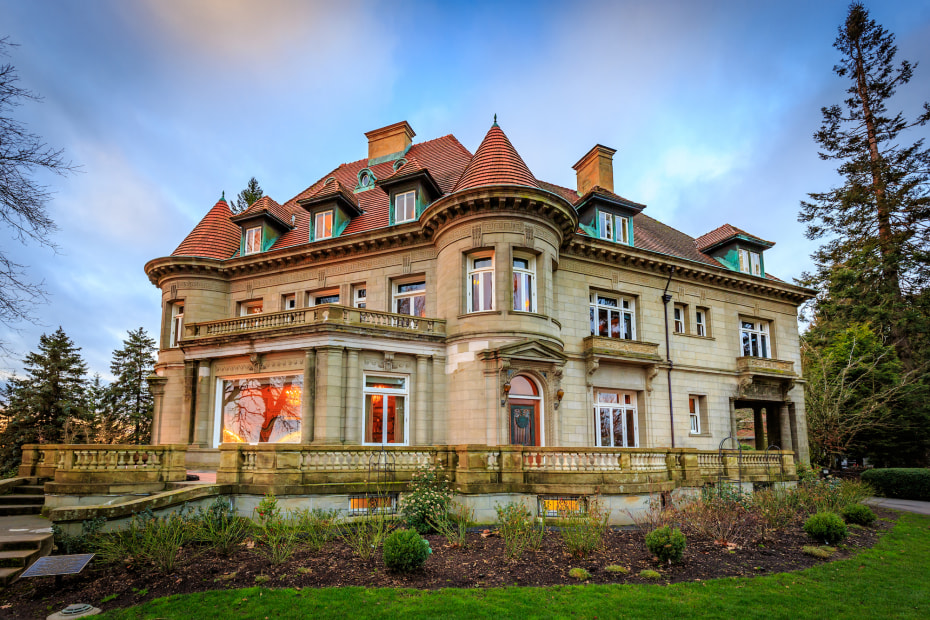 Pittock Mansion, Portland
You've snatched a broken-down, historic home from developers who wanted to build on its 46-acre site with sweeping river and mountain views. Now what? That was the question facing a band of Portlanders who, in 1964, convinced the city to buy the Pittock Mansion, a French Renaissance chateau.
"They used furniture out of their own homes so the mansion wouldn't be empty on the first public tours, " says Matthew Roman, a member of the Portland Historic Landmarks Commission, "and then they began to methodically furnish it with the best. "
Commissioned by Henry Pittock, owner of the Oregonian, and completed in 1914, the house was built by Oregon craftsmen using materials mainly from the Northwest, including the exterior's Tenino sandstone from Washington state. Restorations have revived the interior, with its mahogany-paneled craftsman dining room, French-style drawing room with crystal chandeliers, and Turkish smoking room. Period furnishings include the Pittocks' 1887 Steinway piano.
"It took a while for the Pittock to become the premier house museum of the Pacific Northwest," Roman says. "But right from the start, Portlanders embraced this landmark. "
Marvelous Mansions
More great houses in the West open their doors to curious visitors.
Bidwell Mansion: Legendary three-story 1868 Italian-style villa, made of brick covered in pink stucco, that in its day hosted everyone from President Rutherford B. Hayes to Susan B. Anthony.
Craigdarroch Castle: Extravagant 1890 Victorian built for a coal magnate; four floors of wood paneling, stained glass, and period furnishings.
Deepwood Museum & Gardens: Five acres including an exceptional 1894 Queen Anne with vintage furnishings and landmark English gardens designed in the 1930s.
Filoli: Sprawling country estate with landmark formal gardens and a 1917 Georgian house designed by architect Willis Polk; featured in the TV series Dynasty. 
Haas-Lilienthal House: A stately 11,500-square-foot showcase containing period furnishings representative of upper-middle-class Victorian life.
Iolani Palace: The 1882 Italianate home of Hawaii's last two monarchs—King Kalakaua and his sister and successor, Queen Lili'uokalani.
McConnell Mansion: A two-story 1886 blend of Victorian architectural styles; period rooms from late-19th-century parlors to a 1930s kitchen.