It's easy to fall in love with Carmel-by-the-Sea, the whimsical seaside village along California's Monterey Peninsula known for its many art galleries, sandy beaches, and storybook cottages. The most famous of the structures—which appear to be straight out of Snow White—were designed by self-taught architect and builder Hugh Comstock in the 1920s, and they have influenced the town's architecture and style ever since.
Comstock's story is its own enchanting tale. He first came to Carmel in 1924 to visit his sister and brother-in-law, but decided to stay when he met Mayotta Browne, a local artist who made collectible felt dolls she called "otsy-totsys." Within a year they married, and with Browne's doll business thriving, Comstock decided to build a space for her to showcase them. The result was a petite 244-square-foot cottage that featured high-pitched roofs with slightly-flared eaves, a chimney made of irregularly stacked stones, and a front door that looked like it belonged in a Brothers Grimm fairytale. In fact, it was the illustrations of British children's book artist Arthur Rackham in Alice's Adventures in Wonderland, Rip Van Winkle, and Fairy Tales of the Brothers Grimm that inspired the bespoke design and storybook style of his first cottage, Hansel.
Carmel's community of artists and writers quickly became enthralled with Hansel, and many of the city's residents soon asked Comstock to build them a storybook cottage of their own. Each of Comstock's homes have their own unique characteristics, from the textured, uneven finish of Hansel's rustic exterior to the recessed "eyebrow" window on what was then known as Obers, the designer-builder's private residence. Today there are 21 Comstock originals spread throughout Carmel, with half of them in the Hugh Comstock Historical Hill District, just east of its downtown center.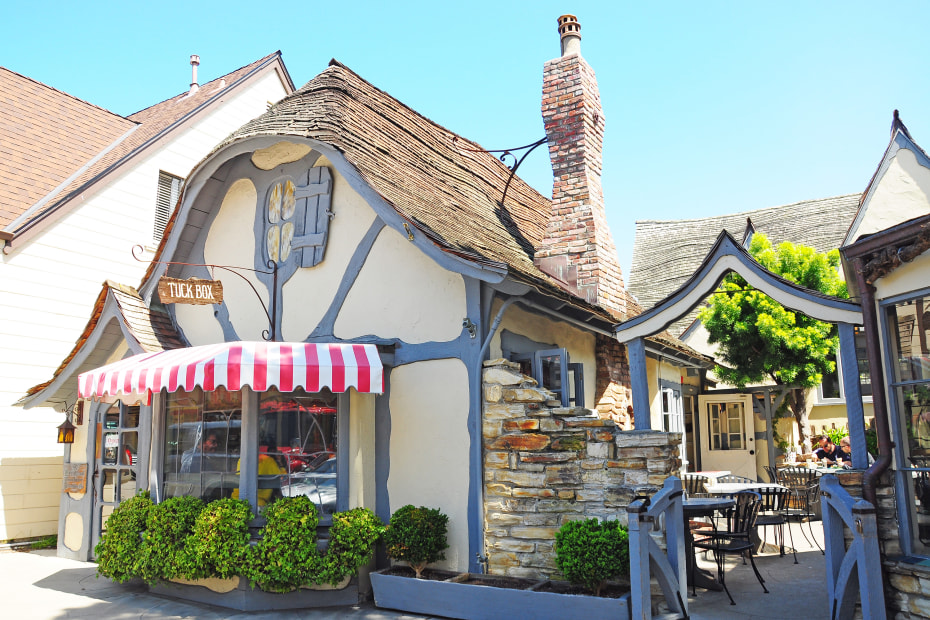 Storybook Cottages Where You Can Grab a Bite in Carmel
Comstock built what's now The Tuck Box in 1927, and the cottage was first used as a restaurant several years later. Today it's a beloved English tea room, a community staple that serves up egg breakfasts, lunchtime soups and salads, and afternoon tea complete with house-made scones and olallieberry spread. Wine and beer are available as well.
Housed in a whimsical cottage designed by Ted Kuster in the 1920s, Carmel's Cottage of Sweets has been doling out delicious licorice candies since 1959. In the early '80s they added homemade fudge. Cherry brandy cordials, fruit flavored Turkish Delight, and anise hard candies are also par for the course.
Carmel Storybook Cottages Where You Can Stay the Night
Although the bulk of Comstock's original cottages are private residences, Carmel-by-the-Sea is home to some similarly-styled storybook cottages where you can rest your head. Constructed in 1925, Carmel's Lincoln Green Inn is home to five renovated luxury cottages, each one inspired by the Tales of Robin Hood. The pet-friendly cottages all have their own kitchens, private yards, and fireplaces.
How to Find Comstock's Cottages
Swing by the Carmel Visitor Center along Ocean Avenue between Junipero and Mission streets to pick up a self-guided map of Comstock's storybook structures. Although there are no street numbers in Carmel-by-the-Sea, here are the general addresses of some of his best-known creations:
Hansel and Gretel Cottages: Torres Street between 5th and 6th avenues
The Hugh W Comstock Residence (formerly known as Obers): The corner of 6th Avenue and Torres Street
The Storybook Cottage: Santa Fe Street near 5th Ave
Our House: The west side of Santa Fe Street midway between 5th and 6th avenues
W.O. Swain Cottages (five English-style cottage homes grouped together, which include Doll's House, Birthday House, Ocean House, Fables, and Honeymoon Cottage): The west side of Santa Rita Street between 6th and Ocean avenues
Know Before You Go
Most of the cottages are privately owned—please be respectful when visiting and always stay outside any fences or gates. Many of the streets also have restricted parking.