Cherry blossoms (sakura in Japanese) are the unofficial national flower of Japan, where their jaw-dropping, though fleeting, blooms signify life's impermanence, as well as its endless renewal. Here in the United States, they're a certain sign of spring—not to mention a symbol of friendship between Japan and the U.S. While the National Mall in Washington, D.C., and Branch Brook Park in Newark, New Jersey, are home to some of the country's most hailed displays, the West Coast has impressive blossoms, too. From the University of Nevada, Reno Arboretum to Flathead Lake in Montana, here are seven of our favorites.
Northern California Cherry Blossom Festival in San Francisco, California
San Francisco's Japantown hosts the largest cherry blossom festival on the West Coast, and best of all, this beloved event—which occurs over two weekends in April (April 9–10 and 16–17 this year)—typically coincides with the flowering of the cherry trees across the city. Voluptuous Kwanzan and delicate Yoshino cherry flowers burst to life along Post Street and within the pagoda-adorned Peace Plaza, where the festival is typically hosted. You can also spot scenic brushes of pale petals further east in Golden Gate Park's Botanical Garden and Japanese Tea Garden.
Cherry Blossom Garden in Reno, Nevada
The small Japanese-inspired space inside the University of Nevada, Reno Arboretum has a walking path that winds among an array of colorful azaleas, bamboo plants, and ornamental grasses. But it's the garden's dense clusters of aromatic, snow-white Mt. Fuji cherry tree flowers that draw visitors between late March and mid-April.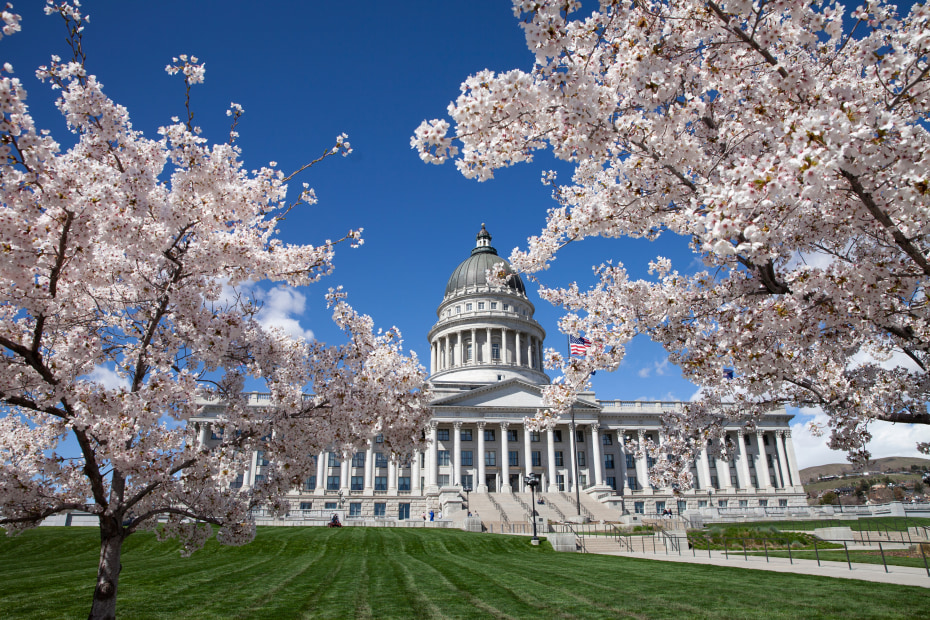 Utah State Capitol Cherry Blossoms in Salt Lake City, Utah
Stroll beneath 433 Yoshino trees on the .7-mile Memorial Walkway that encircles Salt Lake City's Capitol Hill. While cherry trees have grown at the Utah State Capitol Building for nearly a century, those that currently adorn the lawn were planted during a capital restoration in the early 2000s. It's a stunning sight when they're all in bloom, which typically occurs between late-March to early-April. Pack a picnic and watch the petals flutter from below.
Flathead Lake Cherry Blossoms from Polson to Bigfork, Montana
Hundreds of acres of cherry trees grow around Montana's 179-square-mile Flathead Lake, with the bulk of them along its eastern shore. While these are commercial fruit-producing trees, rather than ornamental, their pink-and-white blossoms are just as remarkable—especially with the clear blue waters of the largest freshwater lake west of the Mississippi and the snow-topped Mission Mountains as a backdrop. Flowering usually starts from early to mid-May, beginning at the southern end of the lake and moving north. To get a taste of the fruits themselves, don't miss the Flathead Cherry Festival, which takes place in Polson on July 30 and 31 this year.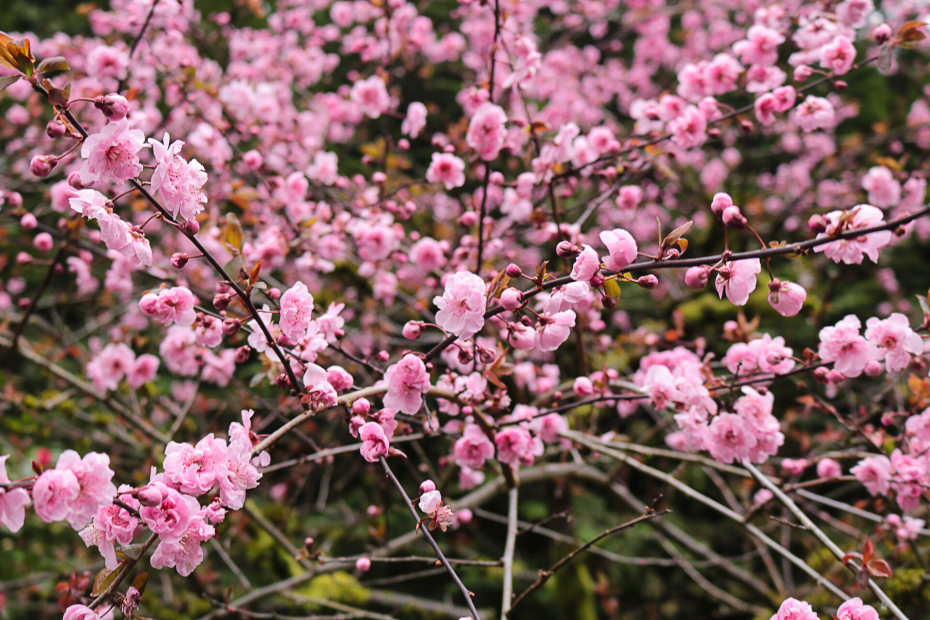 Portland Japanese Garden in Portland, Oregon
Through eight unique spaces, the 12-acre Portland Japanese Garden captures the tranquility, cultural importance, and aesthetics of an authentic Japanese garden, right down to its sakura. Visitors can bask in the serenity of the meticulously landscaped Flat Garden, where an umbrella-shaped weeping cherry tree springs forth with a sea of vibrant pink, typically beginning in late March or early April. Soon after, the faintly almond-scented white and pink Yoshino blossoms decorate the hillside in the Strolling Pond Garden and above the property's Umami Café (the perfect place for sipping matcha tea).
University of Washington Quad in Seattle, Washington
Students and university arborists study the beloved trees that line the campus quad to provide bud updates and peak bloom predictions throughout early spring. While thousands of visitors typically flock to campus to witness the changing seasons paint the 118 cherry trees across campus in pastel hues, the university has encouraged virtual viewing for the past couple of years. You can enjoy the breathtaking display from home thanks to a live webcam of the quad.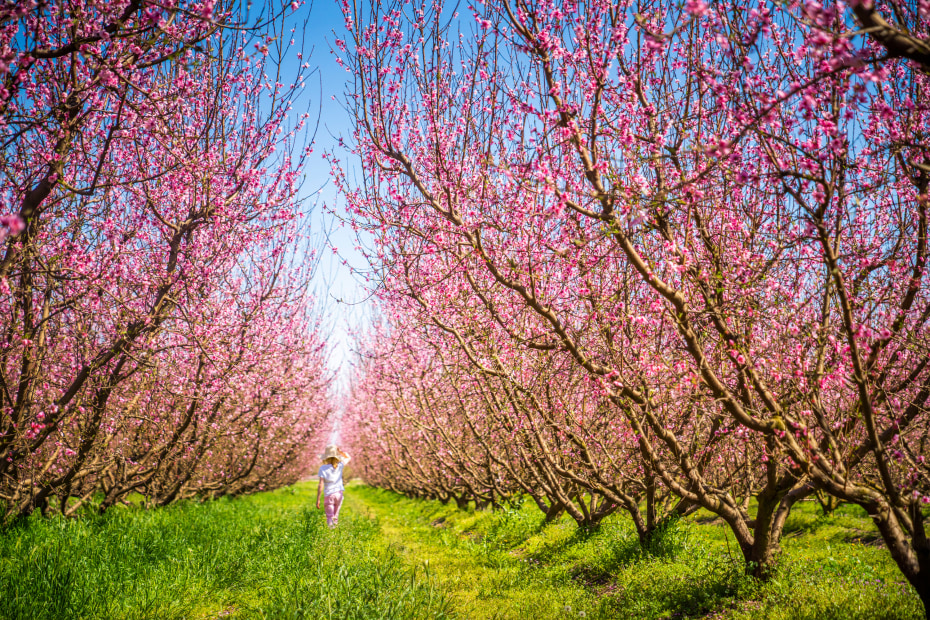 Bonus! Fresno County Blossom Trail in Central Valley, California
Although you won't find cherries, the blooming of Fresno County's array of related Prunus fruit trees is still a beautiful sight to see. Hop in your car (or onto your bike) for this self-guided, 62-mile scenic loop that's absolutely bursting with color. Expect the white blossoms of citrus trees, the pink-to-red flora of peach and nectarine trees, and the pink-tinged white blooms of apricot trees. Flowering plum, almond, and apple trees also line the route. The best time for viewing is typically from mid-February to mid-March, though the trail's website provides up-to-date info each year.