Framed by the placid Gastineau Channel and steep, spruce-covered slopes, Juneau has long welcomed day-tripping cruise passengers sailing up the Inside Passage. Now, fresh eateries and attractions encourage explorers to linger longer in Alaska's capital city.
1. Former food columnist Kelly "Midgi" Moore shares her favorite neighborhood haunts—with a side of culture—on Juneau Food Tours. Guests might sample Alaskan Brewing's malty amber ale at the 105-year-old Alaskan Hotel and Bar, or sip glacier-blue tea made from butterfly pea flowers at Harbor Tea & Spice. At Salt, third-generation chef Lionel Uddipa tempts tour groups with seafood dishes such as beer-battered rockfish tostadas with charred lemon aioli.
2. A light, tart rhubarb sherbet tops the best-seller list at Coppa, a family-run coffee and ice cream shop. Look for scoops starring Alaska ingredients such as wild blueberries and hand-harvested spruce tips.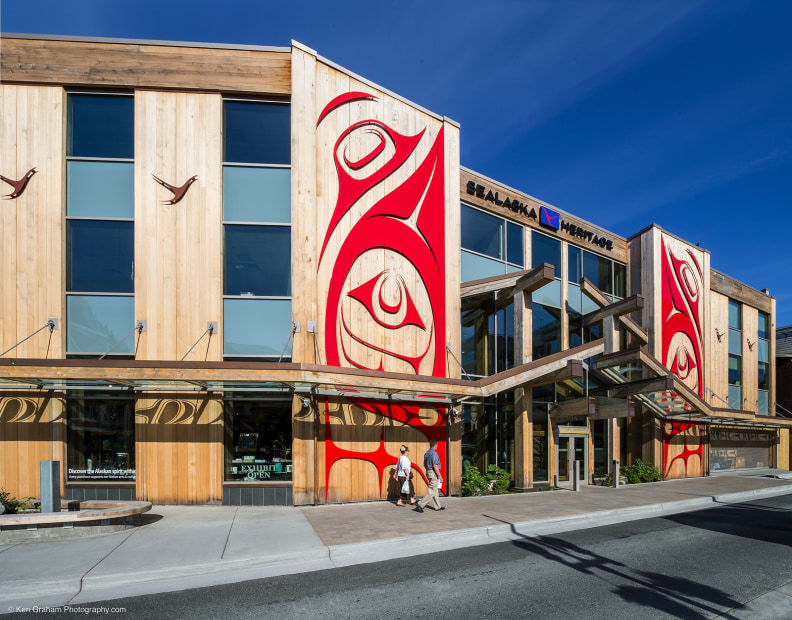 3. A 40-foot-high cedar facade adorned with sculptures by Haida artist Robert Davidson greets all comers at the Sealaska Heritage Institute. Inside, the Native Tlingit, Haida, and Tsimshian artifacts on display include glasswork, halibut hooks, and masks. Don't miss the Shuká Hít, a hand-carved clan house featuring a stunning black-and-amber glass screen. 
4. You won't find any androids at Alaska Robotics. Instead, the pop art–inspired gallery stocks playful prints, graphic novels, and quirky, hand-drawn postcards. An illustrated map of downtown Juneau, created by gallery co-owner Pat Race, provides a whimsical lay of the land.
5. Just a half mile from the capitol building, Cope Park feels a world away. Descend the wooden staircase at Seventh Street and you'll enter a quiet, fir-fringed space. Unpack a picnic, or wind through the forest to go wading in Gold Creek.