Ted Segerstrom wasn't immediately hooked on collecting Shelbys, the iconic muscle cars designed by Carroll Shelby. Four years transpired between the time he bought his first, a 1967 GT500, and his second, a 1968 GT500KR convertible. But a chain of events unfolded, with the unintended outcome of the beginnings of a collection.
"I always had a deep fondness for Shelbys, and wanted to have a drivable Shelby in addition to the collectible ones," Ted says. "The 1968 GT500KR turned out to be one of a kind—literally—and I couldn't drive it. I found a second 1968 GT500KR convertible that needed to be restored. When it was in the shop, another customer brought in the same car. The two vehicles turned out to be sequential VIN numbered cars, and sequential number Shelby ID numbers. I purchased the other customer's car and created the rarest GT500KR convertible twin set. But now I had three cars I couldn't drive. So I continued the search for one I could actually enjoy on the road."
Ted—and eventually his wife, Rae, who also has a fondness for Shelbys—has spent the three decades since those initial purchases collecting Shelbys from owners and dealers across the country. By 2007, they had so many cars, the couple had to buy a 25,000-square-foot warehouse to store them all.
Today, they own 93 Shelbys and Mustangs, 80 of which they're displaying in the Segerstrom Shelby Event Center, a car-museum/event-venue they opened in October 2021.
The 1967 and 1968 cars are part of the current exhibit in the 41,000-square-foot space, along with two fully restored Shelby GT350 factory drag race cars, each one of only four produced in their respective years; the three lowest-production Cobras in history; and a rare Black Jade 1969 Shelby GT500 convertible.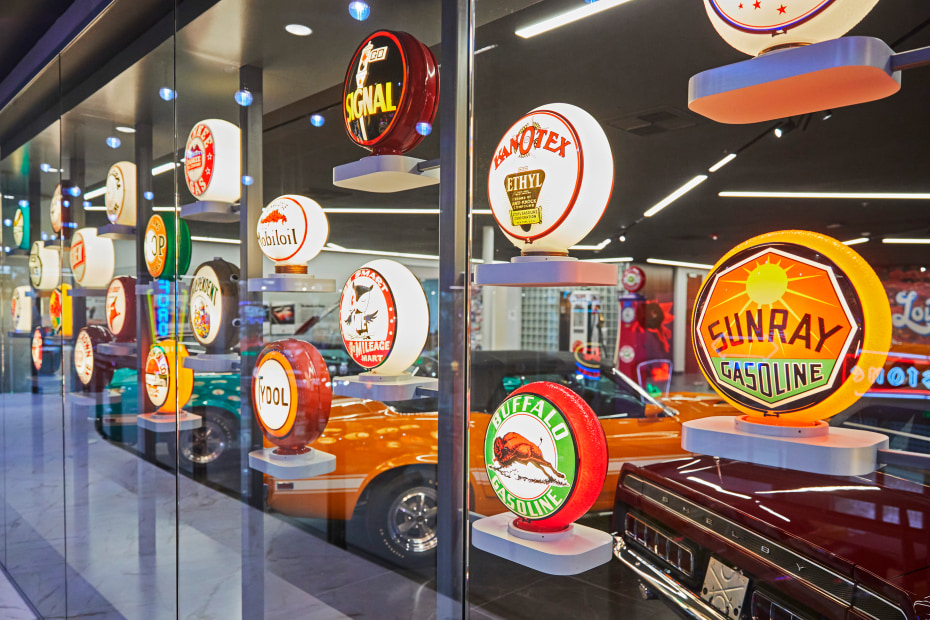 Dramatic neon signs with automotive themes glow from the walls around the cars, including a pair of 13-foot-tall Atlantic Richfield (now ARCO) eagles. Rounding out the displays are colorful antique gas pumps, an oil can collection, a few of Carroll Shelby's personal possessions, and installations describing Shelby's life, including his impact on the automotive industry from the 1950s to the present.
The Segerstroms met Shelby in 2004, when he signed one of their Cobras, and continued to see him at subsequent Shelby collector meetups until his death in 2012. Over the years, they got to know the designer and race car driver, who was portrayed by Matt Damon in Ford v Ferrari, a depiction Rae calls "very mild compared to what he was actually like."
"He was a kick in the pants," Ted says.
They're thrilled to be able to share his story while raising money for causes close to their hearts: All net proceeds from ticket sales and events will benefit the Carroll Shelby Children's Foundation and Shriners for Children Medical Center, with a portion going to the Kathy Ireland Children's Cancer Foundation.
"We really want people to come and learn about Carroll, along with learning about the cars," Ted says. "We hope everyone who visits will see some history, learn some history, and make memories."