With the Rivian R1T finally making its way into customers' hands, the debut of the new Ford Lightning and GMC Hummer EV, and the upcoming Rivian R1S and Chevrolet Silverado EV releases, expect to see more electric vehicles out on the dirt trails. However, there are a few things to take into consideration before you go off-roading in your electric truck or SUV.
Map out charging in advance.
The first hurdle to overcome is planning where you'll charge. Seek out a location that has a charger nearby so you don't waste any electrons on your pavement transit. For example, searching the Plugshare app in California there is a 62.5 kW charger in Barstow with plenty of Bureau of Land Management off-road play available within 5 miles. You want dunes? There is a 350 kW charger in Pismo Beach, super-close to Oceano Dunes State Vehicular Recreation Area. It might take a bit of planning, but you should be able to find charging stations that are convenient enough for a day trip. 
While it's generally not a great idea to charge your battery all the way to 100 percent, continually doing so can speed up battery degradation, it's a good idea in this case. You want as much juice as you can get.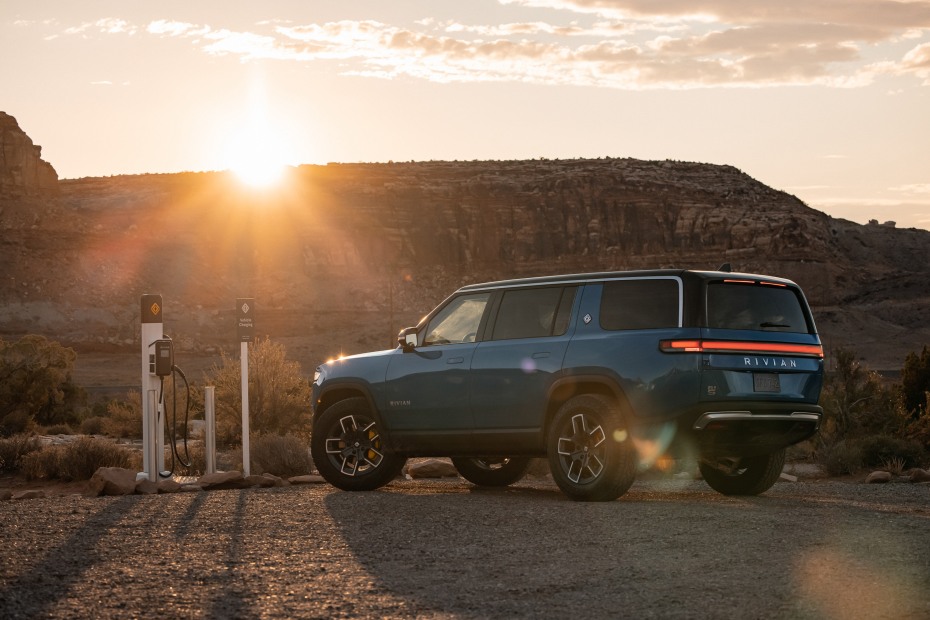 Reduce your range estimates.
You will not get the same range as you would on pavement. This is also true of traditional internal combustion engine (ICE) vehicles, but in EVs it can be a little bit more pronounced. For example, I took a Rivian R1T with a 135 kWh battery pack off road for 7 days. In ideal conditions it should give me 314 miles of range. However, after our journey was over and we did the math, we found that we lost anywhere from 14 to 20 percent of range. We lost fewer miles on hard-packed dirt, more miles when we hit the sand dunes.
If you swap out your tires and wheels, you'll likely lose even more range. EV wheels are optimized for weight and aerodynamics. Throw an aftermarket set on there and that delicate balance can get out of whack. Adding aggressive off-road tires will also lower your range, thanks to the knobby tread's higher rolling resistance. 
Adjust your tires and braking.
Driving an EV off road takes a little getting used to. These vehicles are quite a bit heavier than their traditional counterparts, and that can make driving in soft sand especially difficult. You'll want to air down for more traction, but not so much that you kill all your range. A flatter tire means more traction but also more rolling resistance. 
And then there is brake regeneration. In an EV, when you lift off the throttle the regenerative braking system kicks in, slowing the vehicle down and pushing some electrons into the battery. That's great for range but terrible when you want to just float over the crest of a dune. Adjust your brake regeneration to the lowest possible setting to avoid getting stuck at the crest.
The good news is that EVs have gobs of instant torque, so much that there is no need for any kind of four-wheel drive low range. All of the power is accessible the moment your foot touches the throttle. Steep, rocky ascents are a piece of cake, even if your EV doesn't have front and rear locking differentials. 
However, without four-wheel drive low you might find your steep descents to be a little tricky, especially if you have a full battery. I once started on a trail at 98 percent state of charge and immediately found myself on a series of steep uphill and downhills. Normally I would have put my ICE vehicle into four-wheel drive low and used the gears to slow me on the declines. However, EVs don't have a transfer case or gears, and since my battery was full, I couldn't use brake regeneration to slow me down. I had to use the mechanical brakes, which resulted in a slight loss of traction. It wasn't a deal breaker, but you should be warned.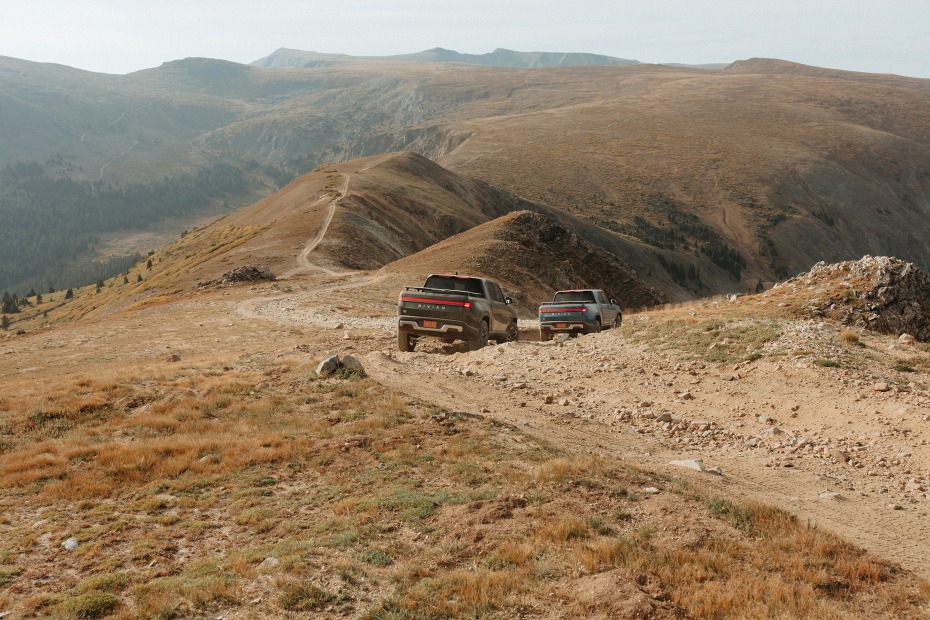 Be mindful of your ground clearance and trail.
Most EVs use a skateboard platform, and while they are well-protected, it's always better to avoid any kind of a collision. When in doubt, put a wheel up on a rock rather than trying to drive over it.
You should also know where the critical components are on your vehicle. I like to know where the cooling pump is for the batteries so I can be sure to keep that area safe. Bring a spare tire, jack, and breaker bar and know how to use them. You should always wheel with a pal and have recovery equipment like Maxtrax and a kinetic rope on hand. 
Lastly, be sure to wheel responsibly. This means staying on designated trails, packing out your trash, and following the Tread Lightly principles. 
Your electric truck is more than capable of going off-road. With a bit of planning, you're sure to get pretty far off the beaten path.