Who's ready for a family road trip? As a mom who has wrangled four kids on multiweek summer road trips for years, I love the connection that comes from being together in the car. But I also know how quickly the excitement at the start of a trip can give way to conflict and complaints—if you don't plan ahead. For more highs than lows on the road, you need to start off well prepared.
Charge up the tablets, pack a cooler with drinks and snacks, and bring the fun, such as games, music, podcasts, and mobile apps. These road trip activities will help to ensure the drive is as enjoyable as the destination.
Games
Games are a must for any road trip, and not just because they keep young minds occupied. We all get so caught up in day-to-day of life (laundry, grocery shopping) that it's nice to slow down and enjoy each other as a family. Engaging car games can be a great way for kids and parents to re-connect.
You don't need a dozen games, but two or three, depending on the duration of your drive, should provide enough entertainment. A good pick is the card-based Scavenger Hunt for Kids. It's fun and easy for small children to understand and play with parents and older siblings. Even better, it takes eyes off tablets and gets them looking out windows (what a concept, right?) for stop signs, tow trucks, motorcycles, and yellow houses. Take a break if a disagreement erupts or motion sickness sets in.
It's a bonus if you can bring along games that the kids can play with each other in the backseat—as in, no parents required. Family bonding is great, but it's nice, and sometimes even necessary, to take a break. But safety should always be the top priority, says Michelle Donati of AAA Arizona.
"Drivers should avoid games and activities that take their eyes off the road, hands off the wheel, or mind off the task of driving," she says. She also advises passengers to skip games or activities that require them to move around the car, take off their seatbelts, or distract the driver in any way.
Compact travel games, such as Connect 4 Grab & Go and Pop-O-Matic Trouble Grab & Go, are well-suited for moments when parents need to pause their fun in order to navigate heavy traffic or poor weather conditions that make the drive more of a challenge.
You can also search online for printable travel games such as crossword puzzles, mazes, word searches, and license plate finders. You can even find math games, such as count the cars and gas math, if you want to inject a boost of learning into your road trip.
Many classic road trip games, such as car bingo and iSpy, can now be found on mobile apps, like Top Road Trip Games, which has 11 different activities.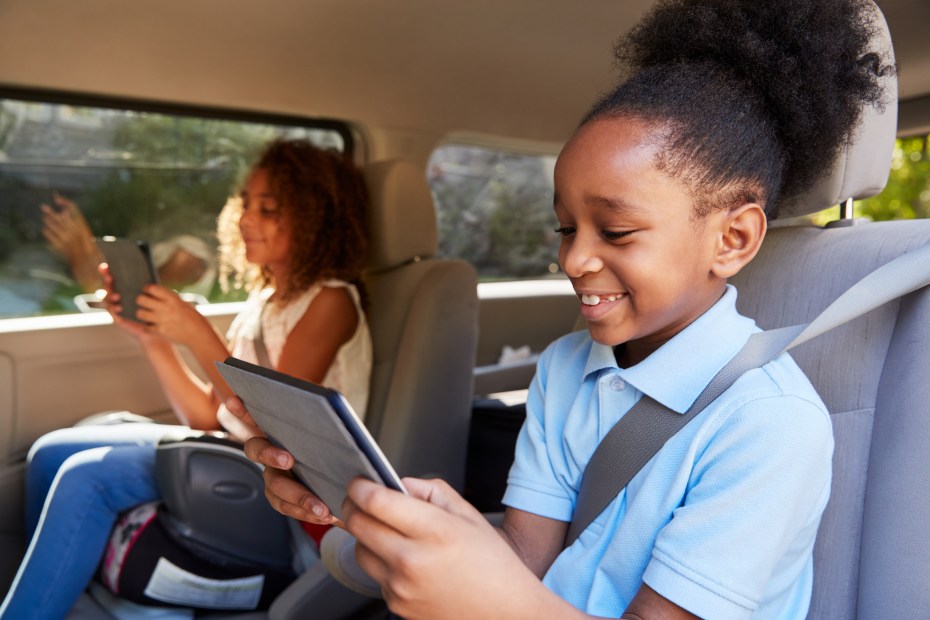 Streaming
You can't play games every minute of a road trip. Some passengers may want to do something solo, such as read a book, listen to music on headphones, watch a movie, or take a nap. Downtime helps gives everyone space and keeps parents sane.
However, if passengers are wearing headphones or snoozing, it's key for the driver to have a pick-me-up. Here come music streaming services to the rescue. Once quiet time has passed, you can turn up the volume for a family sing-along.
Podcasts are another great way to stay entertained. If you're not sure where to start, try Brains On!, which asks fun questions such as "Do dogs know they're dogs?" and "What makes gross things gross?" 
Depending on the age of your passengers and their interests, an audiobook might be another way to keep everyone entertained. Turn to a service like Audible, or check out the audiobook options at your public library.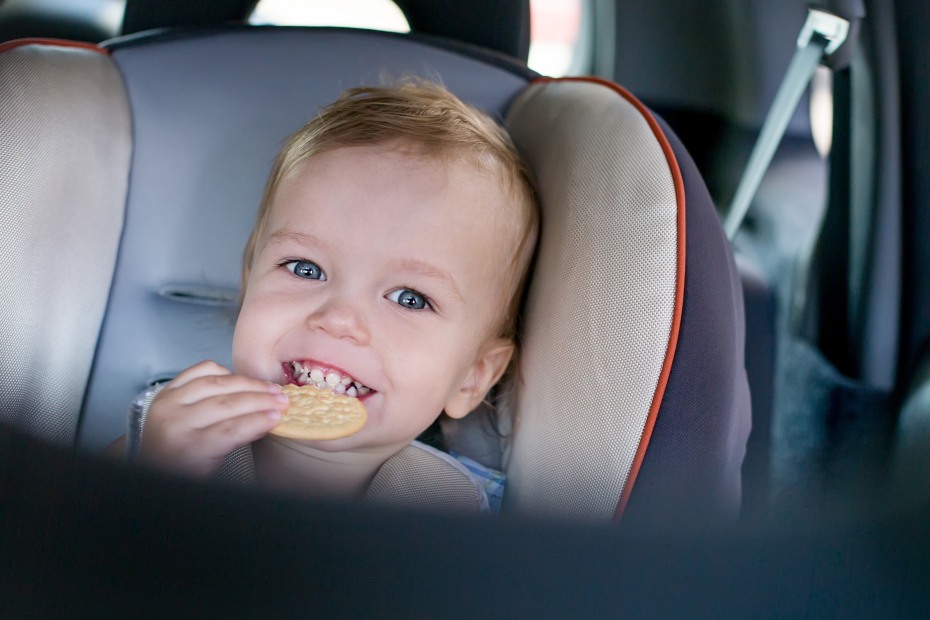 Snacks
This may sound like an exaggeration, but snacks can make or break a family road trip. Snacks and drinks re-fuel your kids, giving them the energy they need to keep on with the drive. Without sustenance, your kids may fall prey to road fatigue faster.
Kirsten Maxwell, family travel blogger at Kids Are A Trip, knows how much kids love snacks, maybe even more than meals. She notes that a child on the brink of a meltdown can often be placated with animal crackers or berries. She loves to bring snacks on road trips that are yummy and healthy. Easy-to-pack options such as dried fruit and rice cakes are good choices. Other ideas: carrots, granola bars, fresh fruit, and popcorn. You'll also want to bring a few bottles of water. 
As a general rule, avoid snacks that are messy, sticky, or have the potential to spill, like tall beverages in open containers. You want foods that can sit a while in a warm car (so bring a cooler, or skip the cheese sticks, bananas, and chocolate bars). Donati also recommends passing on smelly snacks. More importantly, she reminds drivers that loose items can be dangerous projectiles in the event of an accident, so keep the car as tidy as possible.
Once the car is packed and everyone's strapped in for the long haul, don't forget to share your road trip experiences on Instagram with the hashtag #ViaAdventure. Safe travels!