Want to learn a secret that could save your life in a car crash? Protect your back? And keep your flip-flops handy? It's knowing the smart ways to pack your stuff in the car before you take off on a road trip this summer.
Check the kid seats first.
More than 45 percent of children traveling in cars are incorrectly restrained. Before you put anything in your car, make sure that the safety seats are properly installed. It's a wise idea to reread your car and safety seat owner's manuals and to have an expert check your installation. AAA offers free car seat inspections and education at nearly all branch locations in Northern California, Nevada, and Utah so you can drive with peace of mind.
Secure your stuff.
In a crash, even relatively lightweight items can be deadly. "A box of Kleenex can become a brick," says Melanie Sadek, former manager of AAA's Traffic Safety Department. Pack as much as possible in an enclosed trunk and try to tie or strap down everything in the cargo area. Then make sure all the seat belts are functioning so your passengers will be properly restrained.
Stow a safety kit.
Before loading up the baggage and beach toys, reserve a prime spot for some roadside emergency gear: a bright flashlight with fresh batteries, towelettes, jumper cables, a blanket, a first-aid kit, and some energy bars and bottled water. Also check the air in your spare.
Get organized.
Cars have lots of nooks waiting to be packed with small items you want handy, and at auto supply stores you can find clever products to help keep them safe and organized. Caddies that you can strap to seats have pockets where you can stow items like maps, phones, and drinks. Fill one with kids' treats and toys for the backseat, and have another in front for the adults.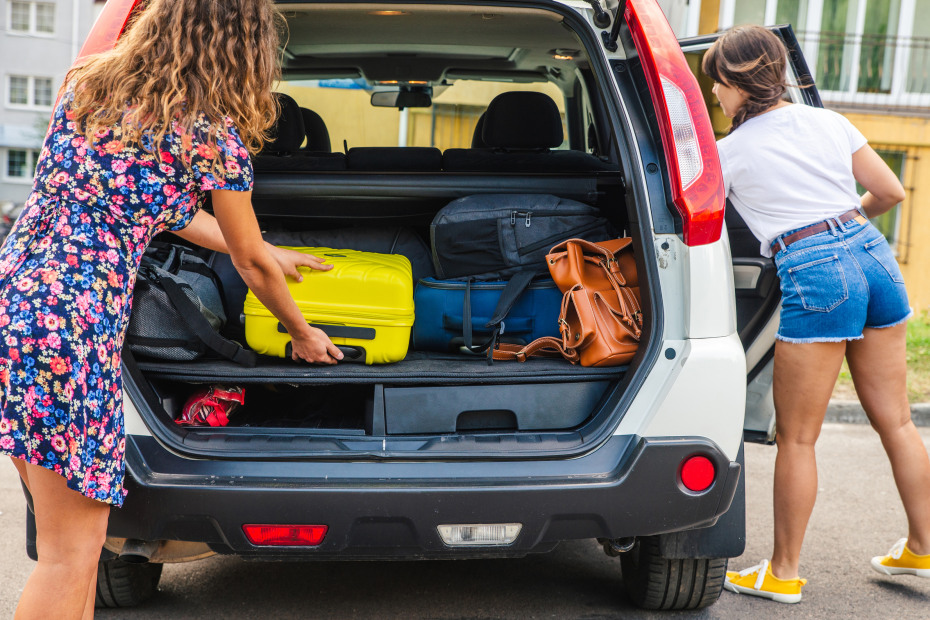 Beat the heat.
If you're heading somewhere hot, set aside a corner of the cooler for meltable items, such as lipstick and crayons, and for fluid containers that might leak, such as sunblock bottles. Use frozen gel packs or freeze some box drinks—both stay cold longer than ice cubes.
Divide and conquer.
Instead of a huge piece of luggage, suggests Anne McAlpin, author of Pack It Up, load smaller totes that are easier to carry. Color code them—if you don't have different-colored bags, use stickers or ribbons—so you'll know which bag to grab: blue for the beach, red for camping gear, yellow for sports equipment.
Compress and collapse.
You can save space by using compression bags that will reduce your cargo volume by as much as 50 percent. Also look for collapsible crates and coolers that fold up when you're not using them.