I have nothing whatsoever in common with Homer Simpson, with one important exception: donuts.
Granted, the prospect of biting into a tender, sweet, and perfectly cooked donut doesn't literally have me drooling, like television's famous cartoon paterfamilias, but I almost did just that at Donut Bar in downtown Las Vegas.
Opened in 2016, it's the first offshoot of San Diego's Donut Bar outside that California city. And for those of you who don't follow donut news, I can dutifully report that since the original Donut Bar debuted in 2013, it has been proclaimed among the country's best donut shops by a baker's dozen of media outlets that include USA Today, Thrillist and MSN.
It's easy to see (and taste) why. Their treats use quality ingredients, are cooked overnight, and often are sold out by noon. And when they're gone, they're gone. (Insider tip: If you want a dozen or more and tend to sleep late, you can pre-order online between 3 and 9 p.m. the day before.)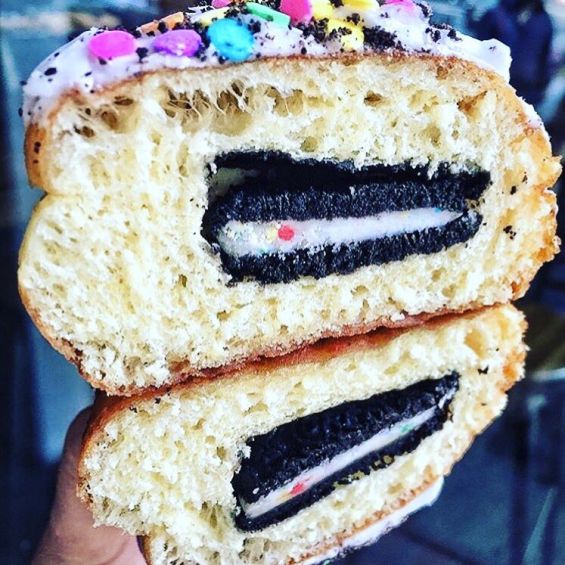 But it's also the inventive donut varieties—about two dozen per day, with some vegan selections—that account for the huge popularity of the Las Vegas shop. Strawberry Split or Matcha Green Tea? Why not? Ditto Mud Pie, Oh My Birthday Cake Oreo (with cookie inside), and Big Poppa-Tart (with Pop Tart inside). My ethereal lemon-pistachio cake donut combined two of my favorite flavors, and the outlandish crème brulée donut was topped with crackly caramelized sugar, just like its inspiration.
Want to emulate the cartoon character whose picture adorns the walls of Donut Bar? Then order a monster-sized Homer's Donut, a raised yeast ring that's six inches across and topped with vivid pink glaze and multi-colored sprinkles. But be warned: It may get your salivary glands working overtime.