Whether made from cake or yeast dough, donuts are on the rise. Witness the raging popularity of Portland's Voodoo Doughnut and Blue Star Donuts. Now even more shops are hand-making small batches with fancy flavors. "We just tried to bring dignity to the doughnut," says Sara Spearin, owner of Dynamo Donut in San Francisco. "It's a pastry like any other and should be treated as such."
Vancouver, B.C.
In its 3,000-square-foot downtown storefront, Cartems Donuts has room for experimental offerings such as mango cream, pulled pork, bourbon and bacon, and a cassia honey and Parmesan "bee sting" that shop owner Jordan Cash calls "a meal for sure." He also offers gluten-free and vegan versions.
Washington
A wonder child of Cupcake Royale bakers, Rodeo Donut uses ingredients from the Pacific Northwest to make brioche dough and clever toppings. The menu rotates throughout the week, so plan ahead if you want to try a specific flavor such as the filled sour apple and plum, blueberry bourbon fritter, or pistachio rose ring. You can find Rodeo Donut's offerings at the storefront in Old Ballard or at the Capitol Hill and Ballard Cupcake Royale locations in Seattle.
Oregon
Bakers at Blue Star Donuts in Portland searched France for a brioche recipe to give their product a thicker, more buttery body. Most flavors have a twist: cinnamon horchata glaze, Meyer lemon key lime, or blueberry bourbon basil. "People will be having doughnuts catered at weddings," says co-owner Micah Camden. Not in the PNW? Grab a brightly-hued treat at one of Blue Star's shops in Los Angeles.
It's practically against the law to go to Portland without eating at one of the many food trucks that line the city. Pip's Mobile Doughnuts and Chai brings some sweetness to the mix with made-to-order doughnuts and steaming cups of chai tea. Look for flavors like Nutella, honey and sea salt, and cinnamon sugar. (You can also visit its storefront on Fremont Street.)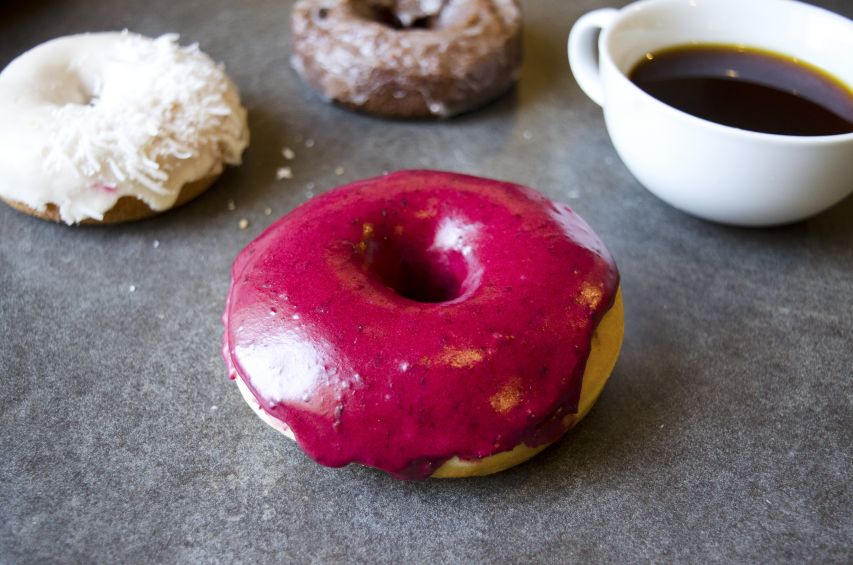 Idaho
Guru Donuts in downtown Boise relies on local ingredients to make its inventive flavors such as root beer float, raspberry lemonade, and Hipsterberry—a classic doughnut glazed with blackberry, blueberry, and lavender.
California
The mostly hole-free offerings at Donut Savant in Oakland are diminutive by design. "That way, it's easier to try different varieties," says baker and owner Laurel Davis. Flavors include salted maple as well as German chocolate with coconut-pecan filling.
San Francisco's Dynamo Donut is a Mission staple, but you can snag a fresh treat at the Marina Kiosk offshoot along the San Francisco Bay Trail. Both shops offer such refined confections as strawberry Earl Grey, blood orange mimosa, and blueberry cornmeal. 
Patrons at SLO Do Co in San Luis Obispo choose among chai, Nutella, and boysenberry with cream cheese, or invent their own flavor pairings at the doughnut design center.
The artisanal confections at Nomad Donuts bring flavors from around the world to the San Diego shop. Executive Pastry Chef Kristianna Zabala makes each inventive edition—think chocolate coffee chipotle and green apple sage—by hand, and the menu changes daily to fit what's fresh and intriguing to Zabala. 
Donut Friend in Los Angeles takes filled doughnuts to a whole new level. Try the Lemon Weapon—a raised donut cut in half and slathered in lemon cream and blueberry jam—or the S'morrissey, a chocolate cake doughnut stuffed with toasted marshmallows and finished with chocolate glaze and a dusting of graham cracker crumbs. Or get creative and make your own masterpiece.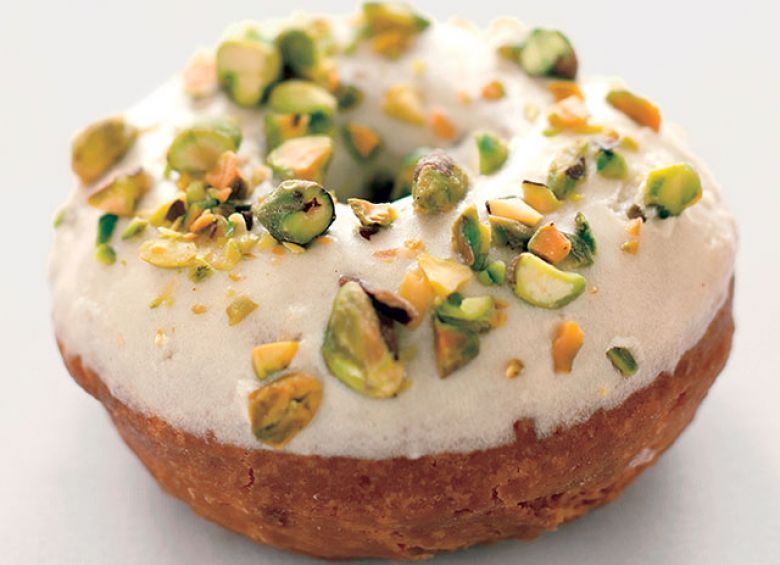 New Mexico
Created by the brilliant minds behind Santa Fe's ChocolateSmith, Whoo's Donuts manages to sneak in healthier ingredients like blue corn and fresh apples into its fried treats. Good news: Whole Foods Market now sells the treats with a twist in the Rocky Mountain stores.
Colorado
Portland native Voodoo Doughnut has made its way to the Mile High City, in addition to its outposts in Eugene, Oregon; Los Angeles; Austin, Texas; and even Orlando, Florida. Try one of its more than 50 over-the-top flavors such as the vegan Voodoo Doll or the meaty Bacon Maple Bar.
Glazed and Confuzed's donuts are made fresh daily with organic and local ingredients. Expect innovative flavors, seasonal additions, and clever names at this shop in the Stanley Marketplace in Aurora.