Like lots of people who really like to travel and really, really like to eat, I have conflicted feelings about long family car trips. On the one hand, there's the pleasure of downtime with loved ones and the romance of the open road. On the other, there's the prospect of greasy drive-thru dining and the sight of fast-food wrappers strewn like crime scene evidence in the backseat.
I know of just a few ways to avoid those pitfalls. One is to stock the car as if it were a stagecoach and survive on the provisions like a pioneer. Another is to map the trip in advance, traveling from big restaurant to big restaurant.
On our most recent adventure—a drive from Sacramento to Portland—my wife, our two kids, and I opted for a third way: We chose to wing it, relying largely on friends' recommendations and wise-sounding suggestions from the Internet. We took three days to cover the route, nearly 600 miles, stopping at more than 30 places, none more than a 10-minute drive from Interstate 5. Risky, to be sure. But our easy-going graze resulted in far more hits than misses, delightful bites that I'd be happy to return to the next time I head up that way.
Where to Eat on I-5 Near Sacramento
Sacramento calls itself the Farm-to-Fork Capital of the country, so California's capital made a perfect starting point. To scour the city's Sunday farmers' market (Eighth and W streets; 8 a.m. to noon) is to marvel at the ever-changing bumper crop of fruits, nuts, meats, eggs, cheeses, and flowers that create an urban Eden in the heart of downtown. Amid pallets of persimmons and bushels of Bosc pears, we settled on a peck of Pink Lady apples, then swung past Temple Coffee for fresh-brewed java. Happily caffeinated and hungry for more, we hit the road again.
In the small farm town of Williams, about 60 miles north of Sacramento, Granzella's is a true roadside draw, a family-owned inn, gift shop, restaurant, and deli (451 Sixth St., 530-473-5496). Its cases present smoked turkey and salami, imported cheese, and house-made muffuletta spread. But I was after something with a spicier kick. Two blocks away, I nabbed two carnitas tacos at La Fortuna Bakery (669 F St., 530-473-2023), the tender meat topped with onions, cilantro, and fiesty salsa. It was 10 a.m.
"People don't eat that in the morning," said my 7-year-old son.
Sweet kid. He's got a lot to learn.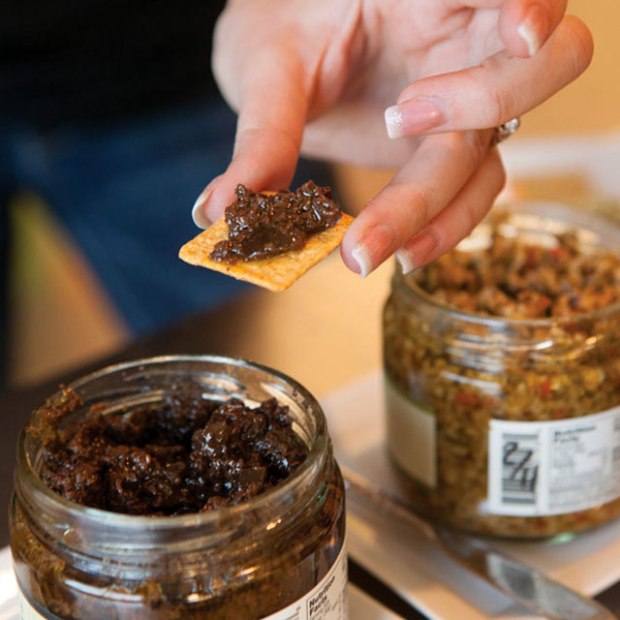 Where to Eat Along I-5 in Northern California
In Willows, for instance, one town up I-5, I informed our children that you can trust the lemon meringue pie at any truck stop where the clientele wear billed caps and the waitress calls you "Hon." As proof, I offered Nancy's Airport Cafe (353 County Rd. G, 530-934-7211), a bustling spot by the local airfield.
Less than 30 minutes of highway driving later, I shared another nugget: The olive is a stone fruit related to the peach, and no city in the West does more with it than Corning, home of Lucero Olive Oil. There the Lucero family, a third-generation olive-growing clan, runs a namesake tasting room (2120 Loleta Ave., 530-824-2190) where we sampled olive oils of wildly ranging styles and snacked on crackers with tapenade.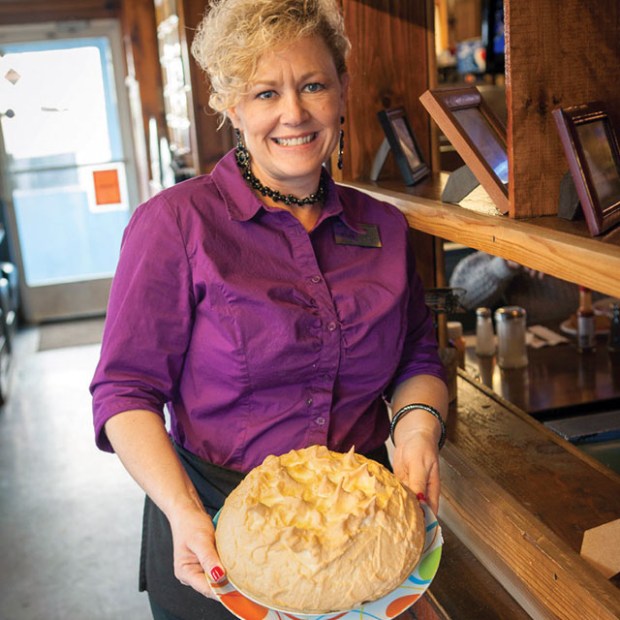 I-5 Food Stops in Oregon
Onward into Ashland, Oregon, the Shakespeare festival's hometown, we bolted to Four and Twenty Blackbirds for warm marionberry turnovers.
Less than 20 minutes later we hit Central Point. Lillie Belle Farms' lavender-colored building is a nod to chocolatier Jeff Shepherd's lavender-and-sea-salt caramels, which Martha Stewart ordered by the dozen after her release from prison. But I couldn't resist the blue-cheese-and-chocolate truffles, made with cheese from the Rogue Creamery two doors down; they ranked among the best sweets I've ever had.
On long road trips the miles can blur together—and so can the meals. But many other Oregon morsels remain memorable: the creamy grits with greens at Ma Mosa's in Grants Pass (118 NW E St., 541-479-0236); the plate-size cinnamon rolls at Heaven on Earth Restaurant in Azalea (703 Quines Creek Rd., 541-837-3700); the Tillamook jerky sold at Seven Feathers Gift Gallery in Canyonville (146 Chief Miwaleta Ln.); and the ambrosial seafood stew at the casual Fisherman's Market (830 W. Seventh Ave., 541-484-2722), well worth the three-mile detour into west Eugene.
The stew was so satisfying that I shelled out for an extra bowl to sustain us on our final push to Portland. In a city whose culinary scene makes national headlines, we found an array of options, including wood-fired pizza at Oven and Shaker (1134 NW Everett St., 503-241-1600).
The Southern Route: Where to Eat on I-5 from Sacramento to Los Angeles
It's an unhappy irony of modern-day travel: The closer you get to fertile farmland, the harder it is to find fresh-tasting fare.
Consider the drive south on I-5 from Sacramento to Los Angeles. Here, in the heart of California's Central Valley, the pickings are much slimmer than they are on the interstate's northbound path to Portland. Yet if you look beyond the roadside chains and the fueling stations with foil-wrapped fodder, you'll unearth some good grub.
In the small farm town of Westley, just south of Tracy, Antojitos Mexicanos (7154 S. McCracken Rd., 209-894-3330) is a humble oasis set in a rest stop beside a Subway. South-of-the-border staples are the standouts here, like feisty tacos al pastor and chile verde with house-made tortillas.
Follow the freeway 20 minutes farther south, then take California State Route 140 for 10 minutes toward Gustine. There you'll come upon Wolfsen's Meat and Sausage (358 South Ave., 209-854-6456), its deli cases filled with dozens of varieties of house-ground sausages, its lunch menu stocked with hearty sandwiches made with your choice—linguiça, Polish, West Side red hot—steamed for you on the spot.
The Central Valley has one of the country's largest Basque populations, and one outgrowth of that heritage is Wool Growers Restaurant (609 H St., 209-826-4593), a family-run operation in business since the early 1900s. A seven-mile detour off I-5 into Los Banos takes you to this homey, space, where the kitchen turns out homey, outsize portions of soup, beans, pork chops, stewed lamb, and other traditional Basque dishes. It's a cash-only restaurant, and every meal comes with a bottle of house red wine.
Back on I-5, travel another hour south and you're in Coalinga, home of the iconic Harris Ranch. Its abundant (and fragrant) herds supply Harris Ranch Restaurant (24505 W. Dorris Ave., 559-935-0717), a redoubt for rib eye, T-bone, New York strip loin, and other classic steak-house fare.
If you must have fast food, you could do much worse than In-N-Out Burger in Kettleman City (33464 Bernard Dr.), northwest of Bakersfield. But home cooking is always better, and that's what you get at Tita's Pupuseria, which has two locations in Buttonwillow, near Bakersfield. One is a sit-down restaurant (20643 Tracy Ave., 661-764-5111), the other a food truck that parks nearby. Both serve satisfying Salvadoran pupusas: thick, grilled tortillas with assorted meat and cheese fillings. About 45 minutes south of Buttonwillow, I-5 rises through the Grapevine, then heads down toward Granada Hills, where Casa de Pizza (16161 San Fernando Mission Blvd., 818-366-6311) lives up to its name with nicely blistered pies, along with red-sauce standards such as spaghetti and meatballs, lasagna, and eggplant parmigiana. The dining room, dubbed the Sinatra Room, is filled with photographs and other memorabilia devoted to the career of the famous crooner. Think of it as a guaranteed star sighting before you travel the final leg into L.A.
*As of February 2019, Nong's Khao Man Gai no longer had food trucks in Portland, but you can still find her famous chicken and rice at Nong's brick and mortar restaurants in Southeast and Southwest Portland.