You're sure to find Flamin' Hot Cheetos and Slim Jims at almost any of the country's nearly 122,000 gas stations with convenience stores. But delicious cooked-to-order fare? That's less likely, unless your travels take you to one of these amazing eateries that just happen to call a filling station home.
Prefer wild buffalo meat loaf au jus, or the ahi sashimi? Maybe fish tacos with mango salsa and ginger coleslaw? There are no bad choices at Whoa Nellie Deli, an eatery in the Mobil station at the intersection of U.S. Route 395 and Highway 120 in Lee Vining, California, the eastern gateway to Yosemite. Open from late April to early November, Whoa Nellie has an inviting grassy picnic area with a sweeping view of Mono Lake, plus live tunes on Thursdays and Sundays.
Tucked behind a Sinclair station in Logan, Utah, Tandoori Oven has offered outstanding renditions of Indian restaurant staples for over 15 years. But in addition to the crispy shelled vegetable samosas, aromatic chicken biryani, and rich lamb vindaloo, the menu holds unexpected delights, such as a fish tikka masala featuring salmon simmered in deeply spiced tomato-cream sauce.
You can smell the succulent meats at Blue's BBQ, an eatery in a Cenex in Billings, Montana, long before you taste them. Stoked with a blend of hardwoods, its 10-foot-long smokers cook baby back ribs, brisket, and more. Anoint your choice cut with the house sauce—spicy or mild—add pit-baked beans and coleslaw or potato salad, and you've got some serious 'cue.
The pizza oven stars at the tiny Gourmet Deli at 76, not far off I-80 in Fernley, Nevada, a small town just east of Reno. Its pies have been hailed as among the state's best, with house-made dough and tomato sauce, beautifully blistered crust, and toppings ranging from pepperoni to jalapeños. The oven also produces warm, pillowy naan—cooked individually for each order—that makes a perfect partner to servings of lamb shawarma and falafel with hummus.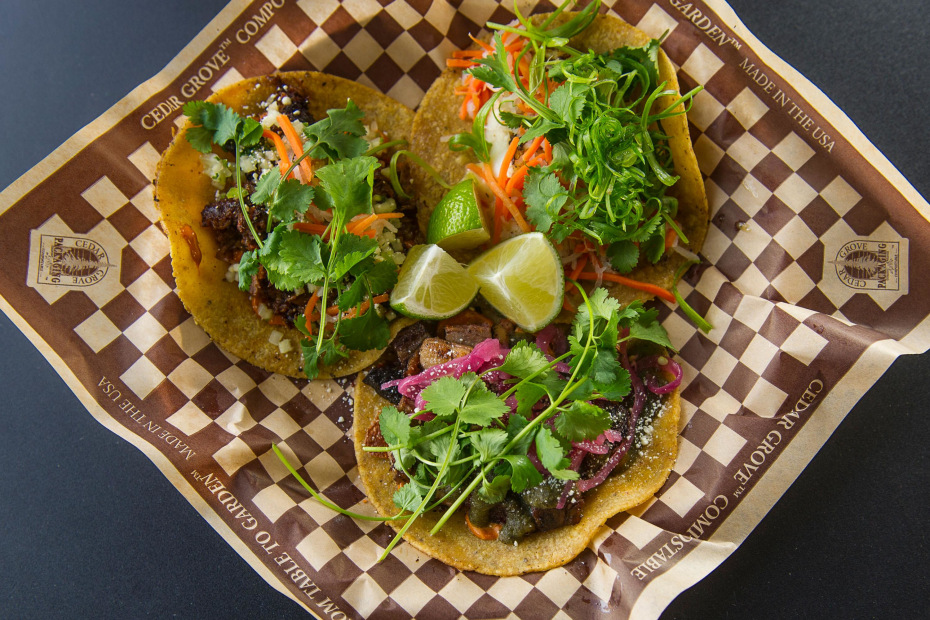 "I worked my way down in the food business," says chef Andrae Bopp, who started his culinary career at Michelin-starred Manhattan restaurants and now happily cooks at a Walla Walla, Washington, Cenex station. But the from-scratch, global street food at Andrae's Kitchen is top tier: poutine made with hand-cut fries, sandwiches stuffed with house smoked brisket and pastrami, and chipotle-braised short ribs wrapped in tortillas of heirloom Oaxacan corn.
A roadside attraction since the 1920s, Dateland appears like a mirage as you're driving through the desert on I-8 between Gila Bend and Yuma in southwestern Arizona. Outside, there's a date grove. Inside, the food court is an oasis of date treats: pies, muffins, cookies, and thick, creamy milk shakes, made with melt-in-your-mouth medjools.
The menu at Wolf Creek 76 Grill & Deli, just off I-5 about 20 miles north of Grants Pass, Oregon, draws on a range of food traditions, from Southern (biscuits and gravy) to Tex-Mex (the prodigious breakfast burrito). But the go-to choice is pure Americana: the double cheeseburger, its fluffy bun stuffed with two hefty beef patties, copious condiments, melted cheese, and a veritable garden of tomato, lettuce, and onion. Pair it with a shake made from local Umpqua ice cream and served in the metal canister in which it was made.