Perfectly crispy on the outside. Distinctive pink mystery meat on the inside. A layer of sweet rice and a seaweed wrap. This is the deep fried Spam musubi from Da Kitchen (Kahului and Kihei, Maui) that will change your mind about Spam.
How Spam Got Its Start in Hawaii
Spam is a big deal in the Hawaiian Islands. The low maintenance meat appeared on Hawaii's shore prior to World War II. Its first role was as protein in C-rations for the troops, but it became an essential foodstuff for local people, keeping them fed during times when the supply chain was unreliable. "It's almost like we claim Spam as our own here in Hawaii," says Barbara Campbell, founder and co-president of the Spam Jam Foundation and the 17-year-old Spam Jam festival, which attracts around 30,000 Spam enthusiasts from around the world each year to enjoy live music and 20 food booths focused solely on—yep—Spam.
"I love the creativity," says Campbell. "You'll see Spam ramen, and Spam manapua (steamed bun), all kinds of things." And of course, Spam musubi. "It's our go-to food. You toss a musubi in your bag before you go golfing or surfing; you're ready for the day."
Spam's not everyone's (sorry) jam. But give it a shot to experience something that's become synonymous with Hawaii. Initially an import, Spam has been adopted by the resourceful residents of this remote place—mixed, remixed, and remixed again to reflect the diversity of Hawaii. Despite its complicated history, it doesn't need to be taken seriously. Spam can simply be a perfect salty snack for a day in Hawaii's sunshine.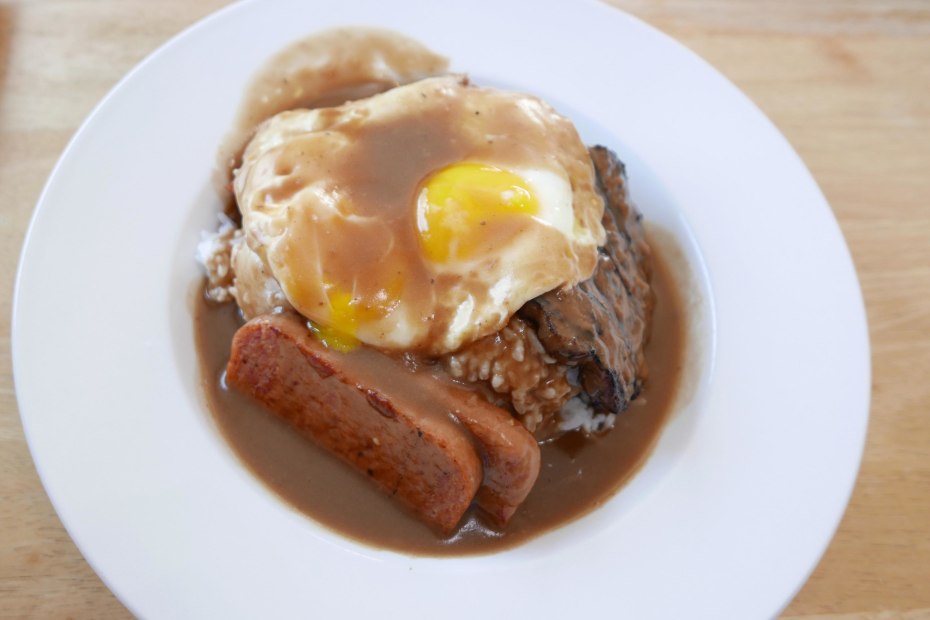 Where to Find Spam in Hawaii
Breakfast
Spam is a 24-hour food. Hawaii-based McDonald's restaurants have Spam and eggs on their menu, but for an old school Hawaii breakfast, head to the Manago Hotel in Captain Cook on the Big Island. The hotel has been serving basic meals since 1917, and the standard "two eggs and all the stuff" breakfast includes Spam as a meat option.
At Café 100, in Hilo on the Big Island, you can replace the hamburger patty with a slab of grilled Spam or dig into Loco Moco, an island breakfast classic made with a hamburger patty, eggs, rice, and gravy.
Lunch and Dinner
For lunch, you've got musubi, of course; you'll find them at 7-11, street corner carts on lively Kalakaua Avenue on Oahu, and on the counter in a warming cabinet in Hawaii's ubiquitous ABC stores. You'll also find Spam-flavored Hamakua Macadamia Nuts—salty, savory, smoky, and, inscrutably, 100 percent vegetable based—in convenience and souvenir stores all over Hawaii.
Need something more nourishing? L&L Hawaiian Barbecue tops their saimin—a uniquely Hawaiian soup featuring long noodles and a mushroom ginger broth—with slices of pan fried Spam.
Insider's tip: Dip into saimin a little closer to home. L&L has dozens of locations up and down the mainland's West Coast, in addition to their Hawaii locations.
On Kauai, carbo load at Chip Wrecked, a food trailer specializing in nachos. The Black Pearl piles fried Spam, Kalua pork, and jalapeños on top of house-made chips. Check their Instagram feed to find them—they move around.
Spam hits happy hour (pau hana, to the locals) at the Hilo Bay Tavern on Hawaii Island with Spam fries, delicious with a frosty cold beer.