The typical island preparation of poke—a salad of cubed raw fish—is fairly simple: ahi tuna seasoned with sea salt, onions, sesame oil, and limu (seaweed). But as the dish has exploded stateside over the past decade, the definition of poke has expanded to include more types of fish, more spices, and a seemingly limitless collection of toppings, from edamame to Flamin' Hot Cheetos. The one constant? Fresh fish. Here are four of the best spots in the West to get your poke fix.
Daniel Landucci, founder of Idaho's Paddles Up Poké, is a poke true believer. He gets fresh catch delivered daily and recently streamlined his offerings to ensure that all fish moves the same day. Landucci's original Boise shop quickly spawned four more locations, the newest at Boise State University. The menu is simple, with bowls composed around salmon, crab, shrimp, or line-caught tuna. Diners top their meal with all-you-can-add sauces (such as the dangerous piranha) made with Aloha Shoyu from Hawaii. Avocado is free.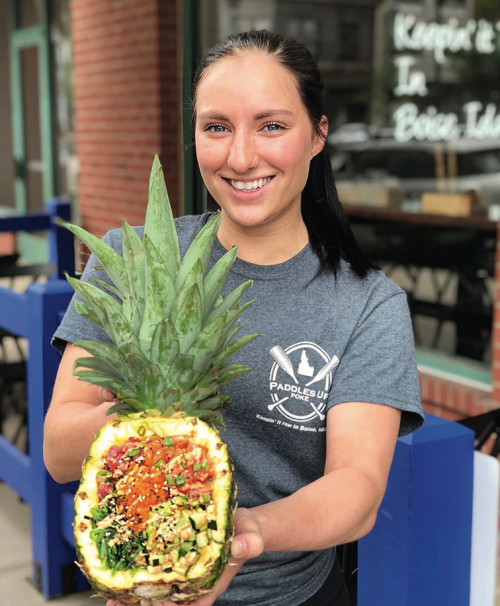 David Lo and chef Ian Hung noticed something missing in the Portland culinary scene: quick and healthy options. The two pooled their talents to open SeaSweets. The menu is sprinkled with flavors from around the globe, incorporating unusual toppings such as shichimi guacamole and sous vide runny eggs. If you can take the heat, try the albacore poke, a spicy combination of fresh tuna with cilantro, scallions, house-fried chile oil, and black vinegar shoyu, inspired by Hung's visits to a noodle shop in Taiwan.
After 26 years of serving croissants at their French bakery, Salt Lake City restaurateurs Jimmy and Deanna Zouras launched something completely different: Laid Back Poké Shack. The fish is flown in from the Honolulu auction and pre-marinated in traditional Hawaiian fashion. At least half a dozen varieties of ahi are offered, but the highlight is the house special: the Laid Back Bowl of pineapple shrimp and kalua pork with two kinds of ahi.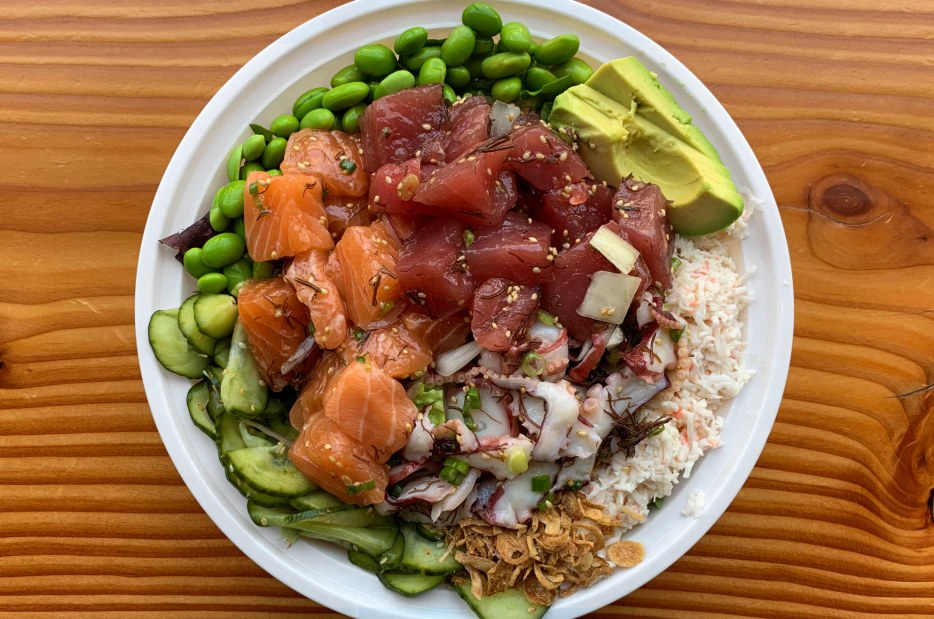 Growing up on Oahu as the children of Vietnamese refugees, the Le siblings went door-to-door selling their mother's homemade poke. Ten years later, three of the brothers opened GoPoké, a bright store in Seattle's International District. Here, they tap their island connections for daily deliveries of fresh-from-the-sea ahi. GoPoké's sweet, savory, and spicy varieties are marinated for half an hour before serving. Whether you order your poke wrapped or in a bowl, don't overlook the desserts. The Dole Whip pineapple soft serve, a Hawaiian treat popularized at Disneyland, is a standout.