For some, a visit to Disneyland and Disney California Adventure is a dream come true after years of anticipation. For others, it's just another happy Tuesday. Whether it's your first time at the Magic Kingdom or your 100th, here are ways to maximize the fun.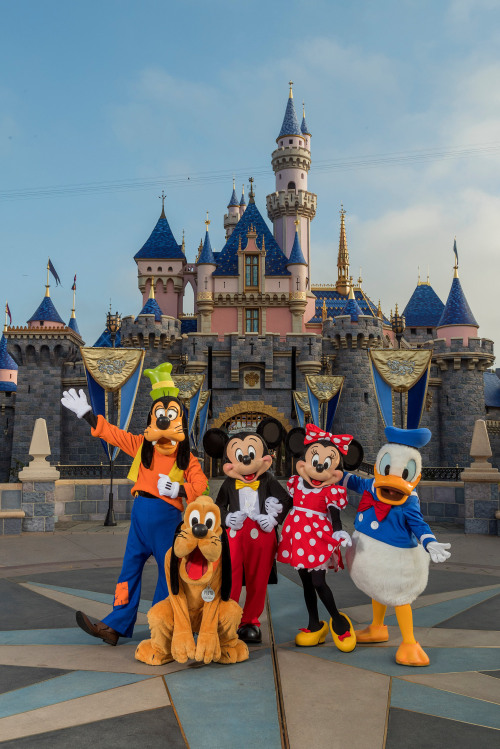 1. Don't rush.
Sure, you could do the Disneyland Resort in a day, but that's just not enough. Three days is ideal for out-of-towners, but even two will make for a more relaxed, fulfilling experience.
2. Plan ahead but be flexible.
Make a list of the rides, character greetings, and other experiences that are most important to you and your group. But bear in mind that some of the best Disney memories are made on the spur of the moment.
Another reason to stay flexible: Sometimes one of the theme parks might close early (for a private event, say). If that happens, the other park will usually stay open late. To find out, check each day's schedule.
3. Equip your phone.
Download the Disneyland Mobile app before you arrive. It enables the Lightening Lanes and lets you order food ahead (tip No. 9); it also allows you to check wait times and find characters. Bring a portable charger or plan on spending time at one of the charging kiosks. The parks sell portable charger kits for $30; if you use up one charger, they'll trade you a fully charged one for free.
4. Get Genie+.
Adding Genie+ to your ticket is worth the extra $20 per day. Once you've enabled the feature using the Disneyland Mobile app, it lets you get a Lightening Lane reservation for attractions that offer it, from anywhere in the two parks. Reserve the rides you're most excited about first, then arrive at each ride's Lightening Lane entrance in the time slot shown on your app. Genie+ also lets you download photos snapped by park cameras and photographers.
Smart Tip: Reserve priority viewing for World of Color and Fantasmic as soon as you walk into the park.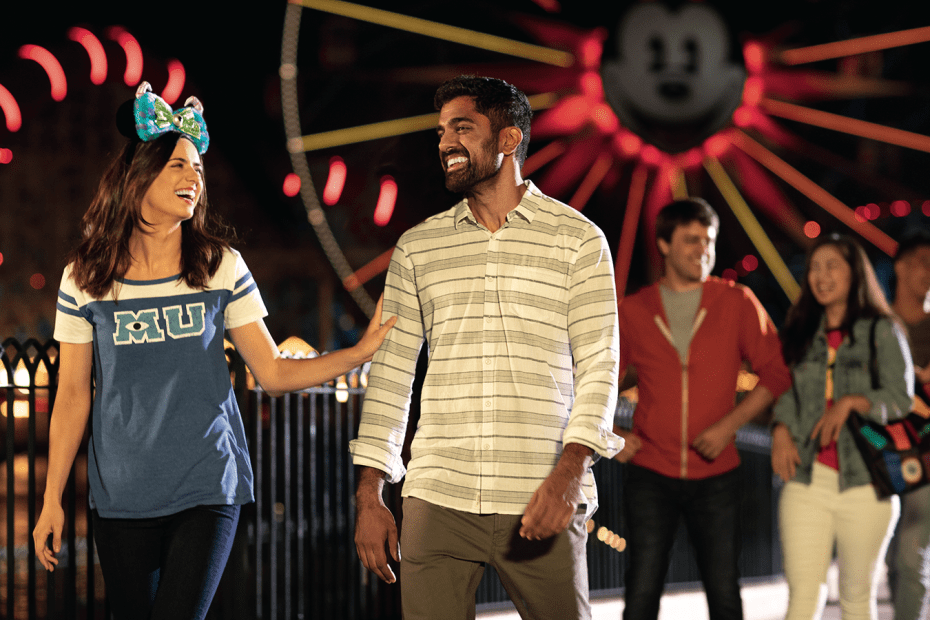 5. Maximize your time.
Buy your tickets in advance if they aren't included in your package. When staying at a Disney hotel, take advantage of the Extra Magic Hour (currently suspended as of Feb. 2022) to enter the parks 60 minutes before everyone else. If you're driving in, arrive an hour or two before the parks open to allow time for parking your car, walking to the entrance (usually faster than taking the shuttle), and going through security. People in your party who don't mind sitting separately on rides can access them faster using the Single Rider lines.
6. Feed your children well.
Park restaurants are experts at placating tiny eaters. Look for the Disney Check that appears next to the healthiest menu items. Character dining experiences require reservations, which are available up to 60 days in advance. Staying onsite? Little ones can enjoy room service in their Mickey PJ's at any time of day.
7. Take it to go.
Enjoy a wrapped-up sandwich from La Brea Bakery or Jolly Holiday Bakery Cafe while you're in line for a ride, or have a picnic while saving a prime parade-viewing spot. If you really want a sit-down meal during the day, try an unconventional time (lunch at 2 p.m., say).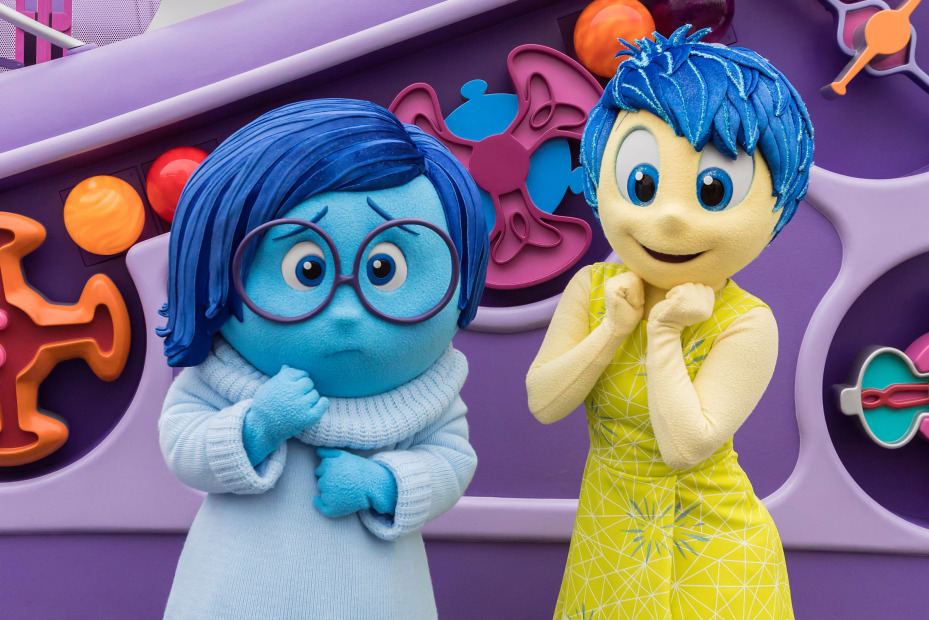 8. Tag team it.
If your kids are too young for the more thrilling attractions, use the parks' Rider Switch service: One parent waits in line and rides while the other stays with the kids. Then the parent who sat it out gets to skip the queue.
9. Order ahead.
Use the Disneyland Mobile app to place your order at any of the parks' 29 quick-service restaurants, then go straight to the pickup area to have your food handed to you. If your kid really loved that chicken skewer from Bengal Barbecue, you can order another with a few clicks—again, without waiting in line.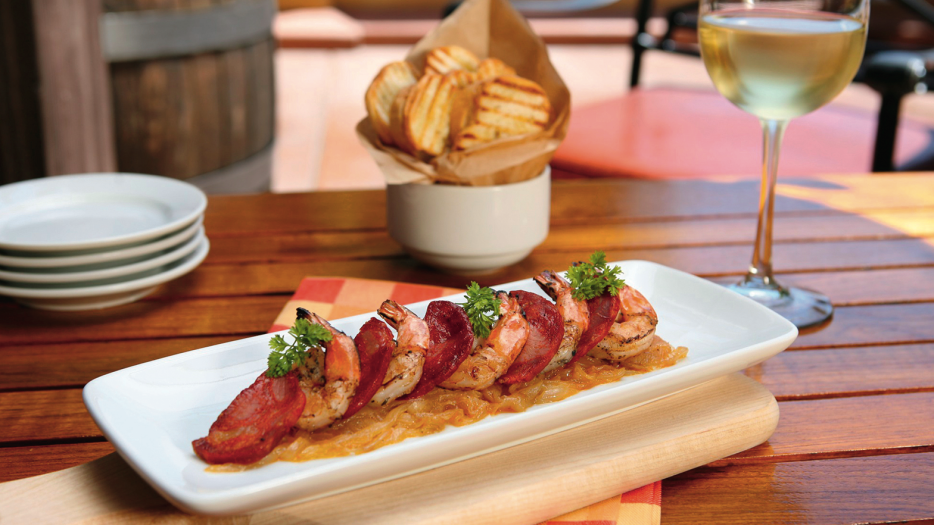 10. Find fine dining.
If you're feeling fancy, try one of the parks' chef-driven restaurants. California Adventure's Carthay Circle looks like a movie theater on the outside, but inside you'll find a glittering dining room worthy of Hollywood's golden era, with menu options such as Korean chile-glazed steak and spicy shrimp a la plancha. In Disney's Grand Californian Hotel & Spa, Napa Rose showcases California-influenced French fare; book the chef's counter to watch the food pros ply their craft. In the Disneyland Hotel, Steakhouse 55 offers a Disney-infused British afternoon tea, as well as meaty dinners. You can make reservations 60 days ahead of time—and it's a good idea to do so.
11. Eat the way you want.
Every Disney restaurant has at least one vegetarian option—and sometimes a vegan one. Some of the parks' best meat-free meals include the broccoli-and-cheese soup at Pacific Wharf Café, the focaccia caprese sandwich at Jolly Holiday Bakery Cafe, and the hearty, vegan Ithorian Garden Loaf at Docking Bay 7 in Galaxy's Edge. The parks also make a point of accommodating people with food sensitivities; almost all of the resort's restaurants can provide menu alternatives for diners who steer clear of gluten, eggs, milk, soy, peanuts, shellfish, and other allergens.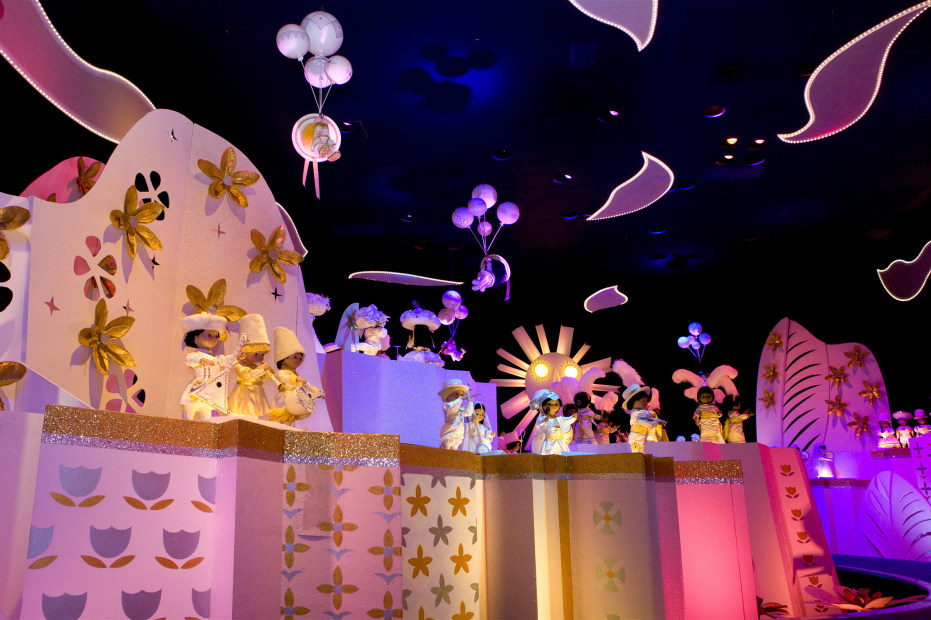 Fun for All Ages
Babies and Toddlers
Remember that kids under the age of 3 get in free.
Bring a comfortable baby carrier. The rules recently changed to prohibit larger strollers and all wagons. You can rent a stroller at the parks for $15.
The parks' two baby centers (at the end of Main Street, U.S.A., in Disneyland and on Pacific Wharf in California Adventure) are stocked with nursing chairs and training toilets; they also sell diapers, wipes, baby food, and formula. All restrooms have at least one changing table.
When your little one gets sleepy, head for quiet spots such as the Main Street Cinema or the accessible side of the Sleeping Beauty Castle Walkthrough.
Best Attractions: Casey Jr. Circus Train, Disneyland Railroad, It's a Small World, King Arthur Carrousel, Storybook Land Canal Boats.
Preschoolers
They're old enough to revel in the parks. Just plan for occasional breaks.
For tykes who need to blow off steam, California Adventure's Redwood Creek Challenge Trail has suspension bridges, a climbing wall, and a rope course. In Disneyland, Tarzan's Treehouse (currently closed for refurbishment) and Goofy's Playhouse (temporarily closed) are great places to run the wiggles out.
Even if your kid has outgrown strollers, bring or rent a small one anyway. It'll give little legs a needed rest and come in handy for naps and lugging merchandise.
Do not miss the parades. The talented performers make their youngest audience members feel special and involved.
Best Attractions: Enchanted Tiki Room, Fantasyland (except for Snow White's Scary Adventures), Finding Nemo Submarine Voyage (currently closed for refurbishment), Many Adventures of Winnie the Pooh, Mickey's Toontown (reopening in 2023).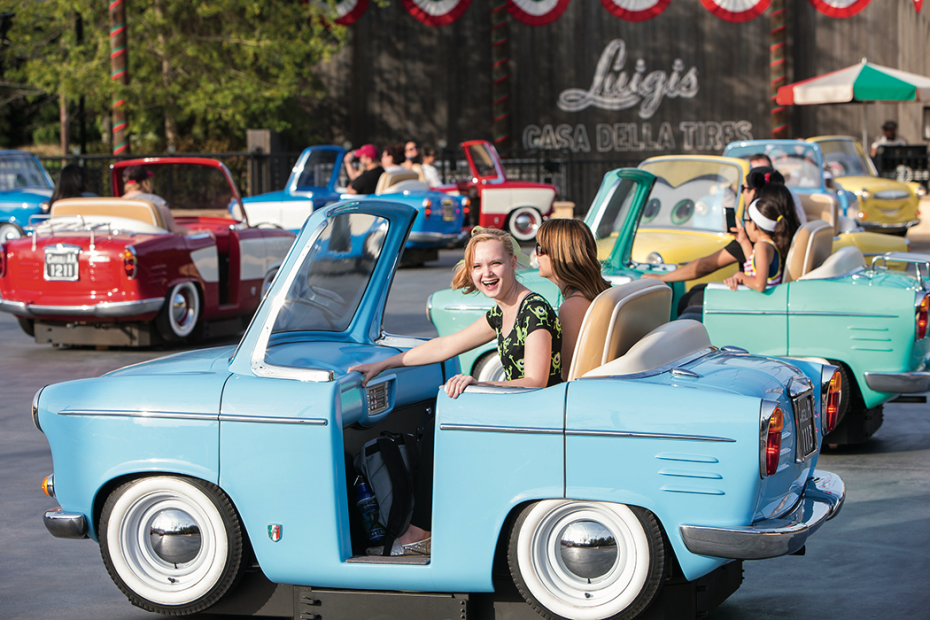 Kids and Tweens
While kids adore the rides, there's so much more to do.
The Play Disney Parks app lets kids access virtual park experiences, find treasures hidden in plain sight, and test their knowledge of Disney trivia.
Youngsters thrive on interaction. At California Adventure's Animation Academy, budding artists can learn how to draw Disney characters; at the Sorcerer's Workshop, they can see how that art comes to life. In Disneyland, aspiring magicians can learn new tricks at Main Street's Magic Shop, and in the Downtown Disney District, tech geeks should check out the VOID's virtual-reality walkthroughs.
Best Attractions: Guardians of the Galaxy—Mission: Breakout!, Incredicoaster, Luigi's Rollickin' Roadsters, Millennium Falcon: Smugglers Run, Radiator Springs Racers.