At the Disney parks, the Imagineers regard food like the rides: It's another way to delight guests, another medium for creativity and storytelling, and another chance to show off their legendary hospitality skills.
Between Disneyland and California Adventure, there are more than 150 menus, offering more than 8,500 food options. Here's a quick breakdown of the food scene, plus some insider tips and tricks to keep you well fed while you maximize your time at the parks.
Only at Disneyland
One of the best things about Disney parks is the way they're organized by theme—fantasy, frontier, future, and so on—and how thoroughly those themes carry throughout everything, including the food. From the jambalaya at New Orleans Square's French Market Restaurant to the Star Wars-inspired fare at Galaxy's Edge, the menus are as on-theme as the rides. Flo's V8 Cafe is faithfully reconstructed from Pixar's Cars movies; Fantasyland's Red Rose Taverne is straight out of Beauty and the Beast; and at Pixar Pier, you can get an Angry Dog inspired by Inside Out.
 
The food also stays on-theme when it comes to special events. During California Adventure's springtime Food & Wine Festival and wintertime Festival of Holidays, visitors get a keepsake "tasting passport," which gets stamped when you try something such as, say, jalapeño latkes with chipotle crema. The holiday passport is color-coded to encourage you to sample foods served in different cultures at the end of the year: Christmas, Hanukkah, Diwali, Kwanzaa, and Navidad. At the Lunar New Year celebration, which spans January and February, Asian-inspired treats—think Mickey-shaped tea tarts and char siu pork bao—shine. Around Halloween, you can load up on limited-time goodies like eerie graveyard cupcakes and Jack Skellington cake pops.
Beyond the themed food offerings, there are treats as distinctively Disney as those mouse-eared hats: Dole whip, churros, massive pickles, meaty turkey legs, hot popcorn, and Mickey-shaped pretzels (of which park goers gobble more than 800,000 a year).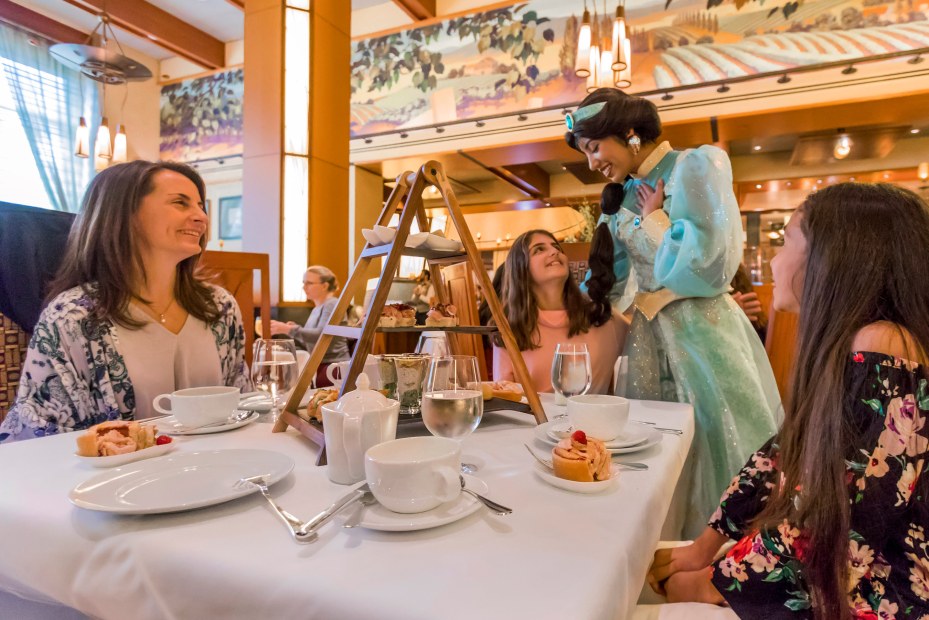 Feeding the Kids
Disneyland restaurants are great about placating even the pickiest and tiniest of eaters. Park goers buy more than 12 million kids' meals a year, including the popular Kids' Power Pack, a collection of snacks like sliced apples and yogurt that's easy to grab and go. Looking for the Disney Check (a green checkmark inside the iconic outline of Mickey's head) on menus is a great way to keep things healthy.
 
To create an unforgettable memory for your kids, make a reservation for a character dining experience. Fans of Disney royalty will adore the three-course Princess Breakfast at Napa Rose (in the Grand California Hotel), where Ariel, Belle, Tiana, and others stop by each table for a greeting. You can also book character meals at Goofy's Kitchen (breakfast and dinner) or the Grand Californian's Storytellers Cafe (breakfast and brunch). On Main Street USA, the Plaza Inn restaurant hosts a hearty breakfast with Minnie and friends. 
Speaking of the hotels, staying onsite means little ones can eat room-service in their Mickey PJs at any time of day. If you're up for a splurge, consider upgrading to Club Level. At the Grand Californian, that upgrade will get you access to the Craftsman Club, where you can enjoy complimentary afternoon tea and nosh on dessert while watching the fireworks. 
Smart Tip: Maximize your time by using the Disneyland Mobile app to place your order at any of the 29 quick-service restaurants, then go straight to the pickup area to have your food handed to you. If your kid really loved that chicken skewer from Bengal Barbecue, you can order another with a few clicks—again, without waiting in line. Even better: Load your credit card number into the app before you go through the entrance gates.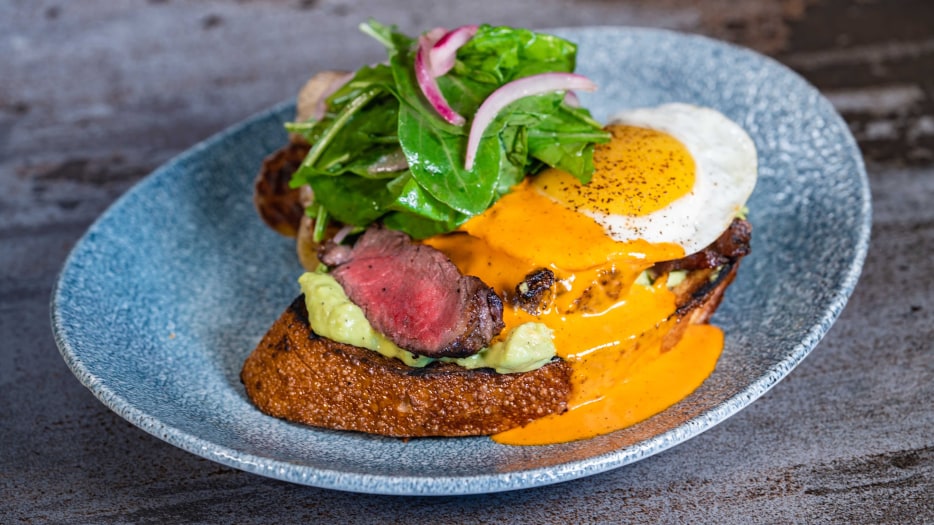 Upscale Options
If you want to sample the resort's most refined menus, make reservations at one of the chef-driven restaurants, such as California Adventure's Carthay Circle, the Grand Californian's Napa Rose, and Disneyland Hotel's Steakhouse 55.
Doing so will let you tuck into Korean chili-glazed angus sirloin at Carthay Circle, duck à l'orange from Napa Rose's open kitchen (book the chef's counter for a view of the action), and center-cut filet mignon at Steakhouse 55. Some resort restaurants—including Carthay Circle, Blue Bayou, River Belle, and Wine Country Trattoria—let you book dining packages that include a three-course prix fixe menu, and provide access to reserved viewing areas for shows like World of Color and Fantasmic. 
Special Diets
Every Disney restaurant offers at least one vegetarian—and sometimes vegan—option. Some of the parks' best meat-free meals include the broccoli-and-cheese soup in a Boudin bread bowl at Pacific Wharf Cafe, the focaccia caprese sandwich at Jolly Holiday Bakery Cafe, the vegetarian Chili Cone Queso at the Cozy Cone Motel, and the hearty, vegan Ithorian Garden Loaf at Docking Bay 7 in Galaxy's Edge. There's plenty of satisfying vegetarian pizza throughout the parks, as well as veggie burgers, and Lucky Fortune Cookery offers a tofu rice bowl. 
Disneyland also makes a major point of catering to people with food sensitivities; almost all of the resort's restaurants offer allergy-friendly menus, for those diners who steer clear of gluten, eggs, milk, soy, peanuts, shellfish, and other allergens.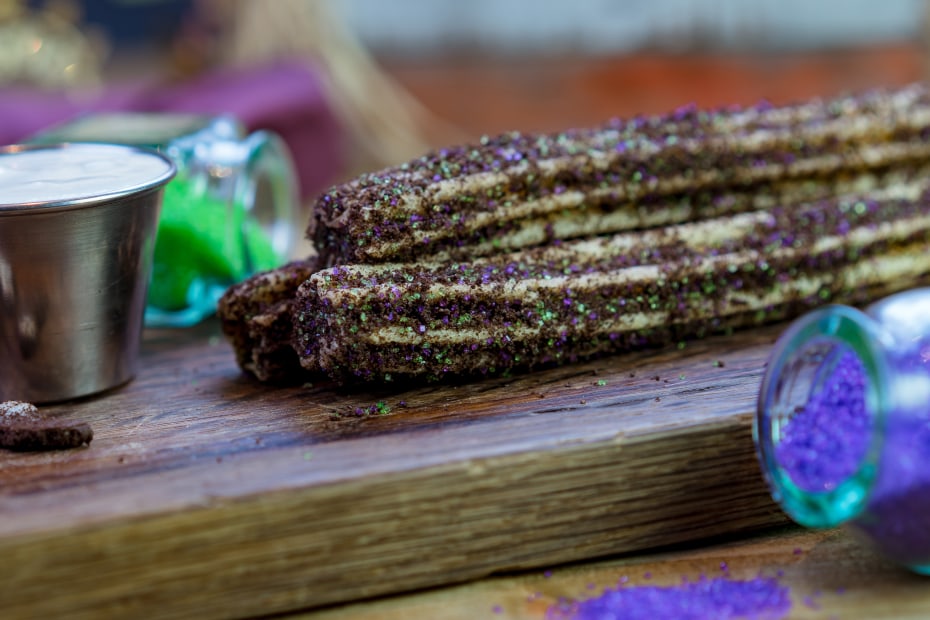 Coffee and Dessert
If you find your energy flagging, there are coffee stands everywhere serving Joffrey's coffee, which is excellent. There are also a couple of easy-to-spot Starbucks locations, plus strong black stuff at Flo's V8 Cafe.
And when you're ready for dessert, you're in luck: Disneyland is a paradise for lovers of sweets. The resort sells 3.8 million churros each year—including flavors like rose gold, pumpkin spice, and maple bacon—plus boatloads of Mickey beignets, elaborately decorated candy apples, and—at Downtown Disney's new Black Tap restaurant—the most decadently over-the-top ice cream floats you've ever seen. Beauty and the Beast fans will want to check out the Grey Stuff at the Red Rose Taverne. And if you're feeling adventurous, try the new chile-mango Dole Whips at the Tropical Hideaway.