A day at Disneyland is a treat unto itself, of course. But to make sure your mouth is having as much fun as the rest of you, track down these 12 must-eat treats at Disneyland and California Adventure. Whether savory or sugar-packed, each of these beloved noshes are as distinctively Disneyland as Sleeping Beauty's castle.
1. Dole Whip
As much a nostalgic Disney classic as the attraction it originated in front of—the Enchanted Tiki Room—this smooth, pineapply frozen concoction transports you to Hawaii, a place which Walt Disney was mildly obsessed with. It's a perfected recipe on its own, but in-the-know park goers request the tajin spice, a tangy topping. The eatery next to the Tiki Room, the Tropical Hideaway, doles out the Dole Whip in other flavors, including strawberry, mango, or a swirl of your choosing. Wanna try Dole Whip as a float or spiked with rum? Head over to Disneyland Hotel's Tangaroa Terrace. 
Smart Tip: You can place your order at the Tiki Room via the Disneyland app and walk right up to get it.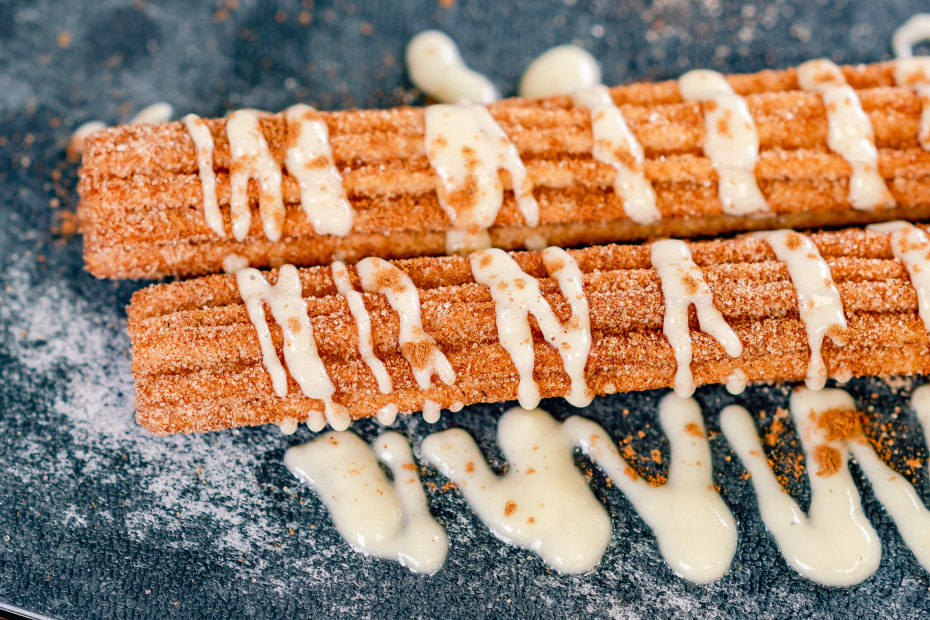 2. Churro
Disney's take on the cinnamony Mexican dessert, sold from old-timey carts around the parks, takes your tastebuds for a ride. There's a good reason the resort sells nearly 4 million of these fried magic wands each year. The original flavor is festive enough on its own, but you can also try on-trend iterations that have included pumpkin spice, maple bacon, s'mores, sweet and sour, and more, some offered with a sweet dip. If there's an additional celebration going on at the park—Halloween Time, the winter holidays, Lunar New Year—you can bet there'll be churros to match.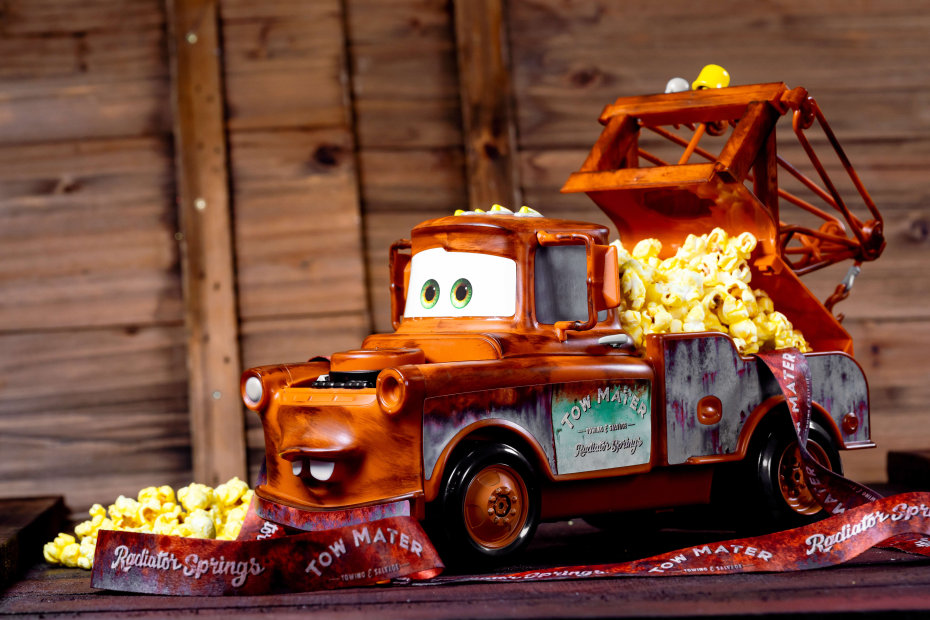 3. Popcorn
Popcorn's a pretty common snack, sure. But that's not a reason to avoid the tempting aroma wafting from the stands throughout the parks. Disney knows how to do popcorn right—it gets handed to you hot and steamy, with just the right amount of salt. Pay extra and you'll get a limited-edition refillable bucket to snack on endlessly. In Cars Land at California Adventure, the Cozy Cone Motel offers scoops of popcorn in your choice of wacky flavor; recent options have included sriracha, dill pickle, buffalo ranch, and pizza. In Star Wars: Galaxy's Edge, Kat Saka's Kettle sells Outpost Mix, a combination of candied, purple-hued popcorn and red chili kernels.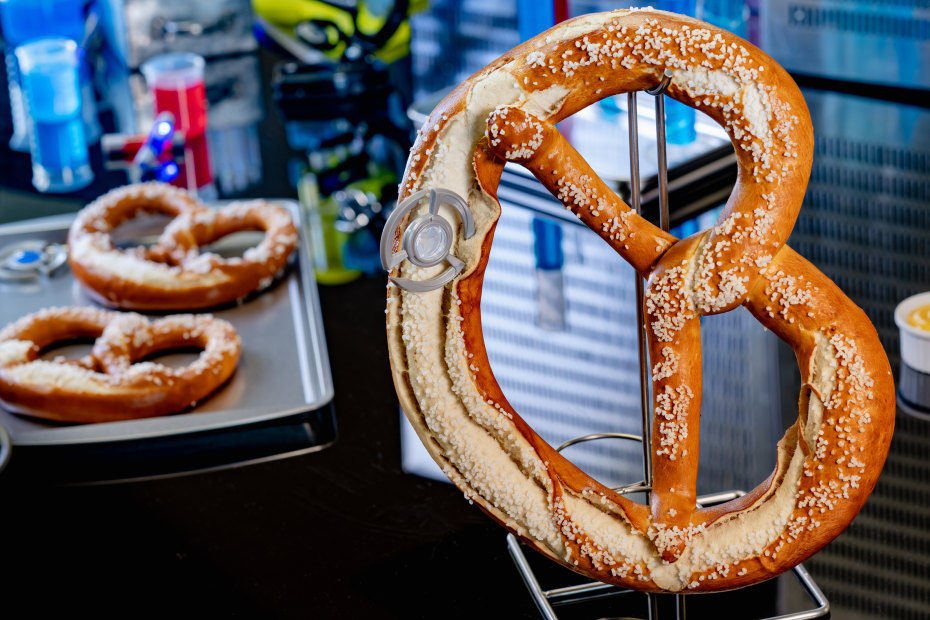 4. Mickey Pretzel
The elaborate Mickey-shaped pretzel tastes as satisfying as you'd want, and when you're suddenly hungry for something that isn't sweet, it can be a salve. Spice it up with a side of cheese dip, or, for even more cheesiness, head to Main Street's Refreshment Corner for a warm, cream cheese-stuffed pretzel in regular or jalapeño flavor. Looking to share? The entertaining Pym Test Kitchen in California Adventure's Avengers Campus provides massive, twisted, social media-primed Bavarian treats.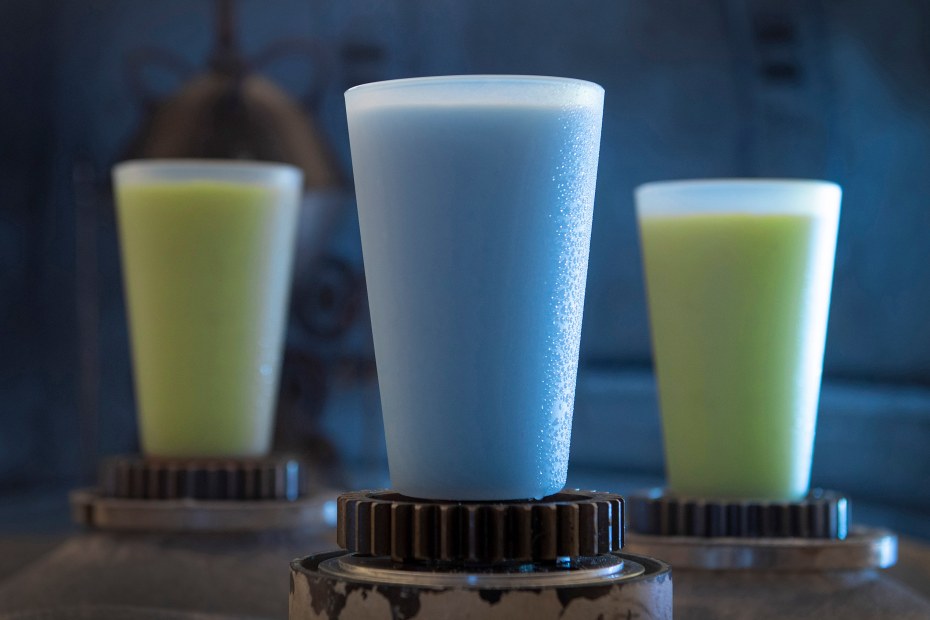 5. Blue Milk
When Star Wars: Galaxy's Edge opened in 2019 as Disneyland's first new "land" since 1993, Luke Skywalker's cold beverage of choice became an instant Disneyland classic. Get Luke's blue milk—which is actually vegan, made from coconut and rice—at the Milk Stand in Disneyland's Star Wars-themed area. Though it's robin's egg-colored, its flavor is piña colada-like, but smoother and more sophisticated. There's also a green milk that's citrusy in flavor. 
Smart Tip: The Milk Stand can be popular. Use the Disneyland mobile app to place your blue milk order in advance.
6. Disneyland Pickle
Craving something salty? Grab a huge dill pickle, sold from the fruit carts stationed around the parks, for a crunchy, juicy fix. Wrapped in plastic, satisfyingly green, and bloated with vinegary brine, these drippy delights come in sour and spicy in addition to their original flavor. If you prefer to enjoy your pickles fried, head to Carnation Cafe on Main Street, where they come hand-battered and paired with house sauce.
7. Turkey Leg
If you don't mind resembling Tarzan traipsing through the parks, Disneyland's massive, messy, meaty turkey legs are worth it. They're sold from four hot food carts around the park (which also sell buttered corn on the cob for the herbivores in your group). Cured and salty, these greasy gobblers certainly don't qualify as one of Disney's prettier snacks—you hold it from the bone and gnaw the meat off the top and sides—but they're tender, smoky, and satisfying.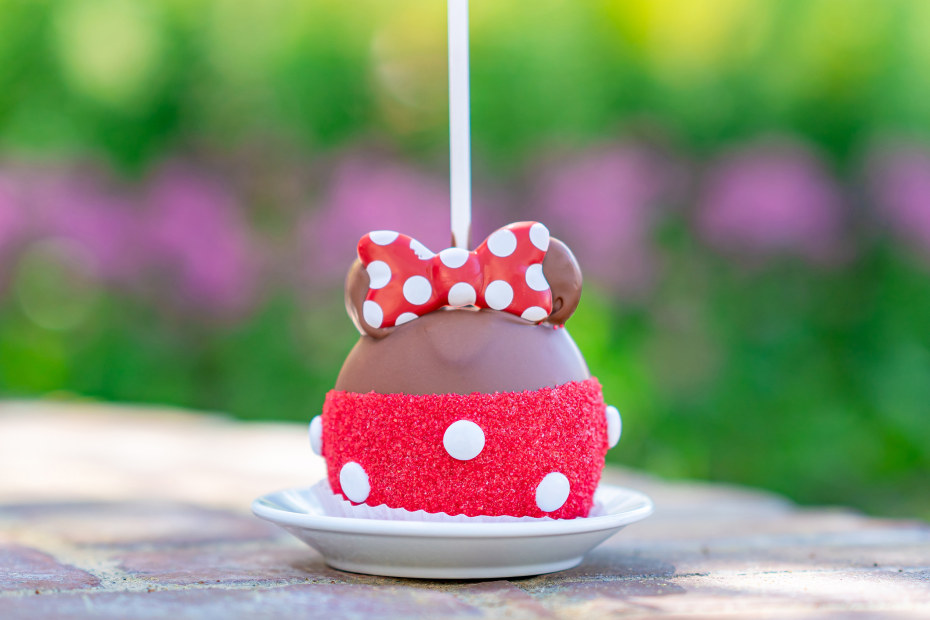 8. Caramel Apples
Snow White references aside, these elaborately decorated fruits encased in sugar have the magical ability to be dressed up as just about any Disney character you can name. In addition to being whimsical, they're delicious. Often displayed in the window fronts of the parks' bakeries and candy shops, these mini-sculptures are yet another outlet for Disney's prolific artists and confectioners to let their creative juices flow. Indeed, this treat has its own Instagram hashtag: #disneycaramelapple, for the curious. 
Smart Tip: The caramel apples can be challenging to bite into, so ask the Cast Member serving you to slice it to make it more manageable to eat and share. 
9. Matterhorn Macaroon
This moist, coconutty, Alpine-shaped sweet treat is available at Main Street's Jolly Holiday Bakery Cafe. And yes, it's required that you hold this peak-inspired pastry up in front of its ride doppelganger, snap a photo, and post to social media.
10. Mickey Premium Ice Cream Bar
A bona fide kid favorite, this straightforward dessert is refreshingly cold, creamy vanilla ice cream encased in a thin, crisp chocolate shell atop a wooden stick—in the shape of a certain famous mouse's head. Known to most as just the "Mickey bar," it is sold at carts, kiosks, and quick-service locations throughout the parks, as well as at Disney hotels and cruises. Stuck far from Anaheim? Many supermarkets sell smaller versions of this park pleaser to enjoy at home.
11. Grey Stuff
This sweet treat from Fantasyland's Beauty and the Beast-themed Red Rose Taverne really is very tasty—and surprisingly pretty too, as a cookies-and cream-flavored whip swirls around a red velvet pastry atop a scalloped shortbread cookie. It's all sprinkled with edible pearls, making it worthy of royalty.
12. Mickey Beignets
These pillowy, powdery pastries are purchasable at the Mint Julep Bar, a walk-up window around the corner from the French Market Restaurant in New Orleans Square. The icon-shaped Southern delights come generously sprinkled with powdered sugar, in a three- or six-pack, and practically melt in your mouth. If you're thirsty, order a lime-tinged virgin mint julep to wash 'em down. Beignets, albeit not Mickey-shaped ones, are also available at Ralph Brennan's Jazz Kitchen in Downtown Disney.