If you're planning to take your kids to Disneyland this year, there's one cardinal rule: Have fun. The point isn't necessarily to get them on every ride or to meet every character. There are always great alternatives to the most popular attractions, and sometimes it's the most serendipitous things that they'll remember best—and making memories is really what a trip to the Magic Kingdom is all about. Here are some tips for making your next trip to Disneyland with kids memorable and joyous—for them and for you.
Babies (ages 0 to 2)
Best attractions: It's a Small World (of course), the recently rerouted Disneyland Railroad, the classic King Arthur Carousel, the Casey Jr. Circus Train, and the lovely Storybook Land Canal Boats.
Parents of babies might hesitate to bring their littlest ones to Disneyland, figuring that they won't remember anything. Take them anyway. The music, the colors, the joyful atmosphere, and the gentler rides: Toddlers will soak it all in with wonder-filled eyes. It doesn't hurt that it'll never be easier to get them in the park, since ages 2 and younger get in free.
Bring a comfortable baby carrier, like the Ergobaby. The parks' rules just changed to prohibit strollers larger than 31 by 52 inches, as well as wagons. (You can rent a stroller at Disneyland for $18.).
Should you forget something, the parks' two baby centers (located at the end of Main Street, U.S.A., next to First Aid in Disneyland Park and across from The Bakery Tour in Pacific Wharf in California Adventure) are stocked with gear like nursing chairs and training toilets, plus diapers, wipes, baby food, and formula for purchase. Every restroom at Disneyland has at least one changing table.
When your baby gets sleepy, head for dark, peaceful spots like the Main Street Cinema (which plays the silent Steamboat Willie on loop); the Main Street Opera House, home of Great Moments with Mr. Lincoln; or the accessible version of the Sleeping Beauty Castle walkthrough. Better yet, stay at an onsite hotel so you can quickly retreat to your room for naps and—assuming your tykes rise early—you can take advantage of the resort's Extra Magic Hour, when hotel guests can get into the parks an hour before anyone else.
Preschoolers (ages 3 to 5)
Best attractions: In Disneyland proper, Mickey's Toontown, the Finding Nemo Submarine Voyage, the Enchanted Tiki Room, and the Many Adventures of Winnie the Pooh; Fantasyland in general is great, but you should probably skip Snow White's Scary Adventures. The high-energy Disney Junior Dance Party is essentially a preschool-appropriate nightclub, and for a splurge, head to the Bibbidi Bobbidi Boutique, where "fairy godmothers" transform excited little kids into sparkly princesses. In Disney California Adventure Park, Jessie's Critter Carousel and Luigi's Rollickin' Roadsters are good, as is Turtle Talk with Crush (an interactive attraction that will have you chuckling too).
If someone needs to blow off a little steam, California Adventure's refreshing Redwood Creek Challenge Trail offers suspension bridges, a climbing wall, and a ropes course. In Disneyland, Tarzan's Treehouse and Goofy's Playhouse serve a similar purpose: to let youngsters run the wiggles out.
Think your kid has outgrown a stroller? Bring (or rent) one anyway; a Disneyland day requires too much walking for little legs. It'll also come in handy for much-needed naps, and for lugging merchandise, drinks, and leftovers.
If your kids haven't hit the hallowed 40 inches yet, or if they have but aren't mentally prepared for Space Mountain's dark intensity, use the parks' Rider Switch service; one adult waits in line and rides while the other stays with the kids. The kid-attending partner can then do the ride without waiting in line. Tell an attraction cast member in advance so they can scan your ticket. (The Single Rider service lets solo thrill-seekers use faster-moving lines.)
Do not miss the parades, which change with the seasons. These immersive spectacles are dazzling, and the performers know exactly how to make younger audience members feel special and involved.
Younglings too small for the rides in the new Star Wars: Galaxy's Edge can still enjoy interacting with the characters throughout the land—who are careful to not scare little ones—and slurping down a glass of frozen (non-dairy) blue or green milk, which can be ordered ahead with the Disney app.
Smart Tip: Maximize your time and sign up for Genie and Genie+ ($20/day per ticket) for custom itineraries.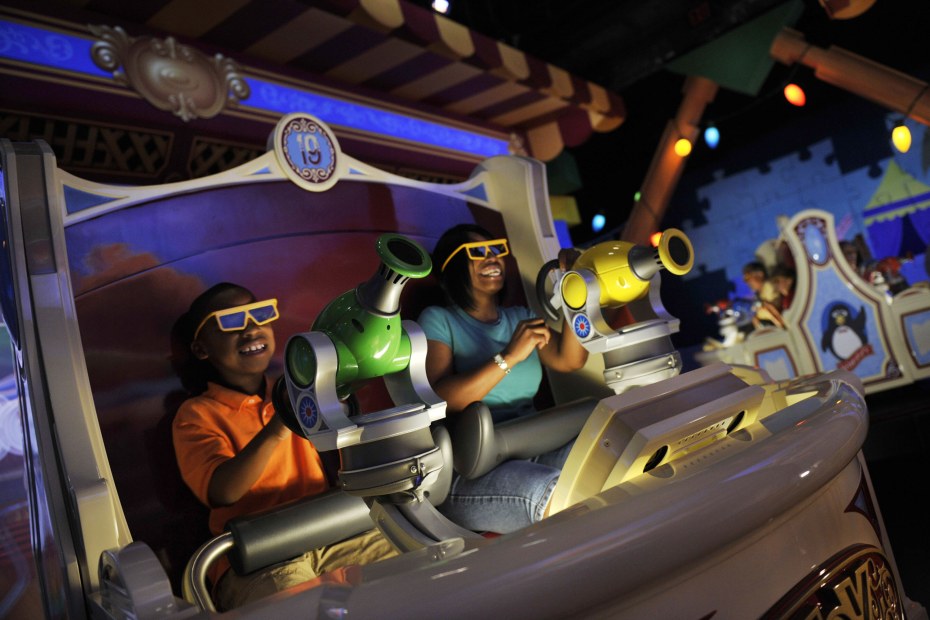 Kids and Tweens (ages 6 to 12)
Best attractions: Elementary-aged kids will still love much of the attractions mentioned above, but they'll also revel in "big-kid" rides, including Radiator Springs Racers, the Incredicoaster, and Guardians of the Galaxy Mission Breakout, all at California Adventure, and the new Millennium Falcon: Smugglers Run in Star Wars: Galaxy's Edge.
If your attention-challenged offspring get rolling-eyes bored in line, hand them a device loaded with the Play Disney Parks app to let them access enhanced park experiences, find treasures hidden in plain sight, and answer Disney trivia questions. Or simply let them learn to cope with those waiting-for-a-ride feelings, just like you did when you were a kid.
Kids this age thrive on interactivity. At California Adventure, budding artists will appreciate the drop-in Animation Academy, where animators teach kids how to draw Disney characters, as well as the Sorcerer's Workshop, which reveals how that art is brought to life. There's more teenybopper fun to be had at the carnival-style Games of Pixar Pier, and Broadway fans shouldn't miss the impressive, hour-long Frozen Live at the Hyperion show. In Disneyland proper, aspiring magicians can attend Mysteries of Magic, an early-morning prestidigitation lesson at Main Street's Magic Shop. And in Downtown Disney, bowlers can improve their score at Splitsville or geek out at the virtual-reality walkthroughs at the Void.
Superhero fans will be excited to hear about the new Marvel character experiences at California Adventure: It's your chance to meet Captain America, Thor, and Loki, or to take part in a dance-off with the Guardians of the Galaxy crew. And there's more to come: A new land based on the Marvel Universe, including attractions starring the Avengers and Spider-Man, opens in 2020.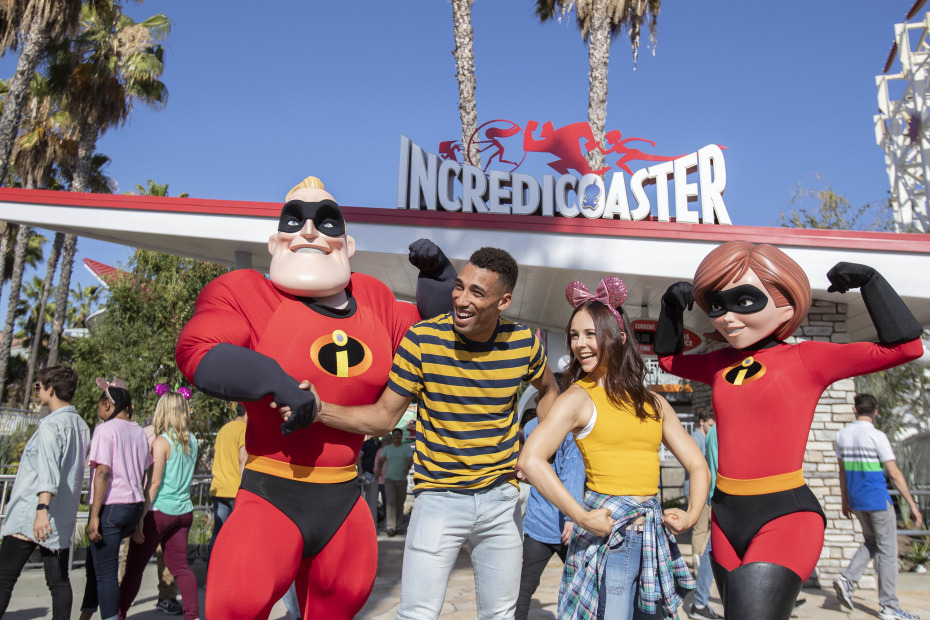 Teenagers (ages 13 to 18)
Best rides: Teenagers love checking off "the Mountains" at Disneyland: Space, Splash, Thunder, and the Matterhorn.
Older kids also appreciate being able to do Downtown Disney with friends, sans parents. This admission- and car-free district is an ideal hangout, hopping with live music, fun shops, and tame nightlife, plus a limited-time Instagram-centric attraction called Pop-Up Disney! A Mickey Celebration.
For teens too old to trick-or-treat, older kids this October can enjoy the Oogie Boogie Bash, an after-hours Halloween celebration at California Adventure. It'll include an interactive dance party, unearthly walkthroughs, sweet treats, and the Frightfully Fun Parade, led by the Headless Horseman, who's followed by some of Disney's shadiest characters including Ursula, Captain Hook, Hades, and Jack Skellington's crew. Attendees are encouraged to dress in costume.
Finally, teenagers will especially relish Galaxy's Edge, Disneyland's new 14-acre Star Wars land that opened in early June. Teens (and the rest of the family) can take control of the iconic ship on Millennium Falcon: Smugglers Run, while the other marquee ride, Rise of the Resistance, is slated to open later this fall. Set on the bleak planet of Batuu, Galaxy's Edge offers themed food (think blue milk just like Luke drank) and vendors arranged street-market-style: Teens can customize their own light saber or buy Jedi "artifacts." Throughout the land, gorgeous music pipes in—all-new compositions by the legendary John Williams.