Galaxy's Edge is a literal dream come true for Star Wars fans who've always wanted to feel what it's like to inhabit the universe created by George Lucas. Case in point: Plenty of people actually get emotional when they behold the Millennium Falcon for the first time. And the excitement is real when visitors get to play a convincing part in these iconic characters' stories. 
Disneyland's Star Wars–themed land took some 6,700 workers three years to build, and it is well worth that wait. This new area of the park is spectacularly immersive, the experience is remarkably multisensory, and the people who work there are thoroughly entertaining. 
Ready to live your own Star Wars story? Before arriving, read up on what to expect, including the best surprises, the most interesting details, and the types of memories you're apt to take home after exploring the rugged Black Spire Outpost on the remote planet of Batuu.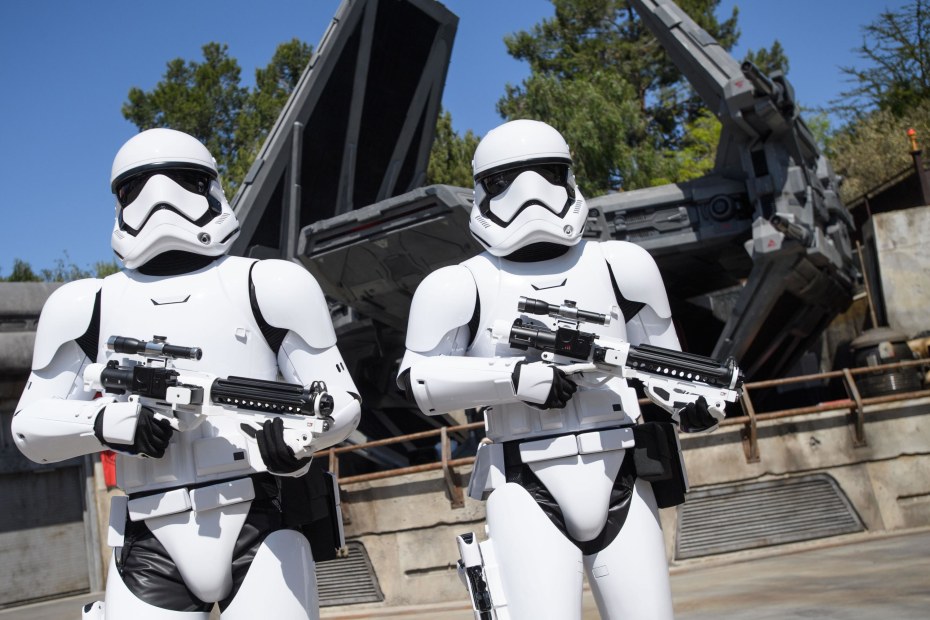 The Characters: The Moment a Stormtrooper Calls You Out
Among the 1,600 new jobs generated by Galaxy's Edge are the many cast members who roleplay as inhabitants of Batuu. There are the already famous ones—a spot-on Chewbacca, an inspirational Rey, and a Stormtrooper-flanked Kylo Ren, who menacingly tries to recruit children to the Dark Side ("By my side," he growls, pointing to the ground next to him.) 
And then there are the ones conjured just for this land; they'll tell you how many "credits" something costs, greet you with "Bright suns" instead of "Good morning," and generally avoid breaking character for any reason. The residents of Batuu, each of whom has his or her own backstory, interact with each other and guests, too. Occasionally,  Stormtroopers chastise the phone-obsessed crowd with bossy quips: "Hey! Look up from those datapads once in a while." 
Adding to the atmospheric entertainment are the cast members' costumes, which took three years to develop and allow cast members to pick and choose from tunics, scarves, and vests to fashion a look that fits their specific Galaxy's Edge persona. They also wear name tags in Aurebesh, the Star Wars language. Don't shy away from playing along with all this immersive storytelling—that's where much of the fun lies.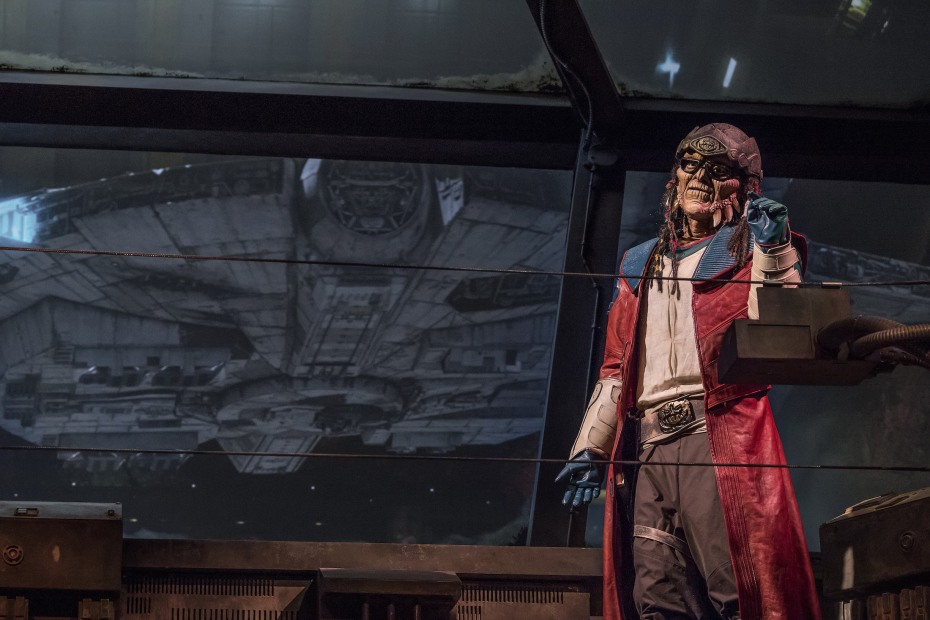 The Rides: Pilot the Millennium Falcon and Meet Hondo Ohnaka
Soon there will be two anchor attractions in Galaxy's Edge, but until Star Wars: Rise of the Resistance debuts in 2020, Millennium Falcon: Smugglers Run is doing a great job of thrilling riders. You enter the iconic Millennium Falcon through the same starboard airlock that Han Solo and Chewbacca used in The Force Awakens—the level of detail is uncanny—and then take the helm as either a pilot, gunner, or engineer (you get assigned a role on a six-person team) to directly influence how the YT-1300 Corellian freighter performs during an intense smuggling mission. This is a high-tech flight simulator with groundbreaking special effects. Expect lots of screaming during the ride and high-fiving at the end. 
The whole experience is hosted by the ex-pirate Hondo Ohnaka, portrayed by possibly the best animatronic ever. With lofted cheekbones and a Slavic-adjacent accent performed by Jim Cummings, the full-body robot looks, at first glance, like a real being. His personality, as charismatic as it is manipulative, carries the plot, in which he's borrowing the starship from Chewbacca and enlisting you to man the ship.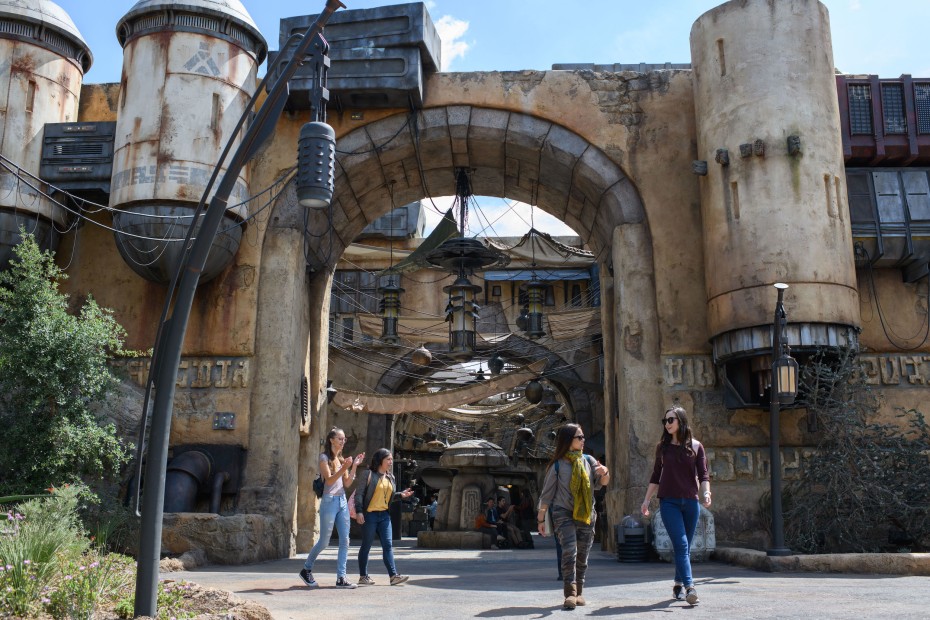 The Architecture: Rugged Futurism Sets the Scene
The first thing you'll notice when walking into Galaxy's Edge: the atmospherics, which make you feel like you've exited not only Disneyland but planet Earth entirely. This transformation is accomplished through sounds and smells, but most of all, through the visuals of architecture. Everything in this new Star Wars land sits at the aesthetic cross section of rugged and futuristic—an archeological, earth-toned overlay combined with detailed dedication to technology and innovation. 
Imagineers decided to design a never-before-seen corner of the Star Wars galaxy so that everyone, no matter their level of fandom, could have an engaging entry point into the storytelling. They spared no expense in carving these grounds from more than 200,000 square feet of rockwork and 260,000 square feet of plaster, with spires that rise up to 130 feet. The centerpiece, of course, is the first-ever full-sized Millennium Falcon. 
Batuu's landscape also includes ancient ruins, curvy buildings, mysterious staircases (that seem to lead nowhere in particular), cinematic angles, and innumerable Star Wars references. To inspire the look, Imagineers visited George Lucas's private archives in California, active Star Wars film sets in England, and bazaars in Turkey and Morocco. You're invited to interact with it all—touch the walls, wander within, and get immersed. Pro tip: The Middle East–inspired Marketplace is an excellent place for a photo opp.
The Light Fixtures: Intrigue Hangs Overhead
When you're in Galaxy's Edge, make sure to look up. There's an alluring array of light fixtures and ceiling decor hanging overhead: dangling pendants and chandeliers from high-tech to homespun, small to very large. This layer of decor enhances the scenery, and all of it is pulled straight from the films.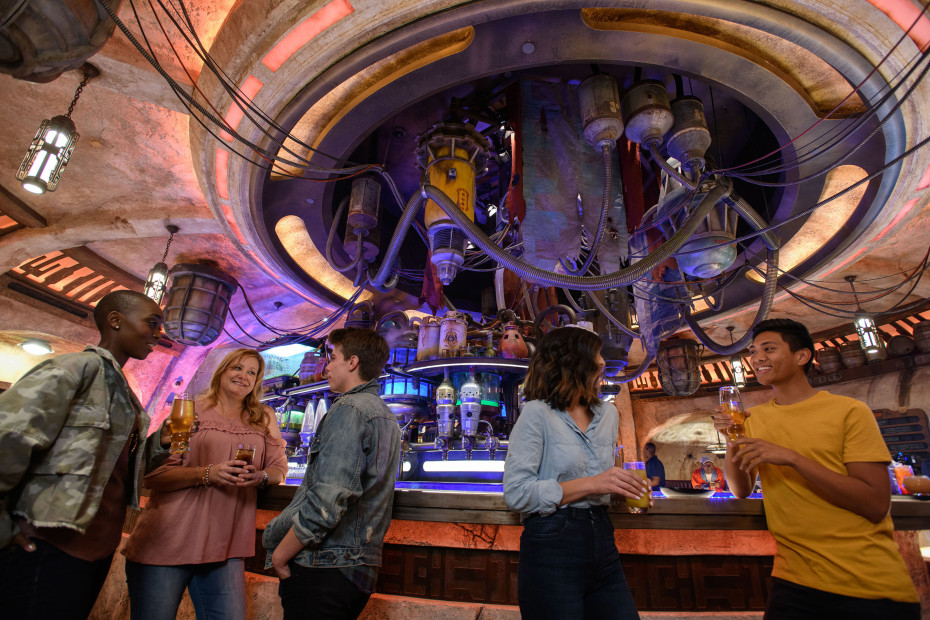 Oga's Cantina: A Nightclub at Disneyland?
Oga's Cantina represents a first for Disneyland—it's a full-on nightclub scene, complete with a trendy bar counter and obliging bartenders, a droid deejay (R-3X, the pilot from Star Tours) spinning edgy tunes, cozy booths, intricate storytelling decor, and a convivial party atmosphere. Oh, and a full cocktail list featuring generously poured beverages like the foamy Fuzzy Tauntaun and the spicy Bloody Rancor. This Black Spire Outpost watering hole is the place to be; book in advance if you want in on the experience.
The Blue Milk: Taste Luke Skywalker's Beverage
Even the most casual Star Wars enthusiast should know what blue milk is—and should want a taste. The best place for a sip is the simply named Milk Stand, an outdoor, walk-up vendor doling out blue (or green) milk, served cold ($8). It tastes piña colada-like but even if you're not a fan of fruity beverages, the flavor of the robin's egg–colored beverage (which is actually dairy-free) is smooth and sophisticated enough that it's hard not to enjoy. The green milk has citrus notes, in case that's more to your taste. For quick pick-up, use the Disneyland mobile app to place your order.
The Play App: Get in the Game
The Play Disney Parks Mobile App existed before Galaxy's Edge did, but the new Star Wars land really lets it shine. Once you're in Galaxy's Edge with the Play app open, your phone transforms into a "datapad" that gamifies your experience here. With it, you can scan cargo crates and collect the virtual items within, earn galactic credits, translate Star Wars languages, eavesdrop on characters' conversations, trigger special effects, and tap into droids to unlock more stories. There's a First Order-versus-Resistance game played via the app called Outpost Control, during which you hack blinking light panels throughout the land. The app also provides an in-queue game to play while you wait to ride Millennium Falcon: Smugglers Run.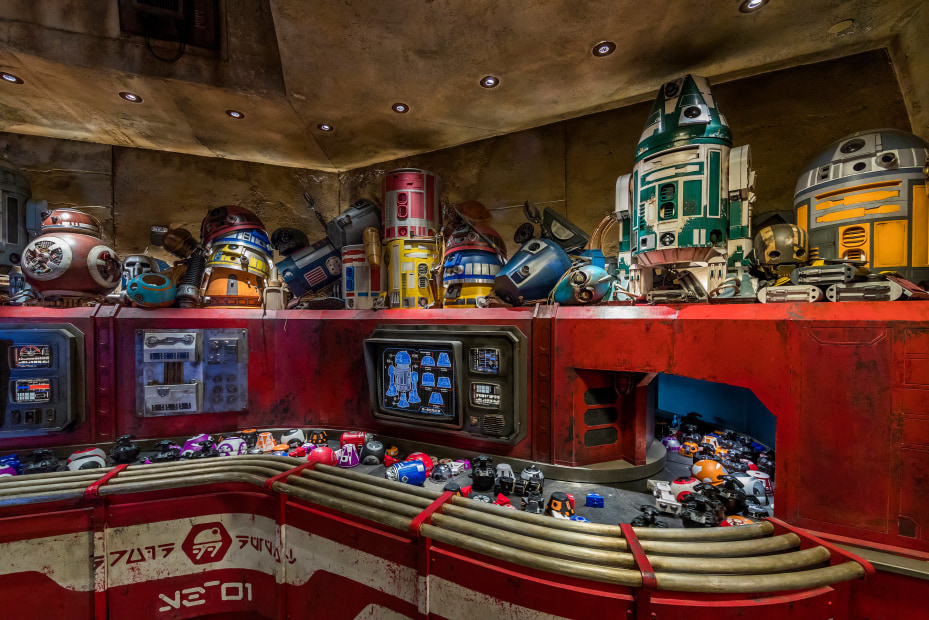 The Merchandise: Take Home Genuine Lucasfilm Artifacts
Galaxy's Edge does merchandise better than anywhere. In part, this is because Disney's merchandisers camped out at the Lucasfilm archives to study the movies' original props and costumes. They scanned those artifacts to create 3D prints, which became the prototype for the products that are now for sale throughout Galaxy's Edge. 
Among the nearly 700 items on offer across the land's nine retail locations: the necklace that Princess Leia wears at the end of A New Hope, Luke Skywalker's soldier's ration kit from The Empire Strikes Back, Jedi robes and tunics modeled after what Obi-Wan Kenobi wore in Revenge of the Sith, "pets" like the shoulder-sitting Kowakian Monkey-Lizard, and a full suit of Stormtrooper armor.
For $199, you can design your own lightsaber at Savi's Workshop, where one of Savi's trusty assistants opens various drawers to display the parts at your disposal—from hilts with themes like "peace and justice" and "power and control" to sleeves, emitters, activation plates, and the kyber crystal that speaks to you. Don't worry about creating a lightsaber that's the same as anyone else's, since there are more than 120,000 possible combinations for crafting the famous weapon.
You can also custom-build your own droid ($100) at Droid Depot, where you pick parts off a conveyor belt to design any of 280,000 possible combinations for a BB8-type machine, which then interacts with other elements throughout Galaxy's Edge before you get to take it home.