Family Adventure in Orange County, California
Like the massive bronze John Wayne that heralds the local airport, Orange County looms large in the imagination. This slice of Southern California—stretching between Los Angeles and San Diego—houses surf spots memorialized by the Beach Boys, mansions that starred in The O.C., and, of course, Disneyland. And with warm weather and much to do, Orange County beckons families for spring break.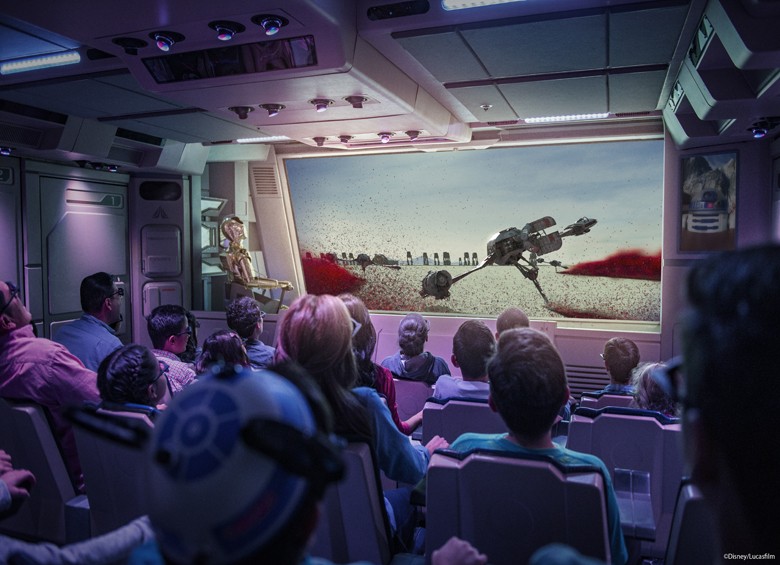 Where better to start than in Anaheim, at the Happiest Place on Earth? (You know the kids can't wait for Disneyland, anyway!) Aspiring Jedi will want to beeline to Star Tours, which spotlights new people and places from the Star Wars series alongside the stalwarts, R2-D2 and C-3PO. You might see Rey, Poe, and others from The Force Awakens and The Last Jedi on your interstellar journey. Meanwhile, those who prefer to stay in this galaxy can roam Disney's eight themed lands, spinning, sliding, whirling, and flying on dozens of other rides.
Speaking of flying, head south to Irvine's Great Park for a different kind of ride. The recreation area—which currently spans 688 acres—features the Great Park Balloon, a 118-foot-tall helium craft that ferries passengers up 400 feet in the air via a tether. On a clear day, the bird's-eye view might include Sleeping Beauty's Castle, L.A.'s downtown skyscrapers, and Catalina Island. Once you land, a carousel, butterfly garden, and art gallery await.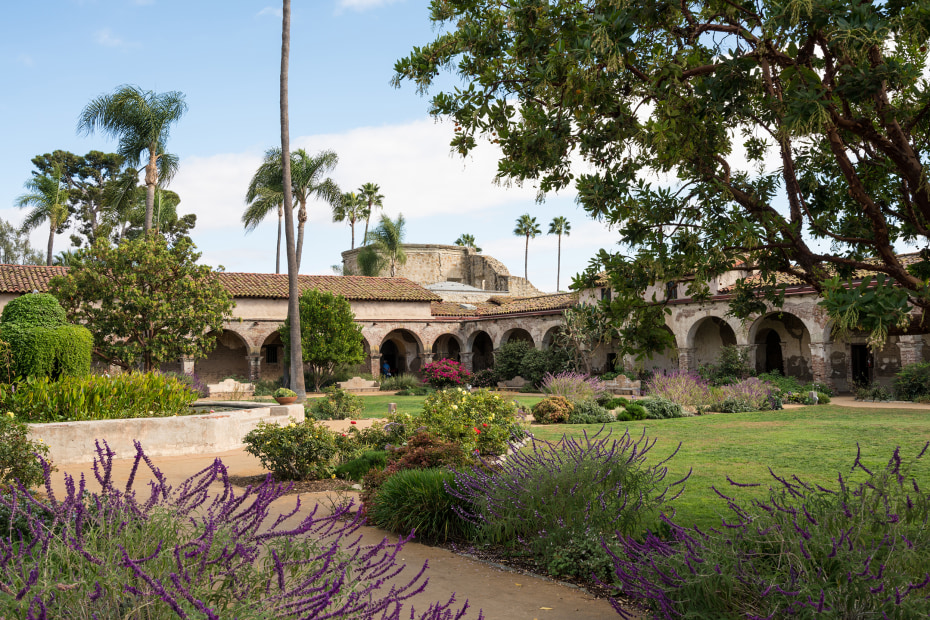 Fifteen miles south sits Mission San Juan Capistrano. Founded in 1776 by Junípero Serra, the mission is home to the beautiful ruins of the Great Stone Chapel, the 18th-century Serra Chapel, and acres of cultivated gardens. Little ones, however, will be especially smitten with the Kids' Clubhouse. In this interactive space, tykes can build arches out of blocks or "weave" vinyl strips into a huge basket. At lunchtime, kids (and adults) can buy fish chow at the gatehouse and feed the koi swimming in the fountains.
Your visit wouldn't be complete without a trip to the beach, and given Orange County's 42-mile coastline, you've got options. Avoid the larger crowds by heading south to Doheny State Beach in Dana Point. The palm-fringed, white sand beach is classic SoCal, down to the bevy of surfers bobbing offshore. (Doheny's break so impressed the Beach Boys, they name-dropped it in "Surfin' USA.") Onshore, cobblestone-lined tide pools at the north end lure land-based explorers, where you might glimpse a sea snail, a skittering crab, or—on rare occasions—an octopus. Once everyone has let off a little steam, take a moment, close your eyes, and listen to the tide roll in. —Megan McCrea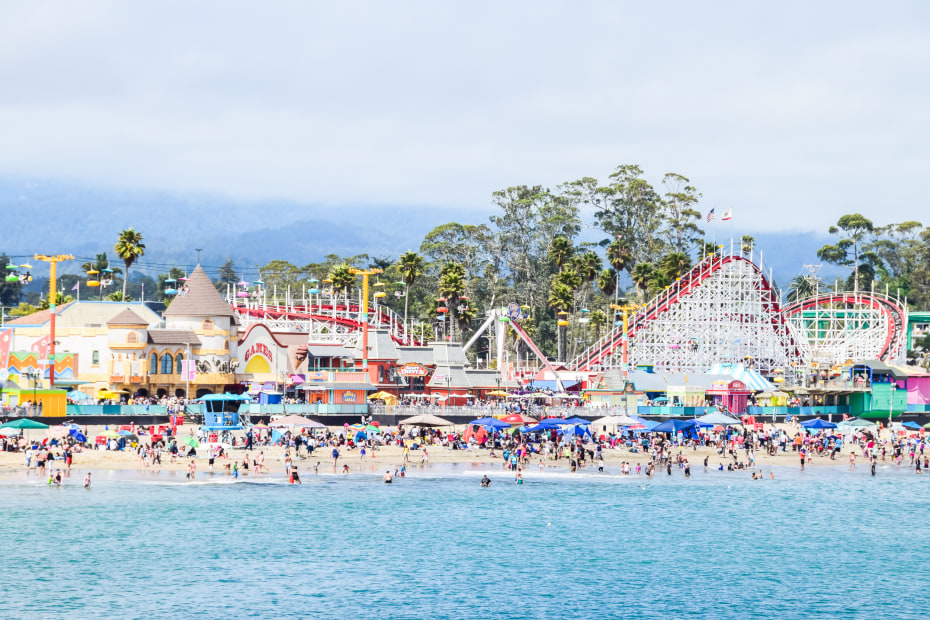 Santa Cruz, California, for Throwback Spring Break Fun
Santa Cruz's nostalgic beach-town vibes will give your spring break that retro fun-in-the-sun feel—even on the foggiest days.
Start at the Beach Boardwalk, where Santa Cruz's old-fashioned seaside whimsy is alive and well. Munch on funnel cakes and corn dogs between spins on the beautiful Looff Carousel, built in 1911, and iconic wooden roller coaster the Giant Dipper, provoking screams and smiles since 1924. (Rides are open daily starting March 28.) On cooler days, get your fix of old-school fun by heading indoors to the Boardwalk's Casino Arcade for a game of Skee-Ball or to Neptune's Kingdom for a round of mini golf.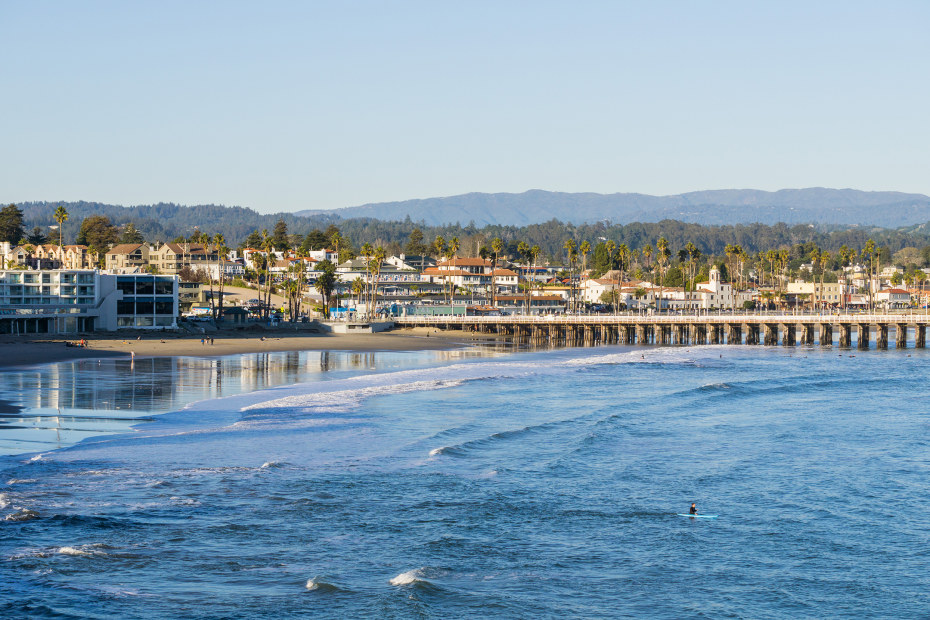 Jutting out between the Boardwalk and family-friendly Cowell Beach, the centenarian Santa Cruz Wharf provides a front-row seat to the wonders of the Monterey Bay National Marine Sanctuary and an experience that's gone largely unchanged for decades. Grab a clam chowder bread bowl on your way to the far end, where you can peek at the boisterous sea lions assembled below, then stop inside 103-year-old Marini's Candies, which dishes up traditional favorites such as saltwater taffy and candied apples.
Easily Santa Cruz's most picturesque offering, West Cliff Drive is a three-mile path that meanders along the bluffs from the wharf to Natural Bridges State Beach. Walk or rent a beach cruiser, making sure to stop at Lighthouse Point to watch the surfers show off at the world-class surf break below and take a twirl through the teensy Santa Cruz Surfing Museum housed inside the historic lighthouse.
Now that you've watched in awe as locals shred on Santa Cruz's famous waves, it's time to don a wetsuit and give the town's official pastime a try. Surf schools including Adventure Out, Richard Schmidt Surf School, and Club Ed can show you the ropes on beginner-friendly waves. When respite is required, find a patch of sand and lounge. Or, get a taste of the area's booming brewery scene by hopping aboard the Brew Cruz, a restored vintage school bus that offers a customized tour of top local beer spots. —Elizabeth Limbach
Head to Yachats, Oregon, for Outdoor Pursuits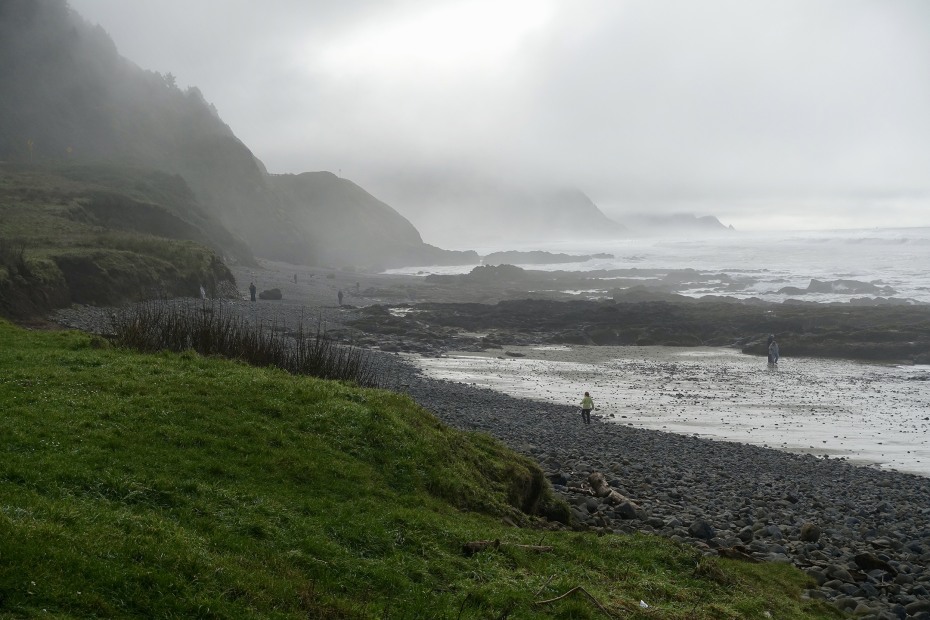 It's "waves gone wild" on spring break in Yachats, a seaside village with colorful houses perched on a bend on Oregon's central coast. Under two hours away from the university towns of Corvallis and Eugene, Yachats has everything outdoor enthusiasts might want. No, you won't be able to stretch out on the sand in a bikini, but you get top-shelf ocean fun on one of the prettiest stretches of the coast.
Cape Perpetua hosts volunteer guides with binoculars during Spring Whale Watch Week (March 21–29), to help visitors locate the migrating behemoths, but if you visit later, ask at the visitors center for the best viewing locations. Hikers delight in an athletic climb up an 803-foot lava flow rewarded by incredible coastal views or a rambling eastward path along a creek with a giant 500-year Sitka spruce.
Along the rocky shoreline running parallel to town, walkers traverse the 804 Trail, a 1.7-mile promenade that once served as an ancient road. Continue onto the new Ya'Xaik Trail across the highway, and end at the Gerdemann Botanic Preserve to spot rhododendrons, azaleas, or the Oregon Iris. Beachcomb south of town at Neptune State Scenic Viewpoint, where several pebbly cove beaches shelter tide pools yielding agates and fossils at low tide. (Spring storms bring massive swells to watch, but beware of sneaker waves that can occur without warning even on calm days.)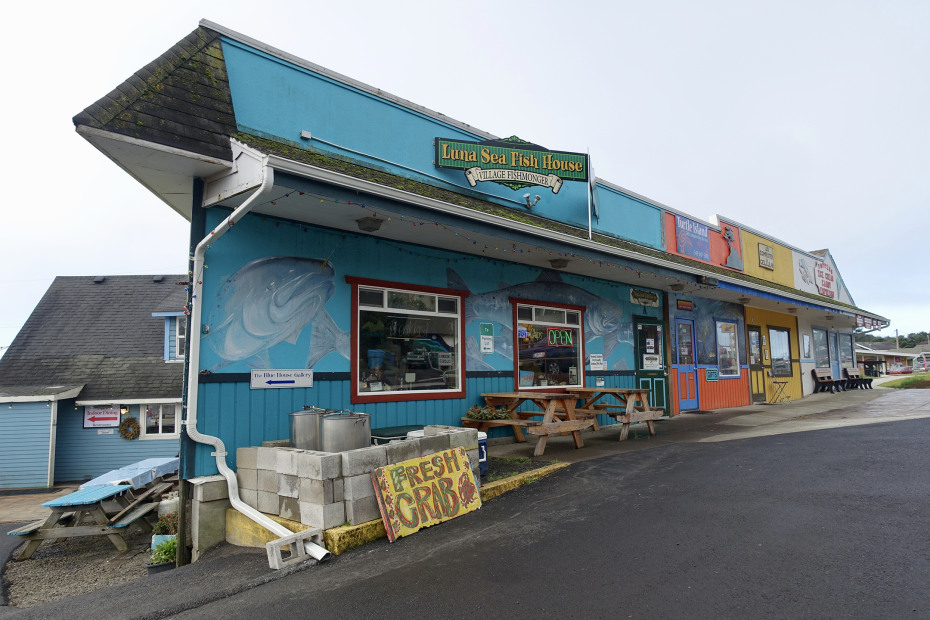 After outdoor adventures, you'll want a sea stone massage at the Overleaf Spa; treatments include ocean views from the soaking pool. Warm up with a Super Shroom hot chocolate with oat milk at funky, local hangout the Green Salmon coffee shop, or dig into a locally sourced ling cod sandwich with a side of superb coleslaw at Luna Sea Fish House, owned by a fisherman who hauls in his own catch. Fermentation fans will love dinner and drinks at eco-chic Yachats Brewing, nibbling on pickle samplers while sipping unusual kombuchas and microbrews under soaring ceilings. —Jennifer Burns Bright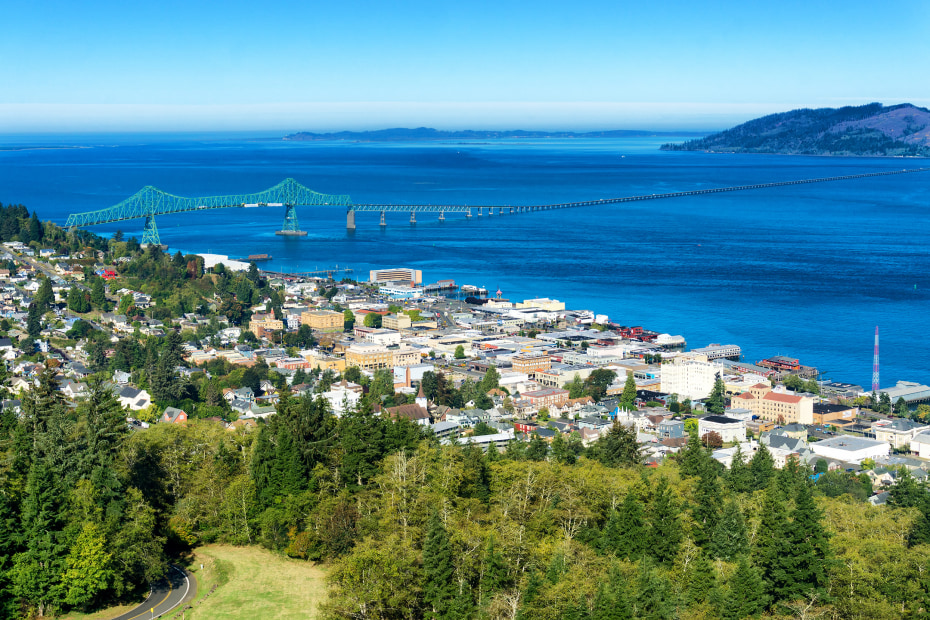 A History Lesson in Astoria, Oregon
Where the Columbia River meets the Pacific Ocean in Oregon's northwest corner, Astoria overlooks the traffic of large ships headed to sea. Oregon's first seaport served as a resting spot for Lewis and Clark before John Jacob Astor's fur traders set up shop in 1811, and the outpost that would become Astoria was born.
To explore the town's fascinating history as the oldest settlement west of the Rockies, climb Astoria Column, a 125-foot tower decorated with a hand-painted spiraling frieze that details the founding of the city. The column sits high atop Coxcomb Hill in a 30-acre park with sweeping views of the town. Gorgeously restored Victorian mansions in the hills below show off shipping wealth. For a look inside one, tour the Flavel House, once home to prominent Astoria citizen Captain George Flavel.
On sunny spring days, take the restored 1913 Astoria Riverfront Trolley alongside the Astoria Riverwalk to hear the conductor's take on local wildlife and maritime history. The trolley, which runs Memorial Day to Labor Day (weather permitting), trundles under the iconic green steel Astoria-Megler Bridge and past downtown to Pier 39, home to the Hanthorn Cannery Museum—and the sea lions that bark outside it. Don't miss the breathtaking Columbia River Maritime Museum, which features dramatic reenactments of stormy seas, or the recreated saloon in the Old City Hall, now the Heritage Museum.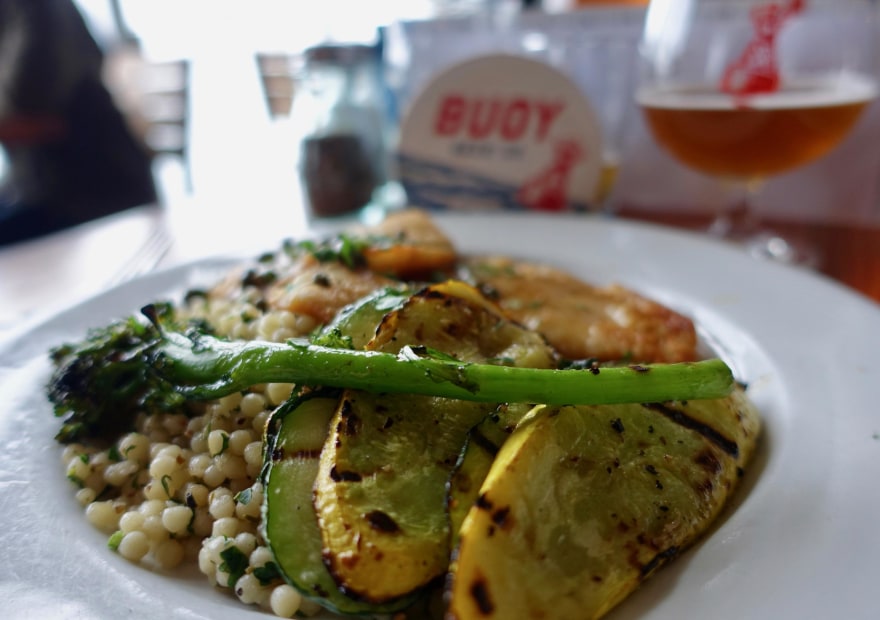 For eats with a taste of history, sample the crispy, beer-battered albacore fish and chips at the Bowpicker, a taco truck in a converted salmon gillnet boat, or the pumpkin seed–crusted salmon with Dijon caper cream sauce and a NW red ale at Buoy Beer Company, housed in a century-old cannery. Or get even saltier at classic, no-frills Astoria joints: the Workers Tavern, Labor Temple Diner & Bar, or the authentically maritime-themed Portway, the oldest tavern in town.
Before you head home from your break, pick up some smoked fish and Finnish textiles from Finn Ware, a shop that pays homage to generations of seafaring Finns who settled in Astoria. —Jennifer Burns Bright