If your idea of golf involves windmills and candy-colored balls, you'll love the creative miniature golf courses popping up around the West. More Rube Goldberg than Lee Trevino, the latest iterations of the retro pastime feature clever, fantastically designed holes such as gargantuan guitars from rock icons Kiss and a boxing match between San Francisco's tallest skyscrapers. Plus, today's courses bring country club perks to the greens with craft beers and food truck-style fare to be enjoyed as you putt. With less golf claps and more spirited fun, these hip links will get you rolling.
San Francisco
You'll feel like Godzilla putting your way through San Francisco at the new Subpar Miniature Golf in Ghirardelli Square where city landmarks comprise an 18-hole course housed within the 1864 Woolen Mill Building, a manufacturing site for Union soldier uniforms during the Civil War. Scoot your golf ball down twisty Lombard Street, try to avoid getting stuck in Bay Bridge traffic, and enjoy an Alcatraz hole with views of the real thing outside the historic building's windows. An outdoor patio features those same dazzling waterfront vistas plus lawn games and a picnic area for post-game eats and drinks.
At the recently opened Stagecoach Greens in San Francisco's Mission Bay, you'll sip spiked Arnold Palmers while navigating a 18-hole outdoor course with immersive, set design-worthy holes. The front nine take players back to the Old West where they can step inside a rollicking saloon and putt through a pioneer graveyard. The remaining holes reflect modern day San Francisco in a Rock 'Em Sock 'Em Robots-style duke out between the Transamerica Building and newly built Salesforce Tower. And true to techy city life, you can reserve your tee time via a Stagecoach Greens app. The course is just one feature of Parklab Gardens, a new four-acre, open-air space that welcomes the public with food trucks, games, and a cabana-lined beer garden.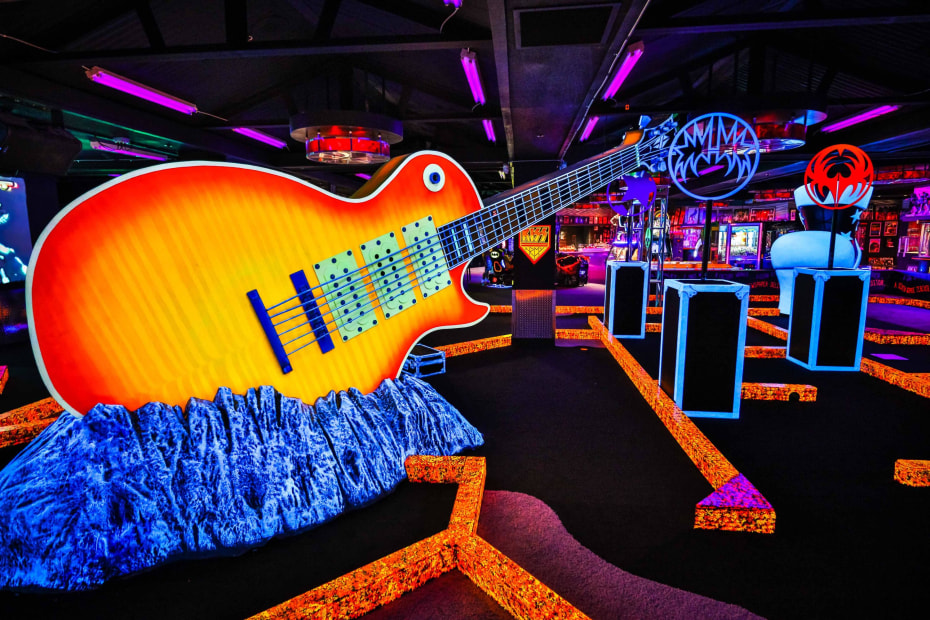 Las Vegas
For those who want to putt and roll all night, head to Kiss by Monster Mini Golf at the Rio All-Suite Hotel & Casino in Las Vegas. While classic Kiss tunes play overhead, players rock their way through a glowing, black light-illuminated course featuring oversized drum kits, towering dragon boots, and the make-up adorned mug of Gene Simmons whose extended red tongue acts as a putting ramp. In addition to a memorabilia-filled museum and arcade, the course features a rock-and-roll chapel where happy couples can be wed by officiants dressed as the Kiss member of their choice.
Seattle
With over 30 taps of Washington-brewed beers and ciders at Flatstick Pub in Seattle's Pioneer Square, it's little wonder barrel-like kegs serve as the primary obstacles and throughways of the pub's challenging, 9-hole indoor mini golf course. You can also try your hand at Duffleboard, a Seattle-themed, mini golf-shuffleboard hybrid where players roll balls past Bigfoot and the Seahawks and into the highest point hole. Afterward, chow down on guisado tacos with savory fillings such as braised beef brisket, potatoes and chorizo, and mushrooms with creamy poblano peppers. Pups are welcome, and can score you $1 off pints during a weekday evening "Yappy Hour."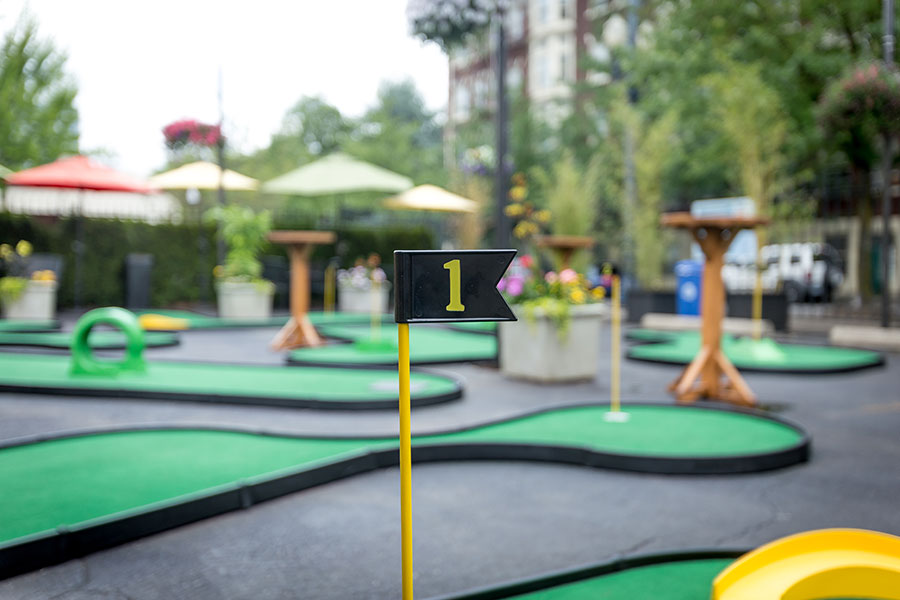 Portland
Taking its name from the colloquial term for après-golf drinks, the 19th Hole in Portland features a colorful collection of canned beer, wine, and cider—the largest in the city—to match the multi-colored golf balls of its compact outdoor course. A summertime feature of the adjacent Hotel Deluxe, the family-friendly beer garden is dotted with nine simple putting greens, umbrella-shaded picnic tables, and yard games including cornhole, Giant Jenga, and Pop-A-Shot basketball. There's also a food cart dishing up street food-style grub such as burgers, Mexican corn on the cob, and Ruby Jewel ice cream sandwiches.