When the restaurant at New Mexico's Indian Pueblo Cultural Center opened in 1976, the Native-owned eatery was but a blip on the country's culinary radar. Over the ensuing years, however, thanks to activist chefs such as Sean Sherman and food shows such as PBS's Seasoned with Spirit, indigenous cuisine—encompassing everything from cactus-pear lemonade to fry-bread nuggets—has catapulted into the mainstream. And why not? It's the original organic, locavore, seasonal cuisine, and embodies thousands of years of history and myriad culture traditions.
"When you look at the indigenous map of North America, you see so much diversity," says Sherman, coauthor of The Sioux Chef 's Indigenous Kitchen. "There's just so much food out there that we haven't been utilizing." Taste the tradition at these five eateries—all of them majority Native-owned or operated—where ancestral techniques and ingredients are on full display.
A school of metallic fish swims up the wall of The Fisherman's Daughter, a friendly eatery in the Tlingit fishing village of Hoonah, Alaska (population: 760). Aptly, fish show up often on Kristi Styers' comfort food–heavy menu, in everything from the salmon tacos to the creamy clam chowder. Here, the fish sandwich of the day is literally whatever the local fishing crews just hauled in.
Tocabe: An American Indian Eatery, a local fast-casual chain in Denver, Colorado, pairs American Indian culture with a menu incorporating food traditions from many different tribes—plus updated recipes from co-owner Ben Jacobs' family, members of the Osage Nation. Sourcing is key; the blue corn comes from the Ute Mountain Ute tribe in southwestern Colorado. "To us, ingredients don't just make the food, they tell the story behind it," Jacobs says. The bison ribs—spice-rubbed and seared for two hours—are a customer favorite. Order a side of green chile stew or Osage hominy (a kicky mix of cranberry, red onions, and cilantro).
Peruse the menu at Indian Pueblo Kitchen and you'll quickly realize that you're not really in the restaurant of Albuquerque's Pueblo Cultural Center—owned and operated by all 19 of New Mexico's Pueblo tribes— but rather in its culinary extension. Dishes focus on ingredients available to the indigenous inhabitants of the Americas prior to the arrival of Europeans, including buffalo, turkey, blue corn, pumpkin seeds, and currants. Executive Chef Ray Naranjo also incorporates indigenous prep techniques—stewing, smoking, drying, and putting food in direct contact with fire. Try the red chile bone stew served with warm Pueblo oven bread. For dessert, order the pumpkin or apple Pueblo pies.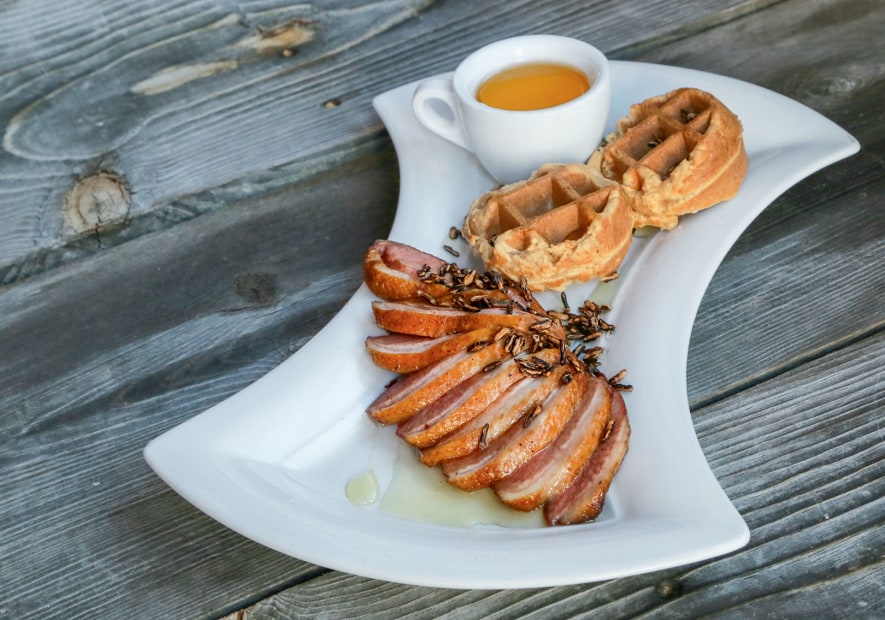 No surprise, salmon and bannock (an unleavened fry bread initially introduced to Canada by Scottish settlers) figure prominently on the menu at Salmon n' Bannock Bistro, a popular 30-seat eatery in Vancouver, B.C. Try the pow wow power salad with house smoked sockeye salmon or the wild boar BLT. Craving bannock? Have it as a flatbread or taco—or order it plain with fragrant berry jam. "All First Nations people ate what was available in their region," says owner and cofounder Inez Cook, a member of the Nuxalk Nation. For the Coast Salish peoples of the Pacific Northwest, that meant salmon, shellfish, deer, elk, and foraged roots, bulbs, and berries. "Indigenous cuisine has always been the original farm-to-table or ocean-to-table," Cook says. "It's food from the land."
Every weekday, Mark McConnell of the Blackfeet Nation and his partner Cecilia Rikard park their bright turquoise food truck, Off the Rez, in front of different Seattle businesses so that the Emerald City can share the beloved dishes McConnell enjoyed at family gatherings and powwows. "Once we started noticing how little Native food was available, we wanted to be the ones to fill the void," says Rikard. Many of the dishes are served on fry bread, from the hearty chili tacos to the bacon-and-cheese–loaded Powwow burger. And if you're craving dessert? Try the sweet fry bread topped with Nutella or seasonal jam. Track the truck on Twitter @offthereztruck.