We start early. Dawn is rarely warm on the Oregon Coast, and the fall air has a special chill, damp with distinct notes of marine funk. Moss and fallen conifer needles cushion our steps along a path that winds through the forest. The rising sun streams in ribbons through the hemlock, red cedar, fir, and spruce trees towering over us and illuminates the steep, fern-covered slopes of Lewis and Clark National Historical Park, just south of Astoria. A bald eagle calls out in a high-pitched trill, interrupting the chatter of scrub jays and chickadees.
My partner and I press ahead on the Fort to Sea Trail. We're here on a mission: to forage fixings for pie. Armed with small buckets and disposable gloves, we keep our eyes peeled for evergreen huckleberries, which typically flourish near Pacific shores. We don't have to hike very far before we score. Clusters of the shiny black orbs, which look and taste like tiny, tart blueberries, appear here and there. We pull them gently from the bushes, moving from one to the next, leaving plenty of fruit for the woodland creatures that rely on it for sustenance.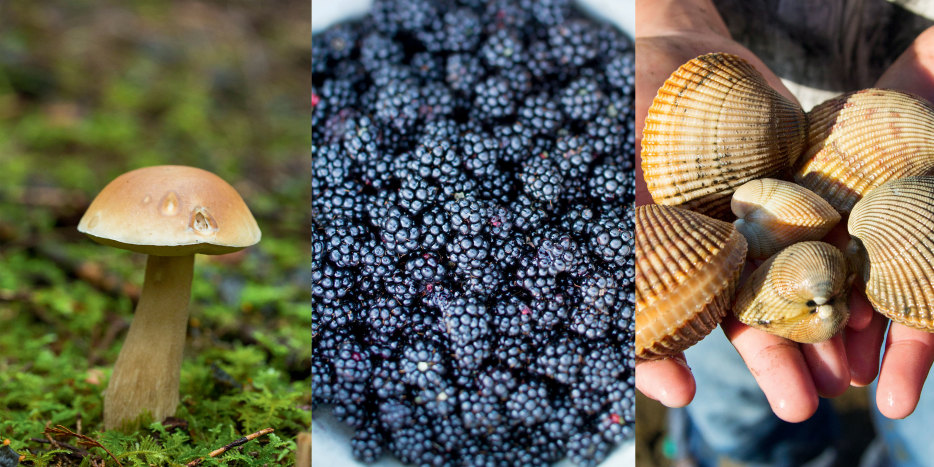 The best part: Collecting this bounty costs little more than our time. State law allows amateur foragers to gather quantities of wild berries, mushrooms, and other foods on many public lands, as long as local regulations are followed. For example, on the Fort to Sea Trail, each person may pick only one pint of berries. Shellfish, too, can be harvested in designated areas with specific limits, and the required crabbing and clamming license costs less than $30 a year. Many free how-to resources are available online. Walks guided by experts, which are strongly recommended for beginners the first few times out, ensure safe and sustainable results.
The temperate Oregon Coast allows for different types of gathering in every season. Ready to go? Here are some tips for foraging popular regional edibles.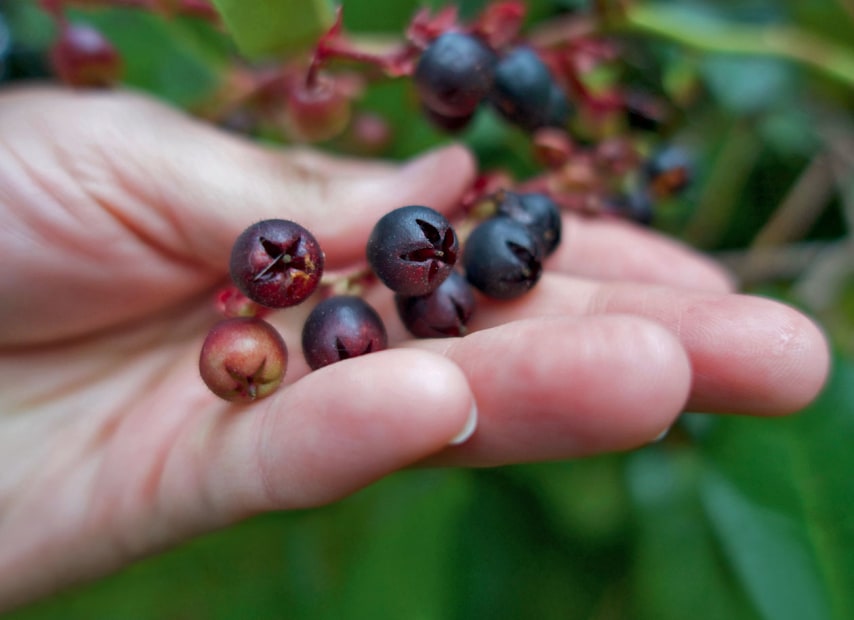 Berries
Wild berries thrive all over Oregon's coastal public lands, which feature diverse ecosystems and terrain. Red and black evergreen huckleberries, night-blue salal berries, crimson thimbleberries, sunset-colored salmonberries, and amaranthine blackberries abound. Many ripen by mid-July, with salmonberries and red huckleberries hitting their peak first. Evergreen huckleberries, salal berries, and blackberries often persist into September.
The trek south along the 6.5-mile Fort to Sea Trail, from the re-created fort of the Corps of Discovery to Sunset Beach, north of Gearhart, affords hikers ample opportunities to pick handfuls of berries. Crossing land once frequented by Clatsop hunters and gatherers, we easily spot various leathery-leaved bushes—some towering, some squat and compact—filled with tiny, sweet-tart huckleberries.
Our guide, Matt Nevitt, explains why foraging is so appealing—and his life's work. He says his goal is "to raise awareness of the wonderful wild foods on the lower Columbia River among chefs and home cooks." His business, Forage & Farm, supplies wild-crafted provisions each week to subscribers in the area through a community supported agriculture program, and he also leads walks and gives demonstrations related to wild foods.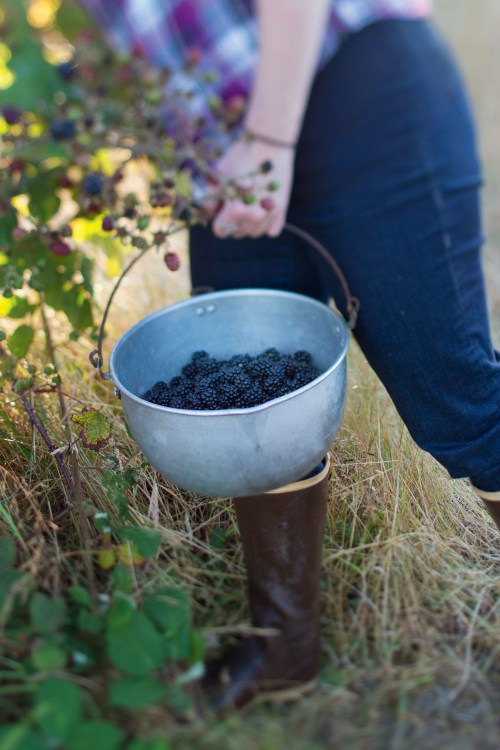 Nevitt seems aghast when I ask why anyone would bother foraging for berries in a state that cultivates such amazing ones. "Buying berries at a farm stand is great, but it's not an event," he says. "Picking berries is one of the most fun things you can do. You eat more than you take home, plus [you get] all the benefits of being in the forest and exercise on a wonderful outing."
He rhapsodizes about huckleberry pancakes and his mom's wild berry fruit leather, likening it to salal berry cakes, an indigenous staple. Coastal Salish communities dried and pressed the slightly hairy, sticky fruit (which looks like an elongated blueberry and grows in thickets all over the coast) into energy bars. As the trail grows more rugged, climbing to a crest with views of the Pacific, I wish I had one.
Of course, some of Oregon's wild berries can be found without hiking. Blackberry vines form thorny thickets just about anywhere there's ample sun. Across the western part of the state, foragers meet on back roads, in fields and alleys, along streams, and behind abandoned houses to pick bucketfuls. Locals say summer hasn't begun until the first blackberry bush draws blood! The most aggressive species, the Himalayan, produces an abundance of plump, winey berries by August each year, often continuing until the rains come.
Berry Picking Tips
Check the rules and limits where you're foraging. Sustainable harvest guidelines call for picking only a small amount from each plant and no more than 10 percent of a patch.
Get an early start, and don't go alone. Berries are freshest in the morning and attract fewer bugs at the start of the season. Bring a map or GPS device and a pal to avoid getting lost.
Wear a hat, long sleeves, and long pants. They'll protect your skin from sun, brambles, and insects. Disposable gloves keep hands free of juice stains.
Be bear aware. Coastal black bears enjoy berries too. Avoid trails with fresh bear scat or other signs of their presence. Talk, sing, or jingle bells to make your presence known.
Skip areas sprayed with herbicides, such as rural roadsides. Look for telltale dead plants or grass near the brambles, which Oregon classifies as invasive weeds.
Tap local experts for advice. Call a park or forest ranger for up-to-date insights on the best picking spots the week you plan to forage.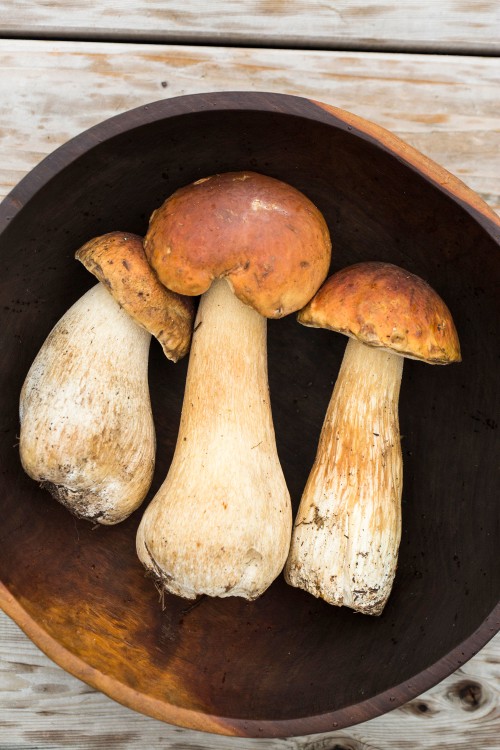 Mushrooms
Brought to life by September rains, wild mushrooms on the Oregon Coast are nothing short of spectacular in a good year. Usually associated with particular habitats, certain mushrooms play a crucial role in Pacific Northwest forests, breaking down dead and decaying plant matter. One top foraging spot, Fort Stevens State Park, lies just west of Astoria, where the Columbia River meets the Pacific Ocean.
The former military post occupies 4,300 acres with varying microclimates, some perfect for wild spores of fungi. In the fall, oyster mushrooms grow on dead wood in cream-colored, shelf-like formations. Rainbow chanterelles herald the arrival of foragers like little trumpets, popping up in the fog belt before others of their prolific species. Lobster mushrooms, actually edible fungi that consume mushrooms, emerge from the moss as brilliant orange as their namesake's shell. Keep your eyes peeled for rare prince mushrooms too.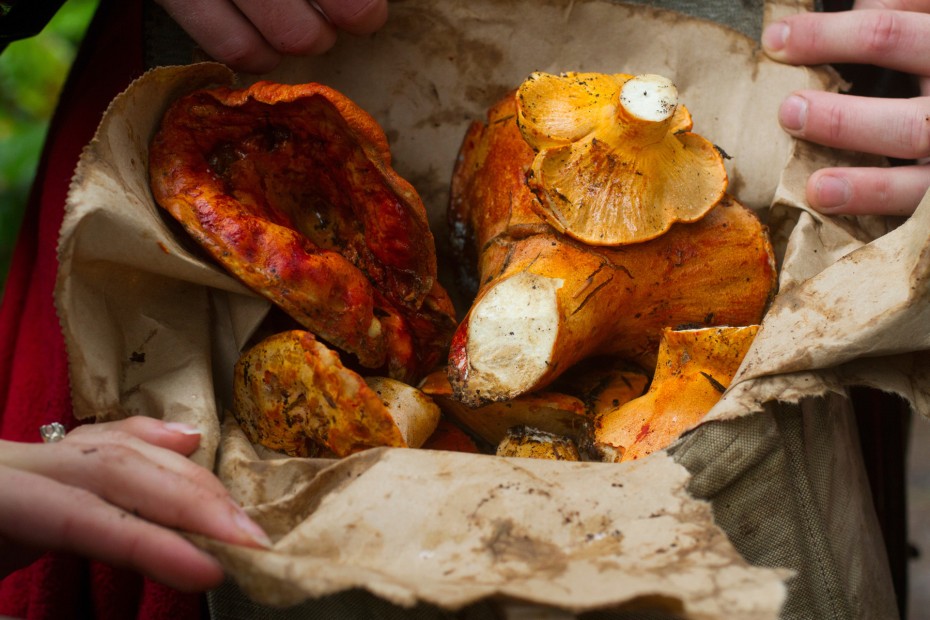 Dane Osis, a park ranger who leads seasonal walks at Fort Stevens, notes that mushrooms often cluster around trees they like. He points people toward areas of the park with stands of spruce or alder or pine, depending on what they want to find. "Think of it like a treasure hunt, with the park as the map," he says. To avoid plucking dangerous look-alikes instead of culinary goodies, it's best to gather mushrooms with an experienced forager.
On a rainy October afternoon, I walk through beach grass and mossy seaside forests to find colorful specimens in clusters or as solitary sentinels. When I stumble upon a toxic fly agaric mushroom, I feel a little like Alice in Wonderland in a fleece pullover. Its red-and-white, polka-dotted cap is as big as my hand. The mushroom, made famous by literature and video games, is poisonous. However, its mere presence indicates that my favorite edible one, the king bolete, may be growing nearby.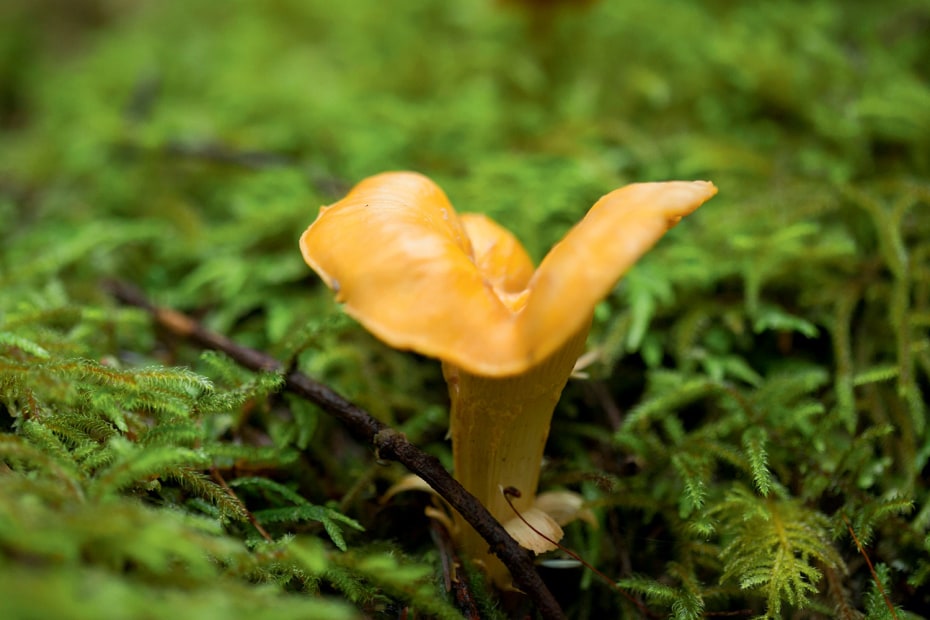 Boletes—also known as porcini—are the most popular mushrooms to hunt at Fort Stevens. When I finally spy one, its hamburger bun–like cap revealing itself just under the mossy duff, it's a cause for celebration. One of the largest and most beautiful mushrooms on the Oregon Coast, the king bolete almost always bears a distinctive conical stipe with a netting pattern and spongy pores underneath. Its high water content makes it essential to cook fresh specimens thoroughly in a dry skillet until caramelized, as Osis advises, to avoid sluglike sliminess.
Dehydrating is an even better bet for boletes. When they're dried, their deep, complex flavor of nuts and cocoa enhances soups and braises. To savor some effortlessly, head to Astoria's Būsu, a Japanese-influenced walk-up window. Owner Kenneth "Kenzo" Booth loves foraged foods and uses wild mushrooms in seasonal dishes such as rice porridge congee made with bolete broth or chanterelle curry.
Mushroom Gathering Tips
Forage with an experienced guide. Check the websites of Fort Stevens, Yachats Village Mushroom Fest, and Oregon-based mycological societies for walks and lectures.
Do not pick any mushroom you can't clearly identify. Toxic look-alikes abound. Eating one can cause serious illness (vomiting, seizures, organ failure) or even death.
Go early in the day. Before you set out, contact the park or forest management office that's closest to the spot where you plan to forage to check regulations.
Wear warm layers and rain gear. Fall conditions constantly change. A waterproof hat can protect your head from rain, sun, and spiderwebs between branches.
Carry a sturdy wicker basket. Its design allows spores to fall through the weave and repopulate the area. Do not store your finds in plastic bags, which can hasten spoilage.
Cook all edible mushrooms well before eating. Most varieties contain compounds that will sicken you if not neutralized with heat.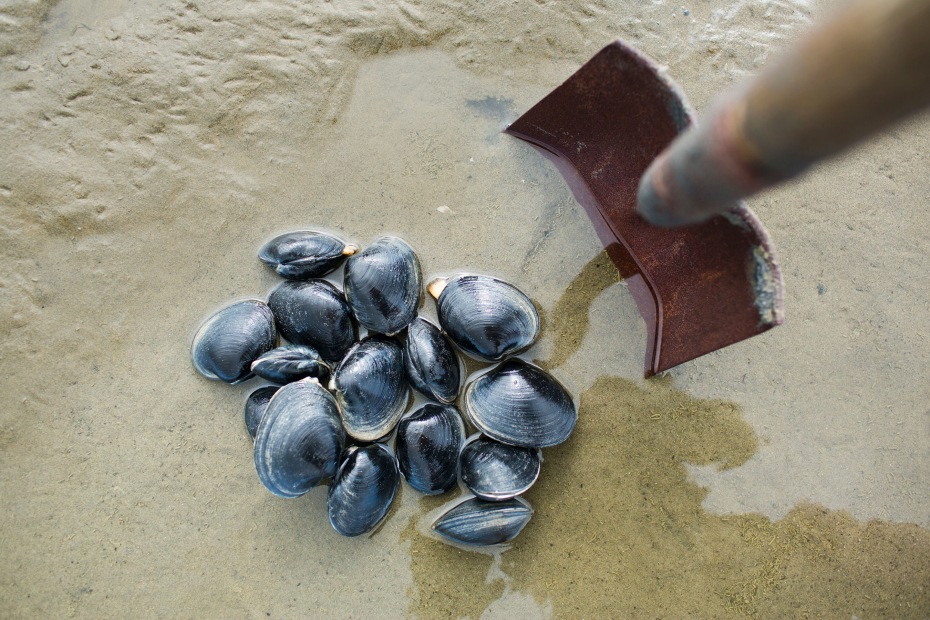 Shellfish
One of the greatest secrets of the north coast is just how easy it is to harvest crabs, clams, and mussels. Dungeness crabs are caught by tossing traps from boats, piers, jetties, and sometimes just the shore. You can rent or purchase crab pots or collapsible baskets to fill with bait—chicken legs, squid, clam guts—and throw into the water. After giving crabs time to wander into a trap through one-way openings, you grab the line and pull it back up.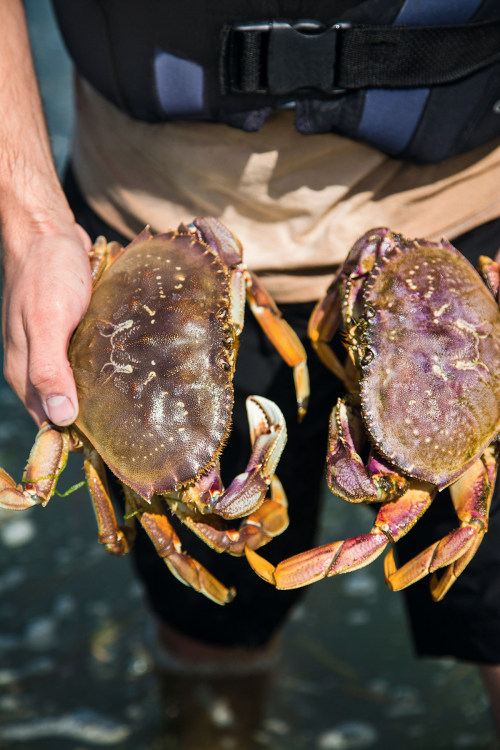 Jesse Kane, an outdoor skills specialist for the Oregon Department of Fish and Wildlife (ODFW), teaches newbies skills he has mastered over a lifetime of sourcing wild foods. I join him for a harvesting lesson at the village of Garibaldi's historic Pier's End. Stretching over 700 feet out into Tillamook Bay, it is one of the longest public piers in Oregon. As he hauls up a basket full of crabs, Kane reminds me that for conservation reasons only male Dungeness crabs, with a narrower strip of shell on their underbellies, may be kept. He seizes each live crab and measures it with a plastic ruler bent to "keeper" size. He tosses back females and crabs that are too small.
Pier's End can't be beat for sourcing Dungeness and lesser-known red rock crabs, whose meaty claws rival those of stone crabs. Their bountiful population means they aren't subject to the same limits as Dungeness. The pier has cozy seating bays, allowing groups of crabbers to set down their gear and chill out on camp chairs, taking in the spectacular views of the bay. Don't gaze off for long: If you turn your back, your catch may scuttle away!
The tidal flats surrounding the pier are good for more than crabbing. They provide access to various native clam species, which grow robustly in the mineral-rich water and substrate of broken shells. In the fall, when the region's razor clamming is closed in the interest of conservation, bay clams and wild mussels are available. Look for them wherever the shoreline forms inlets and bays fed by rivers.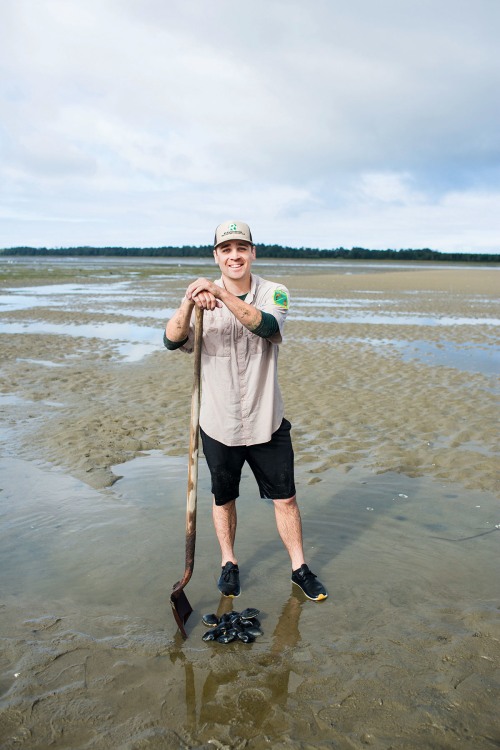 "You can get cockles and littlenecks [smaller hard-neck clams] too," Kane says. "You don't have to dig deep, just go out there with bare feet and feel for them with your toes like I do! And if you hit low tide, you can even get the larger, deeper butters and gapers."
For less intrepid foragers, ODFW offers maps that show access points, topography, and population density of various species in Tillamook and nearby Netarts Bay, the most renowned clamming beach in Oregon. "Research is key," Kane says. "Make sure you know before you go. All you need is a shellfish license and a little legwork. Google the bay before you go and visit the local ODFW website for techniques they recommend." Better yet, ask a fellow forager on the beach for the most up-to-date, specific tips.
For those seeking wild mussels, a drive north of Garibaldi to Barview, where the Pacific pounds the rocks, is a good option. I turn to Jacob Harth, a commercial seafood harvester for advice. "Mussels are a great beginner shellfish," he says, "not just because you can harvest up to 72 of them [daily], but because you don't need to wait until ultralow tides." Harth advises prying wild mussels off the rocks before they grow beyond two inches long, so they'll be tender and not gritty. Because, although it's free, wild, and bountiful, no forager wants to eat sand.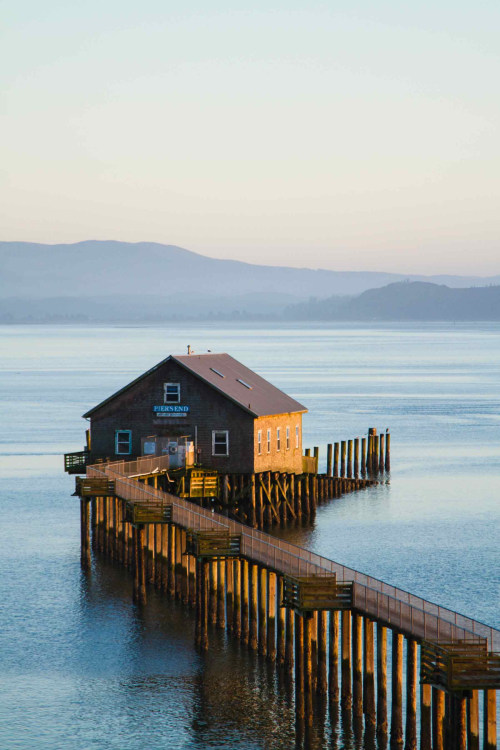 Shellfish Harvesting Tips
Buy the mandatory license. Get one online or at a qualifying store.
Keep informed. Visit dfw.state.or.us for harvesting rules and restrictions. Look for signs noting size and catch limits posted at popular sites. Call the Shellfish Safety Hotline (800-448- 2474) for beach closures due to toxins. Check the tides daily, and watch out for sneaker waves.
Dress the part. Knee-high waterproof boots or waders keep you (relatively) dry. Nitrile garden gloves protect your fingers from sharp shells.
Buy or borrow gear. For crabbing: Ask a local hotel or visitor center where to rent crab pots and lines. Pick up bait at coastal markets. Contain live crabs in a medium-size cooler. For clamming: Clam shovels help cut through sand and muck, but a rake or trowel may suffice. Bring a bucket or mesh bag to collect and store clams.