Like basements and attics, your garage can easily become a room-sized junk drawer. 
"Garages are often filled with items the homeowner no longer wants inside their home but just can't quite get rid of yet," says Anne Blumer, certified professional organizer at SolutionsForYou, Inc. 
One answer to the garage's clutter is to keep the door firmly shut and find an alternate spot to park your car. But for your car's sake—and your own—a better option is to rid the space of unneeded items and neatly organize what's left. 
Once you do so, you'll be able to use the area for its intended purpose (parking) without the awkward shimmy to get out of the car and through the cramped space, says Joshua Becker, author of The Minimalist Home. 
With a cleared out garage, you'll be able to grab any item you need, fast. Plus, you may feel better after you organize—after all, the garage may be your entry point when you arrive at home, and a chaotic, messy space can cause your mood to dip, Becker notes. 
If your garage has become a chaotic catch-all space, here's precisely how to transform it into an organized, useful, and safe space.
1. Plan ahead.
Since garages are large, it helps to do some advance work before diving in. First, figure out when you'll do the project. 
"Set aside an entire weekend," Blumer says, and enlist the help of other members of your household or a professional organizer. Many professional organizers are now offering virtual consultations and support.
Assemble your cleaning supplies (think a broom, outdoor vacuum, and cleaning rags) as well as garbage bags for any trash, Blumer says. Rent a dumpster or schedule an oversized garbage pickup with your local provider if you anticipate a lot of landfill waste, and schedule a donation pick-up for larger items. 
You may also want to think a bit about your garage vision: What do you want to keep in the space? Browse online for "inspiring photos of garages that you want to pattern your garage after," suggests Michelle Hansen, organizing expert and owner of Practical Perfection.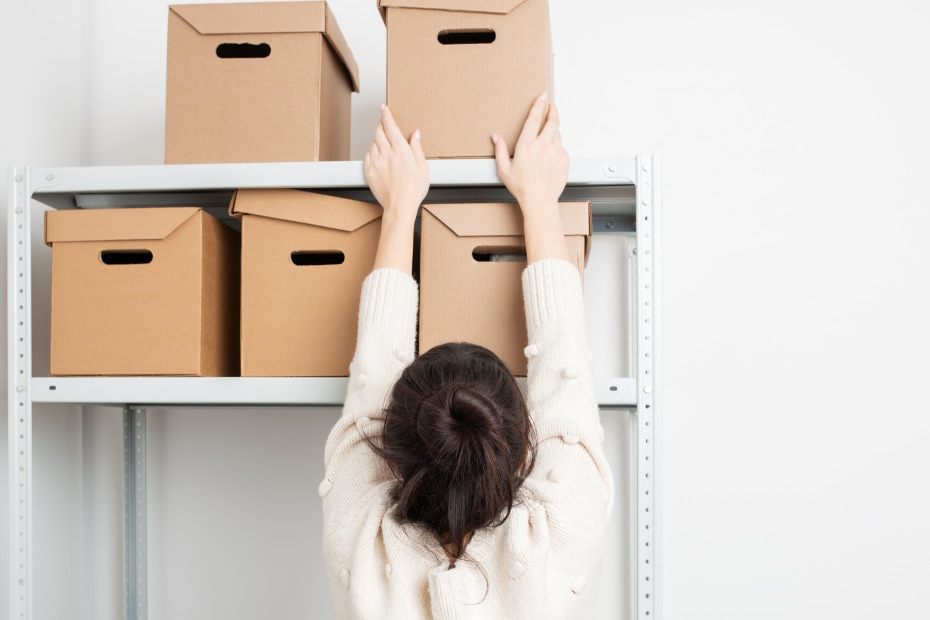 2. Clear the space.
Remove all the items in your garage and place them elsewhere—outside on a tarp in your driveway or in another room.
"If it's winter and it's too cold where you live to move everything out of the garage, then you can just pull the cars out, leave the garage closed, and use the middle portion of the garage to organize," says Hansen.
3. Assess and decide.
Now's the part where you choose what stays and what goes. Sort your possessions into three categories: keep, donate/sell, trash. This can be hard, particularly for people who like to hold onto items. But personal organizers recommend a ruthless approach. 
"You typically only need about three seconds to decide if you are going to keep an item or not. Don't try to list all of the reasons why you should keep an item. If your first initial thought is to get rid of it, you probably should," Hansen says. 
Here's how to think through if you should keep an item or not:
When did you last use it? No need to hang on to snowshoes from a long-abandoned hobby, Hansen says. Same goes for yard equipment if you have a standing appointment with a landscaper who brings their own tools.
When will you use it again? If you'll use it in the next year or so, keep it, but if it's something you're keeping just in case you need it in the future, you likely can safely get rid of it, Blumer says.
Does it work? Get rid of things that are broken, says Hansen. "If something is broken and needs repair, and you haven't repaired it for years, you probably won't fix it," Blumer says.
Can you quickly and inexpensively replace it if you need it later? Joshua Fields Millburn and Ryan Nicodemus, the writers and podcasters behind The Minimalists, recommend getting rid of "just in case" items that can be replaced in less than 20 minutes for $20 or less. (They call it the 20/20 rule.) Their reasoning? Most of the items we hold on to for an undefined future need never get used and just take up valuable space.
Not sure where to begin? Becker recommends starting with large items—that way, you'll see the impact sooner, which can be motivating.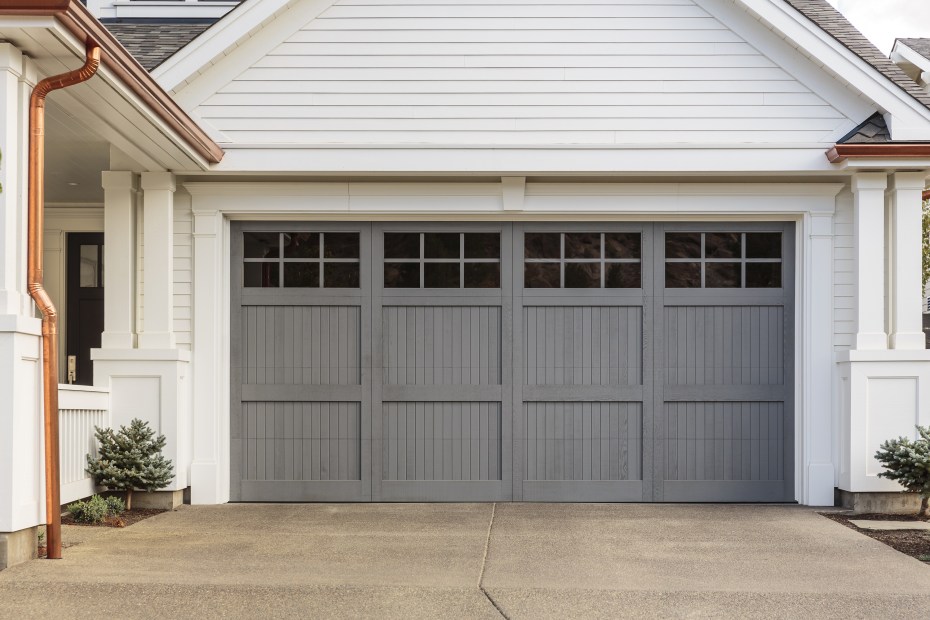 4. Clean up.
Once your garage is empty, seize the moment to rid it of dirt, dust, and grime. Basic supplies—a vacuum, mop, and microfiber cloth—are all you'll need for this task, says Abe Navas, general manager of the house-cleaning service Emily's Maids.  
Start by vacuuming the whole space, working from the top (where spiderwebs can lurk) downward, Navas says. "Try different attachments. Most people never use their vacuum to its full potential," he says. Mop the floor once you've vacuumed, and use a microfiber cloth on surfaces. 
Don't forget about the garage door: Bring it all the way down, then clean both sides. "You can apply the same logic for your door as with your car," Navas says. Hose down the door, use a big sponge to clean it, then rinse it off with the hose and let it air dry. 
Smart Tip: To remove oil stains, place sawdust over the mark for about 30 minutes. Then sweep up the sawdust and squeeze dishwashing soap on the area. "It cleans grease way easier and it's not hard on your hands," Navas says.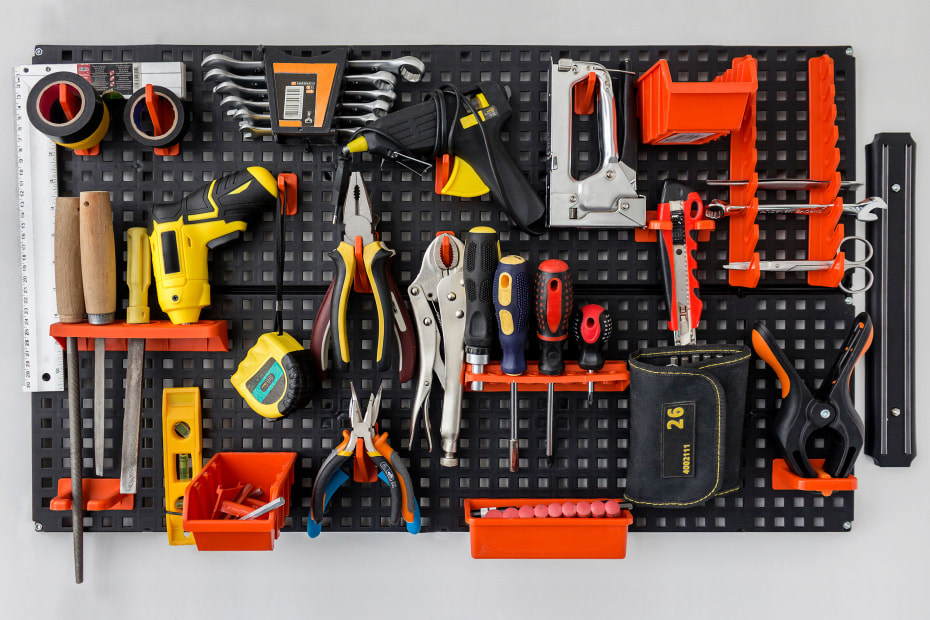 5. Organize what's left.
Now that your garage is spic-and-span and you've sorted out broken and unused items, it's time to organize and store what's left. To do so, group like items together, Hansen recommends—you might find yourself with categories like holiday decorations, gardening equipment, and sports gear, for instance. 
Use shelving along the walls of the garage to store most items. If you're in need of storage, Blumer recommends shelves that are easy to install and reconfigure as your needs change, such as the Container Store's Elfa system.
Place items in clear bins so that you can easily locate them, with similar items stashed together, and add labels to make it easy to find things later on. Plastic bins trump cardboard boxes since they'll last longer and are pest-proof, Navas points out. 
Pegboard and hooks can be helpful for storing ungainly items (bicycles, fishing poles, and yard tools, for instance). More rarely used items (holiday decorations, seasonal gear) can be placed in high-up spots, but keep frequently used items more accessible.
6. Properly donate, sell, recycle, and trash the no pile.
The garage can often be home to toxic materials, including cans of dried-up paint, fertilizer, and cleaning products. Before placing items in the trash, look up the appropriate disposal method in your area. Earth 911 has information on how to safely recycle and dispose of items, and your waste management company or local government will likely also have helpful tips. 
If you're looking to sell or donate items, try:
Nextdoor;
Facebook Marketplace;
Your local Buy Nothing Project group;
Local charities with storefronts, such as Goodwill and the Salvation Army;
Community Warehouse;
Or Habitat for Humanity ReStores.
But don't let the urge to sell items slow down your process. "If you're trying to sell everything, it's going to take forever and you're going to get frustrated," Becker says—if you can afford to do so, opt to donate rather than sell items.
7. Keep it tidy.
Your beautifully organized and cleaned up garage will hopefully leave you feeling inspired to keep it up. Blumer suggests a few tactics that'll help you stay on track.
Put things away. Do it immediately after you use it.
Don't make the garage limbo. "Don't put something in the garage to decide what to do with it later," Blumer says.
Create a spot for donations. Place a container in the garage for donations, and drop items off once the container is full.