If you're planning to get a Christmas tree this year, you're not alone. In 2020, an estimated 94 million households in the United States—or 75 percent of all households—put up a tree. And no wonder: As winter gets colder and days get shorter, a tree adds cheer, light, and, in the case of real trees, a cozy scent. But when it comes to getting a Christmas tree, there's a lot to consider: Real or artificial? Potted or cut? Tree lot or farm? And don't forget to factor in cost and the size of your space.
Whether this is your first time getting a tree or your fortieth, here's everything you need to know to pick the perfect Christmas tree for your home.
Real vs. Artificial Christmas Trees
You'll find passionate proponents for both real and artificial Christmas trees, but if you're on the fence, consider the following factors.
Sustainability
Without much research on the subject, it's hard to nail down which option—real or artificial—is better for the environment. Here's what we do know:
Most artificial trees are produced in China and won't decompose in landfills, according to Canopy, a nonprofit seeking to grow urban tree canopy in the San Francisco Bay Area. However, when you use an artificial tree year after year, the environmental impact of its production and transportation may diminish.
Real trees have an environmental burden, too—you probably have to drive to get one and a pre-cut tree might even be shipped from a different state. On the other hand, manufacturing an artificial tree releases carbon emissions and requires fossil fuels to create the plastic, points out the Nature Conservancy.
The bottom line, according to many experts: There might not be much of a difference, environmentally speaking, between buying a cut or artificial tree.
Cost
In 2020, a real Christmas tree cost $81 on average. In 2019, a fake tree cost $104 on average, but this year's supply chain shortages are causing prices to rise by up to 25 percent for some companies.
While a cut tree may be lower in cost, its joys are fleeting—you'll only have it for a few weeks, whereas most people keep their artificial trees for 10 years, according to a survey from the American Christmas Tree Association, an organization representing the artificial tree industry. The longer you keep your tree, the lower the cost over time and the less environmental impact from the centerpiece of your holiday decor.
Storage or Disposal
If you purchase an artificial tree, you'll need to make sure you have a spot to stash it during the non-Christmas season. Even collapsed, artificial Christmas trees take up space.
With a real Christmas tree, you'll need to work out the best way to dispose of it. Environmentally friendly options include composting (cut your tree into smaller pieces first) or mulching. Your local Home Depot may be able to mulch your tree, or check if your city or county has mulching or composting programs available. Many local waste management companies offer curbside pick-up, but note that it's typically for a specific and narrow window of time. Otherwise, there may be a local drop-off site nearby.
Other Factors to Consider
Cleanup: An artificial tree won't shed as many needles, and you don't have to worry about it drying out prematurely. With a real tree, you may find yourself discovering needles months after the holiday season.
Allergies: Some people get the sniffles or a rash around the holidays, a phenomenon known as Christmas tree syndrome. Most likely, you're not allergic to the tree itself but to its sap or mold.
Pets: You'll want to anchor your tree carefully, so that a wagging tail or curious paw won't cause it to tip over. The needles and water in the stand can both be dangerous to pets if consumed, per the Humane Society—the water may contain pesticides, while the needles can cause intestinal problems. If you think you won't be able to keep your pet away from the tree, an artificial one may be a safer option.
Aesthetics and scent: Some people grew up with a real tree and value the sensory experience it provides, not to mention the adventure of choosing a tree and having it vary from year to year. Others, however, may prefer the flocked look that's available with an artificial tree, or the time-saving perks of a pre-lit option.
Where to Get Your Christmas Tree
Artificial trees can be purchased online, at your local hardware store, or from a big box retailer.
To settle on the perfect real tree, you have many different options, from tree farms and retail stores to nurseries or even the forest. At all these locations, you can expect to find high quality trees, says Gary Chastagner, PhD, a professor of plant pathology at Washington State University. (Some of Chastagener's Christmas tree research is supported by the Christmas Tree Promotion Board.) Your choice mainly comes down to the kind of experience you're after.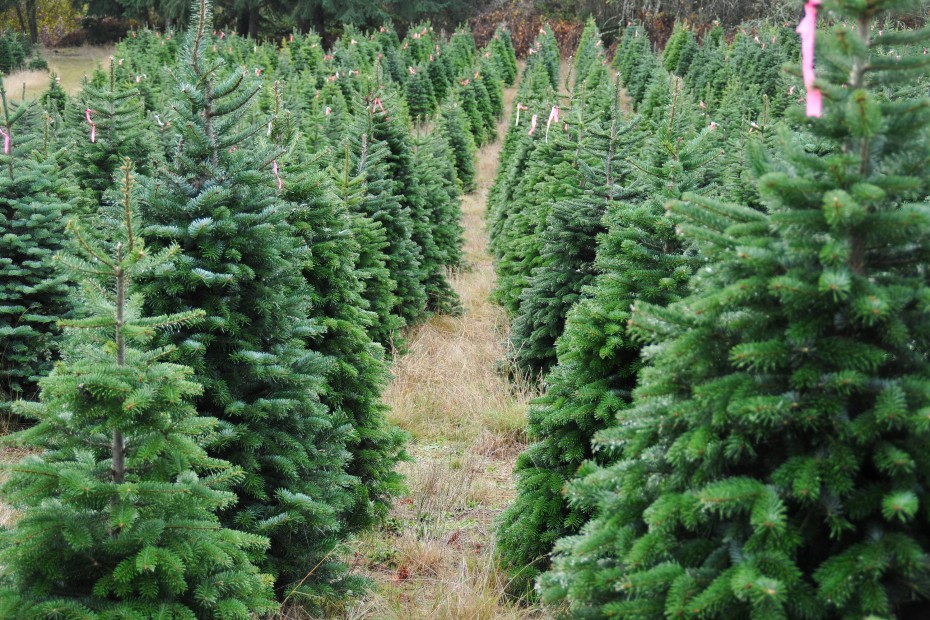 Tree Farm
In 2019, 32 percent of Christmas tree shoppers went to a choose-and-cut farm. Along with being able to pick out your tree, farms often showcase family-friendly activities, such as music and hay rides, along with gift shops where you can stock up on ornaments and holiday decor.
"They create an experience for families, a tradition that can be replicated year after year," says Chastagner. Plus, he notes, you'll know that you'll be getting a tree that's cut down that day, if you choose to cut down your own. The farm will provide tools for the task, and some may provide assistance wrapping up your tree and securing it to your car. Since specific requirements depend on the farm, it's wise to investigate first. Pick up the phone or visit the tree farm's website to find out what to expect, along with any safety changes that may have been made due to Covid-19.
Smart Tip: Use the retail locator map from the Christmas Tree Promotion Board to search for choose-and-cut farms, lots, and other options.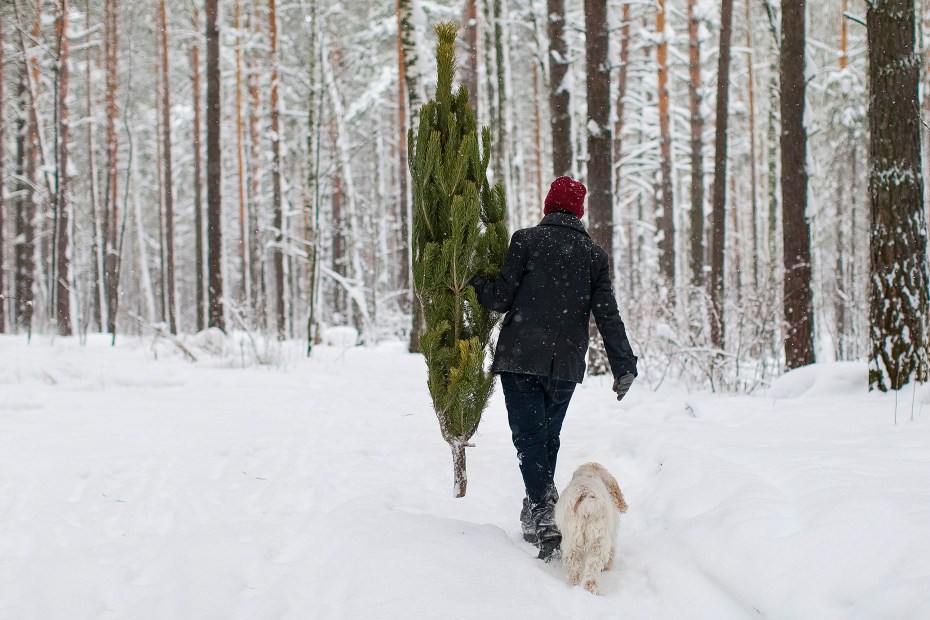 National Forest
Nature lovers and the very intrepid may opt to visit a nearby national forest to cut down a tree. In addition to enjoying an idyllic outing, choosing a wild tree may help with forest management.
"The areas where trees are allowed to be harvested need to be thinned," Chastagner says.
Make sure to apply for a permit ahead of time online, and always take general wilderness precautions, such as dressing properly; bringing a map, water, and other supplies; and minding your surroundings (think animals, falling trees, and so on). You'll also want to bring someone along to help with both the cutting process and toting the tree back to your car.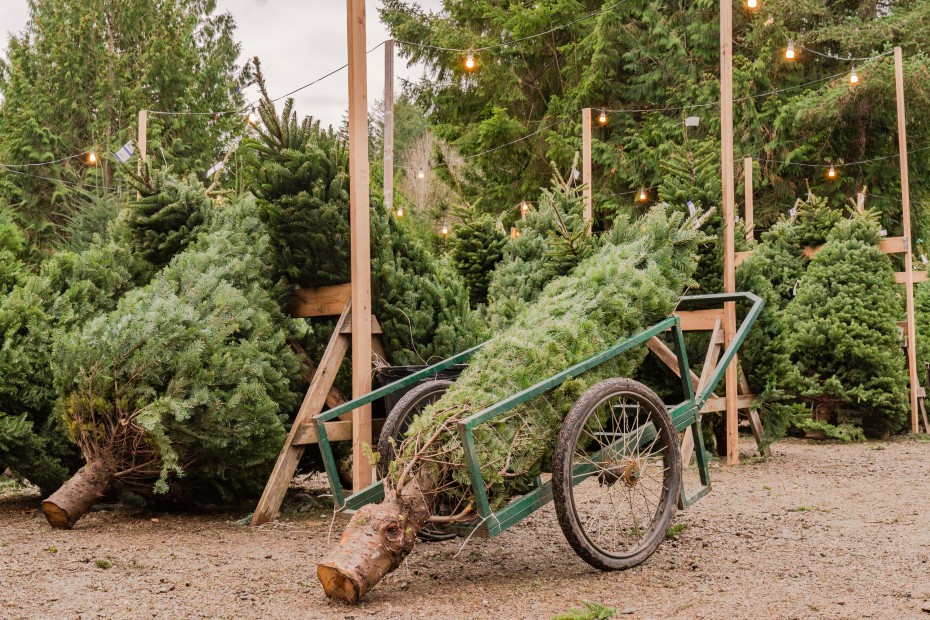 Tree Lot, Nursery, or Chain Stores
If you don't want to make a day of your Christmas tree pick-up, major retailers such as Lowes or Home Depot, nurseries, and tree lots are all popular options. While you'll still get to inspect and select your tree, easy access and pre-cut trees make a more convenient experience for some.
Smart Tip: In your local area, look for nonprofits—such as schools or churches—selling trees as a fundraiser. The advantage here is clear: You'll be supporting a charitable cause with your purchase.
Worried a pre-cut tree won't be as fresh as one that was just chopped down? Don't be, says Chastagner. The industry stores pre-cut trees in cool, moist conditions, and trees displayed in water can rehydrate to the same moisture level as a fresh-cut tree.
If you're up for a more long-term commitment, you can also purchase a living tree, and plant it once the holiday season is over. Pick a tree that's suitable for your climate (look up your hardiness zone on the USDA website), and aim to keep it inside your home for about a week at most. If temperatures tend to drop below freezing where you live, dig the hole outside to plant the tree before the ground gets too hard.
Online Retailers
As with nearly everything else in the world, you can order a tree online and get it delivered right to your front door. In 2019, online orders accounted for 6 percent of Christmas tree purchases, according to the National Christmas Tree Association. You can order a tree online through many retailers as well as places that specialize in Christmas tree delivery.
Rental Trees
Finally, you can rent a tree, which comes with the benefits of a living tree without the problem of what to do with it after the holidays are over.
"This type of tree is not messy like a cut tree," says Monica Hudson, owner of Rent A Living Christmas Tree in Monterey County, California. It'll grow and flourish inside your home, instead of gradually turning dry and brittle.
And caring for the tree is easy. "Your one responsibility is to water your rented tree every day and to keep it safely away from any heat source," Hudson says. Then, once the holidays are over, the rental service will pick it up and return it to their nursery. "The ability to reuse and repurpose living trees is a great thing for the environment," Hudson notes. Once trees are too large for seasonal rentals, they're used in landscaping, she says.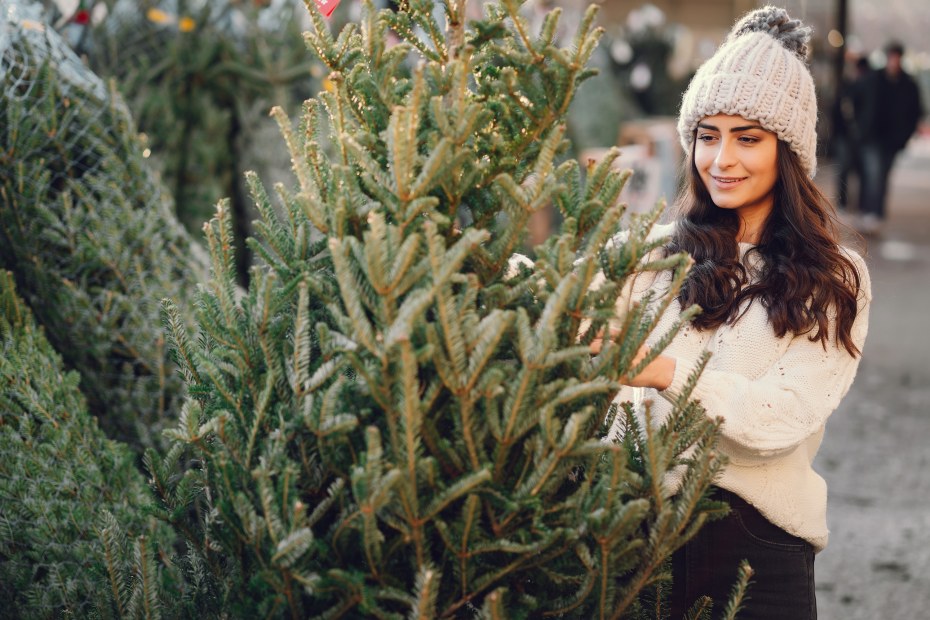 How to Pick the Best Tree
Picking a Christmas tree comes down to personal preference. You may want a tabletop tree or a ceiling scraper, a Charlie Brown look or plush branches. Whatever your priorities, keep the following considerations in mind.
Size
When picking a size, it's important to be practical. You don't want to purchase a tree that's taller than your ceiling, or with a diameter so vast it'll block off your ability to walk through the living room. Before you purchase any kind of tree, measure the space where you plan to display it.
If you have a Christmas tree stand already, check the maximum diameter to see how big of a trunk it can accommodate. The stand will elevate the tree a bit above the floor, too.
Smart Tip: Your stand should be big enough to provide the tree with plenty of water. The rule of thumb, Chastagner says, is that you'll want a quart of water for each inch of the tree's diameter. So, a six-foot-tall tree with a four-inch diameter needs a stand that can hold one gallon of water.
Health 
A healthy tree will last longer. Plus, a dry tree can be a fire hazard. Check if the needles are green before purchasing, recommends the National Fire Protection Association.
To test the freshness of the tree, give it a tap on the ground, Chastagner says. Don't sweat a few brown needles falling out. But if there's a sprinkling of green needles, put it back and look for another option, he says.
If you purchase a pre-cut tree, ask the seller to give it a fresh cut at the base, Chastagner advises—and no matter where you get your tree, get it into the stand as soon as possible. This will help the tree rehydrate and stay fresh. Once your tree is in the stand, check the water level daily, and keep branches away from heat sources (like a heater vent) that could dry out the tree.
Species
Different species vary in appearance, needle texture, longevity, and scent. Some of the Christmas trees that are most commonly found on the West Coast include:
Douglas fir: Known for its soft, fragrant needles.
Noble fir: Long-lasting with sturdy, strong branches that make it ideal for holding heavy ornaments.
Grand fir: A fragrant, dense showstopper tree characterized by its glossy, dark green needles aligned in two distinct rows.
Nordmann fir: A relatively new species for the area, Chastagner says, known to be high-quality, long-lasting, and scent-free.
Transportation
Unless you're renting or having your tree delivered, you'll need to consider how you'll get it home. Typically, if you purchase a tree at a big box store, someone will help you hoist and secure the tree onto the roof of your car (or into the bed of your truck or back seat of your SUV). That's true at many tree lots and farms, too. Be prepared to tip!