Festive winter and holiday decorations are beautiful, but they can be harmful to cats and dogs.
"Every veterinary professional working in an emergency center knows they're going to be busy over the holidays," says veterinarian Jo Myers, an expert with JustAnswer. "The list of seasonal items that are potentially dangerous when swallowed is endless: plants, lights, dried flowers, pinecones, ornaments, tinsel, and more," she says. Plus, there's risk from candle flames, chocolate and other holiday foods, and the cords on fairy lights.
Still, there are plenty of ways to incorporate seasonal decor while keeping your home safe for pets.
Christmas Trees and Wintry Plants
"The Christmas tree happens to pose quite a few potential threats to our furry companions," says Tina Wismer, veterinarian and senior director of toxicology at the ASPCA Animal Poison Control Center. Think: Dangling breakable ornaments, along with the possibility of the tree tipping over.
If you're getting a tree, follow these precautions:
Go small. Keep the tree out of your pet's reach with a tabletop version, Myers suggests.
Secure it. First, place the tree in a sturdy base, then consider attaching it to the wall or ceiling with wire or heavy-duty fishing line to prevent tipping and falling.
Cover the water. Stop pets from lapping up the liquid in the stand with a tree skirt. "Tree water is a breeding ground for bacteria that could cause nausea, diarrhea, or stomach upset," Wismer notes.
Remove needles that drop. Otherwise, they "can become embedded in paws or swallowed, causing digestive issues," says Rebecca Macmillan, veterinary advisor for The Vets, a service that provides at-home visits.
Keep ornaments high up. This helps prevent pets from batting at fragile, breakable baubles on the tree.
Tuck away electrical wires. You want to avoid your cat or dog chewing on the wires for lights, which could cause an electric shock or pose a tangle hazard, Macmillan says. "Cable tidies or tubes could be used around any wires that have to stay exposed," Macmillan recommends.
A Christmas tree isn't the only dangerous holiday greenery: Holly, mistletoe, and some lilies can cause a range of issues, from GI distress to cardiovascular problems or kidney failure, Wismer says. Avoid these plants if your pets tend to nibble at indoor greenery. "Opt for just-as-jolly artificial plants made from silk or plastic, or choose a pet-safe bouquet," Wismer recommends.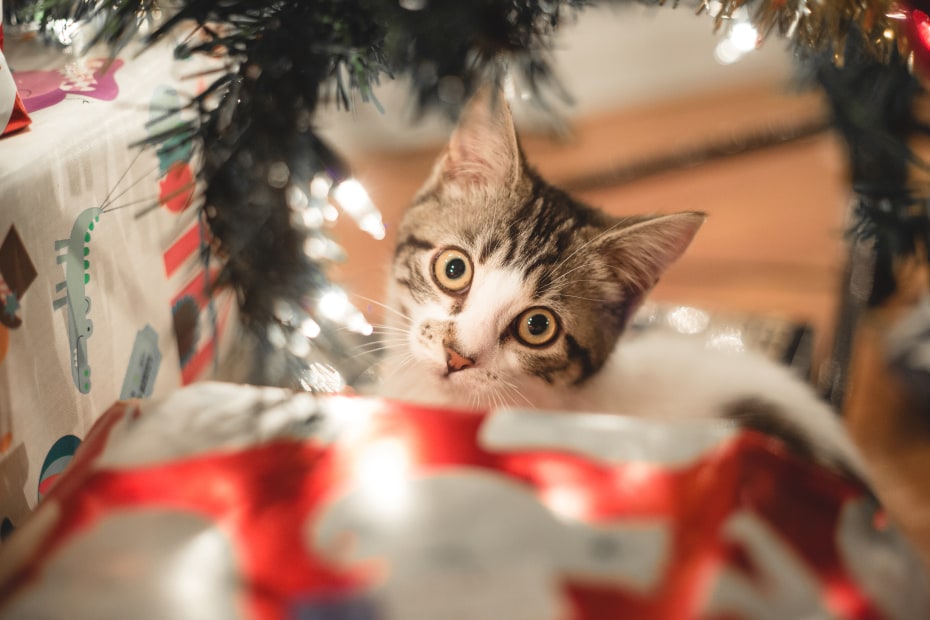 Tinsel, Snow Globes, Lights, and Ornaments
Some decorations should be avoided entirely if you have pets. High on that list: Tinsel. "Ingested tinsel can cause severe vomiting, obstructed digestive tract, anddehydration, and it could even require surgery," Wismer says. Other decorations can be dangerous—for instance, snow globes contain a sweet-smelling chemical that can lead to fatal intoxication, Wismer says—but are still OK to use.
"There are two key strategies for a safe holiday for you and your pets: keep decorations out of reach and supervise your pets," Myers says. Here's how to keep pets away from decorations.
Place decorations in a separate space. For instance, when it comes to your Christmas tree, "the safest plan is to put it in a room that your pet does not have access to," Myers says. Depending on your space, and your relationship with your pet, that may not always be an option.
Try a baby gate. This won't necessarily prevent cats from gaining access, but a baby gate can keep dogs away from highly decorated areas, Myers says.
Break out the aluminum foil. Place a layer of this shiny substance around any off-limits areas if you have cats, Myers suggests. "Cats don't usually like walking on aluminum foil or upside-down vinyl carpet runners," she says.
Overall, be observant. Try not to allow pets to be alone in highly decorated spaces—and if ornaments or snow globes break, clean them up right away.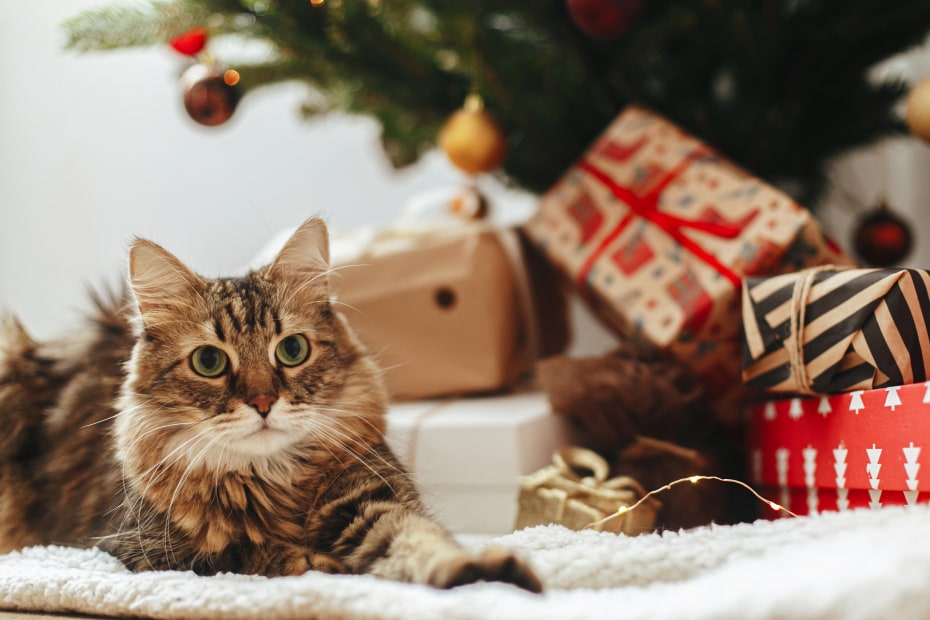 Presents
One of the big joys of holidays is the surprise—but while a wrapped gift is a good disguise to humans, pets can sniff out the presence of food, and may get into it. "Keep wrapped food off the ground," Wismer advises.
Speaking of presents—feel free to indulge your cat or dog with plenty of them to get the spirit of the season in place. Wismer shares guidelines to keep in mind:
Be cautious with toys with strings. "The most risky toys for cats involve ribbon, yarn, and loose little parts that can get stuck in the intestines, often necessitating surgery," Wismer says. Opt for stuffed catnip toys, big balls (too large to swallow), or the cat dancer instead, she says.
Be choosy with chew toys. Go for ones that are basically indestructible or designed to be eaten, Wismer says. Kongs that can be stuffed with healthy foods are another good choice, she says.
Skip holiday costumes, and keep pets outfit-free, unless your dog or cat loves it, Wismer says. For some animals, wearing festive sweaters and headgear can be stressful. "If you do dress up your pet, make sure the costume or clothing does not limit his or her movement, sight, or ability to breathe, bark, or meow," Wismer says. Costumes should be well fitting and free from choking hazards, she adds.
Keep an eye on pets once they're wearing a holiday outfit, too. "Supervision is key to making sure no mishaps occur as a result of dressing up your pets," Myers says.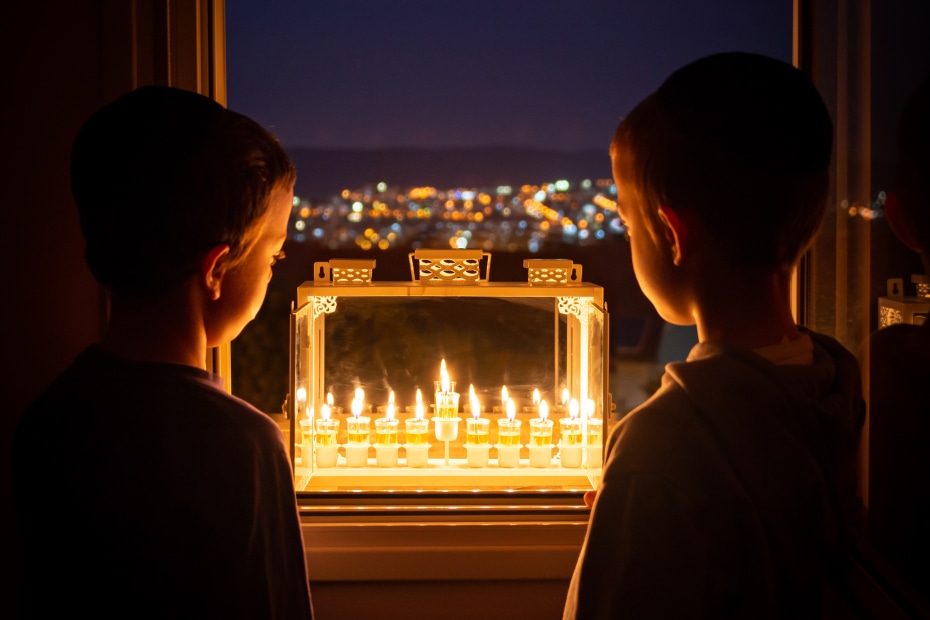 Essential Oils and Flames
During the eight nights of Hanukkah—the festival of lights—candles burn in a menorah until they sputter out. The dangers to pets are obvious: "Pets may burn themselves or cause a fire if they knock candles over," Wismer points out. Follow these safety strategies with a menorah or any lit candles:
Stay in the room. "Open flames should always be supervised," Myers says. If you need to leave the room, you can blow out the candles and move the hot wax out of reach—or, make sure your pet accompanies you.
Keep pets in another room. It's always a good option to keep pets far from holiday dangers. Snacks or activities can help keep pets distracted, Wismer notes.
Place candles out of reach. They should be in a secure candle holder, on a stable surface away from children and pets. For dogs, think about where a wagging tail could hit.
Be thoughtful before using essential oils: Inhaling them is dangerous for birds or pets with asthma, and cats can experience a range of symptoms if oils are ingested, Wismer says.
Smart tip: Consider using battery operated candles to create a cozy atmosphere instead.
Food
Whether it's fried latkes or a decadent bûche de Noël, food is a big part of the holidays.
But it's best not to share your dinner with your pet, Wismer says. Instead, pamper them with appropriate treats, such as a made-for-pets food bone or placing their meal in a food puzzle, she suggests. If you just can't resist, make sure to give pets only boneless and well-cooked poultry (and don't share the carcass, since bones can be a problem), Wismer says.
Keep the garbage covered and make sure pets can't get into unattended food, Wismer says.