Hosting a big meal comes with some stress (Will these homemade tortillas work? Did I just splash oil on my shirt?) but setting the table doesn't have to trigger anxiety. Arm yourself with an easy-to-follow formula that combines an unchanging stable of essentials with splashy accessories. Let's get this party started.
Unchanging Essentials
The pieces that stay are the hard-working serving pieces: dinner plates, silverware, and glassware. You'll get the most mileage out of a neutral plate and clear glassware. Silverware that's either traditional silver or gold (a contemporary classic), will be flexible enough for a year's worth of gatherings.
Rotating Add-ons
To that foundation, add inexpensive and easy-to-find elements that change with the season and occasion. This is your chance to add color, pattern, and personality. To relieve some decision fatigue, tackle the décor in two parts: A bit of interest at each place setting and a focal point for the whole table.
Here's how it works in a few different scenarios: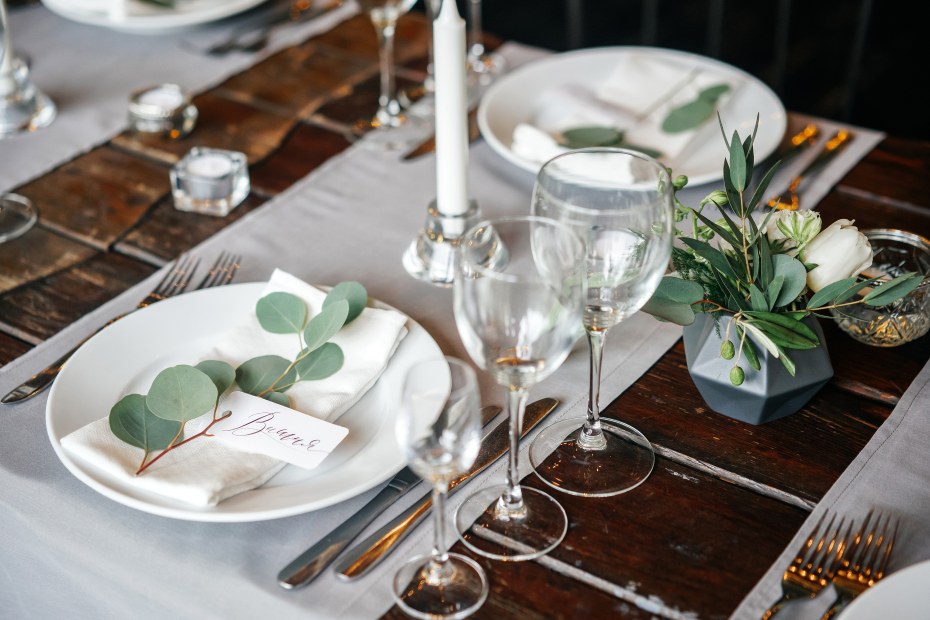 Thanksgiving Table Settings and Decor
The year's most vaunted food holiday deserves a next-level table. But since the food itself requires so much work, the place settings should be both impressive and dead easy.
Essentials
Your workhorse dishes are appropriate here, too. If you do want to switch out an everyday piece for something special, focus on glassware. Colored or shapely glasses are inexpensive at stores like IKEA and Target (or even flea markets) and can be repurposed as vases when you're not entertaining.
Add-ons
Add a soft layer to the two-part formula by dressing the table itself. Lay table runners across the width of the table rather than the length for a nice tweak on tradition. If you don't have multiples, a quick trip to the fabric store for a few yards or a single tablecloth run from side to side will achieve the same effect. Take a few minutes to handwrite the menu on card stock and layer it over a napkin at each place setting. Set a beautiful leaf, sprig of herbs, or stem of fall berries on top. For the focal point, save time by picking up the most eye-catching produce at the market while you're shopping for the ingredients for the meal. Repurpose it as an on-point harvest centerpiece, getting creative with what you found. Some ideas: Wrap colorful kale leaves around a floral arrangement, place stalks of brussels sprouts on a long tray, or simply fill bowls with early pomegranates or small squash.
Smart Tip: If you use herbs in your decor, use varieties with food-friendly scents such as rosemary or tarragon. Leave the bunched lavender for the powder room.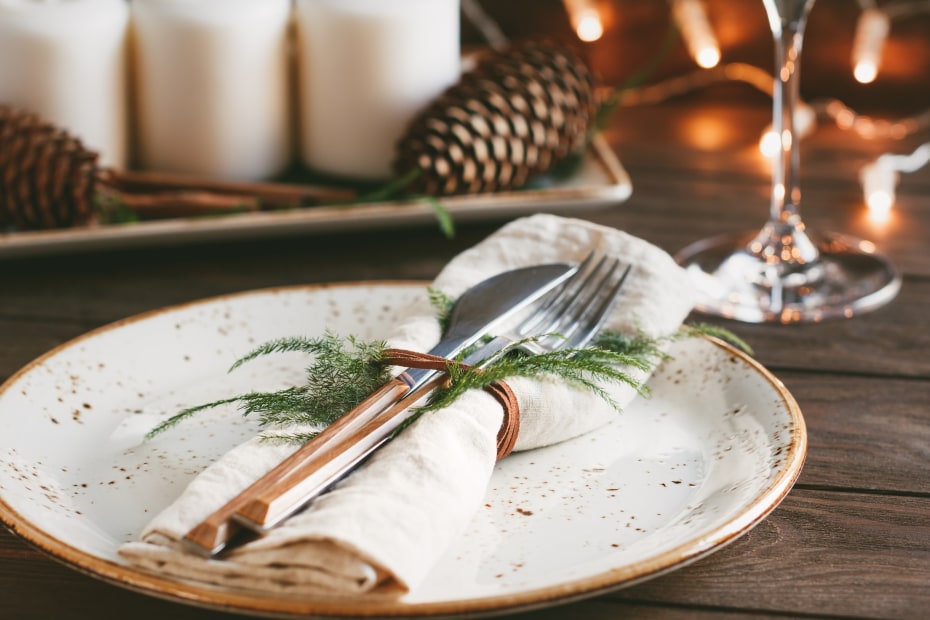 Festive Tables for Any Winter Holiday Event
Cap off a year of entertaining with a table setting that doesn't rely on perishable flowers. Put the pieces in place on December 1 and let it ride through every cocktail party, holiday open house, and Hanukkah or Christmas celebration the month throws at you.
Essentials
Larger gatherings might necessitate supplementing your supply of plates and glasses. Rather than worry about everything matching, embrace an eclectic look. If your existing dinnerware is white, hunt the shelves of thrift stores for vintage china to mix in. If you use stoneware, do the same but look for metallics or plain white to offer contrast.
Add-ons
Rely on décor that flexes with the type of party. A string of battery-operated mini lights can run down the length of the table for a sit-down meal or nestle around serving dishes on a buffet during an open house. Fill a bowl with vintage Christmas ornaments, colorful glass balls, or even holiday cards. For a cocktail party or open house, use the bowl as a centerpiece. For a dinner party, pull the ornaments from the bowl and place one at each setting. 
Smart Tip: Play up the glow from the lights with metallic serving vessels. Think: small silver dishes filled with pistachios, dried fruit, and small chocolates. You'll get shine and texture on your table, and your guests will get a little treat.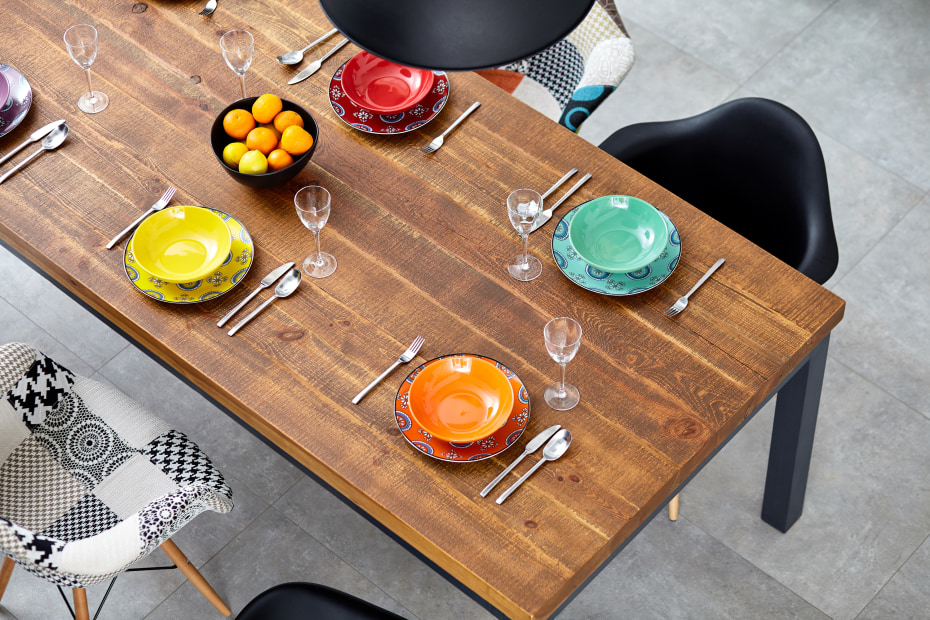 Simple Setting for a Casual Dinner Party
Jazz up your typical weeknight place setting for dinner guests using multiples of an iconic seasonal material.
Essentials
Set the table just as you would for a weeknight dinner, adding a small salad plate (either from the same set as your dinnerware or a special piece in another color, material, or pattern) if your menu requires it.
Add-ons
Dress up each place setting by layering a cloth napkin between the two plates and laying a tropical leaf, fern, edible flower, or herb stem on top of the plate. For the focal point, head outside or to the market and grab whatever is in abundance. In spring, march bud vases down the center of the table and fill with a deconstructed farmers' market bouquet. In summer, a low flower arrangement or wide bowl of garden bounty works. When autumn comes, scatter vibrant leaves on the table or fill a ceramic bowl with pine cones and acorns. In winter, mass candles of all shapes and sizes in the center of the table for a cozy glow.
Smart Tip: Give your kids the job of collecting goodies from outside. This works best if you give them a specific goal (e.g. "Find eight pretty leaves to put on top of each plate").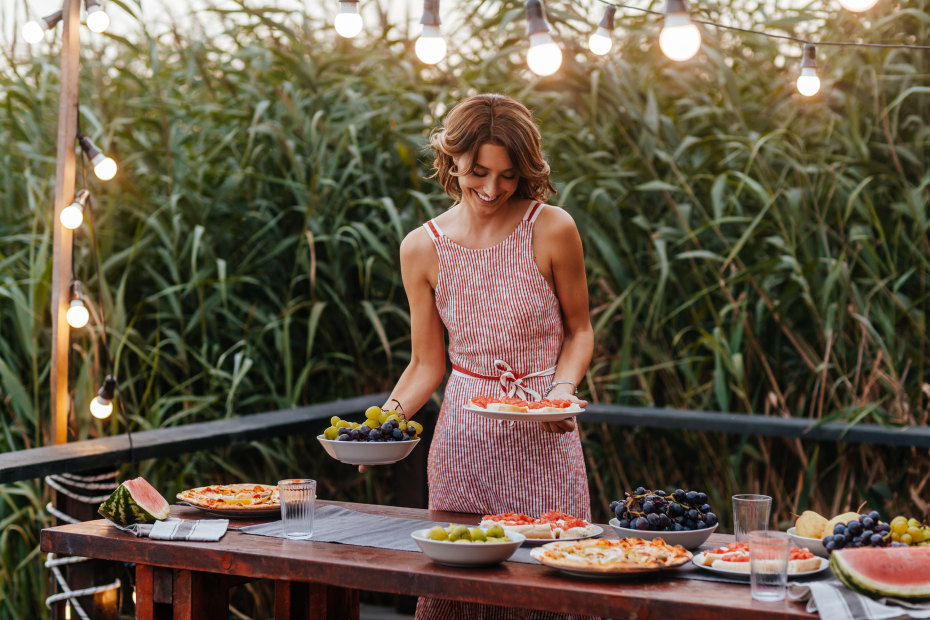 Summer Barbecue Potluck Setup
Summer is full of relaxed food-centric holidays. Embrace that no-stress vibe with an informal table setting.
Essentials
Since many barbecues are potluck or buffet style, place plates where the food is served and put everything else on the table so guests don't have to jostle silverware and glasses while serving themselves.
Add-ons
Now, add the secret sauce: Buy a package of inexpensive cotton kitchen towels (IKEA sells attractive options starting at $0.89 a towel) to use as napkins—knot them in the center before setting one at each place. For the centerpiece, shop your house: Collect all the small potted succulents, cacti, and air plants you own and cluster them in the center of the table for a natural (and free!) wow moment.
Smart Tips: Stash silverware in mason jars or aluminum cans with the labels removed on the table and let guests grab what they need themselves. Cover the table in kraft or butcher paper and write the names of your guests at their spot, or label the dishes of condiments already on the table.