Whether you're catching the sunrise in Badlands National Park or spending a lazy, pine-filled afternoon in Black Hills National Forest, South Dakota brims with opportunities for outdoor explorations. It's the ultimate American West landscape: open prairies teeming with buffalo give way to rising buttes and millions of acres of forest-covered mountains. While the state's open-air history is accessible year round, its natural features shine in spring and summer.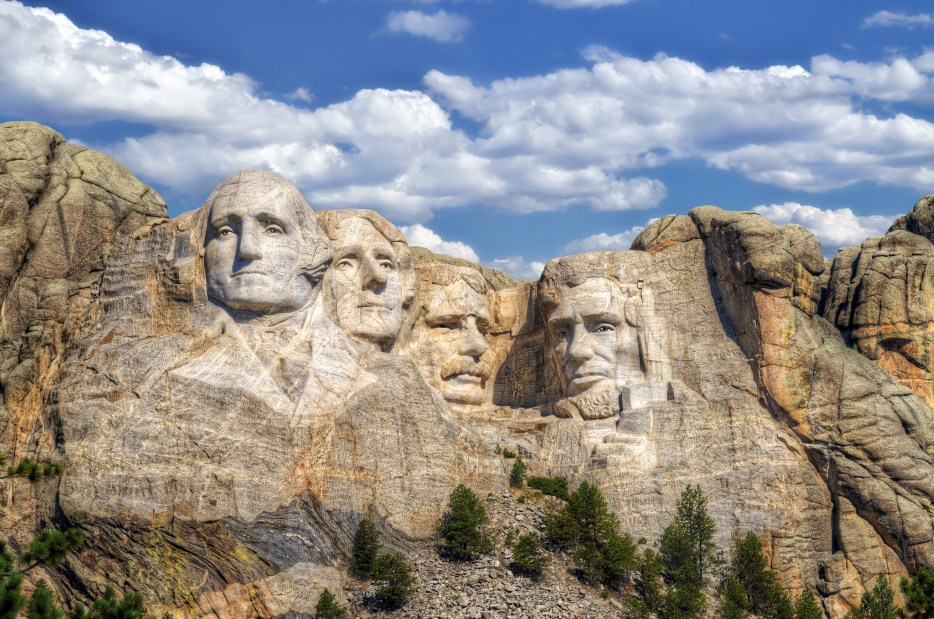 Mount Rushmore National Monument
The 60-foot-tall faces of former U.S. Presidents Washington, Jefferson, Theodore Roosevelt, and Lincoln have looked out from the vertical side of Mt. Rushmore for more than 75 years. The granite monument stands as both a symbol of American strength and an incredible feat of engineering. Visit during the early morning hours when the changing light brings the sculpted features to life and tourists are scarce.
Spend time admiring the impressive sculpture from the Grand View Terrace overlook. Afterward, set out along the .6-mile Presidential Trail for access to alternative viewpoints and details on how artist and sculptor Gutzon Borglum and his team created the massive piece. Evenings in late May through September also offer an entirely different perspective, with a lighting ceremony that includes a military flag folding.  
Badlands National Park
Badlands National Park is one of the state's top natural treasures: a stark landscape of rising buttes, dipping canyons, and granite spires that appear seemingly out of nowhere across golden prairies. While watching the sun sink below the park's jagged peaks is a sight to behold (try Pinnacles Overlook), sunrise is even better. Morning rays transform the soft lines of each rising formation into rich, vibrant shades of orange and red. One of the best places to catch this spectacular sight is at the end of the park's .75-mile Door Trail, which runs along a maintained boardwalk to a viewing platform.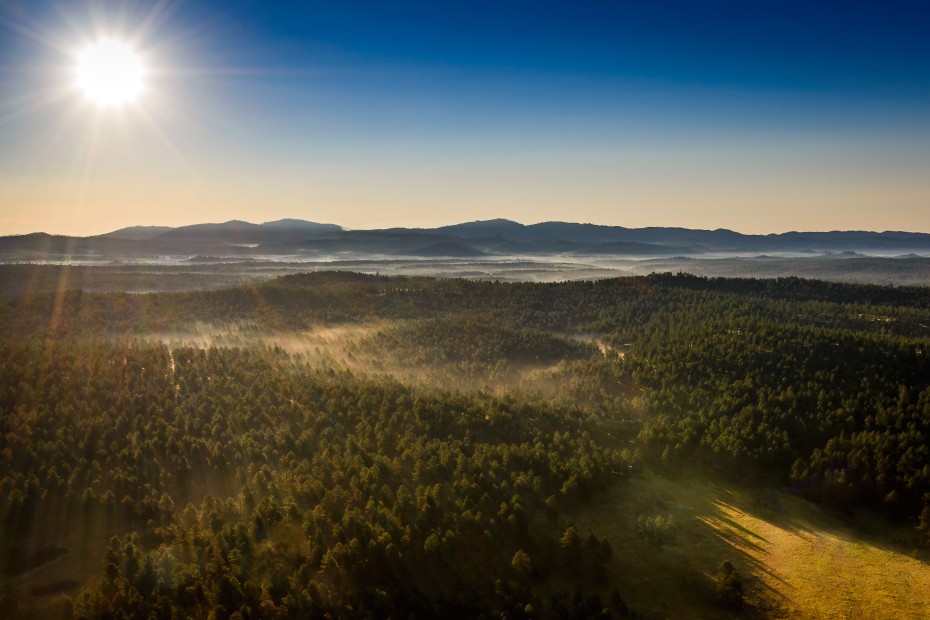 Black Hills National Forest
Stretching across the state's western portion and into Wyoming, the Black Hills offer a new landscape to explore. Mountains shelter hidden prairies and a 1.2-million-acre forest crowded with ponderosa pine, aspen, and oak trees. Learn about the landscape on horseback at the High Country Guest Ranch in Hill City. The ranch runs 45–50 minute horseback rides along leisurely trails. If you'd rather explore on foot, South Dakota's 109-mile Mickelson Trail winds through the hills from Edgemont to Deadwood and is accessible by 15 different trailheads.
Wind Cave National Park
With 143 miles of recorded passageways, Wind Cave is currently the world's seventh-largest known cave system. Unfortunately, cave tours are currently closed to the public due to much-needed elevator maintenance, but visitors can still explore above the surface, where the national park unfolds as a 28,000-acre park, home to bison, pronghorn antelope, and 30 miles of quiet hiking trails.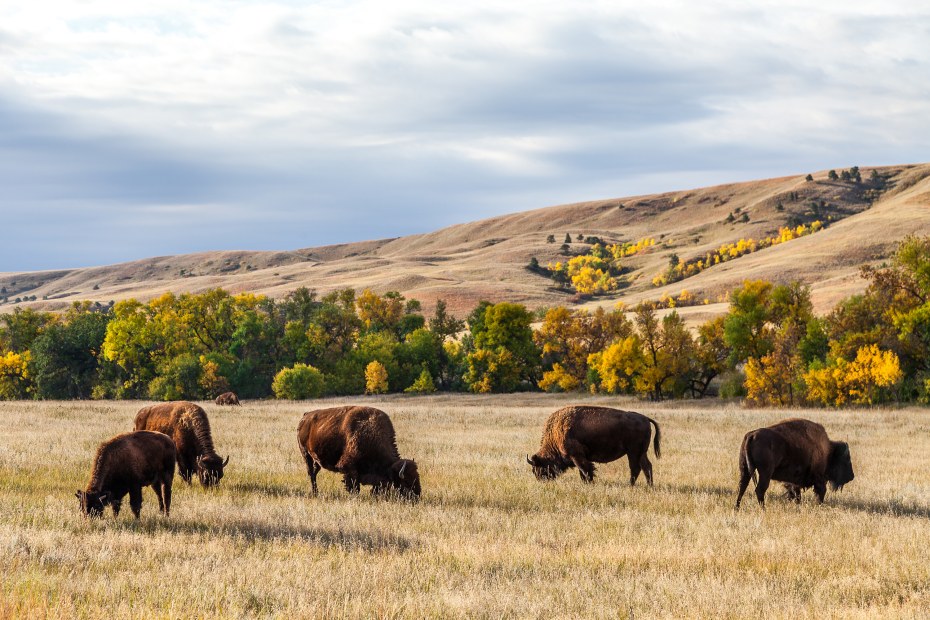 Custer State Park
South Dakota's first state park, Custer State Park, is a 71,000-acre paradise best discovered along its scenic Needles Highway. The 14-mile drive winds past one of the park's five sparkling lakes, alongside open meadows where towns of prairie dogs reside, and between weather-shaped granite spires, such as the aptly named Needles Eye. Mountain goats are also a common sight.
Each September the park hosts the Buffalo Roundup, in which cowboys and cowgirls—some dressed in full regalia—corral the park's 1,300 buffalo to help ensure a healthy herd. It's spectacular to experience the tremble of the ground when hundreds of bison roar past.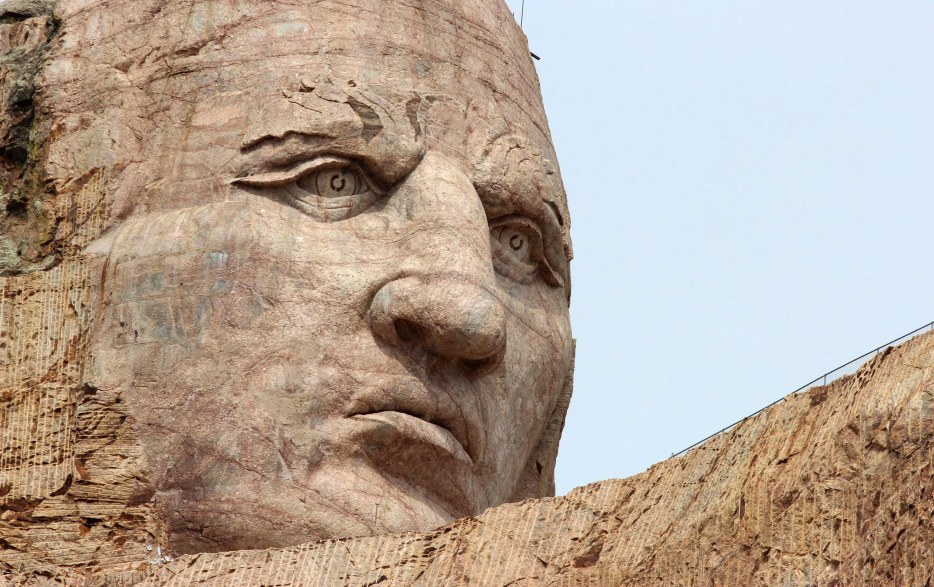 Crazy Horse Memorial
For over 70 years, a team of rotating workers has been tirelessly blasting, drilling, and chiseling away at what—when finished—is slated to be the largest mountain carving of all time. The planned 641-foot-wide, 563-foot-high Crazy Horse Memorial sculpture currently depicts the face of Lakota warrior Chief Crazy Horse and what will become his long mane of hair, torso, and outstretched arm, seated atop a fierce horse. Visitors can get a good view of the sculpture's progress from its base—the rock's burnt-colored hue comes from its excess of iron—then head indoors to peruse everything from Native American artworks to tribal flags.
Badlands Loop Road
Take a lunar landscape, add multihued pinnacles, toss in prairie dogs, pronghorn, bighorn, and bison, and you've got the ingredients for an exhilarating and accessible drive along Badlands Loop Road, less than 50 miles long. Just a few hours from the Wyoming and Montana borders, the Prairie Homestead historic site makes a fine introduction to the region. The 1909 sod home and outbuildings lie near Badlands National Park, bearing witness to the promise and heartbreak of pioneer life on the Great Plains.
Continue through the park gates to the Big Badlands Overlook for a sweeping view of the remarkable landscape, before moving on to the five-mile Castle Trail, which traverses the prairie.
Some of the best vistas come before the loop gets to Wall Drug Store—the place to buy souvenirs, grab a 5-cent coffee, and plan your onward journey.