Sights and Events Around Baker City
Dive into local lore at the Baker Heritage Museum. The collection spans everything from geology to stagecoaches; one exhibit focuses on Wally Byram, Baker City native and inventor of the Airstream trailer. (AAA members get $1 off regular admission.)
Built in 1889, then nearly torn down 100 years later, the painstakingly restored Geiser Grand Hotel is Baker City's architectural jewel. Tuck into prime rib in the Palm Court restaurant, under the largest stained glass ceiling in the Pacific Northwest.
Sumpter Valley Railroad's restored steam locomotives chug along six miles of narrow-gauge track through gold and timber country west of Baker City. Watch craggy mountains roll by from a passenger coach, or get a cab pass to see the view from the engineer's perch.
Thousands of 19th-century pilgrims crossed the country on the Oregon Trail, which passed through Baker City. At the Heading West event at the National Historic Oregon Trail Interpretive Center in May, demonstrators in period costume will show what it was like to prepare for the arduous journey.
Admiring the abstract forms of salt licks (mineral blocks) that ranchers put out to supplement the diets of grazing livestock, artist Whit Deschner began auctioning off used blocks in 2006 to raise money for Parkinson's disease research. A four-foot-tall bronze replica of a particularly artful one—winner of the People's Choice award at the 2012 auction—now stands in Baker City's Court Avenue Plaza.
Where to Shop in Baker City, Oregon
The eclectic collection at the No. 1911 boutique includes intricately beaded moccasins, fringed leather purses, and mineral-rich soaps.
Varied art meets artful sweets at Peterson's Gallery and Chocolatier. For the gallery, Alyssa Peterson curates pieces by regional artists. In the kitchen, she concocts treats such as ganache truffles and fruit-infused drinking chocolate.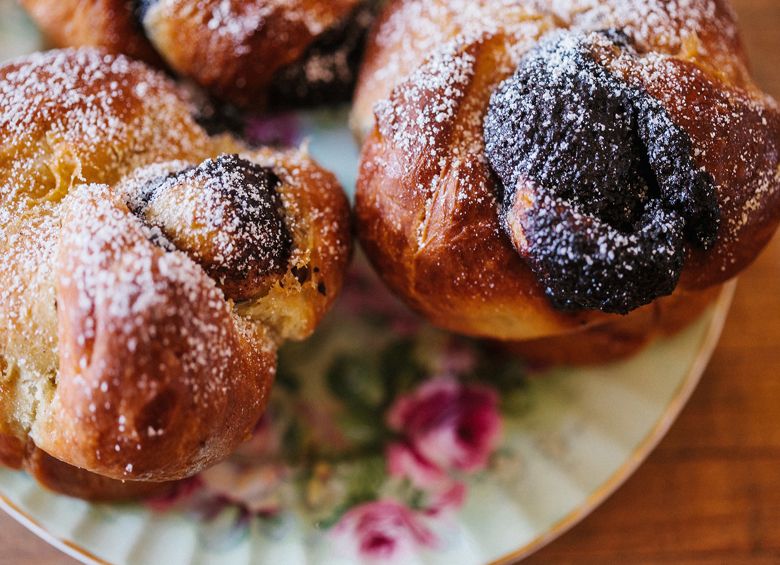 Where to Eat and Drink in Baker City
"I really like the 'shock and awe' factor," says WNBA player turned baker Jenny Mowe about the decadent creations at her shop, Sweet Wife Baking. Awe she does, with bacon-apple-maple scones, seasonal macarons, and a roll stuffed with egg frittata and topped with sriracha-infused cream cheese.
Mediterranean fare—think manicotti filled with lobster or crisp bruschetta spread with pesto—dominates the menu at Latitude 45 Grille, but the burgers hew to the area's ranching roots: Choose from three different kinds of local, grass-fed beef.
The pub at Barley Brown's Beer serves up a roster of medal-winning brews, including its Pallet Jack IPA and Shredders Wheat. In the brewery's family-friendly restaurant, enjoy spicy fried pickles or beer-battered halibut atop a mountain of hand-cut spuds.
Outdoor Adventures
The Leo Adler Memorial Parkway hugs the Powder River for two miles just blocks from downtown. Stroll through two city parks, meander under leafy cottonwoods, and in the morning, watch for beavers splashing along the banks.
Spring is a prime birding time in Baker County, so bring your binoculars. Top spots include Powder River Interpretive Trail, Sumpter Valley Dredge State Heritage Area, and Virtue Flat Off-Highway Vehicle Area. You may catch sight of bald eagles, ospreys, Vaux's swifts, and western meadowlarks.
Wish winter had lasted just a little longer? Head to Anthony Lake, a subalpine gem 35 miles northwest of Baker City. At an elevation of 7,100 feet in the Elkhorn Mountains, the lake is iced over through late May. Don't let that stop you from exploring its scalloped edges and taking in stunning views of Gunsight Mountain from the easy, graveled Anthony Lake Shoreline Trail loop.