I have a distinct childhood memory of heading north on Interstate 5 through Oregon. Just south of Salem I'd see them—highway signs for Enchanted Forest. As we approached it on the freeway, I'd peer out of the station wagon window hoping to catch a fleeting glimpse of the gingerbread houses that made up the park's magical fairyland, nestled as it was under towering Douglas firs.
From the rear seat, I'd plaintively ask if we could stop.
"Not today honey," was the inevitable response from my parents up front.
Sigh.
Fast-forward 35 years. I'm the one in the driver's seat. Oh yeah, you bet we're stopping.
It wasn't until 2006, when I moved to Salem, Oregon, with husband and toddler in tow that I finally paid my first, elusive visit to Enchanted Forest. It was everything my childhood self had imagined.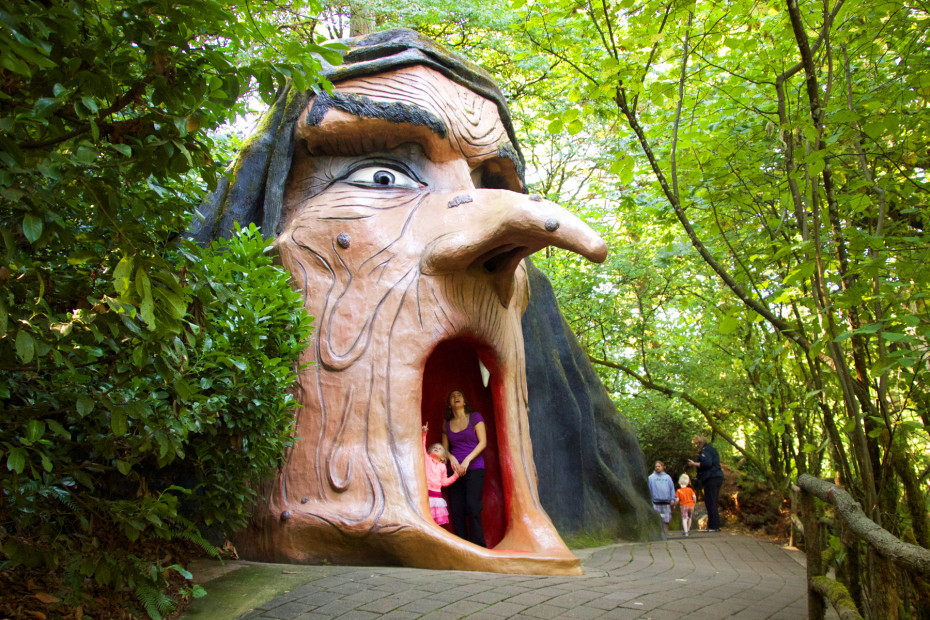 This quirky, handcrafted theme park is the embodiment of a pipe dream gone wild. Founder Roger Tofte, a former graphic designer with the state highway division, dreamed up and built the place starting in 1964. At the time, his friends and family thought he'd gone 'round the bend. Tofte endured the ribbing of colleagues who viewed his dream as a boondoggle, and referred to the would-be park as "idiot hill" and "the funny farm." But not everyone scoffed, and many of those who didn't pitched in, helping him haul bags of cement up the park's steep slopes in a Volkswagen bug and working construction on Storybook Lane, Western Town and Ye Old World Village.
These days, visitors flock to Enchanted Forest for its homespun, low-tech appeal. Even the most jaded teenager or cynical adult has little choice but to warm immediately to it.
Old-timey rides like the Ice Mountain bobsled-themed roller coaster, which Tofte molded himself, leave my adult knees wobbling—and thrill my now-five-year-old son on our regular visits. Cobbled paths twist through the trees, each curve revealing another surprise in this pint-sized wonderland, including a haunted house just scary enough—but not too scary—for the younger set. Another thing to recommend Enchanted Forest is the price tag ($13.50 for adults and $12 for kids through the 2019 season). While rides and some games require extra fees, there's plenty to see and do without paying anything above the admission ticket. My son has been known to spend the better part of an hour mesmerized by the playful bounce of a few rubber balls making their way through a Rube Goldberg-like tangle of colanders, slotted spoons, ladles, and bedsprings.
Outside food and drink are also allowed, meaning you aren't forced to buy snacks and lunch on site. Bring your own spread and enjoy it at one of the picnic tables beneath the shade trees.
It's enough to make one's childhood dreams come true.