Tucked amid oak-dotted hills, with a bird's eye view of the San Francisco Bay, the Oakland Zoo isn't the largest in the United States. It isn't the oldest, either. But 100 years on, it's become a nationally renowned gem for visiting animal lovers and conservationists around the world, as well as a point of pride for locals.
The zoo is in the spotlight this summer, as it celebrates its centennial anniversary. Whether you're planning a Bay Area getaway or your road trip takes you through the area, it is worth a visit.
Of course, the Oakland Zoo of 2022 is much different from that of 1922, when Henry A. Snow, a recognized naturalist and big game hunter, established a museum in downtown Oakland to showcase his collection. Some species were alive (including monkeys, snakes, and lions), but many were stuffed and mounted. The animals were quite the spectacle—an old newspaper photo shows a sun bear swimming in nearby Lake Merritt—and after nuisance complaints, they were moved to caged enclosures in a park, then eventually to the site of the zoo today.
Beginning in the 1950s and continuing for 20 years or so, the zoo really came into its own, with construction of many new and enlarged habitats and steadily growing attendance. But by the 1980s, it was low on funds with aging facilities and animal care that was falling behind the times. A particularly low point came in 1983, when the Humane Society of the United States named Oakland Zoo among the country's worst, calling it a "random collection of animals" and a "concrete oasis."
Fortunately, with fresh leadership and a renewed commitment to animal welfare, change was quick and sustained, especially with the arrival of Dr. Joel Parrott, a veterinarian. By 1988, the Oakland Zoo received accreditation from the Association of Zoos & Aquariums, and soon became nationally renowned for its groundbreaking approach to animal management, beginning with the zoo's elephants. In 1989, the zoo also received much national praise for creating the natural habitat elephant habitat exhibit, "Mahali Pa Tembo," and eventually expanded from one to 6.5 acres.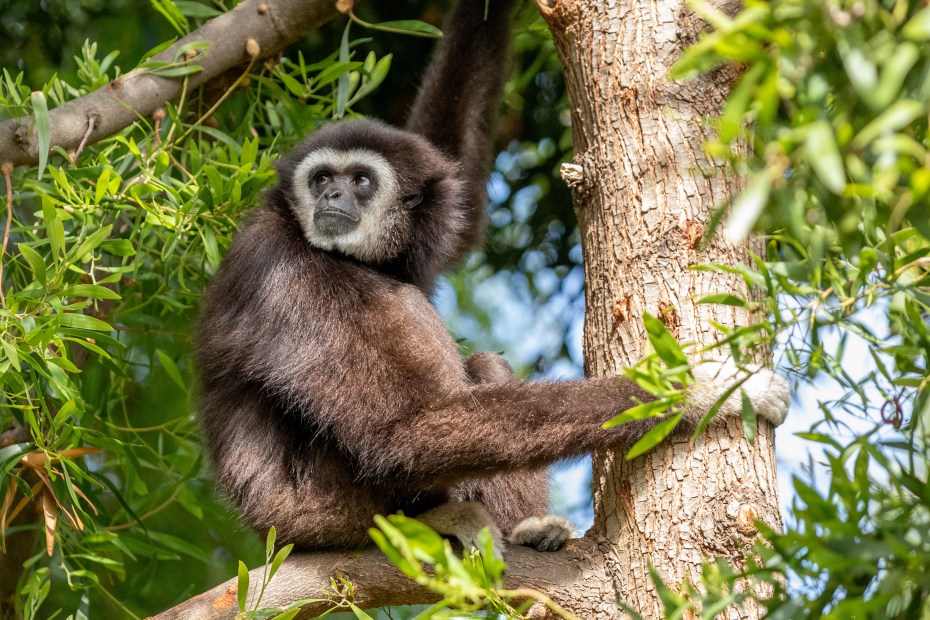 It was this exhibit that lured zookeeper Colleen Kinzley—now vice president of Animal Care, Conservation, and Research—from Chicago's Brookfield Zoo to Oakland in 1990. After helping revolutionize the way the staff interacts with the elephants, Kinzley went on to help develop many of Oakland Zoo's most beloved exhibits: the African Savanna, where meerkats pop in and out of their burrow and a troop of Hamadryas baboons chase each other around a large hillside enclosure, and the Children's Zoo, where guests both young and young at heart marvel at bats napping upside down and river otters frolicking in a pool.
"The ethic around animal welfare has been a big part of our management of animals at the zoo," says Kinzley. "I've had the opportunity to push the boundaries when it comes to both facilities and how we manage the animals."
This animal-forward planning is evident along the California Trail. Completed in 2018, the project includes a state-of-the-art veterinary hospital and an expansion of 55 acres into the hills that visitors access by gondola. Here, California native species such as grizzly bears, mountain lions, and condors live in extra-large enclosures, encouraging natural behavior and putting the animals at ease. Even the notoriously shy gray wolves (Big Bad Wolf these are not) are comfortable enough in their expansive space that they don't hide from visitors walking the boardwalk above.
What will the next 100 years bring? It's hard to say, but CEO Nik Dehejia hopes for deeper connection and care, for both animals and people. He hopes Oakland Zoo exhibits and programming will increase access and inspire the next generation of conservationists. He's also pretty sure a few animals will be around for the bicentennial.
"Our two new tortoises are in their teens. In 100 years, we're not going to be here, but those tortoises are," he says. "I think it's amazing to think that we have a species here that will outlive us."