Portland
Portland was being its usual self that afternoon, so presumably a tattoo artist was testing a kombucha recipe, a barista was welding a sink to her Schwinn, and an old-timey barber was knitting a scarf for his dogwood tree. Me, I was lying in a park I'd stumbled across during a four-day visit, trying to get past the clichés—clearly based on reality—and put a finger on what I truly loved about the city. It wasn't until my friend and I were ordering breakfast at Kornblatt's Delicatessen on NW 23rd Avenue that I finally found what I'd come for.
"What's Karen's Special?" we asked our waitress, who turned out to be Karen. In a fit of creativity (or perhaps insanity) she had invented a horrific-sounding dish: French toast topped with pastrami and peanut butter. Trust me, she said, and we did. You can see where this is going, right? Karen's Special was delicious. But that's not my point. My point is that Karen is Portland.
In her innovation and gall, Karen embodies a certain spirit that runs deep. Portland is made for making. Some of the liveliest places I visited were maker epicenters: Scrap, between downtown and the Pearl District, where patrons rummage through discarded knickknacks for art supplies. Bricks & Minifigs, on NE Sandy Boulevard, where Lego enthusiasts can buy or trade tubs of orphaned bricks. Free Geek, the Eastside nonprofit where people learn to take apart and reassemble junked computers. A waitress devising a freaky breakfast feels like the heart of the place.
As my friend Jose Klein, a lawyer and longtime resident, puts it, "Portland has the kind of atmosphere where everything feels possible. Its pace rewards the curious and the creative."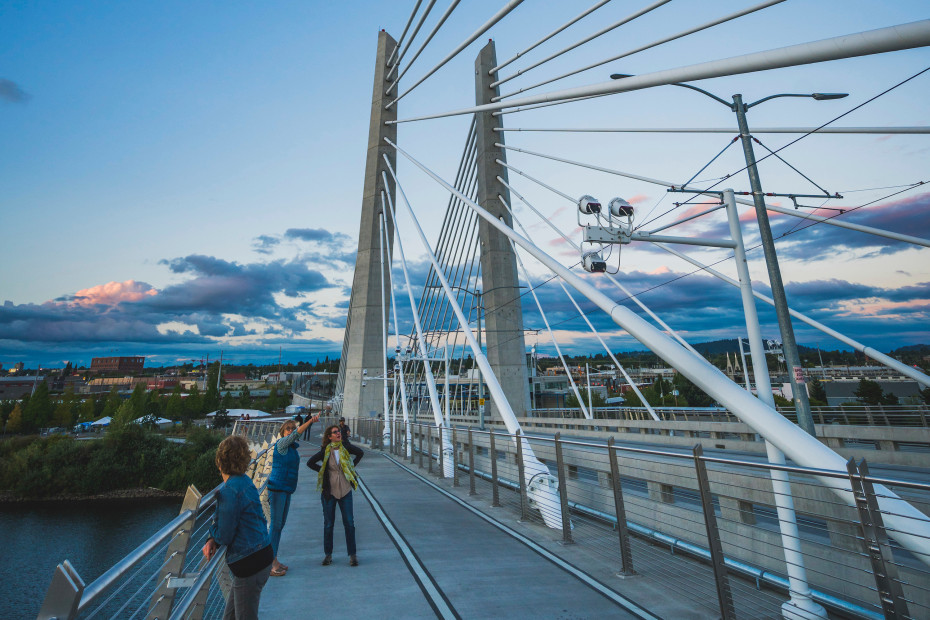 One consequence of its maker ethos is all the newness you find—much of it edible. You'll see it in the inventive Korean Hawaiian fusion of Namu, part of Tidbit Food Farm and Garden, SE Division Street's food-cart pod. You'll find it at downtown's Pine Street Market, a bright foodie palace.
Even the city's high gastronomy scene reflects an irrepressible creativity. Ubiquitous Portland darling Jacobsen Salt Co. opened an outpost in the hopping Central Eastside area. Now, thanks to a merger with Bee Local, visitors can sample licorice salt and neighborhood honey in close succession, as the universe intended.
I ate and biked and walked. Drank, too, Portland being home to more breweries than any other city in the world. I walked off a pilsner at the expanding Portland Japanese Garden within Washington Park. Manifesting the maker ethos even at the municipal level, the city erected Tilikum Crossing in the burgeoning South Waterfront neighborhood. It's the country's first long-span bridge to allow bikes and public transit but no cars.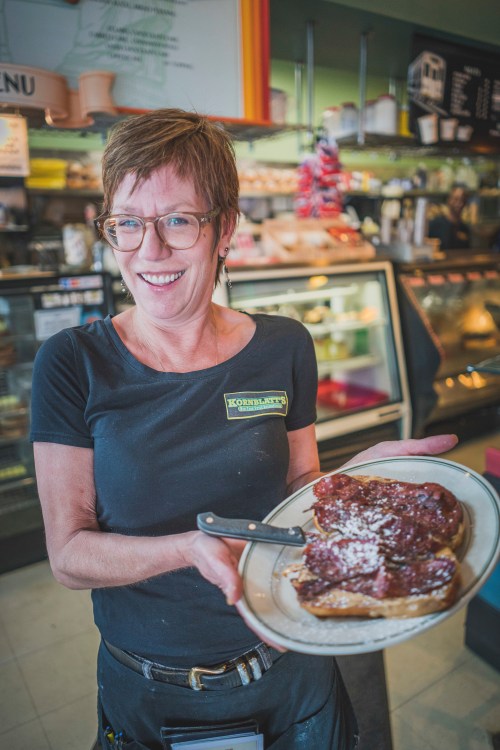 Overhyped wackiness aside, Portland is deeply functional. From the time you take the effortless trip from the airport on MAX light-rail to the moment you spot a picnic bench outside a Northeast Jiffy Lube—why get an oil change when you can picnic and get an oil change?—the city is strikingly accommodating. Combine its kid-tested bike trails and community gardens offering children's classes with the beer scene and the state's legalized pot, and Portland may be the most family-friendly den of iniquity this side of Amsterdam.
The singular urge to create manifests itself in countless ways. I caught a performance of the podcast Live Wire, a rollicking variety show recorded in front of an audience. At Kachka, a Russia-by-way-of-Stumptown restaurant on SE 11th Avenue, I would have happily died with a mouthful of Moldovan eggplant with prunes.
I spent much of my last day up near the airport, drinking and lounging at an elementary school. Northeast's Kennedy School is among dozens of inventive undertakings from the McMenamin brothers, Mike and Brian, two of the most accomplished makers around. Over four decades they've made a career of converting neglected old buildings into things groovier—in this case a hotel with a movie theater, a soaking tub, various bars, and a brewery in a former girls' restroom.
In Portland, even the tycoons are hospitable and artistic. When I reluctantly left the city, it was with the happy sense that here a creative spirit can go right to the top.
Verdict: Portland
Compared with places that had their growth spurts sooner, Portland is young, its destiny still up for debate. Visitors will find a city trying to maintain its laid-back, don't-work-too-much, why-not-take-up-the-ukulele vibe amid a massive tech boom. Portland is dreamy if you like biking around, bumping into one homemade creation after another, and then pausing to discuss it all over a good beer—possibly brewed in someone's basement.
Seattle
Seattle surrounded me, but I also felt far from it—farther by the minute. At the decades-old maritime museum called The Center for Wooden Boats, a short walk from my downtown hotel, I had rented a Hvalsoe 13 rowboat. From aboard it, the skyline rose behind me, the distant slope of Gas Works Park loomed ahead, and around me, without a trace of urbanness, lapped 580 acres of Lake Union. As locals told me again and again, an experience like this is the point of the city.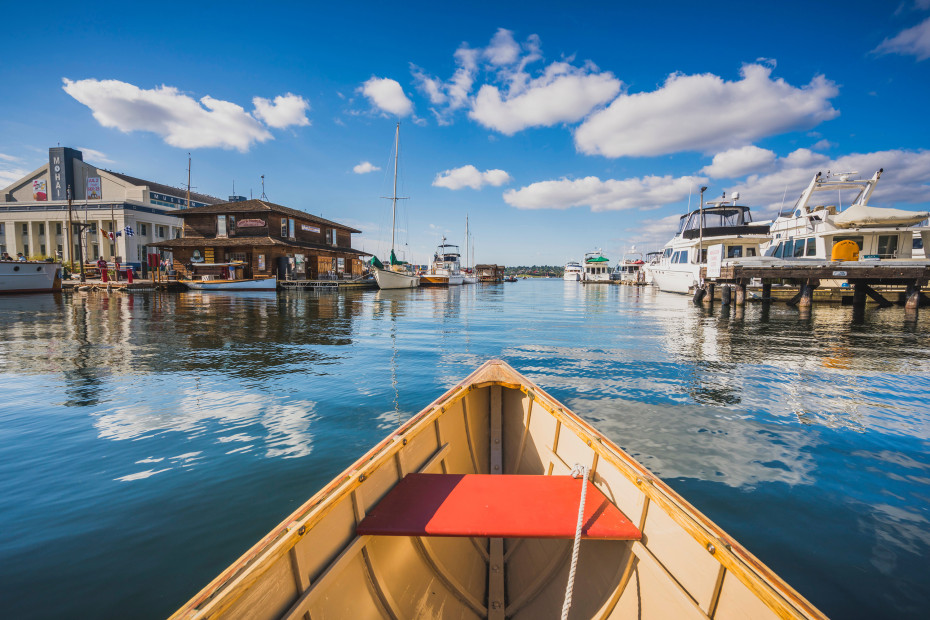 If Portland's essence is its maker culture, Seattle's is its outdoorsiness. Yes, Seattleites make things and Portlanders can be outdoorsy. But in Seattle people describe their jobs in terms of minutes from a beach or a forest, and every other car bears a baroque equipment rack. Even the edgy types— people I'm accustomed to finding indoors, wrapped around a Marlboro—rave wholesomely about all the hiking, biking, and skiing to be done. My friend's brother was a hipster here in his teen years, down to the painted nails. Then the weekend would come and he and his glam friends would trundle off on fly-fishing trips. No matter what your style, you get out.
So on a subsequent four-day visit, I spent as much time as possible outside, frequently on water. Traditionally ambivalent about wooden boats, I fell for the smell of varnish and the gleam of mahogany. As seaplanes glided down around me, I hauled my rowboat out to the beautiful houseboats on the lake's eastern edge. The enterprising googler can find one to rent, but to me they were just as enjoyable as fantasy fodder: Be lucky enough to live there and your car is a kayak, your front yard a postcard view of downtown.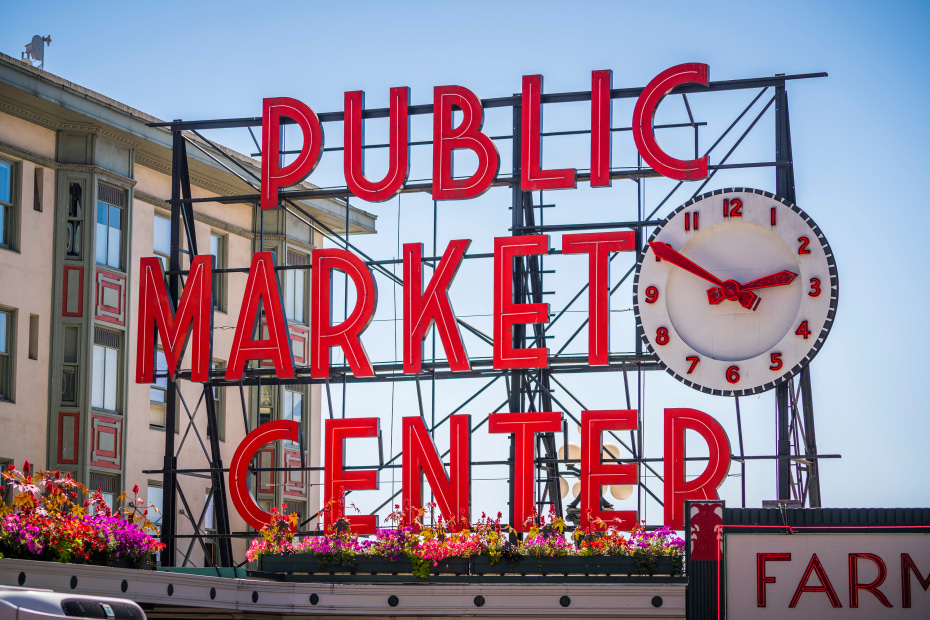 The rowboat having whetted my curiosity, I motored across the lake in a rental from the Electric Boat Company to meet friends for seafood at Westward, a chic joint with chairs nearly on the water. Later, I took the 35-minute ferry ride to Bainbridge Island—not for any urgent business, but because of the ferry itself, which has a culture all its own. There's convivial beer drinking and even book groups meeting on it.
As you near the island's shore, low and colorful like an Alaskan village, you can turn to see Seattle receding in the distance. What an hour earlier felt like a sizable metropolis is revealed for what it really is: an exception of civilization plunked down in an expanse of wild and green.
Steven Severin, city native and co-owner of the nightclub Neumos, relishes that distinction. "We're surrounded by water and mountains," he says. "You can be in the middle of the city and in 30 minutes be in deep green forest. Drive 20 minutes and you're at a beach. Or drive a little farther and see possibly the best view of Mount Rainier there is."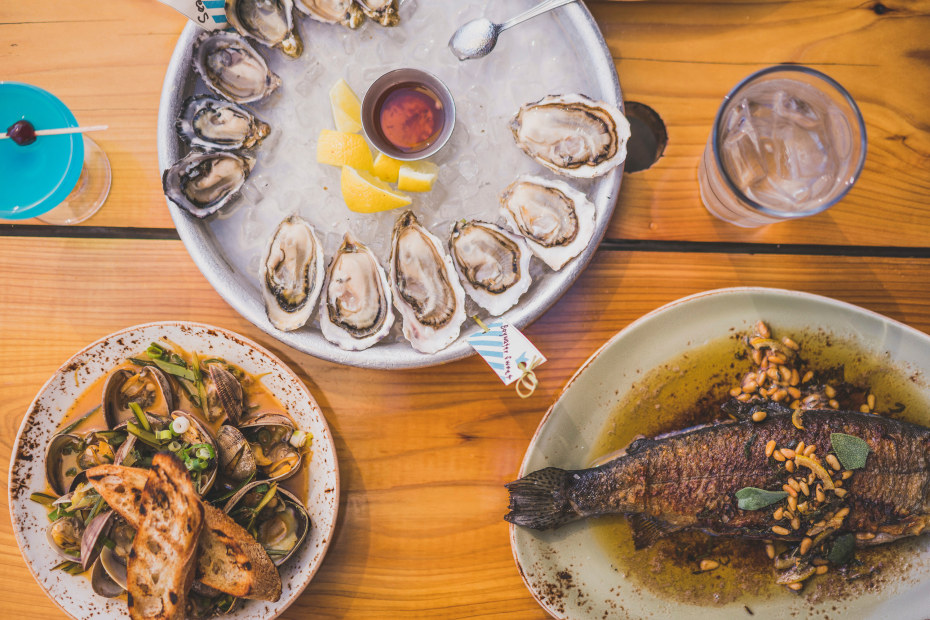 Maybe all that outdoor time makes Seattleites extra focused when they do venture indoors. From the leafy Capitol Hill neighborhood, I walked 30 minutes south to Stateside, a French Vietnamese restaurant, for some of the lightest, herbiest duck rolls I've had. A few blocks away, I took in a moving exhibition of the late Noah Davis's paintings at the airy (and free) Frye Art Museum. In the morning I ate granola within the vast and legendary Elliott Bay Book Company. Outdoorsily, I bought a book about whales. No matter where I went, nature beckoned in one way or another.
Seattle is a surprisingly large place, and a certain FOMO (fear of missing out) creeps in when you realize how much ground you want to cover. One morning I slipped a seven-speed out from one of many downtown bike-share stations, committed to seeing all I could—the neighborhoods of Queen Anne and Fremont and Ballard. A shaded, mellow path led me along the Fremont Cut, past fishing boats, past a winery, all the way to the Ballard Locks, officially the Hiram M. Chittenden Locks, where boats rise and fall as they pass between Puget Sound and Salmon Bay. I watched for a while, then pedaled away. There were fewer than 10 hours of daylight left, and I planned to make the most of them. And I planned to stay outside after dark, too.
Verdict: Seattle
Seattle feels like a responsible older sibling, the one who shares Portland's love of hiking, music, good beer, and good noodles—but who also likes having decent benefits and has made peace with khakis. Its metro area is larger than Portland's, with a downtown full of tall buildings. Seattle is the place for you if you like a broad array of options, some funky and many not, all a stone's throw from a hike, paddle, swim, or ski in that bracing Northwest air.