In the late 1980s when Bev Gannon opened her now legendary restaurant, the Hali'imaile General Store, on a back road in Upcountry Maui, people thought she was nuts. Upcountry, the island's unglamorous rural region, encompasses the western slope of Haleakala, a dormant volcano, and stretches up to its 10,000-foot peak. At the time, the area contained lush farms, ranches, and a few sleepy hamlets that tourists glimpsed from their cars while zipping up and down the volcano.
"There was nothing," says Gannon. "People would drive through miles of sugarcane fields and get lost trying to find us. We were in the middle of nowhere."
Not anymore. Her restaurant didn't just survive, it thrived. The wave of interest in local foods that began to build in the 1990s now makes Upcountry an increasingly popular destination, adding to the longtime lure of Haleakala National Park.
A trip to the crater will always be an unforgettable experience. From the volcano's summit, you look down not just at the ocean but at the clouds, and you could spend an hour or a week hiking more than 35 miles of cinder-strewn trails. In summer, you'll see striking Haleakala silversword, a threatened species, sprouting bold spikes of maroon flowers. If you're lucky, you might spy a Hawaiian petrel, an endangered black-and-white seabird that nests on the mountain.
But there's more to the volcano than its crater, and Upcountry's lower elevations have much to offer these days. Rich volcanic soil and a mild climate allow farmers to grow an abundance of gorgeous strawberries, Maui onions, coffee, lilikoi (passion fruit), and more. Restaurateurs like Gannon feature that bounty on their menus in bright salads and rich cakes, and farms have opened their gates to visitors.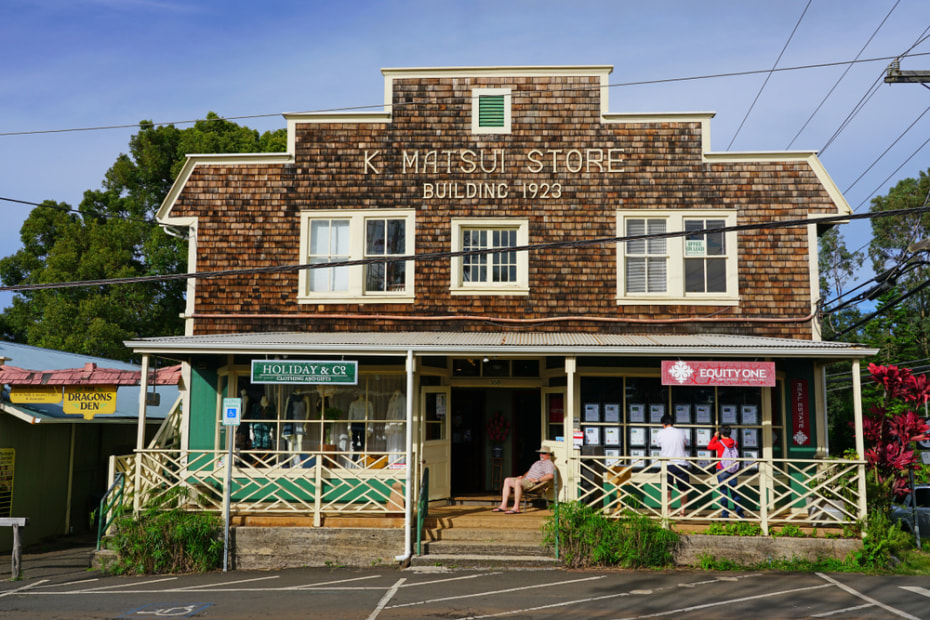 Start an Upcountry exploration in the town of Paia, where you can watch windsurfers float across the waves at Ho'okipa Beach Park or spot a sea turtle dozing in the sand. Then say good-bye to the Pacific and head uphill. First stop: Makawao. A onetime hangout for cowboys who worked the area's ranches, the town has become a hub of shops and galleries. For 19th-century lithographs of island flowers or a vintage Hawaiian shirt, check out the Antique Boutique. Maui Hands carries a variety of artful wares, including koa-wood canes and oil paintings of Upcountry landscapes.
A short drive west brings you to Maui Pineapple Tours. Take a tour to see the fruit harvested from its spiny shrubs and taste it at different stages of maturity. Warning: A just-picked pineapple ruins you for all others. In 2001, Hali'imaile Distilling Company, next door, began making supersmooth vodka from the juice of those succulent pineapples.
From here, continue up to Kula Botanical Garden. In summer, the intoxicating perfume of white ginger lingers as you wander winding paths lined with brilliant hibiscus. Kula is also home to postcard-pretty sights of grazing animals at Surfing Goat Dairy, where they are milked, the milk turned into cheese, and the cheese sold and eaten, all within a few hundred feet. Likewise, at the O'o Farm you can harvest your own salad greens and then savor a full lunch, followed by coffee that was grown, roasted, ground, and brewed on the premises. Farther along visit Ali'i Kula Lavender Farm. Or sip organic vodka made from sugarcane at the Ocean Vodka Organic Farm and Distillery. Or grab a banana cream pie at the delightful Kula Bistro.
"Most of this wasn't here when we started," says Gannon. And now no one thinks she was nuts to open a restaurant in Upcountry.