From Shenandoah Valley tasting rooms to Volcano's antique charm, northern Amador County offers a host of reasons to linger for a long weekend.
Before you head out winetasting, start your day at the Amador Whitney Museum, which spotlights female pioneers and daily life during the Gold Rush. 
In the town of Plymouth―called Pokerville during the Gold Rush―the intersection of Highway 49 and Main Street is the unofficial gateway to the Shenandoah Valley wine region. The tasting rooms clustered around Shenandoah Road include two notable spots: Turley Wine Cellars offers dry-farmed zinfandel as well as a strikingly affordable (and delicious) Napa cabernet. Its adjacent bocce court, framed with sun umbrellas, grapevines, and rosemary plants, is an ideal spot for a lunch break. A little up the road, Andis Wines' ultramodern exterior is part rocket ship hangar, part prefab château. In the tasting room, crisp sauvignon blanc paves the way for old-vine zinfandel, and floor-to-ceiling windows afford spectacular panoramic views. 
Smart Tip: Pick up or download a copy of Amador County's regional winery map.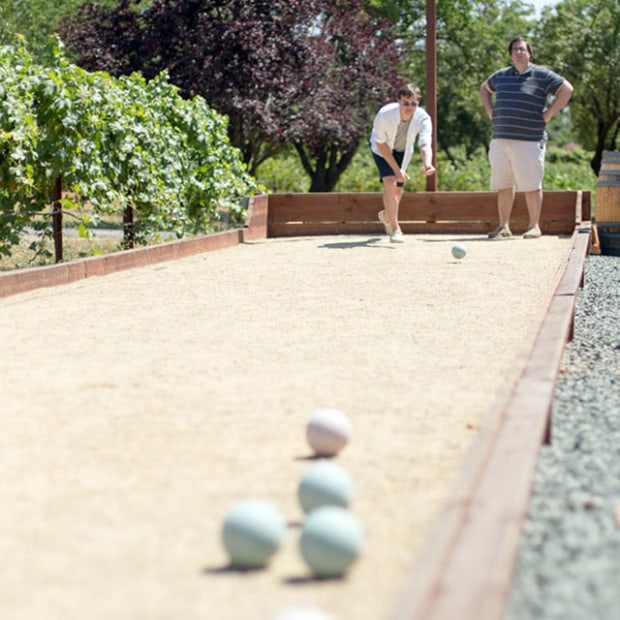 For a glimpse into the region's winemaking roots, veer off Shenandoah Road onto Shenandoah School Road and loop past grazing sheep, walnut groves, and a tepee en route to Cooper Vineyards. Around these parts, founder Dick Cooper is known as the godfather of barbera. Tasting-room staffers speak engagingly about wine history and the annual Barbera Festival (this year on June 11) while plying visitors with spicy sangiovese and luscious carignane.
New in 2015 to Plymouth's Main Street, the Amador Brewing Company taproom is a welcome wine country addition. Tasting flights include an aromatic kölsch and a palate-cleansing pale ale. Friday through Sunday, families rub elbows with bearded beer geeks, everyone enjoying the food trucks parked outside, slinging barbecue ribs and wood-fired pizzas.
Arguably the region's most famous culinary landmark, Plymouth's Taste Restaurant and Wine Bar has deftly matched local wines like Fate Viognier with dishes such as fried Willapa Bay oysters for nearly a decade. In 2009, Taste's owners opened the more casual Union Inn + Pub in the tiny nearby town of Volcano, serving updated comfort food like crispy orange-glazed duck wings and lamb burgers with tzatziki. 
The 30-minute drive from Plymouth to Volcano is winding, but the latter's St. George Hotel is worth every twist. Built in 1862, the building features double balconies and a white brick facade that preside over one-block-long Main Street. Rooms are named for nearby mining encampments―think Poker Flat and Clapboard Gulch.