N. Mississippi Avenue Sights and Events
Mississippi Studios, housed in a renovated church, has been hosting well-curated live music since 2003. The building also includes Bar Bar, a burger-and-cocktail lounge with a mostly covered patio. 3939 N. Mississippi Ave.
The neighborhood's eclecticism fits Paxton Gate and its artfully displayed fossils, taxidermy, animal bones, and offbeat art. The shop, which feels like a hands-on natural history museum, hosts family-friendly events such as regular bug-pinning classes. 4204 N. Mississippi Ave.
N. Mississippi Avenue Shopping
Shake things up at the Meadow, which boasts one of the best selections of salt in the world. Try the black-truffle Italian sea salt or a version harvested from the deep-sea trenches of Japan. Additional items for sale include books, flowers, gourmet chocolate, and a staggering assortment of handmade cocktail bitters. 3731 N. Mississippi Ave.
Nostalgic gift shop Flutter amounts to a visual catalog of Portland's quirks. Look for vintage postcards, cocktail accessories, and perhaps also your new favorite party frock. 3948 N. Mississippi Ave.
Pick up a stylish gift for your favorite kid at Black Wagon. Think scooters screen-printed onto canvas bags, Chewbacca socks, and Andy Warhol coloring books. 3964 N. Mississippi Ave.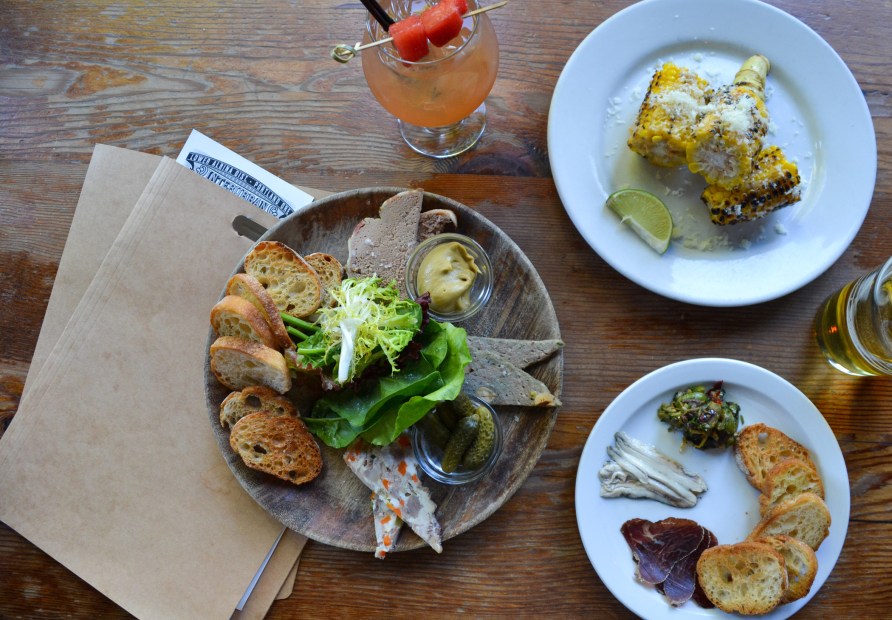 N. Mississippi Avenue Restaurants
Radar's layout, like its new American cuisine, is clean and inviting. An open kitchen dominates the room, allowing guests to watch chefs prepare beef cheeks so tender you can cut them with a spoon. 3951 N. Mississippi Ave.
At Lovely's Fifty-Fifty, pizzas come adorned with ingredients such as spicy capicola (a pork salumi) and mushrooms from Oregon's forests. Save room for a salted caramel ice cream affogato. 4039 N. Mississippi Ave., Ste. 101.
Mustache-twirling gents and mounted antelope heads keep the spirit of 1910 alive at Interurban. Sample pre-Prohibition–style cocktails alongside hand-dipped corn dogs. 4057 N. Mississippi Ave.
Darling Sweedeedee is the place to catch up over a slice of sweet-and-salted honey pie. Its spirit may be best captured in the simple, delicious breakfast plate: freshly made brioche with greens, cheese, a baked egg, and seasonal fruit. 5202 N. Albina Ave. (Two blocks off N. Mississippi Ave.)
N. Mississippi Avenue Drinks
Ecliptic Brewing combines brewmaster John Harris's obsessions—beer and astronomy—by following a calendar that rotates at solstices, equinoxes, and other celestial days. Pair Orbiter IPA with a pancetta-and-Gruyère burger for an out-of-this-world treat. 825 N. Cook St. (One block off N. Mississippi Ave.)
At stylish Moloko, DJs spin records as saltwater fish tanks bathe the space in blue light. Bartenders craft cocktails such as the Hitchhiker, a habanero-infused vodka mixed with absinthe. 3967 N. Mississippi Ave.
German bier pub Prost matches warm pretzels and bratwurst with old-fashioned steins of Teutonic suds. A heated patio adjoins a pod of international food carts. 4237 N. Mississippi Ave.
Aspiring baristas make pilgrimages to Albina Press to perfect their lattes. The foam designs atop the café's drinks rival the art for sale on its walls. 4637 N. Albina Ave. (One block off N. Mississippi Ave.)