The open-air music festival has become a staple of modern life, both as an annual ritual, such as the Monterey Jazz Festival, and as an epic pilgrimage, like Monterey Pop and Woodstock.
While the music—whether jazz, classical, country, rock, or Americana—remains the main draw for any warm-weather festivals throughout the West, the fests highlighted here are distinguished by the location.
From alpine forests, sprawling prairies, and majestic canyons to magnificent lakes and densely wooded urban parks, these settings provide full-immersion experiences: The sounds of symphonies, electric guitars, acoustic fiddles, and more are highlighted by the natural backdrop.
Plan a road trip to these festivities in gorgeous locations and expand your horizons while sitting with companions, family, and thousands of friends by circumstance, all kin in the love of music and nature.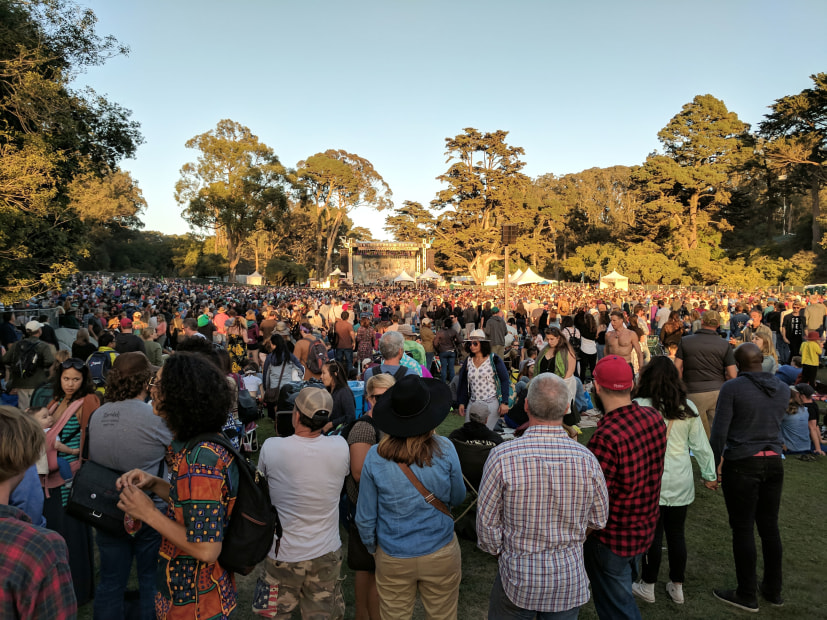 California
Hardly Strictly Bluegrass, San Francisco
When the late venture capitalist, philanthropist, and old-time-music enthusiast Warren Hellman launched this now-legendary free event in 2001, he called it "Strictly Bluegrass." Three years later, as the programming grew more eclectic, he and his team added the "Hardly." Although traditional bluegrass, folk, and country can be heard on one or more of the six stages throughout the weekend, and contemporary Americana provides a sturdy backbone, hardly a musical genre goes unrepresented. You'll hear such sundry artists as Judy Collins, MC Hammer, Mavis Staples, Robert Plant, or Kronos Quartet as you ramble around a beautiful stretch of Golden Gate Park's meadows, glades, glens, and hollows.
Hazel Dickens and Guy Clark were mainstays at Hardly Strictly Bluegrass until their dying days. But young alternative acts—Conor Oberst, the Milk Carton Kids, Joan Shelley—have varied the mix over the years. Outlaw country rocker Steve Earle typically headlines on Saturdays, Emmylou Harris closes the festival every year, and Buddy Miller, Dave Alvin, Del McCoury, Nick Lowe, the Mekons, and the Flatlanders have been regulars. 
The crowds can get thick (as many as 750,000 over the three days), and transportation and parking can be tricky if you don't get there early. But the sublime location, the usually gorgeous fall weather, fresh ocean breezes, the golden dusk, and the amiable vibe make Hardly Strictly one of the world's great outdoor festivals. —D.R.
Stern Grove Festival, San Francisco
Tucked into a southwestern corner of San Francisco's Sunset District, idyllic Sigmund Stern Grove is a natural treasure well known to Bay Area residents but easily missed by visitors. The grove's free (with advance reservation) Sunday afternoon concerts, weekly from mid-June to mid-August, are a great excuse to gather a group for a picnic in the natural amphitheater. Leashed service animals are also welcome, but only in the West Meadow seating area. Walk into Stern Grove and the scent of eucalyptus and conifers fills the air, as the forest gives way to a bowl-like topography where concertgoers can settle onto a spacious lawn, or sit on the hillside under the trees. Low-profile lawn chairs are permitted. Each concert draws as many as 10,000 people with first come, first served seating and parking—there's no lot, only neighborhood spots—so it's best to arrive early. 
This historical landmark dates back to 1931, when Rosalie Meyer Stern purchased the land to establish a memorial to her late husband. By 1938, Stern, in cooperation with the city, had started to bring summer concerts to the site. From its early emphasis on classical music, the festival, now in its 86th season, has expanded into an unpredictably eclectic event. Highlights of the 2023 lineup include Patti Smith, Lyle Lovett, the Flaming Lips, Neko Case, the Indigo Girls, and Buddy Guy. —D.R.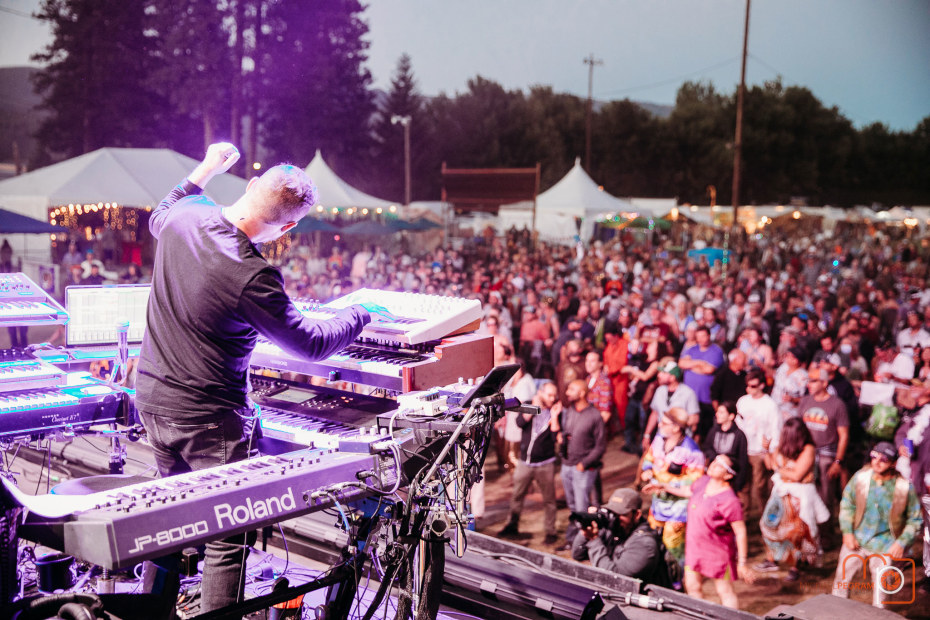 High Sierra Music Festival, Quincy
In the 30 years since its founding in Leland Meadows, the High Sierra Music Festival has evolved into much more than an annual gathering for unreconstructed Deadheads and neo-hippies. Relocated permanently in 2000 to the logging town of Quincy, 80 miles northwest of Reno, the summer festival still features such jam-band and crunchy favorites as Leftover Salmon and the String Cheese Incident. Ecological awareness, healthy food, grassroots crafts, late-night jam sessions, and hula-hoops figure prominently in the celebratory atmosphere. 
But neither tie-dye nor a vintage Volkswagen is required to partake of the positive vibes and enjoy the eclectic array of music on stages scattered around the fairgrounds. You'll find mainstream rock, soul, folk, jazz, and bluegrass, too; past performers have included Steve Winwood, My Morning Jacket, and Gillian Welch. The 2023 lineup features Jason Isbell and the 400 Unit, Thievery Corporation, the Del McCoury Band, and the Infamous Stringdusters.
The festival's location is a perfect launching point to explore the nearby natural marvels of the lightly traveled Lost Sierra, from the Feather River and the vast Sierra Valley to the spectacular Lakes Basin Recreation Area, a wonderland of easily accessible lakes and ponds and some of the best hiking in the Sierra. First come, first served tent camping is included with the purchase of a festival pass, RVs are welcome (with a vehicle pass), and there are a few nearby motels, but book ahead, as they fill up fast. —D.R.
Nevada
Electric Daisy Carnival, Las Vegas
Most people don't think of the Las Vegas Motor Speedway as a natural wonder, and with the exception of its sprawling views of Mount Charleston, it's not—but when the Electric Daisy Carnival (EDC) takes over each May, the place completely transforms. The largest electronic music festival in the United States, EDC draws hundreds of thousands of fans over the course of three days to a hypnotic spectacle of pulsing lights, pyrotechnics, large-scale sculptures, more than a dozen carnival rides, and nine stages, plus art cars playing every genre of electronic music imaginable. Festival-goers call it the "Electric Sky," a dome of color, light, and sound best experienced from the speedway's bleachers.
EDC started in 1997 as a warehouse party in Los Angeles and grew steadily, moving to Las Vegas in 2011. The 2023 lineup features more than 230 acts, including Tiësto, David Guetta, Kaskade, Chris Lake, Kaytranada, Duke Dumont, Zedd, Marshmello, and Alison Wonderland. But if you don't know any of these DJs, you'll still have a blast at EDC, where most stages cater to a specific genre—from trance to house to heavy bass—and it's easy to wander around until you find a style that speaks to you.
In the days leading up the festival, EDC takes over Vegas with more than 40 events at clubs and pool parties. Hotels fill up fast, so it's wise to book early. EDC offers shuttle passes to get you door-to-door without driving, but parking at the speedway is also available at a cost. On-site camping is another option, ticketed separately, though attendees are known to keep the party going all day and night, so light sleepers beware. —W.S.P.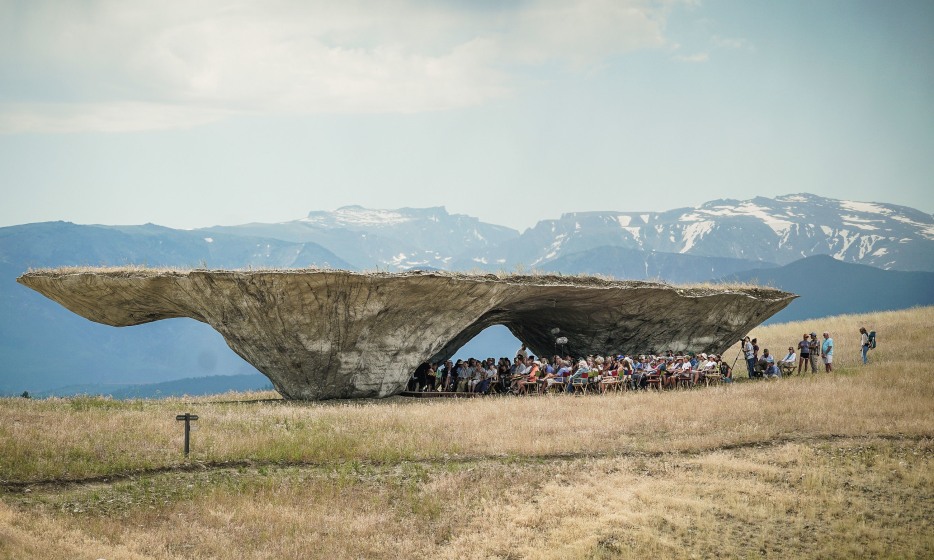 Montana
Tippet Rise Art Center, Fishtail
Set against the backdrop of South Central Montana's Beartooth Mountains and the rolling hills of the Stillwater Valley, Tippet Rise Art Center combines classical music and large-scale sculpture for an experience like no other. Imagine listening to Rachmaninoff, John Cage, or Wayne Shorter under a 98-foot-long, 16-foot-tall cave-like structure that looks like something out of Dune, and you're beginning to get the picture. 
Classical music lovers and philanthropists Cathy and Peter Halstead took over the 12,000-acre working ranch—roughly two hours from Bozeman—in 2010 and spent six years transforming it into an arts center that in the summer welcomes classical music fans, art lovers, hikers, and bikers. 
They host music in multiple incredible venues, including the aforementioned outdoor sculpture, the Domo, and the Olivier Music Barn, a minimalist yet rustic-looking concert hall engineered for acoustically pristine sound by the renowned Arup Group. Leave time for the Sculpture Van Tour to see six of the 12 massive sculptures spread across the property, which include work by Alexander Calder and Mark di Suvero.
Under the direction of artistic advisor Pedja Muzijevic, the 2023 season includes six world premieres of compositions from the Tippet Rise Commissions series, including a piece by Ukraine's leading living composer, Valentyn Silvestrov, Five Bagatelles for Solo Piano (2020). As part of the Wander series, two composers will respond to Mark di Suvero's Tippet Rise sculptures Beethoven's Quartet and Proverb. Concert tickets are offered through a lottery on tippetrise.org and sold for $10 each.—W.S.P.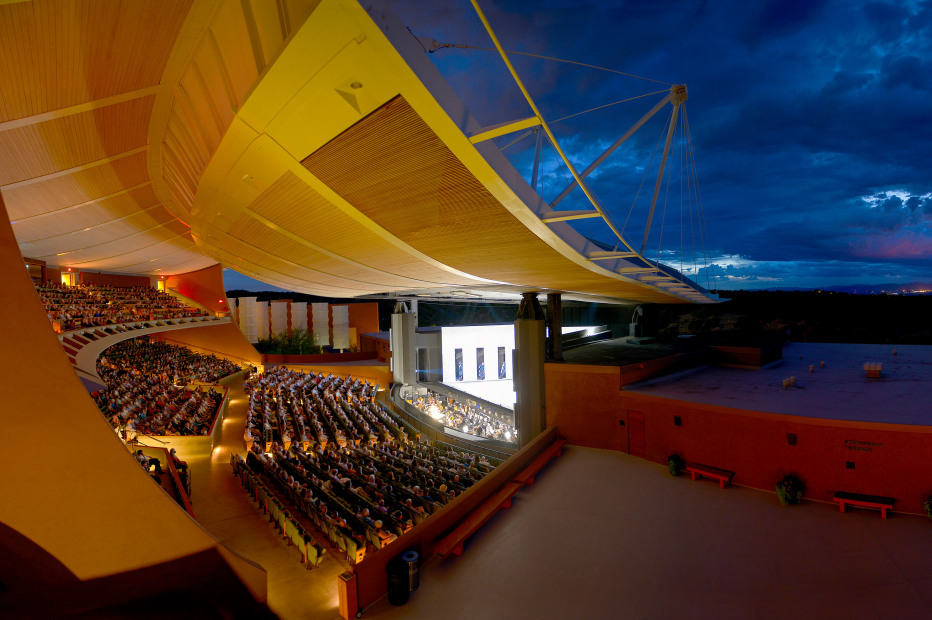 New Mexico
Santa Fe Opera, Santa Fe
Given the modern open-air architecture, the moon rising over the Sangre de Cristo and Jemez mountain ranges, and the esteemed performers onstage, it's hard to know where to look when you're at the Santa Fe Opera. Seven miles north of downtown, the famed opera house has no walls, offering panoramic views while you listen to one of the best opera companies in the United States.
It all started when founder John O. Crosby fell in love with the area and purchased 76 acres in 1956 to develop an opera house showcasing American singers. It kicked off its first season in summer 1957 with a performance of Puccini's Madama Butterfly to nearly 500 attendees. The theater has been rebuilt twice since then, adding a partially open roof in 1968 and more seating, today accommodating 2,126.
Arrive early to experience everything the campus has to offer, including pre-show dinners; tailgating (picnics can be ordered in advance); free prelude talks; multiple bars featuring wine, cocktails, and coffee drinks; and a large gift shop. The 2023 season, its 66th, will feature Puccini's Tosca, Wagner's The Flying Dutchman, Debussy's Pelléas et Mélisande, Dvořák's Rusalka, and Monteverdi's Orfeo. If opera is not your thing, you can occasionally catch other genres. In fall 2023, the opera house is scheduled to host blues icon Bonnie Raitt, indie pop duo Sylvan Esso, and Beninese-French singer-songwriter Angélique Kidjo. —W.S.P.
Washington
The Gorge Amphitheatre, Quincy
Few venues can compete with the embedded-in-nature Gorge Amphitheatre for its view into the rugged distance. A three-hour drive from Seattle or a two-hour drive from Spokane brings you to the site, a high desert expanse overlooking the Columbia River as it winds through the Columbia Gorge canyon. In the distance rise the foothills of the Cascade Range. The amphitheater opened in 1986 as the 3,000-seat Champs de Brionne Music Theatre, named for the owners' adjacent winery. Purchased and expanded by MCA Concerts Northwest and then Live Nation, the Gorge now seats 27,500. 
The Gorge hosts dozens of big-name rock, country, and electronic acts during the summer season—Santana, Phish, Journey, Joni Mitchell, Brad Paisley, Chris Stapleton, Above and Beyond—as well as festivals including Beyond Wonderland, Watershed Country Music Festival, and Bass Canyon. On-site camping, ticked separately, is available for festivals and select multiday concert runs. —D.R.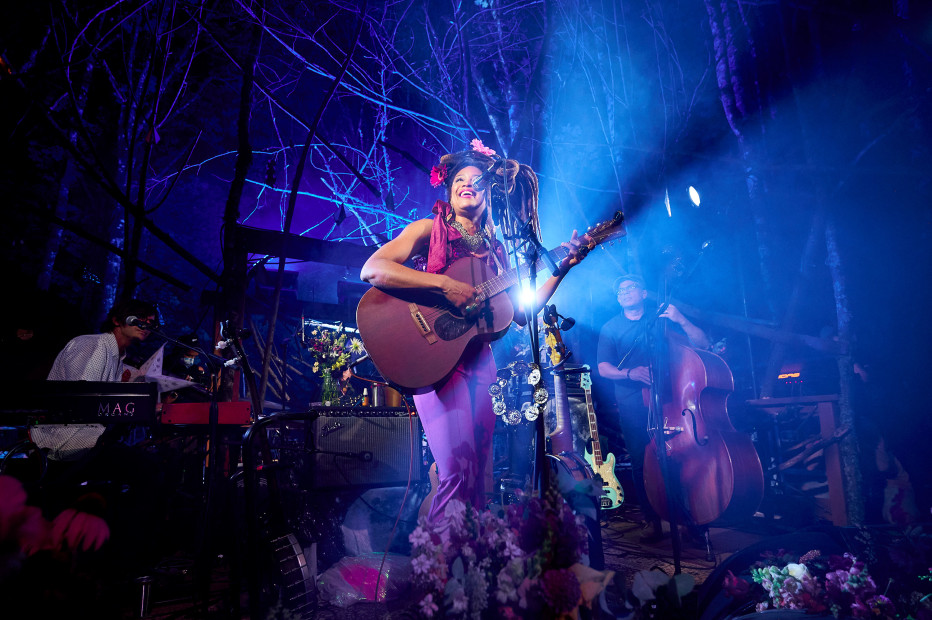 Oregon
Pickathon, Happy Valley
Sixteen miles southeast of Portland, another world awaits at the Pendarvis Farm in tranquil Happy Valley, the site of the annual Pickathon. Pickathon began as a small indie roots festival in 1999, but the past two decades have seen it expand into multiple musical genres, as divergent as Americana folk, hip-hop, and doom metal. The festival prides itself on featuring emerging artists before they break into the mainstream and offers an intimate viewing experience, with attendance capped far below the site's capacity.
Emphasizing its connection to nature, Pickathon augments the summer beauty of the wooded Pendarvis Farm with site-specific art and magical lighting to create roughly a dozen themed neighborhoods. Some four dozen acts perform over the course of four days, with DJs spinning vinyl in between to sustain the musical momentum.
Prior Pickathons have featured Sturgill Simpson, Billy Strings, Margo Price, Black Pumas, Phil Lesh, and Nathaniel Rateliff. The 2023 lineup includes soul and R&B icon Lee Fields, Zambian psych rockers W.I.T.C.H., indie-glam trio Dehd, and roots duo Watchhouse. Festival passes include free walk-in camping, but daily passes are sold as well, with conventional accommodations available in nearby Clackamas and Southeast Portland. —D.R.
Cathedral Park Jazz Festival, Portland
The most famous bridge in jazz lore is the Williamsburg in New York City. For nearly a year and a half, from 1959 into 1961, tenor saxophonist Sonny Rollins practiced on the bridge daily. The St. Johns Bridge in Portland has yet to achieve comparable iconic status in music history, but fans who take their jazz seriously in the Northwest know it well as the symbol and backdrop of the Cathedral Park Jazz Festival. 
The bridge, which opened in 1931 (at the time the longest suspension bridge west of the Mississippi), gracefully spans the Willamette River and connects Northwest Portland with the Cathedral Park neighborhood, where the festival takes place. The neighborhood got its name from the cathedral-like Gothic arches that support the elevated roadway. Now in its 43rd year, the free, three-day summer festival is volunteer run and presented by the Jazz Society of Oregon. 
The seating on the rolling lawns affords stirring views of the river and the towering span. Visitors from outside the area will discover a lovely hidden corner of Portland and be introduced to a generous sampling of regional talent. While blues and R&B figure in the mix, jazz is the main attraction, and the festival showcases such local stars as saxophonist Devin Phillips, drummer Mel Brown, organist Louis "King Louie" Pain, and guitarist Dan Faehnle.  —D.R.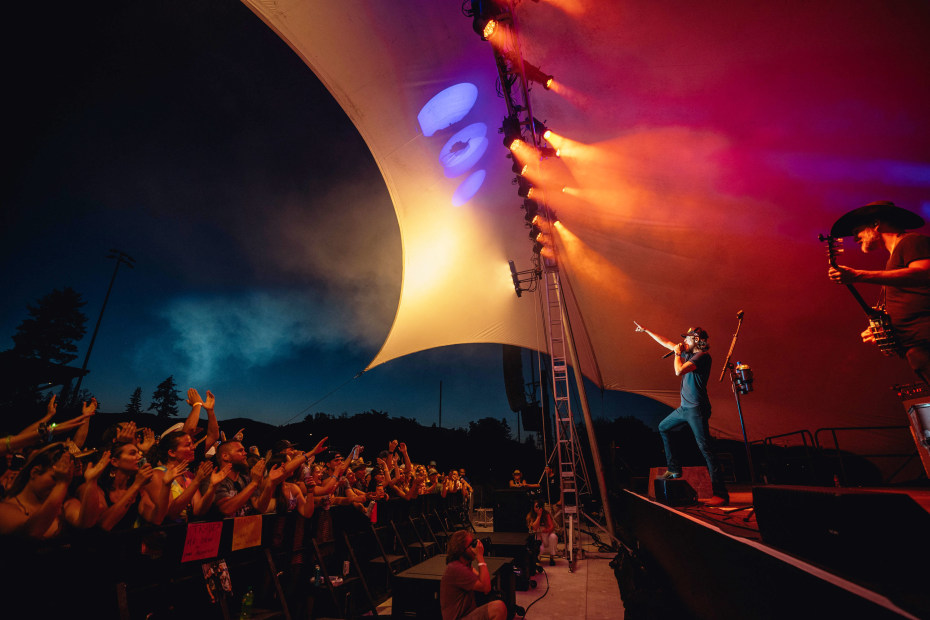 Idaho
Festival at Sandpoint, Sandpoint
Inaugurated 40 years ago to bring summer pleasures to the local and regional residents of northern Idaho, the Festival at Sandpoint draws 4,000 people daily to Memorial Field on the shore of 43-mile-long Lake Pend Oreille. About an hour-and-a-half drive from Spokane, Washington, Sandpoint offers views of the Selkirk and Cabinet Mountains and a bounty of outdoor recreational activities—walking, biking, hiking, and swimming, as well as boating and fishing on the lake, Idaho's largest and deepest. 
Past headliners have included Jackson Browne, Willie Nelson, ZZ Top, Kool & the Gang, Wilco, the Indigo Girls, and Counting Crows. In 2023, the nonprofit music festival will present 11 nights of music, featuring Gary Clark Jr., the String Cheese Incident, REO Speedwagon, Michael Franti & Spearhead, Ashley McBryde, and Train. Season passes usually sell out in January, but single-day general admission tickets are available at festivalatsandpoint.com. While more than a dozen food vendors and two full bars serve refreshments, attendees are welcome to bring their own. —D.R.