In the summer of 1775, the Spanish ship San Carlos glided through the Golden Gate, its decks manned by the first European sailors to set eyes on San Francisco Bay. The shoreline they encountered was a sleepy stretch of white sand dunes and tidal marshes inhabited by the Yelamu people, who navigated the currents in tule reed canoes.
History rolled along rather slowly for seven more decades. Then someone cried, "Eureka!" and everything changed again. In 1848, the bay witnessed the arrival of 11 vessels. The next year, with the onset of the Gold Rush, the count had reached 650. Commerce surged, and a once lonely outpost became a global city, its waterfront a portal to the world.
To visit here today is to see the lasting imprint of those who came before: the soldiers, the sailors, the fortune seekers. It's a place of fishmongers and gourmet vendors, of science-focused playgrounds and iconic vessels that played vital roles during World War II. San Francisco's waterfront is the place where the city's vibrant present meets its vivid past.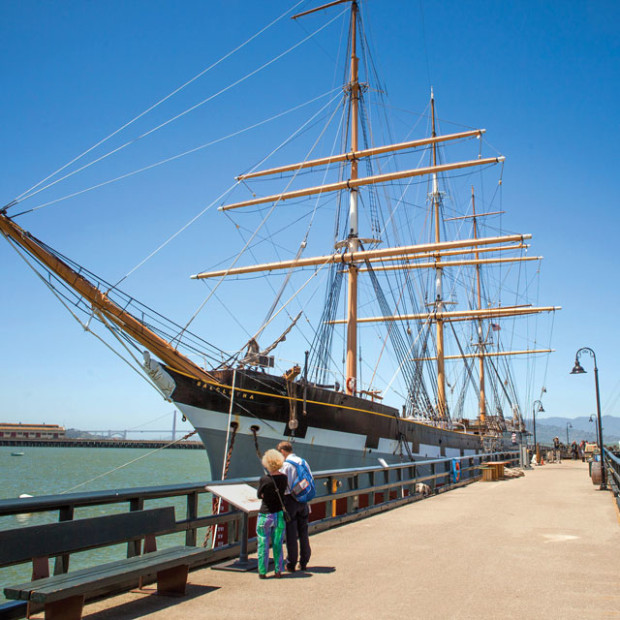 Hyde Street Pier
In the late 1800s, when maritime commerce fueled the city's pell-mell growth, San Francisco relied on sturdy cargo ships. The Balclutha, a square-rigged, steel-hulled sailing vessel that rounded Cape Horn 17 times in 15 years, hauled California grain to England and supplied West Coast ports with Australian coal. The ship's role back then was varied—it also carried salmon, lumber, and oil. Today it is part of the San Francisco Maritime National Historical Park at the Hyde Street Pier, a kind of living museum where you can tour floating history.
Two other vessels share the spotlight: the Eureka, a white, side-wheel paddle wheeler that shuttled travelers to and from Marin; and the Alma, an 80-foot-long two-masted schooner built in San Francisco in 1891. Once used to carry freight from Petaluma to San Jose, the Alma now serves as a history-rich sailing ship, taking visitors on three-hour guided cruises.
Back at port, maritime buffs gather on the Balclutha from 8 p.m. to midnight on the first Saturday of every month to sip hot cider and sing ranger-led sea chanteys. The sing-along is free but space is limited.
Fisherman's Wharf
When Annette Traverso's grandfather, Tom Lazio, and his partners opened their wholesale fish company in the 1940s, only men were allowed to handle, clean, and sell fish. "Women stayed upstairs keeping the books," Traverso says. But after Lazio died in 1998, Traverso, her two sisters, their mom, and their grandmother took over.
Today, Alioto-Lazio Fish Company sells salmon, petrale sole, halibut, and more to the public from a countertop set on wooden crates at 440 Jefferson Street. Inside the store, ruddy, thick-legged West Coast crabs skitter along the bottom of saltwater tanks; nearby, whole fish and fillets glisten on beds of chopped ice.
"People come in and say, 'Oh, that's what fresh fish looks like,'" Traverso says.
Though souvenir shops seem to outnumber fisherfolk in the neighborhood these days, Pier 45 is still home to a working fleet that hearkens back to Gold Rush days when Italian fishermen plied the seas. Adjacent to Pier 45, the small, nondenominational Fishermen's and Seamen's Memorial Chapel is easy to miss but worth a visit. The pretty chapel—its side altars draped in fishnets—was completed in 1978 and honors those who have been lost at sea.
Every year in the fall, the Italian American community celebrates its ties to the ocean with the two-day Madonna del Lume (Mother of Light) celebration and blessing of the fleet. It begins with a service at the chapel, followed by a parade of fishing boats, with flowers and memorial wreaths tossed into the waters beneath the Golden Gate Bridge. The next day, brass bands and commercial floats make their way from Sts. Peter and Paul Church at Washington Square to Fisherman's Wharf, where boats receive a sprinkling of holy water along with prayers for safety and a prosperous catch.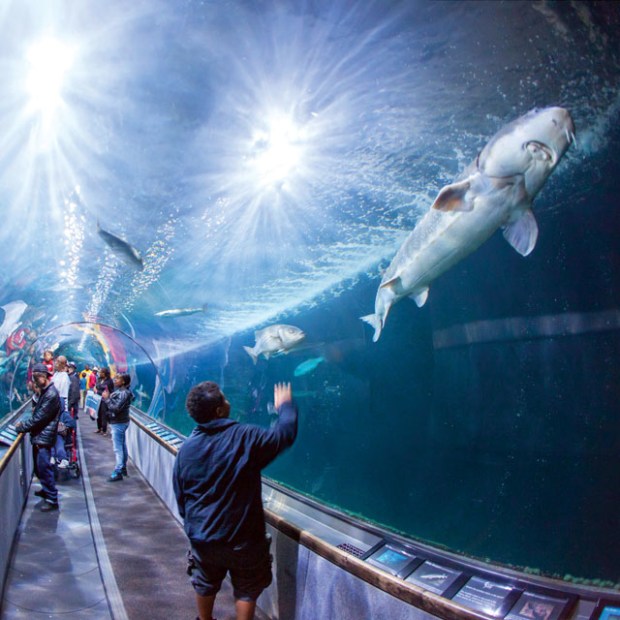 Aquarium of the Bay
At first blush, Pier 39 can seem more like an amusement park than a waterfront pier, but there's plenty for nature lovers at the Aquarium of the Bay. This fascinating window on marine ecology showcases and conserves more than 20,000 critters from the waters and wetlands surrounding the city. Inside the aquarium, visitors can gently touch the puppy-soft wings of bottom-hugging skates and bat rays in one exhibit, and be mesmerized by the ghostlike grace and dangling tentacles of pulsating moon jellies in another. You'll stay dry—and safe from a seven-gilled shark—as you glide along a moving walkway inside a tunnel of clear Plexiglas through the middle of a ballroom-size fish tank.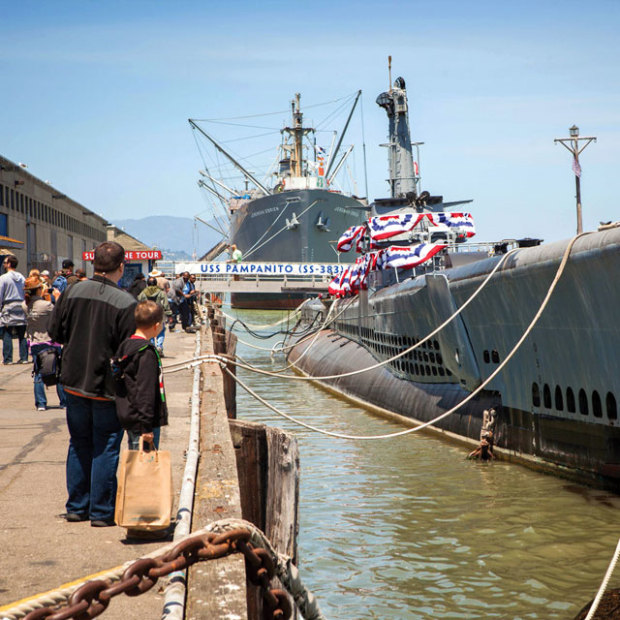 Pier 45
On perilous patrols of the Pacific, the USS Pampanito sank six enemy ships and damaged four others while narrowly escaping its own destruction. A member of a small, elite fleet of U.S. submarines, it earned six battle stars, helping to turn the tide for the U.S. and its allies during World War II. Decommissioned in 1945, the Pampanito is on active duty today as a floating museum. As you duck down a metal ladder and through narrow passageways, you can listen to the crew's recollections captured on an audio tour. 
Berthed behind the Pampanito is another wartime icon: the SS Jeremiah O'Brien, one of only two U.S. Liberty ships still seaworthy out of the 2,710 built between 1941 and 1945. Open daily for tours, the formidable Jeremiah O'Brien is among the rare surviving vessels from the armada of 6,000-plus ships that participated in the Normandy invasion on D-day.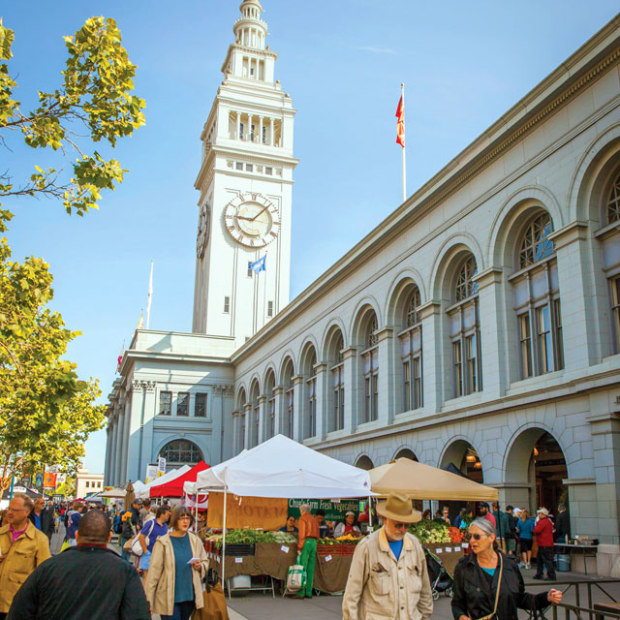 The Ferry Building
Built in 1898 by a city gone giddy over gold and silver, the Ferry Building now houses gourmet riches in its grand arcades. Peruse a bustling hub of more than 40 artisan purveyors and organic producers selling chocolates, farmstead cheeses, blood orange–infused olive oils, you name it. Three days a week, the city's largest farmers' market wraps around the building, selling whatever is in season, plus prepared delicacies such as duck tacos or fresh-shucked oysters.
Nearby, satisfy your curiosity at the Exploratorium, a scientific fun house and beloved institution of interactive exhibits that covers everything from group psychology to physics.