San Francisco boasts a rowdy and fascinating legacy, one that's filled with larger-than-life tales of riches and woes, and legendary figures such as James "Shanghai" Kelly—a crimper who is said to have kidnapped more than 100 men in a single evening to fill understaffed ships. To truly appreciate the city's "anything goes" spirit, it helps to learn a bit about its past. Here are five ways to experience firsthand the city by the bay's fascinating history and haunts.
Test your skills on historic games of chance.
Throughout much of the 20th century, Playland-at-the-Beach was San Francisco's beachside amusement park. The 10-acre stretch of rides, restaurants, and concession stands saw the invention of the It's-It ice cream sandwich and housed the original giant Camera Obscura, now located at the Cliff House near Lands End. It was also where local boy Edward Zelinsky began displaying his collection of penny arcade games—the basis for which eventually became San Francisco's quirky Musée Mécanique.
Today, there are more than 200 playable mechanics on display at the museum's Fisherman's Wharf location. Try your strength against an arm-wrestling machine or have a blank-eyed "grandmother" tell your fortune. Laughing Sal, a six-foot tall automaton woman with a gaping smile and Shirley Temple curls, is undoubtedly the collection's most iconic piece. She was originally on display at Playland-at-the-Beach's fun house before moving to the museum. A second Laughing Sal resides at the Santa Cruz Beach Boardwalk.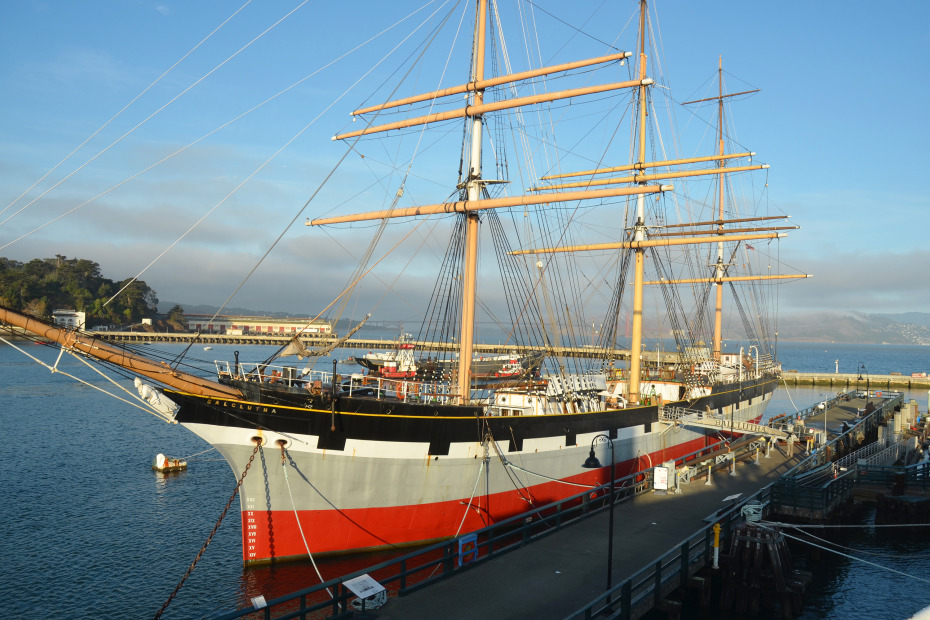 Sing chanteys aboard a historic ship.
The first Saturday of every month, dozens of people gather aboard the late 19th-century ships at Hyde Street Pier to bust their melodic chops on songs worthy of the sea. This public sing-a-long has been running for more than 30 years, attracting loyal devotees who toast mugs of hot cider while reciting choruses about San Francisco's infamous Barbary Coast and days working aboard a sea vessel. If you can't make the Chantey Sing, the San Francisco Maritime National Historic Park includes many more options for history buffs. Enjoy a ranger-led tour of the historic waterfront, talk with various boat builders, or set sail aboard the 1891 Alma, a 60-foot scow schooner and National Historic Landmark that's also the last of her kind.
Join the ghosts of San Francisco past on a bevy of walking tours.
Whether you're delving into the ways Haight-Ashbury counterculture shaped local history with San Francisco Native Tours, exploring the country's oldest Buddhist Temple with All About Chinatown, or hearing about how opera singer Enrico Caruso survived the 1906 earthquake from a guide dressed up as Emperor Norton—one of the city's most colorful characters—walking tours are a wonderful way to get to know a place and its people. San Francisco City Guides offers one of the largest arrays of options, with free walking tours highlighting everything from the Presidio to the creation of Golden Gate Park.
Experience San Francisco Bay's 'other' island.
Rising up from the cold waters north of Alcatraz is Angel Island. The California State Park served as the "Ellis Island of the West" for millions of immigrants from 1910 to 1940. Due in large part to the Chinese Exclusion Act of 1882, many of these immigrants were detained here for years. The island later became a temporary internment camp for Japanese-Americans during World War II. Alcatraz Cruises invites participants to learn about this fraught time period with an Alcatraz and Angel Island Combination Tour. Along with a trip to "The Rock" that includes its famous cellhouse audio tour, you'll also explore Angel Island. A one-hour narrated tram excursion brings to light many of the island's historic landmarks, like the former U.S. Immigration Station, which now operates as a museum. (The museum is open for self-guided tours 11 a.m.–3 p.m., Wednesday through Sunday.)