Forgive folks in California, Oregon, and Washington for salivating this time of year. They can't help themselves, not when local Dungeness crab season gets underway typically in mid-November and lasting through June or July. Get your fill early in the season for the biggest, sweetest pick of the bunch, and—for some extra delicious preparations—look no further than these ten West Coast spots.
California
Standing in line for one of just 20 stools is part of the experience at the landmark Swan Oyster Depot, a classic, old-school eatery in San Francisco. The seafood counter has been owned by the Sancimino family since they bought it in 1946 from an immigrant Danish family, who founded it in 1903. This is crab as fresh as it gets, served cracked in salads or in cocktails. Just be sure to come with an empty stomach and a full wallet: It's cash-only.
It may be called the Walnut Creek Yacht Club, but there are no yachts nor any water. The restaurant— located in a land-locked city—may not boast bay views, but it takes its seafood very seriously. It serves fresh Dungeness crab only when the Northern California season is open, preferring not to bring it in from outside the region. Enjoy the sweet, fluffy meat in a classic Louis salad, in bulging crab cakes, or as the centerpiece on a family-style platter.
Since 1894, Duarte's Tavern in Pescadero has served up stellar seafood and sublime pies to locals and tourists alike. The crab cioppino is legendary at this James Beard Award–winning "American classic restaurant.'' Just save room for the equally famous olallieberry pie.
Farther south, on the Monterey Peninsula, Chef David Baron of Salt Wood Kitchen & Oysterette kicks it into high gear with whole Dungeness crab served with spiced butter, garlic noodles, and bok choy; and fragrant butternut squash soup accented with ginger, lemongrass, chili, pomegranate seeds, and crab meat.
Roll up your sleeves and prepare to get messy in the most delicious way at PPQ Dungeness Island in San Francisco, where whole crabs can be enjoyed tossed in curry, spicy, peppercorn, or drunken sauces. If that weren't enough, there's also crab fried rice, and asparagus-and-crab-meat soup.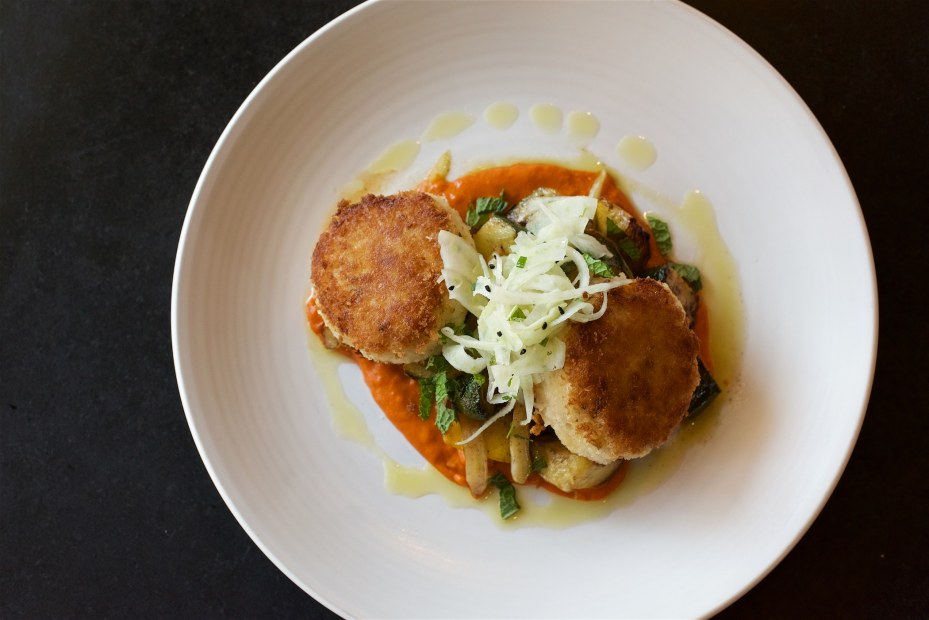 Washington
Founded in 1914, the Historic Davenport hotel in Spokane is reportedly the birthplace of the Dungeness crab Louis salad. The spot still serves the dish today at its Palm Court Grill. This is one impressive salad of butter lettuce leaves, tomato wedges, hard-boiled egg slices, and meaty hunks of crab leg.
Celebrity chef Tom Douglas put Seattle on the dining map with the opening of his Dahlia Lounge in 1989. Today, it's still a destination and the type of place where the crab cakes are an entree, not an appetizer. The huge patties are seared golden on the outside and loaded with crab meat. Crunchy garnishes and roasted carrot sauce add even more flair.
Oregon
Its name notwithstanding, Jake's Famous Crawfish in Portland offers plenty more crustaceans on its menu, including Dungeness—in famed crab-and-bay-shrimp cakes; in a sauté with artichoke hearts, mushrooms, and shallots; in traditional bouillabaisse; and stuffed into tortellini napped with Gorgonzola cream.
When Local Ocean Seafoods opened in Newport in 2005, it was envisioned as a fish market with a little restaurant attached. But the dockside café took off from the start, with folks flocking for roasted garlic and Dungeness crab soup; coconut milk–fortified Brazilian stew with a mix of Dungeness, rockfish, and prawns; and outrageous crab po'boys with avocado salsa verde. Afterward, you can buy more crab at the market to take home.