There are many ways to celebrate St. Patrick's Day (Tuesday, March 17), and not all—believe it or not—involve quaffing a beer at an Irish pub. Here are some suggestions for things to do and places to go in the West to pay your respects to the Patron Saint of Ireland.
Head to the Pub
Hey, sometimes the obvious answer is the right answer. If your St. Paddy's Day requires beer, whiskey, or corned beef, consider one of these popular watering holes.
This quaint, white-washed bar and restaurant nestled into its own alley downtown becomes ground zero for St. Patrick's Day revelry with day-long block parties Saturday and Tuesday featuring live Irish music and Celtic rock followed by DJs through the evening.
Kells's St. Patrick's Festival activities encompass five days of traditional and contemporary Irish music and dance, and take place at both its downtown pub and Northwest District brewery.
Rí Rá is an authentic Irish pub—restored in Ireland then shipped and reconstructed inside Las Vegas's Mandalay Place. The party lasts six days with Irish dancers, bagpipers, and special menu items on Tuesday. Don't miss the Perfect Pint Experience hosted by the next-door Guinness Store, where patrons can learn how to finesse their pour.
Cook for Yourself
The Culinary Institute of America's Copia campus in Napa offers a robust calendar of courses available to the public. On St. Paddy's Day, the CIA hosts a 2-hour class on cooking with beer that will take you well beyond popular beer batters. When you're done, enjoy an hour-long celebration that features your dishes and a recommended wine pairing.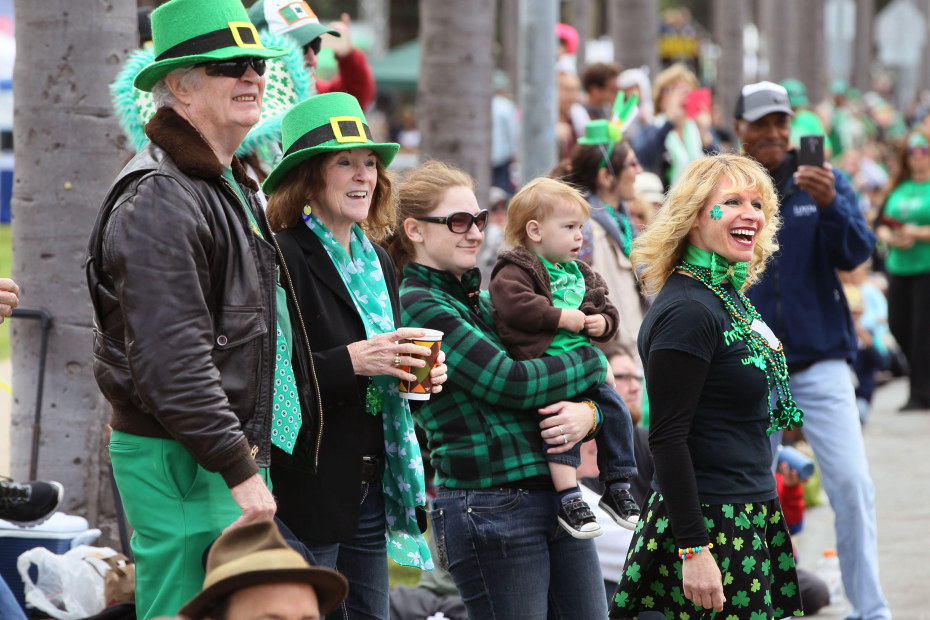 Big City Celebration
In its 169th year, the San Francisco St. Patrick's Day Parade (March 14) is the oldest in the West and draws 100,000-plus attendees. It vies with the San Diego event (March 14) for title of largest parade west of the Mississippi, with each boasting more than 100 participating groups and robust post-parade festivals.
Is it any surprise that a place nicknamed the Emerald City goes all out with Seattle Irish Week, which packs in multiple events including an Irish Soda Bread Contest (March 7), parade (March 14), two-day festival (March 14–15), and even an Irish genealogy workshop (March 21).
Small City Celebration
The St. Patrick's Day festivities (March 14) in the historic Nevada town of Virginia City are part traditional parade, part Wild West pub crawl, and part just plain weird—the city's annual Rocky Mountain Oyster Fry, which specializes in cooking up a certain sensitive part of the bull's anatomy, runs concurrently.
Is there anything quite so California as ending a parade a block from the beach? That's the case at the 26th annual event (March 14) taking place in the SoCal coastal community of Hermosa Beach.
The most Irish fȇte of them all might just be the rollicking parade on March 17 in Butte, Montana, where nearly a quarter of residents are of Irish descent—the highest percentage in the U.S.
Work Up an Appetite
Themed fun runs are prevalent all over the West on St. Paddy's Day weekend, but the Shamrock Run Portland (March 15) dwarfs them all by drawing upwards of 25,000 participants, many of them in green costume, to make it the third largest run/walk event in the West.
Planes, Trains, and Automobiles
See the lucky little green guy parachute in at the Flying Leprechaun Skydive (March 15, 10 a.m.–noon) at the Hiller Aviation Museum in San Carlos, California. Irish snacks and live Celtic music by Leaping LuLu are part of the St. Paddy's Train (March 13), a two-hour, family-friendly ride on a real-deal steam locomotive operated by Heber Valley Railroad outside Salt Lake City. Don't miss the Saturday car show from noon to 5 p.m., part of three days of St. Patrick's Day festivities (March 15–17) in Henderson, Nevada, outside of Las Vegas.  
Make a Quilt
The Irish have a long tradition of quilting and the day before St. Patrick's Day happens to be National Quilting Day (March 16). Bulk up on green fabric at your local quilting shop or better yet, check out the 19th annual Sacramento Quilt, Craft, and Sewing Festival at CalExpo, March 19–21.   
Watch Rugby
Ireland battles France at 1 p.m. PST on Saturday, March 14 in the final leg of the annual 6 Nations Championship rugby tournament. For optimal viewing pleasure, watch at your local pub with a pint of Guinness (coincidentally, the tournament's chief sponsor).
Take a Hike
Ireland is renowned for its green, grassy landscape. The Bay Area isn't lacking in that department, especially in the early spring after the rainy season. June Huber of Bay Area Hiker recommends a walk along Chimney Rock coastline at Point Reyes north of San Francisco, which promises spectacular coastal views and and verdant hillsides blooming with wildflowers in the spring. "It may be the closest to the Irish coast you can get in the Bay Area," says Huber. She also recommends Briones Regional Park in Contra Costa County or Windy Hill Open Space Preserve in San Mateo County.