1. Magical
According to legend, whoever kisses the Blarney Stone will forevermore speak with eloquence. To receive the gift of gab, visitors do a tricky backbend to smooch the stone, on the underside of the parapet of Blarney Castle in County Cork.
Smart Tip: A less strenuous alternative involves making a wish at the Wishing Steps in the castle's garden.
2. Delicious
Wheels of Irish farmhouse cheeses, piles of fresh shellfish and loaves of artisan bread compete for your senses at the English Market in Cork. Established in 1788, the green-market is Ireland's biggest and oldest and a mecca for foodies.
Smart Tip: Dine at the upstairs Farmgate Cafe, which serves delicious classics such as lamb stew and shepherd's pie.
3. Monumental
Five miles of striated sea cliffs, ranging up to 702 feet high, the Cliffs of Moher gird the west coast of County Clare. At the visitor's center, you can get close to the cliff's edge on a safe walkway. The crenellated O'Brien's Tower, a tourist perch dating back to 1835, offers striking views of the western Aran Islands.
Smart Tip: Bring your binoculars to zoom in on the colorful puffins that nest in the cliffs.
4. Spiritual
Sometime around the year 800, Celtic monks illustrated what would become the world's best known Gospel, the Book of Kells. The four-volume illuminated manuscript is filled with Celtic designs, mythic creatures and ornate scrolls entwining Christian icons. The book now resides at Trinity College Library in Dublin, which displays two pages per day.
Smart Tip: Before you go, rent the Oscar-nominated film The Secret of Kells, an animated tale of the book's creation.
Legend has it . . . St. Patrick: The saint who's celebrated on St. Patrick's Day, March 17, wasn't Irish. Born in the 4th century to a British family, Patrick was kidnapped and enslaved in Ireland. He later fled, was ordained as a priest, and returned to convert the Irish, often using the shamrock to explain the holy trinity.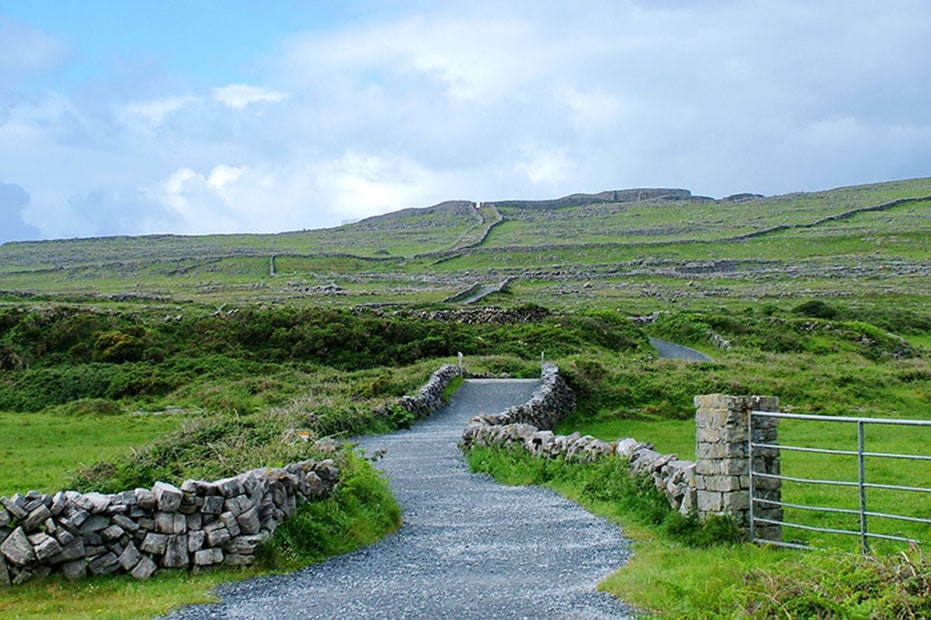 5. Ancient
It's hard to think of a more dramatic, impenetrable fort than Dun Aonghasa on the island of Inishmore near Galway. The fort, which backs up against a 300-foot-high cliff, is considered Europe's best example of an ancient "ringfort," a sprawling enclave fortified by four concentric walls. Other archaeological remains strewn throughout Ireland are further evidence of the country's ancient settlements.
Smart Tip: Watch your step while you're sightseeing since there is no guardrail at the cliff's edge.
6. Literary
Satirist Jonathan Swift was once dean of Dublin's St. Patrick's Cathedral. Playwright Oscar Wilde graduated from Trinity College. And the annual June 16 Bloomsday celebration honors novelist James Joyce. The Dublin Writer's Museum pays homage to these and other Irish greats, from William Yeats to Roddy Doyle.
Smart Tip: The Dublin Literary Pub Crawl tour stops at bars frequented by Ireland's top storytellers.
The Wee Folk . . . Leprechauns: These tiny green- or red-coated Irish fairies are rumored to spend their days making shoes, pulling pranks and storing their gold in a pot at the end of a rainbow. Legend has it that anyone who captures a leprechaun will be granted three wishes. If the leprechaun can't fulfill them, he must surrender his pot of gold.
7. Panoramic
Engage in a drive-by love affair with the lush Irish countryside on the 110-mile Ring of Kerry encircling County Kerry. Arguably Ireland's top road trip, the Ring of Kerry reveals sprawling views of 15th-century Ballycarberry Castle, Ross Castle in Killarney National Park and stone forts, interspersed with quaint villages and windswept beaches.
Smart Tip: Stop at the picturesque village of Kenmare to see a lace museum and take a seal-watching tour.
8. Artistic
Sir Hugh Lane, a Cork-born London art dealer, began Ireland's leading modern art museum in 1908 with his own collection of Impressionist masters. Today, Dublin City Gallery, The Hugh Lane, has a wide-ranging collection, including an entire room devoted to stained glass and the reconstructed studio of Dublin-born painter Francis Bacon.
Smart Tip: Sundays at noon, from September to June, attend free concerts in the sculpture gallery.
9. Unspoiled
One of six national parks, Killarney National Park encompasses the Biosphere Reserve, a protected wilderness with virgin oak and yew forests, the country's only wild herd of red deer, and McGillycuddy's Reeks, the nation's highest mountain range. Around the park's edge, you'll find the Muckross House, filled with period furnishings, and horse-drawn "jaunting cars" plying the paths.
Smart Tip: Hike 7.5 miles through the dramatic Gap of Dunloe, ending with a boat ride on the park's interconnected lakes.
10. Musical
Impromptu musical "sessions" enliven certain Irish pubs known for traditional music. When tin whistles, bodhran drums and uilleann pipes join in with guitar and fiddle, you're in for the "craic," or good times. Stop by Gus O'Connor's in the tiny village of Doolin in County Clare to catch Irish folk music over creamy Guinness and fish and chips.
Smart Tip: Pub crawl to two other nearby music spots, McDermott's and McGann's.
Going Green . . . The Shamrock: Originally worn by many as a sign of rebellion against the English during the 19th century, anyone wearing one risked death by hanging. Today, it's a symbol of Irish pride displayed by government, sports teams, and many businesses and organizations.